15 Best Customer Service Apps for E-Commerce
August 16, 2021
updated May 8, 2023
Reading time ≈ 11 minutes
Igor Shekotihin
Head of International Growth
If you're looking for ways to grow your e-commerce business, there are several areas to examine when deciding where to focus. Obviously, finding new products to sell, or ways to improve your existing products, is one way to grow your business. Attracting new customers is another way.
Customer service is sometimes an overlooked opportunity for growing your business. Delivering great service helps to retain customers, which in turn boosts your profits, because you don't have to cover the operating costs involved when you're onboarding a new customer.
Since many customer interactions now occur online instead of in-person, technology is a key part of providing great customer service. Hundreds of customer service apps have been launched in the past two decades to help support live agents and create a better experience for customers.
Let's take a look at why businesses need customer service apps, then explore 14 of the best apps for e-commerce.
Why Do Businesses Need Customer Service Apps?
Until the turn of the 20th century, customer service happened in person. Buyers and sellers met in marketplaces, shook hands, and knew each other by name. In the ensuing 100 years, a succession of technology and marketing processes depersonalized the service process, but customers are once again expecting a more personalized approach from businesses.
This is a challenge for businesses since customers use a variety of channels to communicate, and expect a personalized response no matter how they contact you. To deliver this personalized service in a scalable way, businesses need customer service apps to help manage messaging, keep track of each customer, and gain insights into their processes.
15 Best Customer Service Apps for E-Commerce
There are hundreds of customer service apps available. The best ones stand out because of their easy onboarding, intuitive use, and feature-rich dashboards. Here are 14 of the best customer service apps you should consider for your e-commerce business.
JivoChat
Best for: Omnichannel Support and Sales
JivoChat is an easy-to-use tool that integrates several types of customer communication - website chat, facebook, Instagram, WhatsApp, email, phone, Apple Business Chat and more - into a single platform. Its sophisticated chatbot and live chat system improves customer satisfaction by ensuring a seamless support experience no matter which channel a customer is using. A user-friendly interface contains everything you need to service customers, from routing calls to being able to pull up past records.
Key features:
CRM integrations giving the entire customer chat history, status, tags, and their assigned agent
"Callback" feature, which allows site visitors to enter their phone number and request an agent call at a specific time
Encrypted team chats stored in secure cloud servers
Integration with the company's email, so your team receives all emails and chats in a single inbox
Proactive chat triggers
Third-party integrations with dozens of apps and content management systems including WordPress, Zoho CRM, and Google Analytics
Pricing:
JivoChat Basic is free for the first 5 agents. JivoChat Professional is $13 per agent/month.
Zendesk
Best for: Customer Service
The "Zendesk for service" solution helps with inbound support requests regardless of where they originate, be it email, web, social media, phone, or chat. It goes beyond most help desk solutions by helping you nurture customer relationships with personalized service. It also provides self-support tools so customers can answer questions on their own.
Key features:
Analytics: Zendesk Explore helps you build powerful reports so you can understand key information about your customers and how you can better support them
Integrates with over 1,000 third-party apps (and growing)
Internal notes can be added to a ticket and emailed to all agents and administrators who are CC'd on that ticket, while remaining hidden from end users
Workflow management allows you to fine-tune automated ticket handling based on triggers
Chatbots, which use the power of AI to improve response times while reducing agent workload
Pricing:
Foundational support starts at $19/agent/month. SMB and Enterprise Suite plans are also available.
DelightChat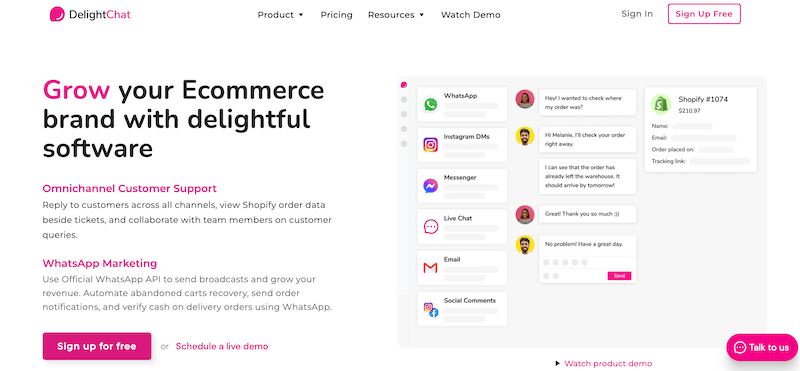 Best for: Customer Service
DelightChat allows you to offer omnichannel customer support, view Shopify order data, and collaborate with team members to solve customer queries. It also enables you to use the official WhatsApp API, and automate it to send order notifications and abandoned cart recovery messages too. Automating replies will save you hours of work, besides you can control all the communication with your customers in one place, which helps to prevent errors. 
Key features:
Omnichannel customer support: reply to customers across all channels.
WhatsApp Marketing: automate abandoned cart recovery, and send order notifications.
All support channels in one screen.
Collaborate with your team within tickets.
View and modify Shopify order while replying.
Pricing:
Startup $29/month, Scale $99/month, Growth $249/month.
Groove
Best for: Help Desk for Small Businesses
Zendesk is perhaps the most well-known help desk solution, but there are other top-quality help desk solutions that may be a better fit. Groove is a simple yet powerful help desk app that provides scalable support tools for small businesses (but Groove also has Fortune 500 customers).
This platform includes a dedicated support email inbox, the ability to leave internal notes on customer profiles, and the option to build a knowledge base so customers can answer questions without having to wait for an agent to respond.
Key features:
Customer profiles containing information like customer name, contact, and history
A shared inbox for communicating with customers across channels
"Collision" detection so agents can see when a colleague is composing a reply
Automatic responses you can use for common questions
Pricing:
$12/user/month for the Starter plan with free 15-day trial. Groove also offers Plus and Pro plans.
Zoho Desk
Best for: Help Desks
Some small-to-medium businesses prefer a grab-and-launch customer service platform they can use immediately, while others have specific SLAs or escalation processes they need to fulfill. For the latter, Zoho Desk offers a simple help desk support solution with dozens of options for customization.
Like other customer service platforms, Zoho Desk starts with a single platform for managing omnichannel customer conversations. With this starting point, you can customize Zoho Desk's layouts, templates, and much more.
Key features:
Unified ticket management aided by contextual AI
Unique branded portals for each customer
Customized escalation workflows based on knowledge level and time required
Integrations with Zoho and third-party ecosystems
Reports and visualizations to monitor bigger trends and finer details
Fine-tuned security controls to protect customer data while granting access to those who need it
Standard and custom-coded workflows to automate repetitive activities
Pricing:
$14/agent/month for Standard package, with Professional and Enterprise packages also available.
LiveAgent
Best for: Help Desks
Today's customers expect personalized service each time they contact you, but it's a challenge to deliver consistent high-quality service. LiveAgent solves this problem with an omnichannel live chat platform designed to increase agent productivity and customer retention. Its built-in rules and automation make it easy for non-technical service people to set up workflows.
Key features:
Live chat widget that installs on your site in under a minute
Offline contact form which allows customers to send inquiries and specify departments during off hours
Advanced ticketing software with omnichannel integration, automated ticketing, and nearly 200 features
A universal inbox for all chats, regardless of the channel
Customer portals including a knowledge base, community forums, and FAQ
Dynamic routing to the most appropriate agent who is currently on shift
Pricing:
Email ticketing starts at $15/agent/month. All-inclusive help desk starts at $39/agent/month. Free account is available with limitations.
Freshcaller
Best for: Call Centers
Setting up a business call center is something no one wants to spend valuable time on. With Freshcaller, you can set up your call center on the cloud in a matter of minutes. Freshcaller is an integration for Freshdesk, meaning you can answer calls within Freshdesk and easily convert call notes, recordings, voicemails, and missed calls into tickets.
Key features:
Phone numbers available in 90+ countries giving you better connectivity with international customers
Syncs data across other Freshworks apps like Freshsales and Freshchat
Works on computer and smartphones, so you can accept calls on the go
Tracking for wait times, call times, and other KPIs
Advanced monitoring controls for supervision and oversight
Pricing:
Free Sprout package for startups, with pay-per-minute calls. Also has options for Small, Growing, Large, and Enterprise teams.
Helpshift
Best for: Mobile App Support
Customers increasingly use apps for gaming, customer loyalty programs, and more. When they need help, the last thing they want to do is leave the app to call or email you. Helpshift allows you to provide fast, easy, in-app help so users can get back to using the app. Helpshift apps for gaming, payment, shopping, and more.
Key features:
Helpshift's mobile SDK supports any device and OS
Automatic answers for commonly asked questions using AI-powered bots
In-app chat function automatically gathers key data like device type so the user doesn't have to upload it
Ticketing customization such as tags and categories to allow for prioritization
App analytics through a partnership with Power BI
Pricing:
Three packages: Starter, Growth, and Enterprise. Pricing is available upon request.
ReviewTec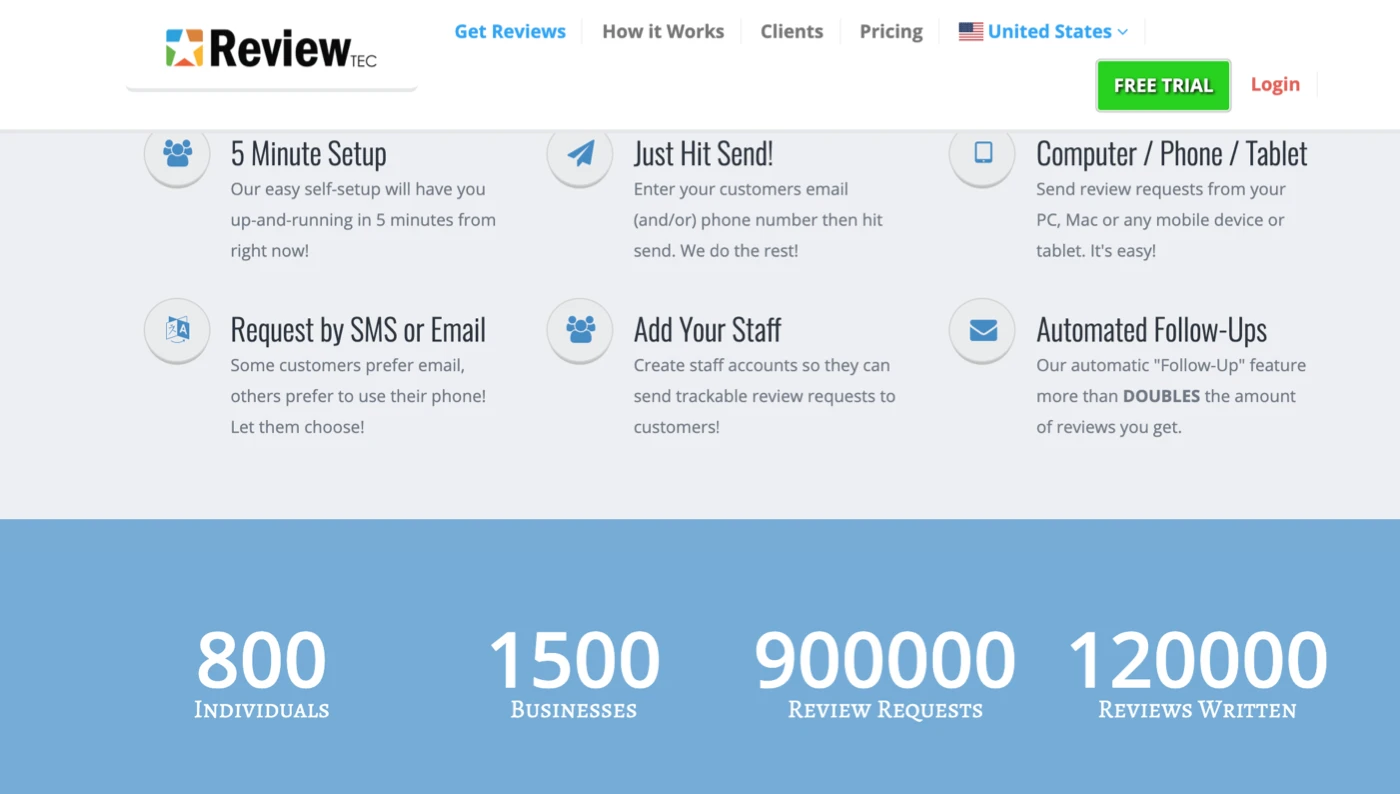 Best for: Customer Reviews
Reviews are a proven way to build credibility for your company. Yet many companies leave reviews to chance. ReviewTec offers an easy process for getting customer reviews and displaying them on your website. You simply open the ReviewTec app, enter your customer's info, then tap send. ReviewTec takes it from here.
ReviewTec sends a message that guides your customer to leave you a review on some of the most reputable sites including Google, Yelp, Facebook, and the BBB. When a customer leaves a review, ReviewTec locates it and notifies you so you can share the review on your website and social media.
Key features:
Tracking and automatic updates for key steps
Reporting for teams, employees, site statistics, usage, and weekly progress
Live activity feed showing send-outs, clicks, reminders, ratings, and posted reviews
Employee ranking scorecard
Customized features including automated thank-you notes, review buttons, and CRM integrations
Pricing:
Single location account starts at $29/month with 14-day free trial.
Kayako
Best for: Help Desks
There's a big trend towards remote customer service, but some companies continue to operate customer service on premises. If you're in that category, Kayako offers an on-premise customer support solution primarily for email and chat.
Kayako specializes in helping teams manage shared inboxes effectively and includes a built-in live chat tool that allows you to engage customers 24/7 from any channel.
Key features:
Live chat software integrates into your website and mobile apps
Automated follow-ups to help continue conversations if customers step away from their computer
Customization so live chat software fits in with your website or app design
Automated rules for sending messages from specific team members based on customer's browsing behavior
SingleView™ gives your team superpowers by giving a step-by-step look at each interaction a customer has with your business
Pricing:
Omnichannel inbox is $15/agent/month. Growth and Scale packages available for full-blown customer service software.
Recurly
Best for: Subscription Management
Looking for a better way to manage subscription management and billing? Recurly automates these processes to drive transformational growth for customers that include Starz, Showtime, and AccuWeather.
Key features:
Intuitive management for ACH and CC payments
Integrations with dozens of third-party applications including Salesforce, Zendesk, and Stripe
Proprietary credit card decline management techniques, expired card management, and intelligent retries to reduce involuntary churn
Analytics give the full picture of retention trends, campaign performance, financial metrics, and more
Supports a variety of billing models and frequencies to boost your bottom line
Pricing:
Core plan: $149/mo + 0.9% of revenue
Mailchimp
Best for: Marketing Automation
Looking to follow up with customers by email but don't want to manually send messages? Mailchimp allows you to create personalized messages then automate them to send at the optimal time when customers are most likely to engage. Mailchimp's dashboard allows you to compose emails and build rules so you can deliver relevant messages based on customer profile and their patterns of interaction.
Key features:
Scheduling optimizer that sends emails at the right time for maximum engagement
Segmentation and behavioral targeting based on traits, purchase behavior, and more
Content Studio to store and edit brand design assets in one place
A/B testing for design, content, and send time
Integrations with dozens of third-party apps for payment, customer support, site management, and much more
Pricing:
This is one of the few free customer service apps (with limited features) on our list. Essentials starts at $9.99/month. Standard and Premium packages are also available.
BOSS Solutions Suite
Best for: Help Desks
Relying on manual processes to track thousands of assets and support requests is a recipe for frustration. BOSS's comprehensive software solutions replace manual processes and emails with a ticket management system that keeps requests from getting lost. Customizable dashboards allow users and managers to view data to improve service efficiency and inform decisions.
Key features:
Routing rule configuration to assign tickets to the right department
Knowledge Base for service agents and end users
Watcher feature allows managers to monitor important ticket requests
Asset management for all types of assets across the service lifecycle
Mobile app so technicians can track assets and work orders on the go
Dashboards and reports to allow for service management improvements
Pricing:
Call center packages start at $.10/ticket.
Which Customer Service App Will You Use?
As we've seen, there is a world of customer service apps out there to support your business. Each has its own benefits and use cases. We've designed JivoChat from the ground up so you can improve your customer experience immediately. You can set up chatbots, transfer to live chat, schedule callbacks, and agents can see a record of every interaction with a customer.
Are you ready to see how JivoChat can help you improve your customer service? Try JivoChat for free.
Like what you've read?
Sign up and try JivoChat for yourself!
It's free and only takes a couple of minutes to download.