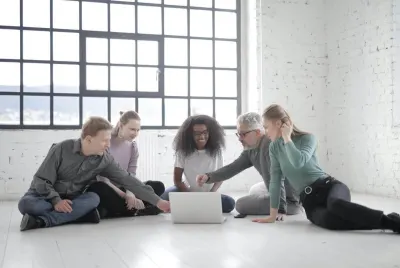 Importance of Multilingual Customer Support for International Education Businesses
March 13, 2023
updated March 14, 2023
Reading time ≈ 5 minutes
Running an international education business is a complex task that challenges you on so many different levels. The ultimate goal is clear- attract new students constantly and make sure they're happy with your service. But just investing in marketing or product teams isn't going to do the trick. You need to dig even deeper and improve every aspect of your business. That includes customer support.
Your customer support system is powering your entire business. It helps establish proper communication, build trust, provide information, and stay competitive. To improve it, many international education businesses are choosing to go multilingual. How is this beneficial, and why should you do it as well- we'll explain below. 
What is Multilingual Customer Support?
Let's first take a quick look at the concept of multilingual customer support. What is it, and what does it imply?
Simply put, multilingual customer support implies providing customer service in different languages to accommodate people who don't speak the language of your business. It means people can communicate with your customer support agents, in different languages, through means such as:
phone calls
emails
live chat
self-service 
This is especially important for businesses that operate in more than one country or have a target audience that spreads across the globe. 
How to Establish Multilingual Customer Support
Introducing multilingual customer support into your education business is challenging and requires detailed planning. It's also an investment, but one that will pay off sooner than you think. This is thanks to the benefits we'll be covering in the next section.
But what are some of the basic steps of implementing multilingual customer support? Let's take a look:
determine the key languages to include
hire diverse to have people who speak different languages
use language technology to help things run smoothly
train your employees
provide multilingual support documentation
You should also use the best website localization services to make your website appealing to specific groups of people. This way, your multilingual customer support will work even better.
Benefits of Multilingual Customer Support for International Education Businesses
Now that we understand what multilingual customer support is and how it works, let's take a closer look at the main benefits it introduces to international education businesses. Why is it so important? How much can it help a business operate better?
1 - Global Reach
The first benefit of having customer support that can provide help in more than one language is the global reach.
As an international business, you want people from all over to discover you, like what you offer, and become a student. But, if they can't find information or contact you in their native language, your reach isn't going to be as strong.
So, going global means making sure people can approach you the way they feel most comfortable- in their native language. You can use WritingUniverse to improve your writing and create support documentation for your employees that will prepare them for different encounters with versatile people.
2 - Outperforming Competitors
With the rise of online education and remote studying, your competition is going strong. More education businesses are appearing every day, and you have to find a way to set yourself aside.This is where multilingual customer support can help.
People will go through different criteria when comparing you to your biggest competitor. But, if you offer more or less the same services, prices, and products, multilingual customer support is what can make that difference. It will be in the pro column and attract more people to your businesses as opposed to another one that can only be approached in their native language.
3 - Better Customer Relationships
English may be the lingua franca of the world today, but not everyone feels comfortable speaking it. In fact, one-third of people experience anxiety when speaking their second language. This is especially the case in formal situations such as contacting customer support. 
It creates the pressure of speaking a foreign language in front of others and might result in:
poor communication
mediocre information exchange
feeling excluded
bad overall impression
If your potential student isn't able to speak with you freely, they might give up the whole thing. But, if you provide a seamless process of gathering information and doing research, you'll get them to like and respect you more.
4 - Better Customer Satisfaction
Having multilingual customer support isn't just about being able to communicate with students or their families. It's also about being able to offer the best possible solution to their problem and make sure they get what they need from their inquiry.
If you enable such multilingual communication, your customer service agents will be able to:
better understand the situation the student is in
explain their options more clearly
get to the bottom of things
This would lead to better customer satisfaction which is a huge business advantage.
5 - Customer Retention & Loyalty
Finally, there's one last but extremely important benefit of introducing multilingual customer support into your international education business. It will significantly help you in customer retention and creating loyal relationships with them.
Why?
Simply, when a customer receives special treatment and is able to communicate with your business in their native language, it makes them feel appreciated, understood, and heard. It also helps them develop positive emotions towards your business. 
This way, they're more likely to stick with you than change their mind and go to a different education business. Your retention rate will go up, and you'll have more loyal students than before.
Final Thoughts
Having multilingual customer support is very important for an education business, especially one that has students from all over the globe. Offering different languages for communication and giving your students the freedom to address you the way they want can be gold.
Hopefully, we've helped you understand the importance and potential of multilingual customer support for education businesses.
Like what you've read?
Sign up and try JivoChat for yourself!
It's free and only takes a couple of minutes to download.