Offline Messages: How to Engage Customers When Agents Are Away
Igor Shekotihin
Head of International Growth
A live chat tool can help you engage with customers, but it's only effective when your agents are available to chat. If customers try to interact with a live chat feature and can't reach an agent, they'll probably be confused, if not frustrated. Offline messages can help you avoid that scenario.
Offline messages uphold the continuum of service that your customers expect. And if you have customers across the country or around the globe, you should anticipate that they may need support outside of your normal operating hours. An offline message is a good way to acknowledge inquiries and satisfy customers until a live agent has the opportunity to follow up.
Let's take a closer look at offline messages and how they work.
What Are Offline Messages?
An offline message is essentially a status update that tells site visitors you're unavailable to chat and invites them to send a message. This feature replaces your live chat widget anytime agents are unavailable.
When a site visitor clicks on the offline message widget, they might see options to send a message, send an email, or request a callback. All of those options generate a notification message that's delivered to the chat platform.
Depending on the type of chat software you use, you may also be able to show an option to wait for an available agent — a useful feature if your agent stepped away for a short break. Or, you could offer a callback option.
Why Are Offline Messages Important for Businesses?
Customers who use live chat are expecting immediate replies. If no agents are available, businesses need to offer an acceptable alternative to live chat. Chatbots can be part of that solution, of course, but they may lack the depth to fully answer a customer's inquiry.
Offline messages serve an important role in helping businesses attract and retain customers. With the promise of a follow-up, website visitors may be willing to wait for an answer instead of heading to your competitors' sites in search of information or a better experience. Just make sure your agents are responding to offline messages as quickly as possible.
7 Ways to Handle Offline Messages
With the right chat software, you can configure your offline messages to:
1. Direct visitors to other resources. If you have a self-service resource library, your offline message could point visitors to that feature.
2. Integrate with queue management. Create rules in your chat dashboard that route inquiries to the next available agent.
3. Route inquiries by topic. You can offer visitors a few clickable options — such as "product support" or "request a quote" that will help direct their offline message to the appropriate agent.
4. Validate data. Your offline messaging tool should be able to verify the format for phone numbers and email addresses, so that if a website visitor makes an incorrect entry, you'll still be able to reach them.
5. Integrate with your CRM. Connecting your chat platform and your CRM helps you see who's using offline messaging and track outcomes.
6. Show a "thank you" message. After a visitor submits a message, they should see an acknowledgement so they know the message sent correctly.
Source: JivoChat
7. Set up a callback. Provide the option to request a callback, and integrate with agent calendars so customers can choose a time when agents are available.
Source: JivoChat
Offline Messaging Best Practices
In order to make offline messaging effective, you need to think like your customers. What are their expectations? What misgivings might they have about offline messaging? How can you set up offline messaging that serves both prospects and customers?
With those questions in mind, these are three best practices for offline messaging:
Always follow up
Even the best offline messaging tool won't be effective if agents don't follow up. To make sure agents are responding to inquiries, you should contain message-handling in the chat app (as opposed to having agents manage conversations from their individual email accounts).
JivoChat routes all offline messages to the inbox section of the JivoChat app, then the app sends an email notification to the agent(s). Agents respond to messages from the app, and that communication becomes part of a customer's ongoing history that others can access when necessary.
Source: JivoChat
State when you'll be back online
Your offline message can take the place of a traditional "Business Hours" sign. Tell customers when they can expect a response, and be as specific as possible, such as: "Within 12 hours."
Provide alternative contact options
For people who don't like waiting for a phone call or email, provide some other means of contacting your business. Consider including a phone number that's not already listed on your site, so you can track which calls come from your away message interactions. Specify when live agents are available by phone.
If you use social media platforms and respond to messages there at times outside of your normal business hours, mention that, too.
Use Chatbots to Provide Support When You're Offline
Chatbots can help you capture leads and improve customer service 24/7 — on your website and on social platforms. With JivoChat, you can set up chatbots to answer questions when agents are unavailable.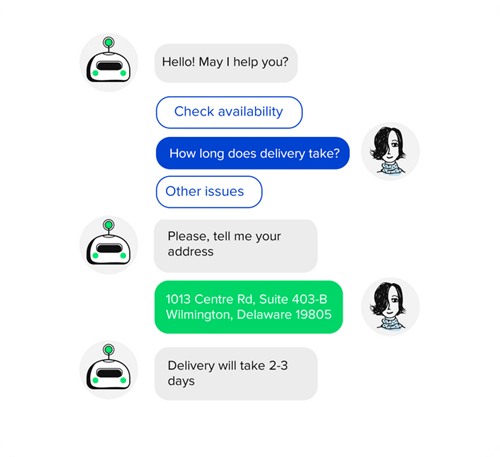 If the user asks to speak with a live agent, the chatbot can collect contact information and explain when the user can expect a response. Any time the chatbot transfers a chat to a live agent, or when a chatbot chat ends, a transcript is automatically delivered to the JivoChat inbox, where agents can review it.
Set Up Offline Chat Messages Today
With chatbots, live chat, and offline messages, you can enhance customer service and help your agents increase sales. Offline messages also demonstrate to your existing customers that you care about their needs, no matter where they are, or what time of day it is.
Are you ready to see how round-the-clock chat-based support can help your business? Sign up for JivoChat's free trial today!
Like what you've read?
Sign up and try JivoChat for yourself!
It's free and only takes a couple of minutes to download.