6 Best Zendesk Alternatives (By Use Case)
August 18, 2021
updated October 16, 2023
Reading time ≈ 13 minutes
Igor Shekotihin
Head of International Growth
Looking for an alternative to Zendesk to improve your customer service experience? Read on.
While Zendesk leads the way with a 36% share of the help desk market, it might not be the best fit for every organization.
Indeed, many startups and small businesses reckon Zendesk is "old-fashioned and clunky" and not agile enough to serve their customers. While other companies want a more budget-friendly alternative.
In this guide, you'll discover why you might want to check other options and how to choose the best Zendesk alternative based on your requirements. Ultimately, you want the best customer service software for your business.
What is Zendesk?
Zendesk is a well-established cloud-based customer service solution trusted by more than 160,000 customers worldwide.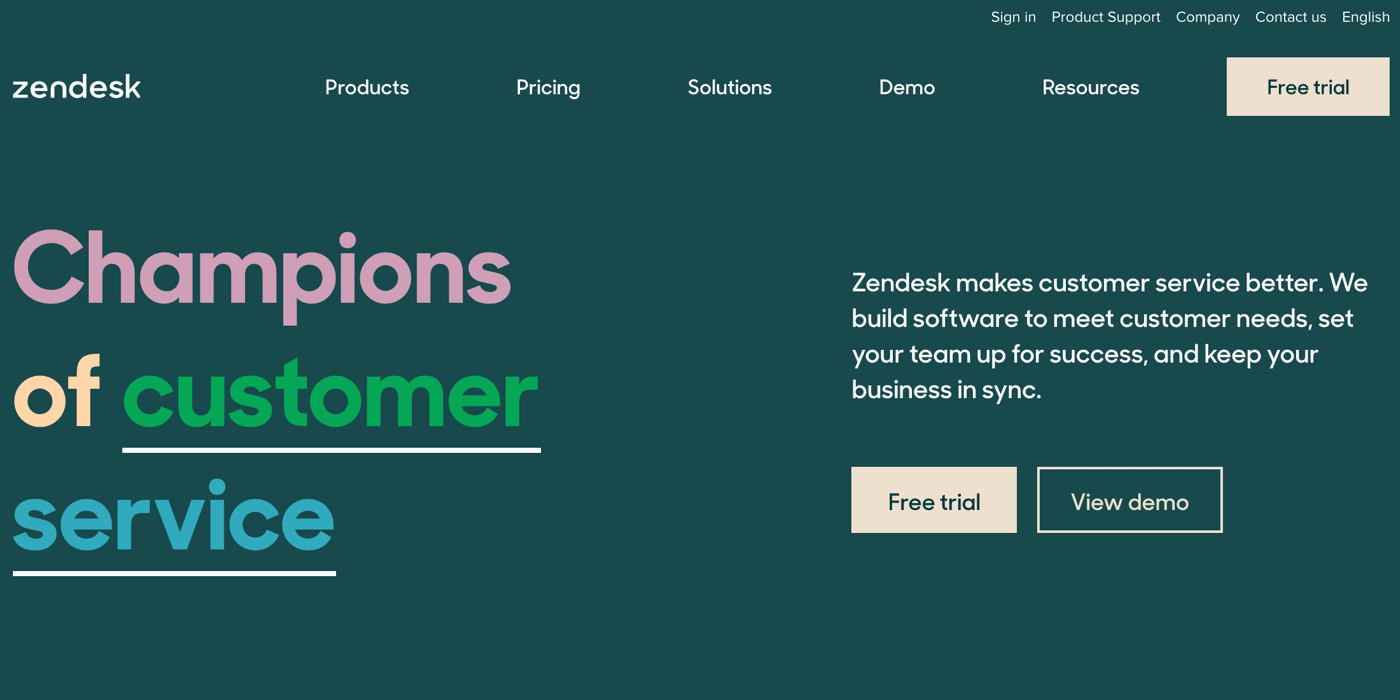 Zendesk's suite includes a customer relationship management tool, help desk software, online knowledge management, team collaboration, and more.
There are two core functions of Zendesk – service and sales.
Zendesk for service is used by well-known brands such as Mailchimp, Uber, and Siemens. At the core of Zendesk is its robust helpdesk ticketing system. But customers can now interact over other channels, including messaging, live chat, social, email, or voice. It also gives you the option to build an integrated help center and community forum, plus use automation and AI-powered bots.
Zendesk for sales uses a modern CRM to enhance productivity, processes, and pipeline visibility for sales teams. It removes the friction from deal updates so sales teams can always access, analyze, and collaborate on the latest deal data.
Why Might a Business Look for a Zendesk Alternative?
With over 2,800 reviews on G2 and an overall user rating of 4.3 out of 5 stars, why would any business want to look for a Zendesk alternative?
Zendesk receives plenty of praise for its reliable and feature-rich ticketing system. But there's also some dissatisfaction among the user-base.
Support – Ironically, many users cite Zendesk's lack of support as an issue. Whether that's help getting started with the software or fixing bugs. Users also say there's a lack of new features.
User interface – Zendesk is an extensive system, and it's not always easy, especially for small teams, to navigate and get to know how to use the functionality. Furthermore, users say the UI looks outdated compared with more modern tools.
Omnichannel – Although Zendesk advertises itself as an omnichannel support solution, many users find the channels are not integrated properly, so there's no way to answer everything in one queue. Plus, there's no SMS capability unless you incorporate a third-party tool.
Scalability – The consensus appears to be that Zendesk is best-suited to large companies. SMB's struggle to configure the interface to their requirements, while enterprise companies get superior support.
Pricing – Zendesk pricing ranges from $25 to $199 per agent per month if billed monthly.
How to Choose the Best Zendesk Alternative
Here are five things you need to consider when choosing a Zendesk alternative.
Use case(s)
The first step is knowing precisely what use case(s) you are looking for in an alternative.
For instance, do you need an all-in-one platform to manage all support functions, such as emails, live chat, and knowledge base, plus a sales CRM?
Perhaps you only want an alternative business messenger or knowledge base and would prefer to use a separate CRM?
Ease of use
You'll want to choose a customer service solution that's agile and intuitive to use. The last thing you need is resistance from your team to use the software. If it's easy to use, your support team will be excited to use it, and in the long run, you'll see improved response and resolution times.
Affordability
It's crucial to choose software that you can afford to use. You don't want to burden yourself with high costs. Check the pricing structure – most systems use a "per agent per month" – so you can total up the overall cost to your organization.
Scalability
Next, you want to consider how the software will work as your support and/or sales team grows. Some tools are better suited to small teams, but can they grow with you? Imagine having to swap tools as your team grows – you'd have to invest time and money into retraining your staff and customers and probably changing your processes.
Demo and reviews
Last but not least, make sure you allow time to get a demo and trial the software yourself. Your requirements might not match the sales demo, so you need time to test a few scenarios.
Also, read the user reviews on third-party sites like G2 and Capterra so that you can gauge the positive and negative feedback on the product.
6 Best Zendesk Alternatives (By Use Case)
Not everyone needs all the functionality of a multi-use platform like Zendesk. You may only be interested in finding a solution to replace a specific function, such as live chat or ticketing.
In this section, we'll look at the best Zendesk alternatives by multi and single-use case.
Best alternative for omnichannel messaging:** JivoChat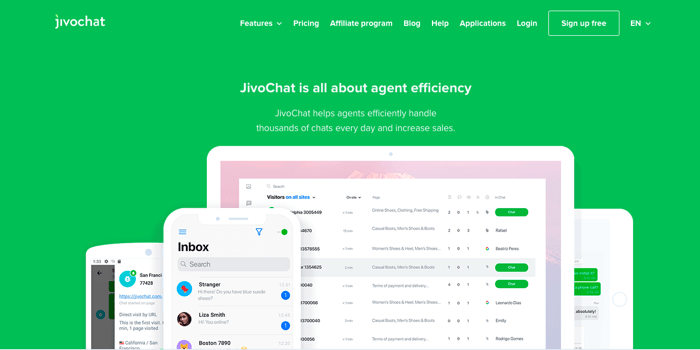 JivoChat is an all-in-one business messenger that teams use to talk to customers on their favorite channels:** website live chat, phone, email, and social media channels such as Instagram, facebook Messenger and WhatsApp. Agents receive all chats, emails, and calls in one JivoChat app, so they don't have to waste time fumbling between different windows. All communications can be seamlessly synced to your CRM.
Key features:
** - Visitor Monitoring and Smart Triggers: Track your visitors in real-time and proactively initiate live chats with them.
** - Typing Insight: See what messages visitors are typing even before they hit "send."
** - Omnichannel: Contact customers through live website chat, phone, email, Facebook, or Apple Business Chat.
** - Instant Callbacks for Visitors: Impress your customers by calling them back within 27 seconds.
** - Quick Phrases and Canned Responses: Create pre-written messages (based on what you've sent before) and send them using hotkeys.
** - Multi-agent Chats: Transfer and invite product specialist colleagues to participate in open chats with customers.
** - Built-in CRM: Add statuses and reminders to every conversation, and then follow up and convert your leads into actual sales.
** - Multi-platform: Desktop, Mobile, or Web version - choose the JivoChat app that suits your needs.
Pricing | CTA
** - Free plan available: Get JivoChat Basic for free for your first 5 agents.
** - JivoChat Professional: From $19/agent/month or $13/agent/month (billed annually).
** - 14-day free trial: Try JivoChat Professional free for 14 days first!
Best alternative for helpdesk ticketing:** Freshdesk
Freshdesk is a modern all-in-one customer service platform trusted by over 40,000 customers, including Panasonic, HP, and American Express. It's a popular help desk ticketing alternative to Zendesk that can scale as your helpdesk grows.
Support Desk combines best-in-class ticketing, self-service, and reporting, allowing you to prioritize, categorize, and assign tickets so that you never lose track of them.
Key features:
- Team Inbox: Track and manage incoming support tickets from multiple channels with one inbox.
- Custom Ticket Status: Create custom statuses that suit your workflow to identify a ticket's stage.
- Agent Collision Detection: Ensure that multiple agents don't wind up working on the same ticket by accident.
- Canned Responses: Provide quick, consistent responses to common questions by creating pre-formatted replies.
- SLA Management: Set deadlines for ticket response and resolution based on different business hours or categories.
- Ticket Field Suggester: Automatically suggest ticket fields to categorize, prioritize and route incoming tickets.
- Scenario Automation: Perform multiple actions on a ticket with a single click by automating repetitive helpdesk tasks.
- Collaboration: Work together as a team to quickly and efficiently solve customer problems.
- Analytics: Identify problems, create plans based on metrics, and improve help desk performance.
- Self-service: Create a self-service experience for customers with a knowledge base and forums.
- Customizations: Customize your workflows, customer portal, agent roles, and more to make the helpdesk truly yours.
Pricing | CTA
- Free forever plan: Get Freshdesk Basic free for unlimited agents.
- Support Desk: Plans starting at $15/agent/month (billed annually).
- 21-day free trial: Try all the Freshdesk features free for 21 days!
Best alternative for scaling customer support:** Help Scout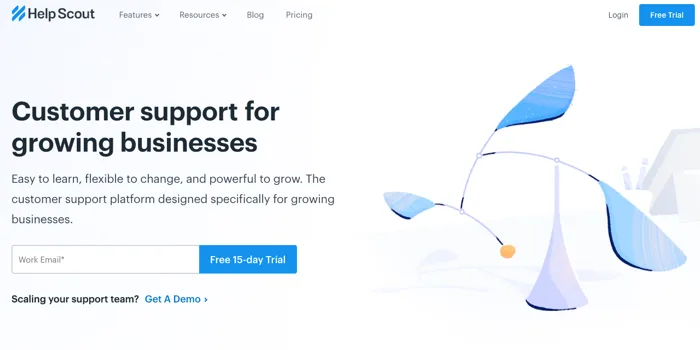 Help Scout is designed specifically for growing businesses, so if you're scaling your customer support team, you'll find it's easy for them to learn, flexible for you to change, and powerful enough to grow. More than 12,000 businesses in 140 countries trust it.
Key features:
- Shared Inbox: Manage all of your support requests (email, live chat, and phone conversations) in a shared inbox, and get the collaboration features your team needs to stay productive while delivering great support.
- Knowledge Base: Reduce your support volume by at least 20% with a knowledge base that's designed for customer self-service.
- Live Chat: Make it easy for customers to find your help center articles, or do both — all from the same tool.
- In-app Messaging: Engage leads, onboard new customers, and provide proactive support with trigger-based messages.
- Customer Management: Deliver faster and more personalized support using customer data, previous conversations, and in-app activity alongside every support request.
- Reporting: View all the data and metrics in real-time, such as response, resolution, and duration. Save custom views for quick access later.
- Integrations: Connect with the tools you already use, including Slack, Shopify, and Mailchimp.
Pricing | CTA
- Help Scout Standard: $20/user/month (billed annually).
- Help Scout Pro: $35/user/month (billed annually).
- Free 15-day Trial: Try all the Help Scout features free for 15 days!
- Note: Help Scout also offers discounts for nonprofits and startups in their first year.
Best alternative for email ticket management:** AzureDesk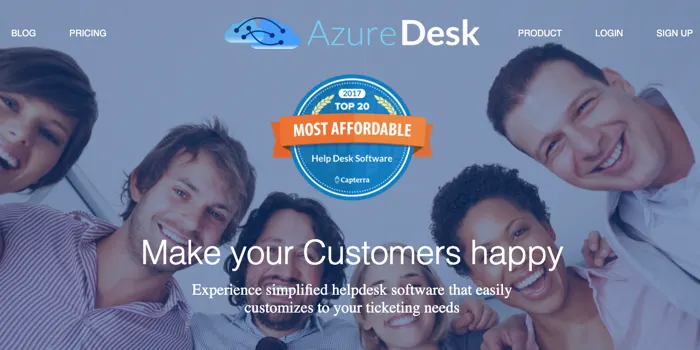 AzureDesk is a Zendesk alternative focused on providing support through email tickets by integrating with your organization's current email system.
AzureDesk converts your emails into support tickets and places them in the Ticket Management system. From there, you can prioritize and categorize tickets and assign issues to the appropriate support agent quickly and easily.
Key features:
- Ticket Management: Provides an overview of customer support issues.
- Unlimited Mailbox: AzureDesk supports an unlimited number of email accounts that convert emails into tickets and display them in Ticket Management.
- Collaborative Support: Collaborate behind the scenes with internal team members using private notes and internal tags to solve support tickets.
- Self-Service Portal: Helps to answer your customers' questions in your absence.
- Knowledge Base:
- Reporting: Get reports on your customers' interactions as well as your Agents/Team performance.
- Apps Integration: Integrates with Jira, Slack, and more.
Pricing | CTA
- AzureDesk Plus: From $33/user/month (billed annually).
- Free 14-day Trial: Try AzureDesk free for 14 days!
Best alternative for sales pipeline management:** HubSpot
HubSpot's CRM and pipeline management software is a free and easy-to-use alternative to Zendesk that helps sales teams manage their pipeline with less work so that they can hit their sales quota.
You can create new deals in no time, directly from your CRM, customize your pipeline to match your sales process, plus track the progress and diagnose the health of your pipeline.
Key features:
- Pipeline Management: Add deals to your CRM with just a click, assign tasks to move deals forward, and monitor progress on your dashboards.
- CRM Management: Use an existing contact or company record to add new deals to your pipeline and automatically fill out most of the details with the most recent information.
- Pipeline Customization: Add, edit, and delete deal stages and properties in your pipeline to match your sales process.
- Sales Dashboard: Check on progress toward sales quotas, monthly trends in key sales activities, and the overall value and health of your pipeline.
- Email Tracking: Send a perfectly timed follow-up as soon as a lead opens an email, clicks a link, or downloads an attachment.
- Contact & Lead Management: Easily add company and contact records, track sales activities, and keep records up to date. Check every interaction you've had with contacts, and use this data to build campaigns that close more deals.
- Conversations Inbox: Lets your sales, marketing, and customer service teams view, manage, and reply to all conversations from live chat, bots, or team email aliases in one place.
- Live Chat & Bots: Engage website visitors in real-time to convert new leads, close more deals, and provide better support. Automate and scale your live chat conversations with bots.
- Integrations: Out-of-the-box integration with Gmail, Google Workplace, and Outlook or Office 365 for Windows.
Pricing | CTA
- HubSpot CRM: Free forever for your entire team, with unlimited data and up to 1,000,000 contacts.
Best all-in-one alternative:** Intercom
Intercom is an all-in-one alternative to Zendesk with three conversational solutions – support, engagement, and marketing – plus more than 25,000 businesses, including Amazon, Facebook, and Shopify, trust it.
Intercom includes live chat, bots, apps, product tours, email, messages, and a help center to help you build relationships with your customers.
Key features:
1) Support:
- Human: Quickly resolve complex issues one-on-one with Live Chat, In-product messaging, Team inboxes, Ticketing workflows, Service Level Agreement rules, Workload management, Role-based permissions, and Outcome reporting.
- Self-serve: Answer repetitive questions automatically with Help Center, Conversational bots, and Resolution bot.
- Proactive: Get ahead of known problems before customers reach out with Targeted messaging and Product Tours.
2) Engagement:
- Onboarding: Get new customers up to speed with helpful messages and tours from inside your product while boosting satisfaction and retention.
- Announcements: Update and announce new features in your app, out of your app, or wherever your customers are to increase feature adoption, event sign-ups, and more.
- Re-engagement: Send customers emails and mobile push messages to get them back to your product. Or use targeted in-app messages, so they engage with specific features again.
3) Marketing:
- Business Messenger: Target website visitors and automatically greet them with personalized messaging. Intelligent bots will chat, route, and schedule for you.
- Management Tools: Customize every part of your team's workflows, like routing conversations based on customer tier or scheduling meetings based on the account owner.
- Customer data platform: Segment your messages based on rich visitor data, and arm your sales team with the information they need to close more deals.
Pricing | CTA
- Intercom Starter: From $79/month.
- Intercom Plans: Contact Intercom for a demo and current pricing.
- 14-day Free Trial: Test Intercom free for 14 days!
- Note: Eligible startups can get Intercom from $65/month for one year.
Final Thoughts
Just because Zendesk has been around a long time doesn't necessarily mean it's the best customer service software for your business.
There are plenty of Zendesk alternatives to choose from – it's just a case of deciding what you want, weighing up the pros and cons, and making sure it's scalable and affordable. Whatever you decide, make sure to read the reviews and test the software before you buy.
If you're looking for an omnichannel business messenger, create a free JivoChat account today.
Like what you've read?
Sign up and try JivoChat for yourself!
It's free and only takes a couple of minutes to download.