23 Email marketing best practices for great campaigns
September 28, 2021
updated November 3, 2023
Reading time ≈ 17 minutes
Jaqueline Corradi
Content Manager
Email marketing best practices can help you get the most out of a marketing tool that has one of the highest return on investment rates. When you create a well-planned and developed email campaign, you have significant chances to turn leads into customers, more than when compared to social media, did you know that? 
But, to be successful, you need to know how to create emails that will compel your prospects to open, read them, and follow the CTAs. In a mailbox full of thousands of emails, it's necessary to think of ways to highlight your message. 
When someone opens it, they shouldn't feel disappointed by the content, but enjoy the time reading it. That's why, each email has to be well-planned, contains an attractive design, and engaging writing. Some details will make a whole difference in the user experience, pay attention to it.
4.Write irresistible subject lines
5. Use your brand's visual identity in the email design
8. Develop engaging content for better click-through rates
9. Humanize your brand through the emails
10.Create your emails considering accessibility
13. Create a checklist: review before sending
14. Don't overload the mailbox of your leads
15.Timing is essential for better results
16. Keep your eyes on email rendering
17. Don't use noreply addresses
20. Analyze your email lists regularly
21. Select strategic metrics: follow email marketing performance
22.Enable your audience to unsubscribe easily
23. Use an email marketing tool
Be always updated about email marketing best practices
1. Send welcome emails
The first step of email marketing best practices couldn't be anything else than writing an email showing how you appreciate that someone trusted your brand to give their email, and subscribe to your newsletter.
Give a warm welcome to everyone who signs up, in a personalized email with their names. You can enjoy the opportunity to present a little bit more about your company values, and vision too. Also, send a gift, such as a discount coupon or access to an exclusive ebook. 
2. Do A/B testing
To know if something works out to your audience, it's necessary to test it. With A/B testing the idea is to select a percentage of your list and change one element in the email that you want to know its effectiveness. For example, insert emojis in the subject area, use gifs in the message. 
Analyze if the changes had any impact on your metrics, such as open, and click-through rate. But, it's important to test one element at a time, to be able to identify what caused the change of behavior. 
This kind of testing isn't only for a company that is starting to use email marketing. New email models are created all the time. It's worth validating them, before implementing a change. Another benefit of testing is getting to know even better your prospects, which can help you think about other channels strategies, and develop new ideas.  
3. Segment your audience
People who subscribe to your email list are in different stages of the buyer's journey, understanding it is fundamental to create more effective campaigns. You aren't going to send the same message to someone who has just discovered your brand and another who is about to finish a purchase, right?
You can segment them by using the buyer's funnel and creating specific email sequences for each stage. But, it's possible to analyze other characteristics to develop even more precise messages.
For example, the area the person lives in. If you are an international store, sending winter sales emails in January worldwide may not resonate well in some countries where it's summer at this time. You could do 2 types of sales and even use different products. 
Also, consider what your leads are used to buy, their age range, and other aspects. In the case of current customers, you can create segmented lists according to their purchase, and highlight different products to each list. 
4. Write irresistible subject lines
Imagine, you spend a huge amount of time researching content, building an incredible design, and when the email arrives the users just ignore it because the subject line seems boring. Your marketing strategies must include what to write in the subject area of the email, it has to be a title that intrigues the reader's curiosity, and stimulates them to open the message. 
It can be a question, an invitation, an astonishing surprise fact. It depends on the type of email. The tip is to write the subject line after you wrote everything else, so you can identify the best approach. The data you collected from A/B testing can help you write the subject line. 
5. Use your brand's visual identity in the email design
When someone receives an email from your company, they must be able to identify where it came from not only because of the address, but the email design must be aligned with your brand's visual identity: 
Use your brand's colors
Include the logo at the top of the email
Add a link to your website
Insert more information about your company in the footer
This shows coherence, makes it easier to promote brand awareness, and avoids being quickly forgotten. The visual is just as important as what you will write, it's the combination of each element that will create effective messages and prompt your leads to move to the next step.
When you see the icon of a bitten apple, probably the first thing that pops into your mind is the Apple software, it's the same with the two yellow arcs of McDonald's and Google icons. We associate those things immediately with the companies because they have an integrated marketing strategy. Not all the designed pieces are equal, but they always have their brand's main elements. 
6. Send personalized emails
Segmentation has everything to do with sending personalized emails. It's about creating experiences, making your leads and customers feel unique. They see that your brand cares about them and that they aren't receiving just some random email, on the contrary, the intention is to show the content was designed for them, to help to solve their demands. 
Start the email by using the person's first name, send offers based on their most visited pages on your website. After an item is delivered, ask for your customer's opinion about the service. Study their behavior, this will enable you to build a personal message who speaks to each person's interest. 
Although to enhance that experience, it's also necessary to listen and open space for feedback. Pay attention to the messages sent to you, and answer them. Otherwise, how are your prospects going to have a good experience with your brand? Their feedback is a great resource to improve. 
7. Send skimmable messages
The way you structure your content is directly connected to the number of people who are going to read your message entirely. A badly written text, with unclear content, will discourage your leads to do any action you want them to take. 
Besides, their time is valuable. They have already taken some seconds to open your email and check what it is about, so to make it easier for them, create an email that can be quickly skimmed.
There are some tips to help you do that:
Explain your main message in the preheader text
Write short paragraphs
Use bullet points, and lists
Create a layout that focuses on the main message
8. Develop engaging content for better click-through rates
Having a great layout design, an easily skimmable message will help you, but only if the content you put on is interesting to your prospects, leads, and customers. To know what is the best type of content for your purposes, once more, comes the need to analyze your target audience data. 
After you have identified what you should write about, according to every segmented group, it's time to stimulate your creativity and search for ways to write an engaging message. What is the best way to approach them? Should the tone of your message be more casual or formal? Again, it depends on who you are talking to.
Develop a brand voice
Write as if you were having a conversation
Align the message with the CTA
Be precise
Use actionable words
Do A/B testing
9. Humanize your brand through the emails
Email marketing campaigns are an opportunity to strengthen your relationship with your clients. To do that, they can't feel like they are talking to a machine. On the contrary, showing your company is composed of people who care about customer experience can put you on their radar, and stand you from competitors.
One very successful strategy is using storytelling to write your messages. Readers are more likely to feel involved and connected with texts written in the format of a story. Many brands use that resource, for example, by telling how the enterprise came from the owners' dream and passion to become a reality. 
Tell stories that your audience can relate to, you can be more personal, and funny. Through emotions, you are going to be able to establish stronger bonds with them. You can talk about the obstacles your company faced, how you overcame them, and show gratitude towards your customers' trust in your business. 
10. Create your emails considering accessibility
Think about your diverse audience and make your email accessible to them too. There are some easy details to add, which will offer a much better experience for people with visual impairment:
Add ALT text to the images
Include a period after the image text
Improve readability by checking the contrast ratio
Use fonts that aren't difficult to read
11. Write attractive CTAs
Be direct to the point when writing a call to action, so the reader will know exactly what to do. But, also use ways to engage them. They must feel intrigued, and understand why it's worthy to click to read your new blog post, go to the product page, download your ebook or fulfill a form, for example. 
That's why the whole message should be constructed thinking about the type of CTA. It's better to have fewer CTAS or just one in the email, to avoid confusion, and focus your audience's attention. 
Insert the call to action above the fold in a visible and easily accessible way. Highlight the words, by using a different color, putting them in bold, or adding a click-button.
12. Add an email signature
To make your newsletter something even more personal, the tip on email marketing best practices is to add the signature of someone from your team. Depending on the type of email, it can be the head of marketing, or the CEO email signature,for example, it varies. 
But, it's important to have a face attached to it, not just the brand's name. It increases the sensation of having a conversation, instead of receiving a robot message. That's a strategy to improve credibility as well.
13. Create a checklist: review before sending
To ensure the email has no error, before pressing send or scheduling it, review the design, the text, images quality, the email list selected, the subject line text, if the links are all working, besides other settings.
Create a checklist to make the process easier and faster. Here are some things you should add to the list: 
Send a test to yourself and someone from your team
Check the preheader text
Review the subject line
Be attentive to detect possible design flaws
Read the content once more
Certify if all the links are working
14. Don't overload the mailbox of your leads
Do you know those companies that send more than one email per day to their customers? Probably, you already had this experience of seeing your mailbox full of marketing messages from the same brand. Is annoying, isn't it? 
Most people's reaction is to delete everything, mark it as spam, and unsubscribe. Certainly, you don't desire that. You have worked hard to conquer your leads, and customers' trust to send emails to them. 
Quality must always come over quantity. Therefore, you should analyze your audience's profile to set a schedule and identify how often you are going to send them emails. The frequency can also change depending on the type of campaign, and the buyer's journey stage. 
15. Timing is essential for better results
Being at the top of the mailbox is a dream coming true, right? It gives you the best visibility when someone opens their email. But, how to achieve that considering the number of messages each person receives per day? 
When you analyze your email marketing data, you will be able to see the time where most of your emails are open. For example, if it is around 8 and 9 am, on Wednesdays or between 6 and 7 pm on Thursdays. 
It isn't possible to determine the perfect time for sending emails to all the companies, it will vary according to each audience. To help you have even more precise timing, some email marketing platforms offer an algorithm that adjusts the send-time for every person on your list. For example, GetResponse does that. 
16. Keep your eyes on email rendering
Test if your emails are rendered correctly, regardless of the recipient's browser. There are email marketing tools that will help you in that task. That way, you can be sure that everyone on your list is going to be able to open and read your email.
It would be very frustrating for your leads and customers to receive one of your messages, and then open a blank page or a completely misconfigured one. Also, make sure you are using a responsive design, which is mobile-friendly.  
17. Don't use noreply addresses
Noreply addresses aren't advisable when it comes to email marketing best practices. For the person who is receiving it, it seems like they are talking alone. It doesn't encourage people to even open the email.
If you say your customers are a priority, it sounds incoherent when they see an address such as "noreply@company.com". It gives the impression that you don't want to hear from them when that's the opposite of the image you want to convey. Show them you care, and that you are open to feedback. 
18. Use double opt-in
Someone subscribes to your list, and immediately starts receiving your emails, right? It can be like that, but for email marketing best practices, there is one more step: send an email asking the recipients to follow a link and confirm they are signing up to get your newsletter. 
You may ask, won't it reduce my email list? Yes, it may. But, it will prevent you from receiving a high number of spam complaints, unsubscriptions, and your list will be more focused on the ones who are interested in hearing from you. You may have less quantity but an increase in quality. 
19. Respect GDPR
The General Data Protection Regulation was created in order to protect EU citizens from having their personal data shared without their permission. If your company is settled in Europe or offers services to EU citizens, you must apply to these norms.
Study the regulation, and make sure you aren't trespassing any personal right. For example, don't buy an email list, send emails only to the ones who signed up to receive your newsletter. 
People don't see with good eyes when companies send them unauthorized emails. You can lose your credibility because of this, see your open rate falling and risk having your email addresses denied by main ISPs like Gmail and Yahoo. 
20. Analyze your email lists regularly
Check your email list to identify email addresses that haven't been opening your emails for a long time, and remove them. Instead of unsubscribing, some people just keep ignoring the sent messages.
This can affect your open rate performance, avoiding you from analyzing according to the recipients who are interested in your content. Your email list will be shorter after you clean it, but the quality will have improved. 
You will get much more precise data, focused on people who can actually become your customers or buy again from you. So, reserve some time from around 3 to 3 months to make this analysis. 
21. Select strategic metrics: follow email marketing performance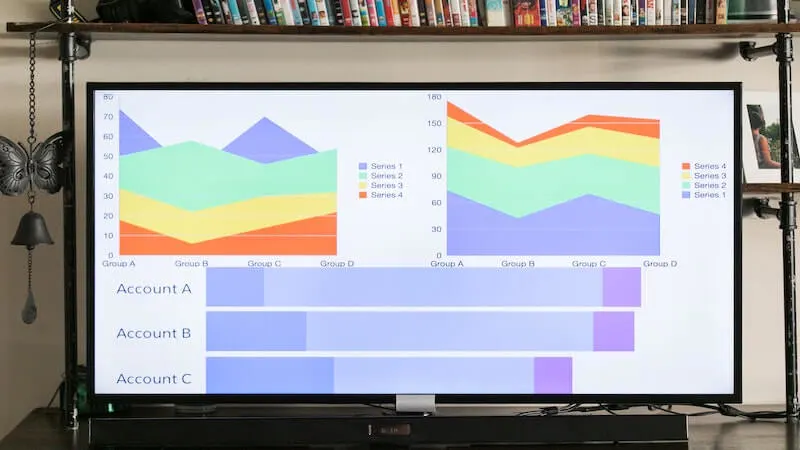 When creating an email campaign, it's essential to define which metrics are relevant to your purposes, and their order of importance. That will guide you better through data analysis and select goals to what's considered a good campaign performance, according to your needs.
If your main goal is to direct the leads to buy a special offer at your website, it's necessary to analyze the open, click-through rates, and the number of conversions in sales. 
While, if your main goal is that the recipient reads all the information on the newsletter presenting your company,  the open rate has a higher significance than the turn into sales rate. Because selling wasn't the point of this email, although, it's amazing if they happen through it, of course. 
22. Enable your audience to unsubscribe easily 
Nobody implements email marketing best practices to get unsubscriptions. But, some people may not want to receive your newsletter anymore, that happens even in the best campaigns, for different reasons.
That's why, it's necessary to develop a simple unsubscribe system, through a hyperlink at your message footer. Making it hard for people to stop receiving your message doesn't improve your rates, and it can have a bad effect on your reputation.
23. Use an email marketing tool
To simplify the process of creating email marketing campaigns and delivering them, there are many platforms with automated tools and several other resources. They will save you time, and it's possible to use them without having coding or design skills. Take a look: 
With pre-built templates that you can customize to better suit your email messages, Sendinblue makes it much easier to create the perfect campaign. You can personalize the content using the recipient's name and other features.
The platform enables you to create different segments, based on the criteria of your choice, automate A/B testing, schedule the emails, and use its machine learning to optimize sending time. 
E-goi provides a simple and professional editor, so you can create amazing layouts based on one of their free templates. The platform offers other advantages as well, such as an anti-spam feature, an autoresponder,  and automatic A/B testing. 
Besides, E-goi allows the integration with many other tools, like WordPress, Facebook, and PipeDrive. Beyond that, you will receive reports about the performance of your emails to keep continuously improving. 
Free trial for 30 days, professional email templates, easy design tools: those are some of GetResponse features. The platform allows you to develop automated email sequences, and follow up on them. 
The Perfect Time tool automatically analyzes what's the best hour to send an email, according to each person's data, and sends it for you. You can also create custom segments, and integrate Get Response with your online store. 
Be always updated about email marketing best practices 
Email marketing best practices changes as other technologies and tools are developed, it's very important to keep searching for ways to improve your strategies, and content. The more you get to know your customers, the more precise your messages will become. Remember the online market is in continuous evolution, don't let yourself fall behind.
Like what you've read?
Sign up and try JivoChat for yourself!
It's free and only takes a couple of minutes to download.