How to Create a Gif for Instagram Stories
Jaqueline Corradi
Content Manager
Learning how to create a gif for Instagram offers you thousands of possibilities to make your stories funnier and more attractive to the viewers. You can create gifs with your brand's logo, pictures, and different types of illustrations. 
Thousands of people and companies post stories every day, to catch viewers' attention it's necessary to use strategies that differentiate your content from the others. Personalized gifs may help you with that. 
Check out the article to learn more about that. 
What is a Gif?
A gif is a short animation, which can be made using words, illustrations, or photos. You can make the elements move in the gif, instead of being static. For example, people make gifs from popular memes, to express themselves more funnily.
Gifs aren't only used on Instagram but also on other platforms, like WhatsApp, Twitter, and Facebook. Using gifs is a way to keep updated with the internet means of communication, and it can also help you connect with a younger audience. 
There are several types of gifs that you can create:
Standard Photo Gif: made using two or more photos
Animated Gif With a Background: they are commonly created from an animated video
Animated Gif Without a Background: an element from animation is cut out from it to make a gif
How to Create a Gif for Instagram
1. Choose an App to Create Your Gif for Instagram
There are several free online gif makers  available such as Ezgif, Make a Gif,  and ImgFlip. Choose the one you prefer and find it easier to use. To exemplify how to create a gif for Instagram, we will use the Make a Gif platform.
2. Upload the Images or Videos
To start making the gif, first, you need to select the images or videos you want to use, then upload them to the gif maker platform of your choice. Upload them to the gif maker.
3. Define the Speed 
Once you have put the images or videos in the order you want them to appear, edit their sizes, and define the speed of the animation. Then click on continue to publish.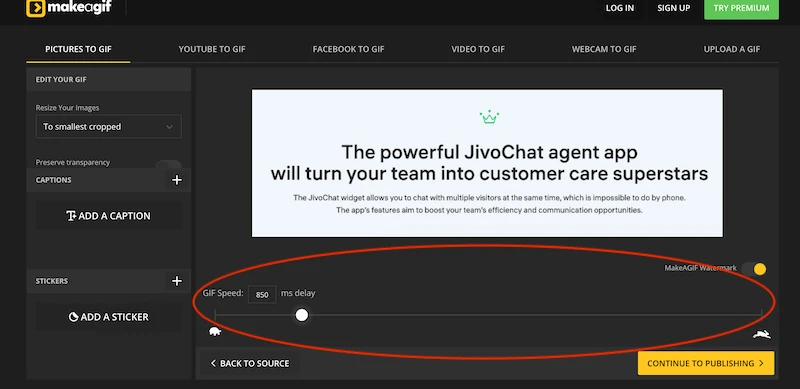 4. Publish the Gif
To publish the gif and save it, you need to give it a name and select the category of your gif, for example, meme gifs or celebrity gifs. Then, add tags related to the gif, so it can gain more visibility. This way other people can see it as well, and start using it. After it, click on "create your gif". 
5. Save the Gif
Once the gif is ready, download it to your computer. You can also copy the gif links to place it on your website and other channels. 
How to Make the Gif Available to Use on Instagram
1. Create an Artist or Brand Account on Giphy
You can only add gifs to Instagram if they are uploaded on Giphy, which is the only third-party app that the platform uses. 
Therefore, you will have to create an artist or a brand account on the website, if you are creating gigs for your Instagram company profile, you should apply for a brand account.Check the Giphy Application requirements, and follow the instructions.
The process is simple, but it can take some time. Once Giphy receives your application, they will analyze it, and, if it's approved, you will get an email notifying you about that.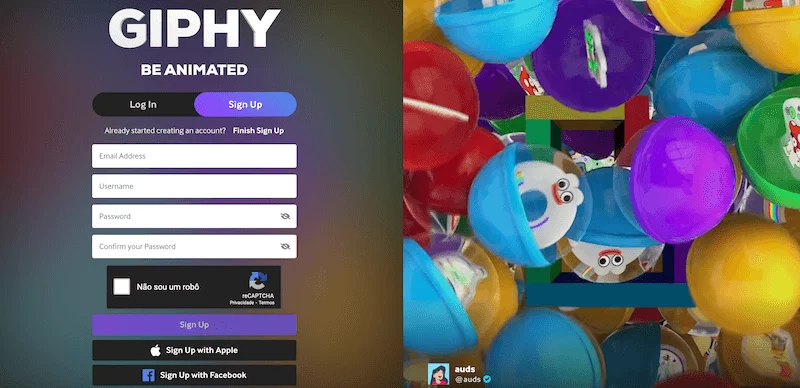 2. Upload the Gif to Your Giphy Account
Once you have your Giphy brand account approved, upload your gifs to your account. You can even make them available for other people to use not only on Instagram, but also on TikTok, and Facebook, for instance. That's great to promote brand awareness and grow your company's visibility. Besides, You can also use Giphy features to create gifs. 
3. Add the Gif to Your Instagram Stories
Once you have uploaded your gifs to Giphy, it will analyze each one of them so make sure they comply with the platform guidelines. If your gif is approved, all you need to do to use them on your stories is click on the gif button, and search for yours. It will automatically be available there.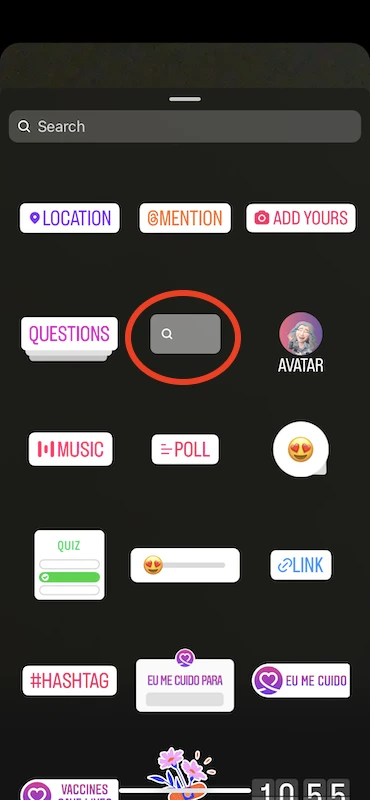 Enjoy Your Gifs on Instagram Stories
Now that you have understood how to create a gif for Instagram stories, start making your own gifs. You will see how they can turn your stories into much more attractive ones. You can also make gifs to be used by your followers, encouraging them to engage with your brand, it's an opportunity to straighten your relationship.
Like what you've read?
Sign up and try JivoChat for yourself!
It's free and only takes a couple of minutes to download.