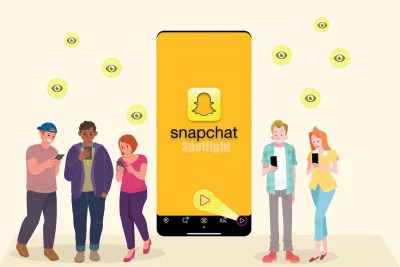 How to Get Views on Snapchat Spotlight
Snapchat has introduced a new TikTok-like feature known as Snapchat Spotlight, and it's all the rage these days. It's vital that you know how to get views on Snapchat Spotlight in order to see success on the platform - views raise your brand awareness and build your customer base.
Having more views on Snapchat can not only help you gain more followers but can also open up opportunities for brand partnerships and even monetization. Racking up a high view count can be tricky without the right strategies, but we've got you covered.
Our guide will teach you industry-best tips that ensure you get lots of eyeballs on your Snapchat content and gain new followers.
Effective Tips to Get More Spotlight Views on Snapchat
Although getting views on Snapchat Spotlight may not be an overnight process, don't worry about whether or not you'll succeed. Follow these guidelines, and success will quickly follow:
1. Use Snapcode as Your Profile Picture
Snapchat gives you a Snapcode, a unique QR code that helps others find your Snap account. It's important to share your Snapcode far and wide, as it's the only convenient way for others to locate you on the platform aside from knowing your exact username. 
One way to increase your visibility is by using your Snapcode as your profile picture on other social media platforms for a while. This can expose it to a larger audience that has already opted into your content and is a great strategy for quickly gaining more views on Snapchat.
2. Pick A Niche
Sticking to a specific niche and consistently creating related content can help attract and retain a loyal audience on Snapchat. On the other hand, constantly switching topics may alienate followers. To make your content more appealing, aim for consistent product quality and context within your Snaps, Spotlights, and Stories.
This can encourage others to share your content, increasing your views and attracting new followers. Consistency and a strong context can help establish you as a reliable source of information or entertainment within your chosen niche.
3. Post Content Regularly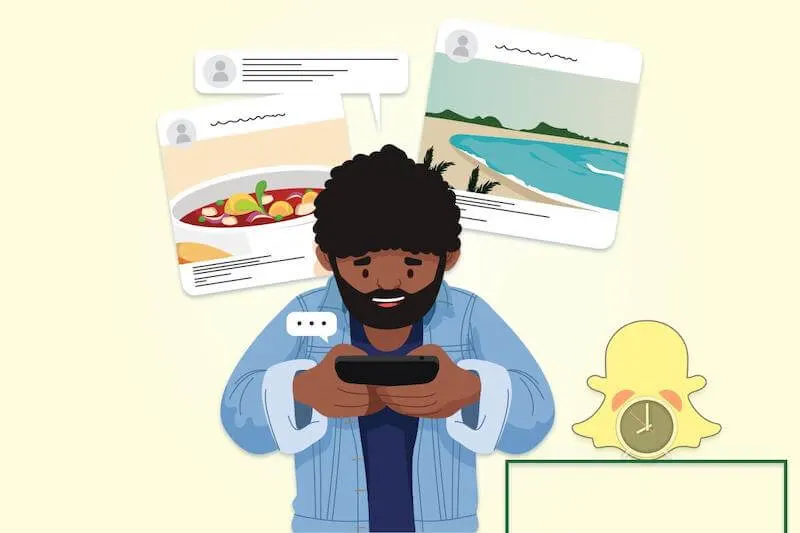 In order to keep your audience as engaged as possible, you need to show up in their feed on a frequent basis. By posting content regularly, Snapchat's algorithm will increase your spotlight's ranking on the search page, allowing more people to find your account.
Posting consistently also drives more shares and screenshots because people will see more of your content and want to show it to their friends. 
4. Promote Your Snapchat Account
Regardless of which demographics you're targeting, they're highly likely to be present in other places on the internet, in addition to Snapchat. It's best to use this to your advantage and post the profile link to your Snapchat account across multiple sites.
Share your Snapcode on different social media platforms like Facebook, Instagram, and LinkedIn. You'll increase your chances of popping up on someone's feed and convince them to view your Snapchats when they wouldn't have heard of you otherwise. 
5. Post Behind the Scenes
To create a deep connection with your audience on Snapchat and engage with them more effectively, consider sharing behind-the-scenes content and updates on your brand's efforts to meet customer needs. This can create anticipation and help build engagement on Snapchat Spotlight. 
Regularly sharing behind-the-scenes content can also provide your followers with a more personal and immersive experience, which can help to win over more viewers to your profile. By giving your followers a glimpse into your brand's operations and efforts to satisfy their needs, you can strengthen your connection with them and make them feel more involved in your project.
6. Work with Influencers
You can easily get more views by partnering with a content creator that's gone viral. Influencer marketing is extremely effective on Snapchat, allowing you to tap into someone else's audience and win them over to be your loyal fans.
The opportunity to promote your content to new people can lead to huge gains in your following and view count. Even something as simple as getting a shout-out from the right influencer will boost your engagements in a short time. 
7. Purchase Snapchat Spotlight Views
By far, the fastest way to gain views on your Snapchat Spotlights is to purchase them. It allows you to increase your reach greatly and promote your brand to new audiences at a low price, and it brings success much more quickly than any other method.
Although buying views is so effective, it can be difficult figuring out where to buy them from. Thankfully, you need to look no further than Media Mister, the number one social media marketer out there, to purchase authentic views from real accounts.
They have an industry-high retention rate because of our excellent customer service and 100% money-back guarantee if you aren't completely satisfied.  Purchase Snapchat views from Media Mister and watches as you receive a better ranking in Snapchat's algorithm.
8. Know The Current Trends
To stay relevant on Snapchat, you need to keep an eye on the trends happening at any given moment so that you can jump on new opportunities. People forget about content easily these days, making it vital that you stay on their minds with fresh posts.
Oftentimes, creators will post a 60-second vertical video, and that's enough to engage their audience. This isn't always the case, however, so you might need to adapt your content to be more short-form or long-form, depending on the current trends. 
Final Thoughts
In this day and age, any business would benefit from running a popular Snapchat account. Getting Snapchat Spotlight views can be an uphill battle without the right techniques, though.
Luckily, you've come to the right place for all the guidelines you need to know. Follow the best practices listed above, and you're sure to see your number of views on Snapchat increase greatly in no time.
Like what you've read?
Sign up and try JivoChat for yourself!
It's free and only takes a couple of minutes to download.