How to Take Advantage of Instagram Stories for Small Business Growth
Reading time ≈ 15 minutes
Social media presence is a must for small businesses. As reported in one recent study, around 80% of customers do online research before buying from a small business, and over 60% of small businesses invest in social media marketing to provide relevant information and attract customers.
With a wide variety of popular social media platforms, it can be challenging for small businesses to have a social media presence on all of them. When it comes to choosing one social media platform, Instagram is a great choice.
Why? The platform has surpassed 2 billion monthly active users, 90% of whom show interest in communication with brands in-app, and it's considered to be one of the most engaged and fastest-growing social media platforms.
But if you want to bring your small business to the next level, it's also important to incorporate Instagram Stories into your Instagram marketing strategy and take advantage of this ephemeral short-form content format to achieve small business growth.
The Popularity of Instagram Stories and its Potential for Small Business Growth
Back in 2016, Instagram rolled out its alternative to Snapchat Stories. Short-lived vertical content (images and videos) with the lifespan of 24 hours found its place in a separate feed, and it quickly gained in popularity. 
As ephemeral content that disappears within one day, Instagram Stories create a sense of urgency that encourages people to prioritize consuming and engaging with this content type. As a result, Stories attract over 500M daily viewers. 
For small businesses, the Instagram Story isn't the most obvious content format to focus on. With its 24-hour lifecycle, it's not the right content type in which to heavily invest time and effort. However, more and more small businesses find a great solution to create engaging communities. 
Not only do smaller brands realize the importance of using Instagram Stories for business growth, but they also see better results in comparison with bigger accounts. Socialinsider's data claims that Instagram profiles with less than 5000 followers reach a bigger part of their following with Stories.
Still doubting if using Instagram Stories can be right for your small business? Here are five main reasons for small businesses to take advantage of Instagram Stories:
Keep up with the trend. Instagram Stories spread fast, and this content type has become a big deal on the platform. The demand for Stories is high as people crave authentic content from brands they follow. When small businesses create Instagram Stories, it helps to keep up with trends and satisfy users' needs and wants.
Interact with the hooked audience. The FOMO (fear of missing out) effect encourages Instagrammers to watch Stories first. What is more, people have great interest in this content type and it's easier for small businesses to start a conversation or interact with the hooked viewers.
Beat the Instagram algorithm. It's no secret that Instagram prioritizes content from friends and family, often leaving brand profiles in the shadows. But Instagram Stories have a separate feed, and they pop up in it unless users watch them. It helps to get in front of your subscribers and get better visibility.
Reach a wider audience. If you have a public profile, your Instagram Stories may appear on the Explore Page. And if you use relevant features like geotags or hashtags, you can optimize your Stories to show them to the right audience. All in all, it allows you to reach a wider audience of potential followers.
Achieve business-specific goals. With the great popularity of Instagram Stories among users, Instagram offers a wide array of features that help businesses of all sizes improve communication with their viewers and achieve their goals. For example, small businesses can use the poll or the question stickers to collect customer feedback. Or, you can include a clickable link that redirects viewers to your website to drive more traffic.
Now that you know the importance of using Instagram Stories for small business growth, let's dive into practical tips on how to take advantage of this content type as well as find actionable Instagram Story ideas that can inspire your next Instagram content campaign.
Here are nine proven ways on how to use Instagram Stories for small business growth.
1 . Create Attractive Instagram Stories that Grab Attention
As a photo and video sharing platform, it's no surprise that Instagram has a focus on visual communication. At first glance, there's no need to invest in great visual design when creating Instagram Stories that vanish within 24 hours.
However, people are visual learners who pay close attention to visual content, so having an attractive Instagram Story gives you an opportunity to cut through the noise and differentiate your small business from competitors striving for the attention of your target audience. 
Stunning stories grab attention, deliver your message, and improve understanding of your brand and its products. What's more, it can be easy for small businesses to create attractive Stories if you know and make good use of the right tools.
Dreaming of creating video stories that drive better engagement? Rely on Videoleap, a video editing platform from Lightricks that offers different templates from creators and various effects to make video editing easy for anyone. 
Case in point:
To spread a word about its cafe, Coffee & Craving made several short videos and mixed them into one eye-catching clip. The company also used Videoleap to change aspect ratio and therefore repurpose this Story video for its feed.
The above example proves that there's no need for small businesses to hire expensive designers to create attractive Stories, even if you want to make video content for Stories – the right tools make it easy for everyone to employ visual storytelling on the go.
2 . Include Story Features for Higher Reach
Did you know that Instagram may show up your Stories in the Explore tab where you users see content tailored to their interests? Simply put, you get a chance to reach a wider audience of users who are potentially interested in your business or product. 
However, it's important to include the right Story features that help to optimize Stories for discoverability. When done right, it can result in more Story views, higher reach, and more followers – or even customers.
Here are several story features to use when creating content for higher reach:
Hashtags. When using keywords as hashtags, Instagram knows who may be interested in this content so it delivers it to the right audience. What's more, users may discover your stories when searching for a particular hashtag.
Location geotags. Just like hashtags, location geotags aim at users who have interest in a certain area. This feature helps to interact with your local community, which can be extremely useful if you operate within a certain area.
Shoppable stickers. Instagrammers research and discover products in-app, so when you use shoppable stickers, you're more likely to increase user engagement and therefore prove that your story is worth discovering, so the platform shows it to a wider audience. 
Poll/question stickers. Users crave communication with brands on the platform, and they love sharing their thoughts when you ask them. This interactive type of story features help to drive engagement, leading to higher reach over time, as well as valuable market insights.
3 . Use a Clickable Story Link for More Leads
It's no secret that Instagram isn't the best place for driving traffic – it doesn't have many options to add clickable links. But when it comes to Instagram Stories, the platform launched the new link sticker in 2021. Regardless of follower count, every user can use the link sticker and share the desired link via Instagram Stories.
For small businesses, this can be a great tool that allows companies to redirect interested followers to the right landing page and achieve your company goal. 
Every small business is interested in acquiring more customers. Although it can be hard to convince followers to become your customers fast, you can still use Stories to capture and nurture leads. So yes, the link sticker can be an effective solution for small business lead generation, too.
Let's take a look at Tailwindapp. The company realizes the importance of niche information, so they organize valuable and useful webinars from time to time and invite their followers to attend these webinars in exchange for sharing contact information. And here's how the company leverages the FOMO effect with short-lived Insta Stories:
Remember that people nowadays are reluctant to share their contact information like emails or phone numbers, so you need to offer something valuable and exclusive to generate leads with the link sticker. 
Not only should your Instagram Story include a solid reason for sharing contacts like lead magnets, but it also should redirect interested viewers to the lead gen landing page where users can fill out the important data with ease.
4 . Optimize Instagram Stories for in-app Shopping
Sales are the lifeblood of any business, and small businesses can't exist without customers who buy from them. With the benefits of online shopping, small businesses realize that their customers use social media for product discovery and purchase. When it comes to Instagram Stories, it's crucial to optimize ephemeral content for shopping and therefore encourage engaged viewers to buy your products.
Online shoppers often make impulse purchases, so showing off your product with its description and the price increases the chances of selling it – especially if you use Instagram Stories that disappear within one day.
To optimize Instagram Stories for in-app shopping, you can either include shoppable stickers or add clickable links that redirect viewers to your website. Check out how one jewelry brand uses Instagram Stories to encourage in-app shopping:
5 . Feature Your Happy Customers as Social Proof
No matter what your niche is and what product you sell, the market offers too many options. Modern customers face overchoice, so it can be hard for them to make a final decision and buy from you, especially if you're a small business that is just starting out.
However, customers rely on peer recommendations and they pay close attention to customer reviews. Simply put, consumers crave social proof. To ease the worried mind of potential customers and give them a solid reason to trust your small business, it's a good idea to feature your happy customers as social proof. 
For example, you can encourage customers to create user-generated content and repost their visuals to Instagram Stories. And if you get video testimonials from your satisfied clients, you can compress videos and share them via Instagram Stories as social proof, too. Or you can even take the next step and make a compilation that highlights your happy customers. 
A good idea is to customize Instagram Story templates to make these images recognizable and group these Stories into a separate IG Story Highlight album so that visitors could find this content with ease. 
6 . Ask Instagram Influencers to Promote Your Product in Stories
Instagram influencer marketing is taking the world by storm. Brands of all sizes and niches seek out relevant opinion leaders to promote their products and services within already-established communities of loyal fans who trust influencer recommendations.
Small businesses can also make the most out of Instagram influencer marketing campaigns and ask relevant influencers to spread a word about their products in Stories, just like in the example below.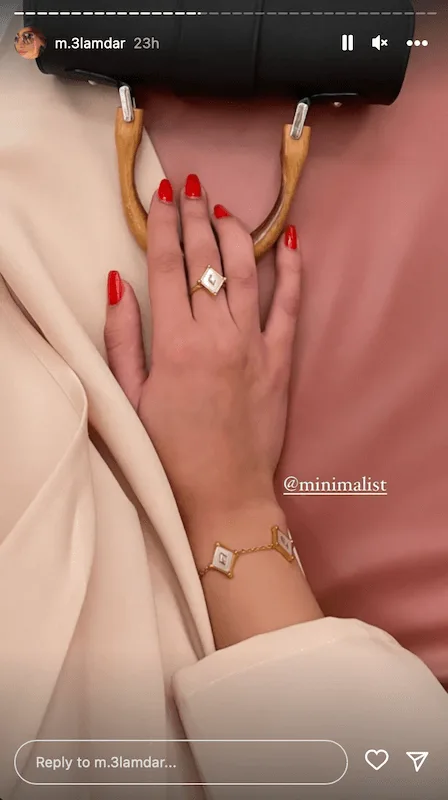 Here are several ideas for small businesses on how to implement influencer marketing into an Instagram Story strategy:
Find influencers who do product reviews
Invite influencers to become brand ambassadors
Feature influencers as the faces of your ad campaign
Promote branded content Instagram Stories as paid ads
When done right, Instagram influencers can help to achieve business goals. For example, if you want to get more web traffic, you can ask influencers to create a series of Instagram Stories and add a website link so that interested viewers could learn more about your company.
Again, you can repost all influencer endorsements to your profile and then organize these Stories into a dedicated Instagram Story Highlight album and give it the right name so that viewers could understand what they can find when tapping on it. Here's how Minimalist uses this strategy: 
7 . Invite Loyal Fans to Support You with the Small Business Sticker
Back in 2020, when the outbreak of COVID-19 pandemic changed the world, Instagram rolled out the new sticker to help people discover and support small businesses and it quickly got a ton of use. 
The small business sticker has become one of the most effective social media growth hacks and it is still a valuable tool for small companies who seek support from their customers. When your loyal customers want to tell their followers about your company, they can include this sticker to give viewers a preview of your account. Check out how it looks in action.
Although you can wait for your customers to start supporting your small business, it's a better option to encourage them to do it. For example, you can invite loyal fans to use this sticker or even organize a contest and make the usage of this sticker as one of the participation requirements.
By tapping into people's natural love for the underdog and current skepticisms surrounding big business, using the support small business sticker is a great way to rally positive sentiment, reach a wider audience of potential customers and bring your business to the next level.
8 . Make the Most Out of Instagram Story Features for Customer Support
Over the last decade, communication channel preferences have changed. 
Today, people spend a considerable amount of time on Instagram, as an average user spends 58 minutes on the platform each day. Plus, users claim that Instagram has become their favorite channel for brand communication, seeking to solve their inquiries in-app, too.
The era of conversational marketing is here, highlighting the importance of providing customer support, no matter how big your company size is. With a proactive approach to solving customer requests, you can increase customer satisfaction and get a better understanding of your audience. With the right Instagram Story features, it's getting easier for small businesses to manage all inquiries on the platform.
Here are the best features to use for customer support:
DM Me sticker. This feature encourages users to slide into direct messages and start a meaningful and private conversation with your brand. 
Question sticker. Invite users to share their concerns or questions and share replies to help other people get answers to similar questions before they reach out to you.
Link sticker. You can ask followers to fill out a survey on your website and therefore collect customer feedback to understand your audience.
9 . Run Instagram Story Ad Campaigns
Instagram has over 25 million businesses who market their products in-app. Organic growth is getting harder, so it's no wonder that 2 million advertisers see potential in paid ad campaigns.
For small businesses, running ads on Instagram can be an effective way to cut through the noise and reach the right target audience fast. And if you want to get wonderful results, it's a good idea to run Instagram Story ad campaigns as it gives you a chance to reach involved viewers who are ready to consume content.
To drive brand awareness and increase sales, the protein product company Muscle Milk made an Instagram Story video ad that aimed at the right audience – highly motivated athletes who had interest in protein shakes and sports. 
With the power of storytelling, the campaign reached the right viewers and achieved the following results: 4.8% increase in market penetration, 7.5-point lift in unaided ad recall, 16.9 million people reached.
The good news for small businesses: you don't have to create your ad from scratch and spend much money on ad campaign creation. Another great idea is to repurpose your content for Instagram Story ad campaigns. For example, you can find product photos on your phone, use a background remover to keep a focus on the right item, mix these images with creative backgrounds and fonts, and turn it into an innovative Instagram Story ad.
However, always remember about the importance of tracking the ad campaign performance to analyze if this idea works for your audience. 
With the help of Instagram analytics tools, you can measure your ad performance with ease and therefore improve the results of your future Instagram Story ad campaigns. Why? The right data can hint at what your audience loves and wants. Therefore, it results in small business growth.
In a Word
The days when having an Instagram presence was enough to grab the attention of your audience are long gone. Today, customers expect brands to keep up with current trends and they want to see Instagram Stories from companies they support.
In the last few years, Insta Stories have become a powerful marketing tool that makes your small business more discoverable, engages audiences in meaningful conversations, and even sells products in-app. Long story short, Instagram Stories can lead to small business growth.
Now that you know how to take advantage of Instagram Stories for small business growth, you can make the most out of this feature and achieve your goals faster – just experiment with ephemeral content and find out what works best for your small business.
Like what you've read?
Sign up and try JivoChat for yourself!
It's free and only takes a couple of minutes to download.