Learn how to write a call to action: tips and examples
Reading time ≈ 16 minutes
Jaqueline Corradi
Content Manager
Learn how to write a call to action: tips and examples
Sell products, generate leads, increase brand awareness: when you learn how to write a call to action, you can use it for different purposes. But, to convince someone to do what you are suggesting, it's necessary to be creative and compelling in the choice of words.
Writing an incredible call to action will make a big difference in the performance of your content, increasing conversion rates, and giving a push so customers can move forward in the buyer's journey. 
What is a call to action?
A call to action, which is also referred to as CTA, is a digital marketing strategy that has the goal to convince someone to take action, as the name implies. It can be a CTA to buy a product, with the simple phrase "Buy now", for example. 
CTAs can appear in different formats and several channels of communication, it depends on what are your goals by using them. Besides, the way to write a CTA is going to vary according to your target audience profile. 
You will find a call to action as a button, a text with a hyperlink, or only a text, as well. "Download now", "Create an account", "Subscribe" are very common types of CTA, you must have already seen them in different places on the internet. 
Not every call to action has the same effectiveness, though, it's necessary to analyze well how to construct them, to convince the reader. Keep in mind that a good CTA also takes into consideration the design since the visual elements can grab the reader's attention in the first moment. 
Why use a call to action?
There are several reasons to use a call to action. You can increase brand awareness and your website traffic through it, for example, by inviting people to visit your company's page, to get to know more about a product, or to read a blog post. 
Calls to action are also very popular when it comes to lead generation. You can encourage your prospects to download an ebook, subscribe to your newsletter, or follow your social media profiles. 
When the customer is in the final stage of the buyer's journey, it's possible to use a CTA to close a sale, and even avoid a visitor from leaving an abandoned cart, by offering an advantage to finalize the purchase, such as a coupon discount. 
Calls to action can be used in every step of the buyer's journey, leading prospects on the path to becoming loyal customers by directing their next moves.  
Where you can insert a call to action
Website
You can add CTAs to different parts of your company's website, like the home page and landing page, through a banner or a pop-up, for example. Inside it, you can put a web page button with a direct message, such as "download now". This way, you highlight the action from the rest of the text, by also designing it with a different color and typo.
The button has to make it clear to the readers what is the next step that they should take, and how they can do it. Another common place to add a CTA is on blog posts, usually at the end of the text, with a hyperlink. 
The type of call to action will depend on the article's purpose, and to whom it's directed, it can be an invitation to leave a comment, to follow your brand on social media, or to buy a product. It has a lot to do with the step of the buyer's journey the article is targeting.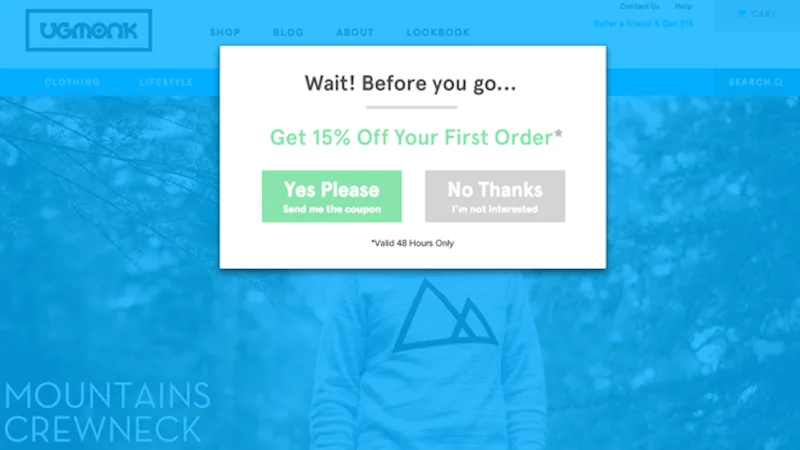 Email marketing
Calls to action are also used in email marketing campaigns. You must have already noticed them in your mailbox, encouraging you, for example, to read a full article, download a resource (like an ebook), or enjoy a discount. 
You can add more than one call to action in an email, which is very used in longer newsletters that present several different contents, or focus on just one action.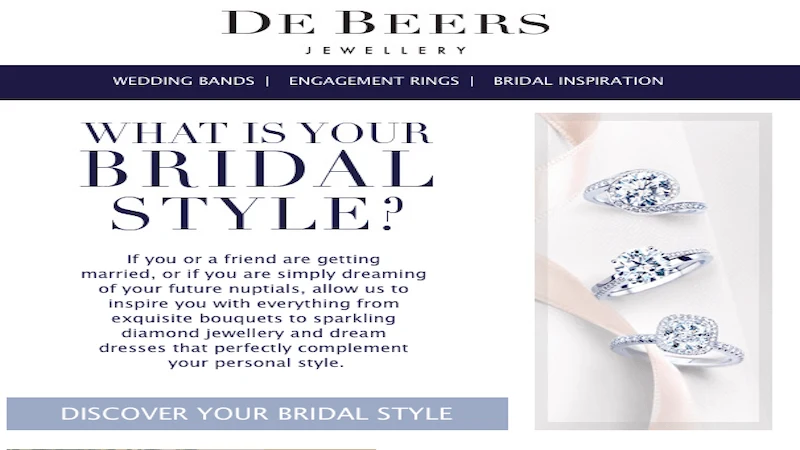 Social media posts
CTAs are everywhere in Social Media. On Twitter, you can use them in the form of plain texts or texts with hyperlinks, while on Facebook and Instagram, CTAs often appear on the captions, in the image itself, and in the stories too. 
Since Instagram doesn't allow you to add hyperlinks to the caption, it's very common to see calls to action such as "click on the link in the bio". Different from the stories where it's possible to add direct links. 
As you don't have the button page resource on a social media text, it's important to use other ways to grab the attention to the desired action, for example, by using emojis.
At stories, you can add gifs, and design the image to highlight the CTA. But, be careful not to use too many visual elements, which can make the message confusing. 
Online Ads
Call to action is a very important part of an Ad, it's what is going to drive the reader to fulfill the purpose of the piece. When we think about offline media, for example, print magazines or newspapers, CTAs were already very used on their announcements pages. 
But, in the online world, you can measure their effectiveness in a much more precise way. On Google Ads, the CTA usually appears in the page's title and in small text that stays under it.
On websites ads, you can add a pop-up or a banner, and also use a page button. If Instagram doesn't give the option to click at a link on the captions, with the Ads, it's possible to click on the image and be redirected to your company's online store, so there are more possibilities to think of different and compelling CTAs.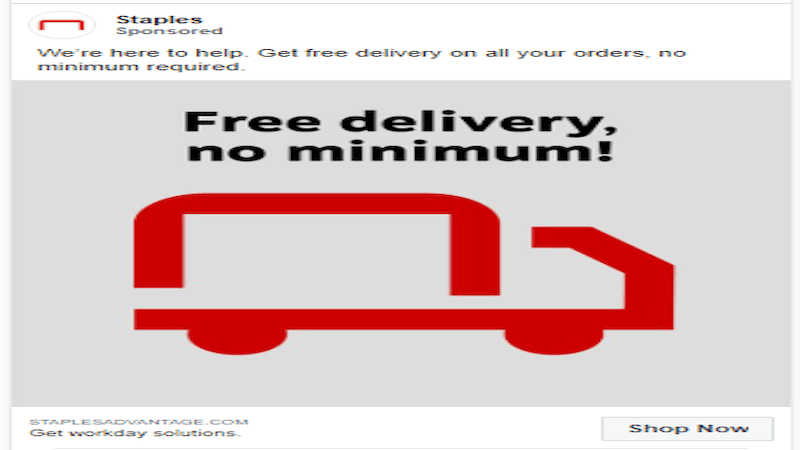 Pay-per-click campaigns, which are present in Google, Instagram, Facebook, websites, and other platforms, rely on having an effective call to action to deliver results and improve conversion rates. You have to convince the user to click on the ad, and a good CTA is a powerful strategy to help with that. 
Tips on how to write a call to action
1. Define a goal
This may seem obvious, but it's essential to learn how to write a call to action. Before starting typing, you need to define what is the purpose of the CTA, and how it aligns with the piece it's going to be attached to, such as a blog post or a landing page.  
By knowing exactly what you desire the person who is reading the CTA to do, it's going to be easier to choose the best words to drive it, be direct, and create a clear message. 
It's important to focus the CTA on one action. If you tell the reader to do several things, it can make the message confusing to understand. For example, if you write "subscribe and buy", what is the main desired action?
Buying can be the final goal, but is it the next step to drive the lead, or do you want them to subscribe first? The answer will depend on each context, but by putting these two words together, you are splitting your audience's attention.
2. Know your audience
To understand how to drive someone to take action, it's fundamental to know this person's behavior and preferences. Before writing a CTA, research your target audience to enable you to identify what can trigger them to act.
It will influence the words you are going to choose,  the tone of the message, if it's going to be more formal or casual, and the design.  By knowing them well, you can offer what they want, and show it in a clear message with a persuasive CTA.
3. Use imperative
To send a strong message with your call to action, opt for using action verbs in the imperative form, they will help you to be more direct and clear.
You want to drive the lead to do an action, so nothing of going around with the subject, go straight to the point. For example, "shop", "order", "get" , "download", "sign up", "find out'', "fill out the form". 
What is more assertive, "The latest ebook is available to be downloaded" or "Download the latest ebook"? The second phrase tells what to do instead of only informing you there is a new ebook, it's a stronger CTA. The first one passes the message, but it isn't motivating as much. 
4. Choose words that cause emotion
When reading your CTA, it's important that your audience can feel excited about it. Telling what to do isn't enough to drive the desire to do something, the words have to provoke positive feelings.
Think about what you can associate with the CTA, use assertive adjectives. Punctuation can also help with that, for example, by using exclamation points in the right places. But, to understand what can make your audience feel enthusiastic, once more, it's essential to know them very well. 
5. Give convincing reasons to do the desired action
Persuasive writing skills make the whole difference in how to write a call to action. How can you persuade your audience to do something? Offering them valuable benefits and highlighting them in your CTA.  
Show why they should follow your call to action, for example, by emphasizing that they will learn something new, have the chance to buy an incredible product with a huge discount, be the first ones to know when a software is released, or get a free trial. 
If they see an attractive motif, it's going to be much easier to drive actions. For instance, what is more appealing, "Buy now" or "Buy now and get 20% off"? If you have a benefit like this to offer, don't let it out of the CTA. 
6. Create a sense of urgency
When you include a deadline to your call to action, such as "Buy today and get 15% discount on your next order",  "Get a free sample only today",  or "limited offer", you create a sense of urgency that motivates your leads to take action. 
They know they may lose this opportunity if they ignore the message, which can make them think twice about exiting the page. This strategy is based on FOMO, fear of missing out, and many companies apply them. You probably have seen this type of CTA in several places, and there is a simple reason for it: because it works. 
7. Be creative
There are many marketing tips when it comes to how to write a call to action, as you can see. But, just as you can follow a cake recipe and add an extra ingredient to give a special flavor, it's important to add creativity to this recipe of writing a CTA. 
Put something unique, it can be a different format or a design but exercise your creativity. How to do that? Research examples of CTA, study marketing campaigns, and also different types of texts, you can get valuable insights from them. 
8. Invest in an appealing design
The design has a very significant role in the effectiveness of a call to action since the visual elements have the power to draw the attention of the reader to your message. The CTA must have something that highlights it from the rest of the message. To achieve that, you can:
Insert white space to separate the CTA;
Use a different typo or put the CTA in bold;
Create a CTA Button with a color that contrasts with the rest of the page;
Make a CTA button that is sufficiently big to stand out, but without exaggerations;
Keep the design aligned with your brand's image; 
9. Be coherent with your brand's voice
A successful brand needs to build an image that's aligned in every communication channel, so the customers can recognize it easily, sometimes even without seeing the name of the company. 
There must be a guideline to keep synchrony among every advertisement piece and any other type of content, which includes the calls to action. Construct the message in a way that's consistent with the image your brand intends to communicate. 
10. Test the CTAs
How to know if a CTA can actually be effective? Testing. You can learn how to write a call to action, but to understand what works better for your target audience, it's essential to try different types of CTAs. 
You can do A/B testing, for example, creating different versions for the same CTA, then seeing which one performs better. Pay close attention to the metrics, analyze which changes in the calls to action delivered better results, and rank which metrics are the most important for each CTA.
For example, if you put a  call to action in an email to sell a product, the click-through rate and the number of sales that happened through the email are very important. On the other hand, the number of sales isn't the priority to be analyzed when you have a CTA to sign up for a newsletter, but the subscription rate is.
Certainly, if this CTA leads people to buy your products that's a metric to be considered, but the goal of the call to action wasn't that. Having well-defined objectives with each call to action is going to be very helpful to measure its success. 
Power words that you can use on your call to action
Some words, which have become known as power words, are used in copywriting to trigger the reader towards taking action because they help to provoke an emotional response.
Using the right words can make the difference, for example, Teespring had a 12.7% increase in the conversion rates just by changing them in their CTAs. Are you looking for inspiration to help you to choose the right words? Here are some you can use: 
Greed words
Greed words are the ones used to relate with the human desire to want more, offering valuable advantages or showing the risk of losing an opportunity. Such as:
Bargain
Bonus
Discount 
Miss out
Gift
Giveaway
Limited
Premiere
Running out
Special
Save
Ultimate
Curiosity words
We are curious by nature, by instigating it with your call to action, you are feeding the urge to satisfy this need. That's a good strategy for CTAs that are focused on signing up for a  product launch, subscribing to a newsletter, or downloading a new ebook, for example.  
Astonishing
Eye-opening
Invitation only
Insider
Key
Members-only
Little-known
Sneak peek
Unbelievable
Unique
Sloth words
Sloth words are used to motivate people by showing that following the CTA doesn't require any hard work to get the benefits offered, on the contrary, the offer aims to facilitate their lives. You can highlight that by using:  
All-inclusive
Complete
Easy
Economical
Efficient
Effortless
Fail-proof
Guide 
How-to
Instant
Quick
Trust words
As the name suggests, trust words are the ones related to reinforcing credibility, to convince your leads and customers to follow a CTA. 
Approved
Authentic
Certified
Case study
Endorsed
Ensured 
Expert
Fully refundable
Guaranteed
No obligation
Official
Protected 
Tested
6 Call to action examples to get you inspired
Social Media
1. Babbel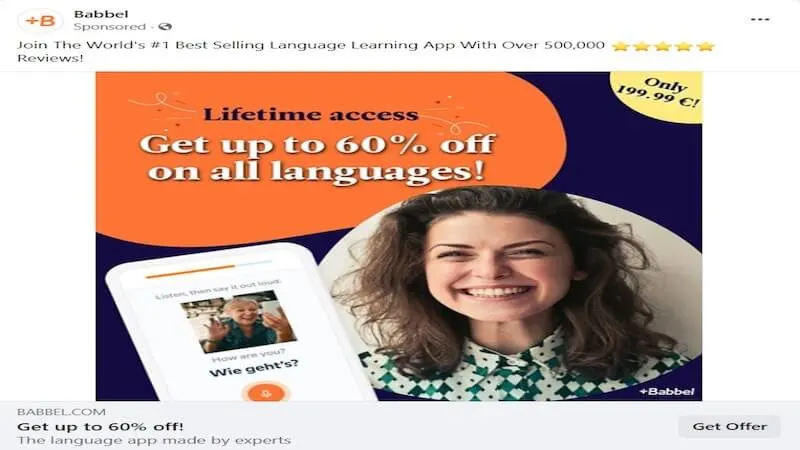 The learning language app, Babbel, delivered a clear and direct message through its CTA, which was made to Facebook ads. They show what they want the lead to do and also give convincing reasons to complete the action. The design corroborates by highlighting the text.
Website
2. Netflix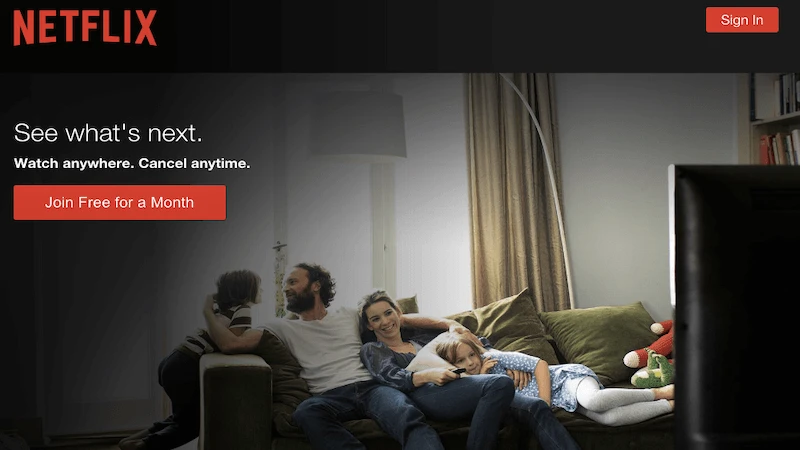 Netflix instigates the website visitors' curiosity with the phrase "see what's next", and also highlights that there are no strings attached by saying "Cancel anytime". It reduces the fear of signing up and not being able to cancel after, which worries many people to follow CTAs of this type. 
3. Huemor
When you see "Do not press", do you feel the urge to touch the button and know what happens? Huemor played exactly with that feeling and was able to create an effective and funny CTA, which fulfills its purpose and is aligned with the brand's image. 
4. Spotify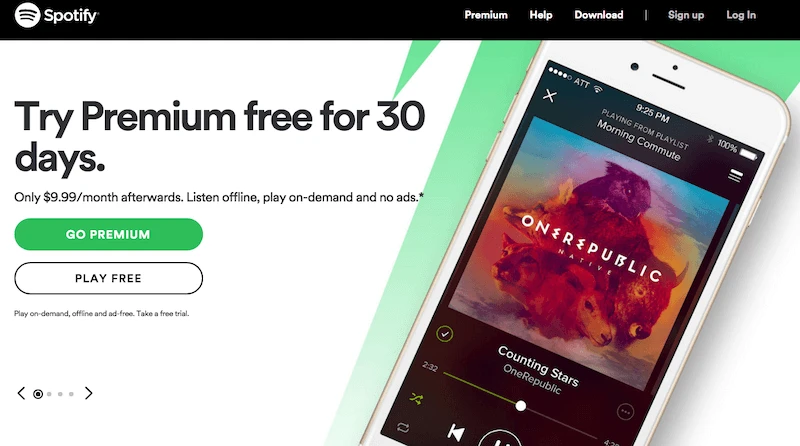 Spotify applied several strategies to make its CTA effective, for example, by starting with telling the users that they will have 30 days free to try the premium account, and then it uses the design to make the offer stand out.
The button "Go Premium" is in green, popping off the page, different from the other button "play free", which has the same color as the background. 
Ecommerce
5. June Shine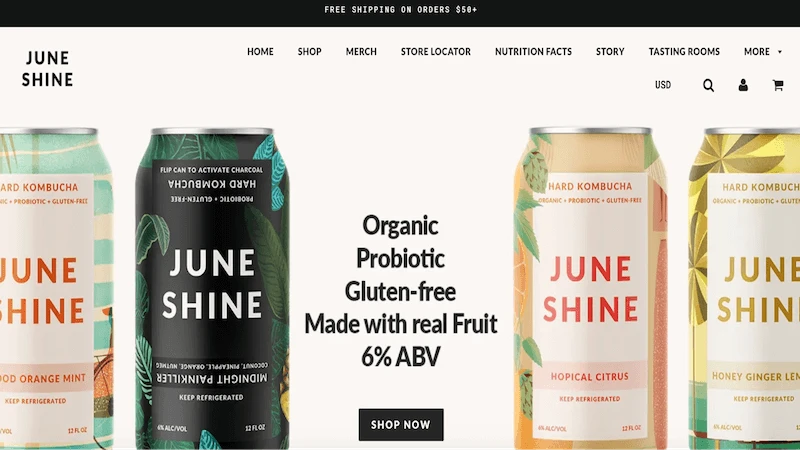 June Shine shows their beverages' benefits and highlights the CTA with a page button that is simple and clear "Buy now", they also use the power of a beautiful design to be more appealing. 
Email marketing
6. Airbnb
In this email marketing CTA, by remembering the discount is close to the expiring date, Airbnb creates a sense of urgency to drive their customers to take the desired action.
Keep improving on how to write a call to action and become an expert!
Learning how to write a call to action has to do with practice, the more you write and test different formats the better you are going to become in this area.
By analyzing the metrics and your customers' behavior, soon, you are going to understand what works for them and what doesn't, being able to create precise and effective CTAs.
Study the market, check out what types of calls to action your competitors are using. How can you stand out from them? When you continue to search for ways on how to write a call to action that is compelling to your target audience, you have the chance to expand your conversion rates and help your company to grow.
Like what you've read?
Sign up and try JivoChat for yourself!
It's free and only takes a couple of minutes to download.