Influencer Marketing Research by Reech
Paulo Andraus
Super Seller
Influencer marketing is a concept that is growing rapidly and is quickly picked up by companies as a clever way of communication. For a very wide choice of products, there are influencers out there with a great community that are able to communicate for your brand and that are willing to do so.
What makes influencer marketing so effective?
It is considered as a softer manner of marketing as regular people are used for referrals and recommendations. These people are just like you and me and often have fulltime jobs on the side, but they were able to create an image and identity for themselves that inspires other people to follow. They have become a person of inspiration by creating a community around their social media activities that fits with their behaviour or personality.
This can be a person that loves putting on makeup and has started vlogging about the best methods to use to apply makeup. It can also be a person that is interested in the latest technological gadgets and writes about his experiences when using it for the first time. It can also be a so-called fashionista that recommends the latest shoes to wear and which handbag goes with it.

People follow these influencers as they are inspired by their lifestyle, ideas and choice of products. Recommendations from a trustworthy person can thus be considered as more effective than a regular advertisement recommending the products. Moreover, it allows you to target specific groups of interest that are in line with the products you offer and the brand you maintain.
Celebrities vs. micro influencers
There are various types of influencers you could be choosing for. Celebrities can be considered as influencers as well as they have huge communities that follow them and that will buy the same brands of clothing, makeup and technological devices solemnly based on the image and the recommendation of that person. However, from a retailer's perspective, these individuals are extremely expensive and might not be willing to participate.
On the other hand, there are micro-influencers that might have a slightly smaller community that follows them but that are also more approachable as well as cheap. Let me give you the example of Courtney Whitmore, she started out as a passionate themed event planner and kitchen queen. She was spotted using Lindt chocolate during one of her Easter Cooking Specials. Lindt contacted her and she has, since then, been an ambassador for the brand.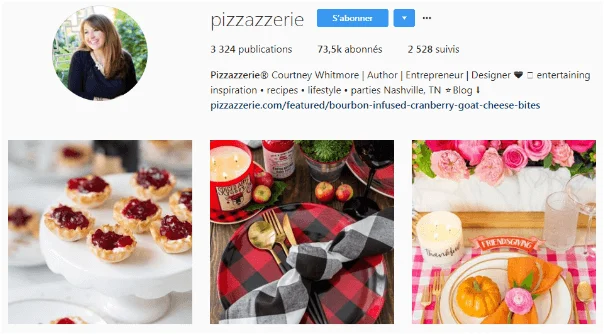 She has reached over 73,500 people with her Instagram account and has numerous loyal blog readers. Her recommendations in products, recipes and ingredients has led her to be a person of inspiration for any theme related event and dish.
So, what does this mean for retailers?
It shows that influencer marketing can have an added value for retailers to reach out to audiences in more natural ways. Using various influencers in a market segment will enable retailers to rapidly reach over millions of people right in their daily feeds on social media.
Results that retailers can expect in return is a great increase in visibility and brand exposure, relevance in the life of the consumer, obtaining of new leads and an increase in conversion rates. Choosing a person that has a natural fit with their brand will come across as most natural and will guarantee more success.
How to choose your influencers?
You will have to choose your influencers with care. The person will be representing your brand and as quickly as much as you can benefit from it, it can also damage your reputation. An influencer has to have the same standards your brand maintains and should have a close-knit relationship with their audience. This allows a high engagement level that actually reaches your target audience.
Dedicated marketing influencer platforms are out there to help you find the person that suits your brand like a glove. These agencies are specialized in analyzing the audiences they have assembled and rate them on size, engagement rate and authenticity. Their audience is their biggest value and the relationship they maintain is crucial for a great communication of your brand and product.
Refer and Earn: JivoChat Affiliates Program
Research on Influencer Marketing
Influencer marketing has been a turning point for companies with which they can reach audiences in a new and more effective way. The success can be seen in the increase in interest and knowledge shared on the topic as well as the increasing number of companies using these techniques. For this reason, E-Commerce Nation has performed research in collaboration with leading influencer marketing agency Reech. The research focused on discovering what this new type of marketing means for companies, their allocated and expected budgets, their goals and objectives and how they are currently trying to find their influencers.
Research revealed that a big percentage of the interviewed companies is planning on including influencer marketing for their future campaigns. Even though the current allocated budgets are relatively small, companies have shown great interest in increasing these budgets. This indicates that investing in this type of marketing can be an opportunity for your company to be part of the leaders in marketing strategies.
Moreover, the research showed that companies mainly work with influencer marketing to increase their content promotion, to obtain more visibility and to obtain new customers with a higher conversion rate. The most important metrics that were mentioned by companies included the generated revenue, the earned media visibility, the amount of social shares and the click-through rate.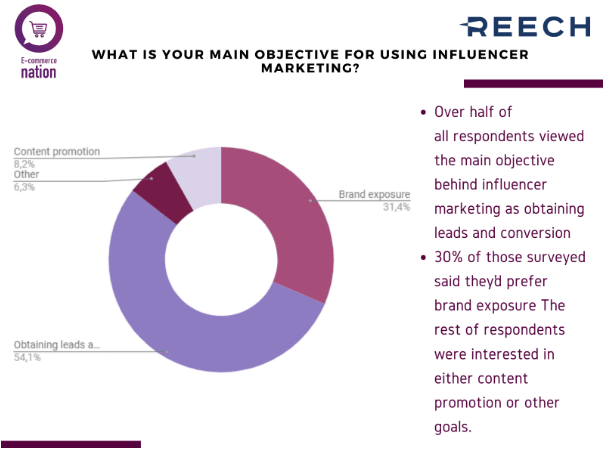 There is no way of avoiding influencer marketing in the future. Investing in this marketing technique is an interesting new approach for your strategies. If you want to find out more, have a look at the full research below and discover more on how other companies use influencer marketing to their benefits.
https://www.slideshare.net/EcommerceNation/ecn-x-reech-market-research-brands-and-influencer-marketing-80732769
Like what you've read?
Sign up and try JivoChat for yourself!
It's free and only takes a couple of minutes to download.