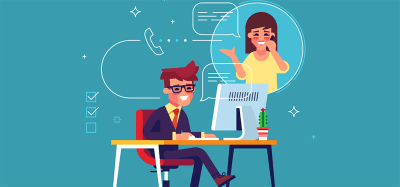 5 Live Chat Mistakes Companies Make (and How to Avoid Them)
Aritz Pérez
Aritz Perez is the owner of Reactiva Online, a website specialized in digital marketing and e-commerce to help online businesses grow.
We live in the age of technology, and we may like it more or less, but the reality is that we live around immediacy. We want it all, right now.
This concept can be directly transferred to the Internet. Any user browsing a website is looking for speed in the resolution of their needs. People are in a hurry and don't want to wait.
This is where live chat comes into play, one of the most useful tools for any website visitor as it can quickly resolve their concerns. Undoubtedly, these powerful tools play a crucial role in providing instant gratification to people.
To give you a statistical fact, according to SupperOffice, 92% of customers are satisfied when they use live chat services compared to other options like voice, email, and even messaging on social networks. 
Image source: SupperOffice
That said, I have to comment that there has been a lot of discussion about the benefits and best practices with live chat systems, but little has been said about the most common mistakes companies make when implementing this service. 
Why aren't these mistakes being discussed?
As you already know, implementing a live chat carries a great responsibility and any mistake or mismanagement can be negative for any online project.
Without further ado, let's review the main mistakes and how you can avoid them.
5 Common Mistakes Companies Make with Live Chat
To go into detail, let's examine the five most common mistakes companies make with live chat and how to avoid them.
1 - Slow response times
First, let's talk about response time. According to Statista, the average wait time for users when using live chat was 30 seconds in 2022. That's a 40% decrease in average response time since 2019.
In other words, companies are aware that the shorter the response time, the higher the user satisfaction. You should keep in mind that when a person lands on a website and sees that there is a live chat, they are automatically reassured because they know that they can solve any doubt almost instantly.
But what happens when those expectations are broken?
Well, precisely what you're thinking. Slow response times can be incredibly negative when it comes to reliability and reputation. The customer will be frustrated and angry because the first thing they will think is that their time is not being valued.
Tip: Try to provide an answer as soon as possible and, if possible, in less than 30 seconds. You should prioritize having people or agents available to deal with these queries. It is also beneficial that you value chatbot technology, to deal with preliminary queries and guide users before human agents are involved.
2 - Setting an excessive barrier before the chat
Put yourself in the mind of any user surfing the Internet. When any person deploys a chat and is considering writing to a company, they just want the process to be fast and responsive. 
Why ask them for a ton of data before starting the conversation? Can't some of this data be collected manually during the conversation?
Image source: Jivochat
It's common for businesses to implement an initial form before starting any chat communication. To some extent, collecting useful and valuable data before the chat can be beneficial. However, often excessive data is requested, and companies don't realize they're setting up barriers.
With this approach, people may feel that you are intrusive and invasive, and ultimately you may lose those chat conversations with potential customers as they are likely to leave the website directly.
Tip: Limit the amount of information requested in forms before chat communication. Always try to communicate the reason for the data collection to make it easier to initiate communication.
3 - Failure to put oneself in people's shoes
Yes, it has probably happened to you at some point. You are communicating through a chat and the person on the other side does not solve your problem.
The operator may not understand you, show empathy or actively listen to you. Sometimes it may seem like you are talking to someone who is not very interested in helping you or is just not very clear on how to help you.
What you need to understand is that the user doesn't really care what happens on the other side of the chat, they just want a solution or a concrete answer to their query.
The agents or operators in charge of answering queries should always analyze the evolution of the conversation and adapt to each user profile. It is important to read between the lines of what the other party wants to avoid frustration and, ultimately, provide empathetic customer service.
Tip: Operators should use and mention the name of the person they are contacting throughout the conversation so that they feel that active and personalized listening is taking place. It is also important to read between the lines of what they want and above all to offer a useful answer.
4 - The chat operator is absent
Another of the cardinal sins when implementing a live chat is the absence of a live chat operator. It is more common than it seems to find chats that do not offer any immediate response and are limited to displaying a contact form. How can this happen?
Whether due to a lack of staff or because the company is not operational at certain times, it is common to see a chat room without an operator. This can lead to a negative perception for the user, as their expectations will no longer be met.
If one of the keys to implementing live chat is to bring added value to the user through speed, any company must assume this responsibility and, if it fails to do so, it is likely to suffer the consequences.
Tip: Monitor website traffic to identify the hours of peak user activity and be able to assign an operator to respond in real time. During off-peak hours, you can find an alternative by using a chatbot that at least solves the most common visitor queries.
5 - User feedback is ignored
Many times companies have been doing things a certain way for a long time and can be resistant to change. There is often a prevailing sentiment that fits this type of question very well, "If this works, why improve processes?"
When implementing a live chat, not only you should take advantage of solving users' problems in an efficient way, but you should also take advantage of all the information they provide. The goal should be none other than to constantly improve all the processes in which companies are involved.
Both positive and negative feedback are opportunities for companies to understand their strengths and weaknesses. And that's great news. So instead of dismissing or overlooking these issues, agents should take advantage of it to try to deliver a better user experience.
Tip: Encourage agents to interact with customers, consistently sharing their opinions, and suggesting possible solutions or improvements based on their practical experience.
Conclusions
I could talk about other bad practices of companies in the live chat arena, but these are probably the most common and striking. 
Implementing live chat in the digital ecosystem is a necessity and delivering exceptional customer service is a must. 
To achieve this, it is essential to be responsible and to have a strategy behind its implementation. Some of the pitfalls, such as slow response times, pre-chat barriers, lack of empathy, lack of operators or indifference to user feedback, must be constantly monitored to provide the best overall user experience.
When users initiate a chat, they are not only looking for quick responses. They want timely responses, ease of access, comprehension, availability and to know that their opinions matter. From a business standpoint, it is important to take an in-depth look, periodically evaluating the approach to these common mistakes.
Like what you've read?
Sign up and try JivoChat for yourself!
It's free and only takes a couple of minutes to download.