How to create a successful TikTok marketing campaign
Jaqueline Corradi
Content Manager
100 million is the estimate of monthly active Tik Tok users only in the US. The social media platform is growing fast and it's one of the favorite apps among Generation Z.  Its engagement power is attractive and many companies are investing in creating TikTok marketing campaigns. 
How TikTok works
TikTok is a video streaming and sharing app where users can post short videos with 15 seconds to 1-minute duration, recorded on vertical, and also make live streaming. TikTok provides several features to edit the videos, such as filters, music, special effects, lip-sync, and voice-over. 
In the platform, you are going to find content about different subjects with very specific niches, which allows you to develop precisely targeted marketing campaigns. Funny and dance videos are big trends on the app, along with lip-syncing, and many of them have gone viral on the internet.
Anyone can pick a song, play the record button on their smartphone, and start dancing. TikTok isn't about high-produced, professional videos.
If you desire, you also can make the audio from your video available to be used by other creators, which helps with gaining visibility too. The platform allows you to interact with the content by pressing "like", commenting, and sharing the videos. 
Why include TikTok in your marketing strategies
According to Statista, TikTok has become the 7th most used social media in the world in 2021, with around 1 billion users worldwide. If your target audience includes Generation Z and younger millennials, creating a TikTok marketing campaign is a possibility to be where they are.
The engagement rates are high as well, a Upfluence data revealed that micro-influencers had 17.96% of engagement on TikTok, and 3.86% on Instagram.
That's something you can benefit from, for example by making partnerships with creators. TikTok users spend an average of 52 minutes per day in the app, and they take into consideration what their favorite influencers mention, including brands. 
You can create a TikTok marketing campaign for different purposes such as:
Talk to your younger audience
Develop brand awareness
Boost engagement on social media
Generate new leads
Create an engaged community around your brand
Advertise to target audiences
Sell your products and services
TikTok for business
The platform released the TikTok for Business, in 2020, which enables you to create a, as the name implies, a business account in the app. By doing that you will have access to real-time metrics, audience insights, creative tools, and you can create ads. 
To create a business account it's very simple, you just have to follow some steps:
Install the app

Register your account

Go to your profile page

At the top right click on "Manage account"

Select "Switch to business account"

Choose the category that fits your business best, and you are ready to start posting.
9 Tips to develop a TikTok marketing campaign
1. Know who is your target audience on TikTok
Before starting to produce content for TikTok, answer the following questions
What part of your potential customers are TikTok active users? 
Do you have a very specific niche you want to reach through your TikTok marketing campaign? 
Which creators do they follow? 
What is the consumer's behavior of your target audience on TikTok?
By understanding these points, you will have a better vision of the strategies to implement.  It's going to be easier, for example, to define which influencers it's worth partnering with, the types of brand challenges that your prospects may engage, and the subjects of the posts that may grab their attention. 
Although TikTok is highly popular among teenagers, they aren't the only public you are going to find there. According to Statista research, in the United States, people from 20 to 29 years old represent around 22% of TikTok active users in 2021, while people from 30 to 39 represent more than 21%.
2. Research the competition
Get to know the ground you are entering, research if the brands that are your competitors have a profile on TikTok, and which strategies they have been applying. What types of videos are they posting? Analyzing this can help you to think of ways to distinguish yourself, and also to choose the right hashtags.
If you don't find any direct competitor using the platform, don't end the research because of it, look for brands from your industry sector that are in the app, and also analyze successful TikTok marketing campaign cases from brands and influencers. Use it as a source to get new insights. 
3. Plan what you are going to post
Once you have defined who your target audience on TikTok is, researched their behavior profile, and studied how other brands are using the platform, it's time to start planning. Your TikTok marketing campaign plan should include:
Target audience behavior study
Competitors analysis
Goals
Posts calendar (including when the posts are going to be produced and published)
Main strategies to be implemented
List of possible creators to partner with
Ideas of challenges to create
Setting clear goals for the campaign is a fundamental part, so you will be able to develop more precise strategies, and also know how to evaluate its success. Organizing the production process is fundamental as well, to keep an updated profile, posting regularly. 
But, remember that's just the initial plan, you can change the calendar to adjust according to the audience's reception and to include new TikTok trends. In the beginning, it's important to test different formats, and as you grow on the platform, you can align the content and strategies according to what performs better. 
4. Insert the right hashtags
Users can discover new videos by searching for hashtags, inserting the right ones in your videos descriptions will help you to reach more people that may be interested in them. The proper use of hashtags will also help with TikTok SEO, so your video can appear on the users' "For You" page. 
The hashtags will work as keywords if we compare them with Google's search. If you are in doubt about which ones you should add, go to the search section and type the generic theme of your video, then you are going to see several terms related to it. 
5. Keep updated with TikTok trends
The digital world is always evolving and that isn't different when it comes to TikTok. When creating a marketing plan for this platform, it's essential to keep your eyes on the latest trend.
Be prepared to change your posting schedule to align with popular content or use a new feature that has conquered your target audience. 
You can enjoy, for example, a hashtag that is very commented on the moment or use a trending choreography or meme, showing that your brand is modern as well. But, don't produce a video just to follow a trend, remember to analyze first if it has to do with your brand's image. 
6. Develop partnerships with TikTok influencers
Digital influencers conquered a significant space on the internet and many have built a strong community around them, with significant engagement rates, and that happens on TikTok too. Their followers value their opinion and trust in their recommendations.
Associating your brand's name with the right creators can help you to gain more followers, increase brand awareness, and sell more.
But, to achieve that, it's important to research and choose carefully the TikTok influencers you are going to partner with. Analyze first if they are followed by the public you aim to reach with your campaign. 
You can choose creators with millions of followers or opt for creating ads with micro-influencers, which tend to have higher engagement rates and allow you to focus on very specific niches.
What you are going to define depends on your budget and your main goals, but always make sure that they are aligned with your brand's values. 
7. Create a TikTok Challenge
Challenges are very popular on TikTok and are a strategic way to foment your brand's visibility. It's basically recording a video where you challenge users to imitate what you have posted, it can be a dance, or lip-sync, for example. Then create a specific hashtag that they have to use, so you can see their responses.
To improve the engagement chances, it's interesting to partner with creators. The idea is that, as part of the TikTok marketing campaign, they are going to post their videos answering your challenge on their profiles, encouraging their followers to join the challenge. 
You can use other strategies as well, such as telling your followers that you are going to select the best videos and publish them on your page and give prizes to the best ones. 
8. Use TikTok Ads
Another strategy that you can include in a TikTok marketing campaign is advertising inside the platform. Through the TikTok Ads feature, you will be guided in each step of the development of the ad.
First, you will have to choose your goal, then select the public you want to target, define your budget, select the ad format and design it. There are 5 types of ads available:
Top view ads
Brand takeover
In-feed ads
Branded hashtag challenge
Branded effects.
Along with the campaign, it's possible to measure the results, and also adjust or pause your ad spend at any time if you need, 
9. Check the metrics on TikTok Analytics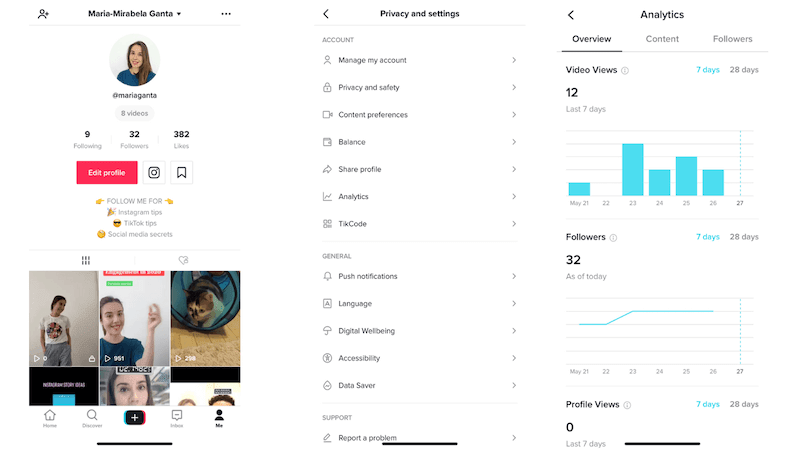 When you have a TikTok business account, you also have access to the metrics of your profile and posts. It's very important to always analyze the data to understand how you can improve your strategies.
For example, identify the type of videos that had more engagement, and which were the characteristics that made them more successful than the others. By studying each post performance, it's possible to develop new ideas and avoid creating content that will flop. 
Discover the possibilities a TikTok marketing campaign has to offer
Starting the profile of your company on a new social media platform provides you the chance to test different formats and types of content. Enjoy TikTok features, test them to see which ones are going to perform better.
A TikTok marketing campaign can be the opportunity to take your brand to other audiences, beyond the ones that already know your company. Use your creativity, but keep the strategies you develop coherent with your brand's image.
Like what you've read?
Sign up and try JivoChat for yourself!
It's free and only takes a couple of minutes to download.