What is video content marketing and how to implement it?
November 3, 2021
updated August 29, 2023
Reading time ≈ 16 minutes
Jaqueline Corradi
Content Manager
How often do you watch videos on Youtube, Instagram, Twitter, or other platforms? According to Wyzowl research, 68% of the consumers affirmed pandemic has impacted on the quantity of videos they watch online, among them, 96% said it has increased.  With this scenario, video content marketing grows as an important strategy for brands from different sectors.
What is video content marketing?
Video content marketing is a very important digital marketing strategy where brands develop content in different video models to achieve their defined goals, such as getting more leads, increasing the number of sales, strengthening the relationship with their target audience, and conquering more visibility.
There are several video content marketing strategies, which will depend on the platform you are going to use and what type of video your leads and customers enjoy watching.
You can develop videos for Youtube, LinkedIn, Instagram, TikTok, Twitter, and many other channels. But, it's important to remember that each one of them has its particularities. 
While Youtube videos are recorded horizontally, Instagram and TikTok videos should be vertical. People usually prefer to watch short videos on these 2 social media (TikTok is made for less than one-minute video content), while Youtube is a space for posting longer videos, but this will depend on your customer profile.
Why is video content marketing important?
Video marketing is growing up, and businesses are enjoying its advantages. Wyzowl research pointed out that 86% of businesses are using video content as part of their marketing strategies, in 2021. While in 2016 it was only 61%.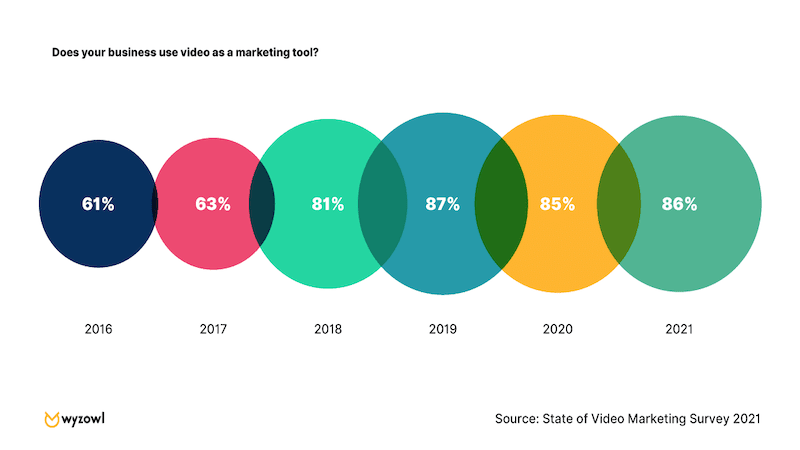 An increase of 25% is certainly something that calls our attention. And, there are many reasons behind it, one of them is that watching videos is faster than reading an article,  and you don't need to focus your entire attention on it. 
You can watch Youtube, for example, while folding your clothes, or when you are running on the treadmill. Besides, many people find it easier to retain information through video instead of text.
According to Wyzowl, 69% of consumers prefer to learn about a product by watching a short video, compared to 18%, who would rather read an article about it. 
Create a closer relationship with leads and customers
A video that has been well produced, based on previous research about your target audience, and that provides interesting content for them can make you straighten your relationship with your leads and customers. 
It's the opportunity to develop a more personal connection with your audience, to give a face to your brand. People aren't looking for robotic messages, they want to feel like they are talking to someone when interacting with a brand, and the video format is very efficient in delivering that.
On live streaming, for example, your team will be able to interact directly with your customers. Make them feel seen and heard, emphasize that they matter to you,  through your video content. But, to do that, you need to pay attention to what your customers are saying in your different channels of communication. 
Stimulate engagement
Did you know that people are twice as likely to share video content when compared to any other kind of media?
That's what the Wyzowl research showed. You can bring people to become more involved with your company through the videos you create, by developing content that speaks to their needs, focused on delivering a unique experience. 
Many elements can be used on a video to encourage your customers to engage, such as the tone of voice, the images, the soundtrack, and, obviously, the subject.
The emotional aspect, which is easier to transmit in a video than in a written article, also makes a huge impact on whether someone will give a like, comment, or share your video. 
When recording a video remember this, it's necessary to show empathy, not to communicate in a cold rigid way. Showing human treats will make people stay to watch what you have produced and feel more compelled to share. 
Having your video sent to other people by your own customers has a huge value. It's the kind of organic visibility that can make you grow and that leads to many other achievements.
During the video, tell the spectators to share it on their social media, and make questions to stimulate them to answer in the comments. 
Build credibility
With the proper video content marketing strategy, you can work your way to make your brand a reference in your sector. Video is a very useful asset to show your products, present your brand, and explain what makes your company different from the competition, 
You can highlight the expertise of your team and other aspects, such as the quality of the raw materials used to create the items you sell or the amount of research it took to deliver the services that your business offers. 
It's possible to do that by writing an article, but a video allows people to visualize what you are saying. For example, to see how your products are made, or by knowing more about your employees. 
These can give reassurance to someone that is in doubt about making a purchase, your brand becomes more reliable. You can do that by making an interview with an expert, explaining what sets your product aside, or presenting testimonials from your current customers. 
When the videos show the people who are behind your brand, it also gives transparency that helps in the process of developing trust in your company. 
Improve SEO
Producing videos and posting them on your website will help you to rank better on Google and other search engines.  One of the reasons is that people will spend more time on your page when watching a video.
Making your videos available on Youtube will help you as well since Google also features video results on the top of some searches. You will increase your chances of being found by your target audience, and also enrich the quality of your content. 
Increase the number of sales
One of the final goals when it comes to developing marketing strategies is turning leads into customers, building customer loyalty, and, consequently, selling more.  84% of people interviewed by Wyzowl research said that they have already been convinced to buy a product or service by watching a brand's video.
Video content is a very effective tool to show a product in a way that just text or pictures wouldn't be able to do.
The consumers can see the item in movement, analyze its size, colors, see how the product works, along with a detailed explanation. That can be much more appealing to show your lead why they should buy a product.
But, it isn't only video demos that can help with selling more, the other formats are very useful as well since they influence how your brand is perceived, and help to nurture a relationship with your prospects.
Even if the person doesn't make a purchase after watching your video when they need something, your brand can be reminded easily. 
How to implement video content marketing 
Study your target audience
One of the first steps to developing video content marketing strategies is to know who your target audience is. Do you know which are your leads and customers' main problems? How can your product or service help them?
Having an answer to these 2 questions is a great way to start. But, it's also necessary to identify other characteristics, including which social media they use most, their preferences when it comes to video content on the internet (do they prefer long or shorter ones?), and consumer behavior. 
By understanding these characteristics, you will have a guideline to begin drafting the subjects and what kind of videos suit your services and products, along with which ones are going to catch your potential customers' attention.  
Define the social media you are going to use
To develop videos, it's important to create a script for all of them, based on research and also considering where they are going to be published.
But, before deciding, try to determine in which social media channels you are going to post video content by analyzing where your target audience most consumes this kind of content.
In TikTok, for example, it's a trend to create videos with a piece of catchy music and choreography, but does this type of video connect with your audience?  It's not necessary to be on all platforms. It's better to focus on producing less content, but very good ones, in the social media that your audience most use. 
After having all of these defined, create the scripts considering how videos are used in each platform. On Youtube, you can create longer explanatory videos while on Instagram, usually, people tend to prefer shorter videos. 
Posting the same content on different platforms can work when we are talking about similar formats, such as reels on Instagram, and TikTok, or putting a video from your Youtube channel on your website. 
Create a calendar
Based on your target audience research and the platforms you are going to use, it's time to decide which themes and types of videos you are going to use and set the dates they are going to be produced and published.
Having a calendar will help you to organize the production process from recording to editing, and to create a regularity on posting.
The quantity of videos you are going to create depends on the time and resources you have available, and also in analyzing the frequency that's best for your leads and customers. 
Analyze the metrics
Create the content video marketing plan, and try to follow it, but, remember that you can make changes as you post the videos and study how each one of them performed.
For example, identify the ones that have stood out, and try to understand what made them more appealing. Was it the format, the subject?  Use that to develop other videos, be strategic.
The metrics are very valuable to understand more and more about your customer's behavior and to see what works for them. Developing marketing strategies is about testing, and it isn't different when we talk about videos. 
As you start posting them, you are going to be able to improve continuously, but that's only possible if you pay attention to the feedbacks, which includes metrics like the time spent on each video, how many people watched until the end, the number of likes, shares, and comments. 
6 types of videos you can do
1. Demo videos
A demo video, as the name suggests, is focused on showing how one of your products works. That's very useful content to insert on the product's page, allowing the customer to see its features better, including the color and size. 
You can also make a demo video about a service, explaining its characteristics and highlighting what makes you stand out from the competition. 
2. Brand Videos
People want to know more about who they are buying from, establishing a relationship with their favorite companies, and you can use a brand video for that purpose. For example, presenting the company headquarters, showing your team, and also talking about your company's view, mission, and values. 
3. Interviews with experts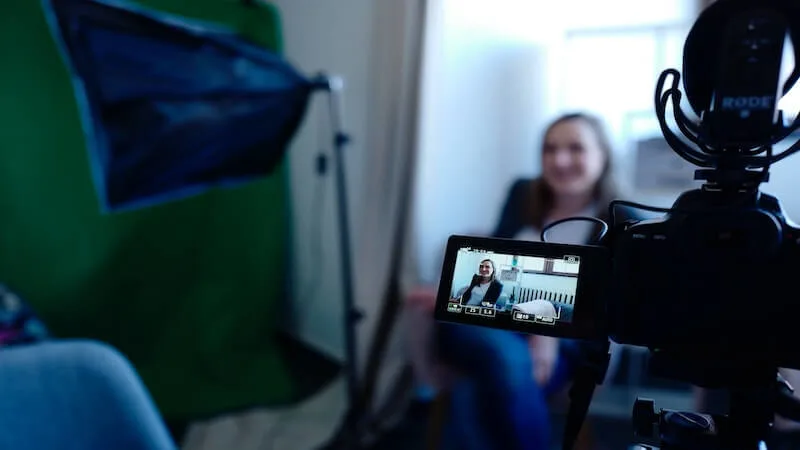 To help explain a relevant topic that your audience is interested in, and to enhance credibility and trust, you can interview an expert from your sector, raising important debates through it, even if the person won't necessarily share all of your opinions.
This shows you are concerned about the development of your company and products, updated about the discussions in your area, and also cares about informing your customers by offering them different points of view. 
4. Live
Live is a format that has grown a lot during the pandemic, many bands and singers made concerts through it, and brands used it, as well, as a way to engage with their customers, even when stores were closed. 
The possibility to talk in real-time with your customers is a great opportunity to stimulate interaction, answer questions, conquer visibility and make your leads and customers feel seen and heard by you.
 There are different types of lives, a conversation with the company's CEO, a chat with the marketing team, an interview with an expert. It depends on the subject and what you desire to achieve. 
5. How-to videos
How-to videos are a very popular format when we search on Youtube, they work as tutorials, where you are going to learn how to do something. You can find a big variety of them, from teaching recipes to how to install a new TV. 
And, that can be a very useful tool to teach your customer how to use or install your product. It can be published on Youtube, but also used by your sales and customer assistance team when they need to help customers with their doubts. 
An explanatory video sometimes works much better than just giving instructions. Your leads and customers are going to be able to visualize what you are talking about, and even discover new ways to use your product. 
6. Webinars
Webinars, also called web conferencing, have come up as an alternative to physical meetings and events during the pandemic, allowing everyone to be in the safety of their homes, but still connecting with others. 
This format will continue on the rise since it also allows to unite people from all over the world in the same event. Besides, it's an opportunity to make an event presenting your company's newest updates, or to release new products. 
Some brands have even sent special kits to the guests, for example, to digital influencers. In some cases, they received the product with an invitation to the online event, along with other treats such as sweets or drinks, extending the experience.
That can be used as a way to reward loyal customers, inviting them to participate in this type of webinar, and sending a gift as a recognition of their value to the company. 
5 Tools to help you to create video content
Do you feel discouraged to create videos because you don't know how to edit them? Nowadays, it's possible to find a big variety of tools online that will make the task much easier. You will be able to create incredible videos without having to spend too much. 
If your company sells digital goods, such as software or ebooks, using a screen recorder can be very useful to make a demo or a how-to video where you can teach the customer how to install the software and navigate through it, for example.
Apowersoft video editor, BeeCut, allows you to do that with an intuitive, easy-to-use interface, and save the video in different formats. It also has a video editor, which enables you to make professional videos with visual and audio effects. 
You can insert titles, use text animation, choose the font and color, define how you want to make the transition, add music, and apply color and motion features as well. 
Highlighted features: 
Record all desktop activities
Multiple recording modes
Save the video in different formats
Professional video editor
Insert effects
With several features, Movavi provides a video editor, slideshow maker, and a video converter. You will count with tools such as screen recording in Full HD or 4k, thematics sets, and bundles of special effects. 
For example, you can use stickers, transitions, and backgrounds to make your video even better. You are also going to count on a media library, be able to convert more than 180 media formats preserving their quality, and use presets for different devices. 
Highlighted features:
Video editor
Special effects
Photo-editing tools
Media library
Fast video processing
Convert more than 180 formats
Screen recording
More than 5000 templates, a media library with several images, videos, and music to fully customize and create your content: InVieo gives you the possibility to make amazing videos for Instagram stories, TikTok, YouTube, and more. 
You don't need to record your own material, if you don't want to, it's possible to create a video using the free stock resources and, then, edit the way you imagined.
For example, adding text, adjusting colors, font, timing, and inserting the company logo. You can download the video or post it directly on YouTube, Facebook, Instagram, and Twitter. 
Highlighted features:
Automatically convert text to videos
Use the drag and drop tool to edit the videos
More than 5000 templates to customize
Extensive media library
If you need to download a song or video from any website, like YouTube, Facebook, or Daily Motion, to insert on your video, ByClick Downloader will help you to do that in a simple and fast way. 
You will be able to download videos in high quality and convert them to different formats. Before using any content, though, you should pay attention to its copyright license terms, to prevent any problem in the future.
Highlighted features:
Download songs and videos
Download from Youtube, Facebook, Instagram, and more. 
Convert the files to different formats
One-click download mode
24h customer support
4K Video Downloader, as it's implied by the name, is a tool that enables you to download videos from the internet, keeping their high quality. That's a very useful resource when you need to use a clip from another video in the one you are making.
The software is very simple to use. You just need to open the 4k Video  Downloader app, copy the link where the video you want to download is,  click "Paste Link" in the app, and it's going to start downloading the file. 
Highlighted features:
Free video downloader
Download in different formats, with high quality
Extract YouTube subtitles
Easy-to-use
Develop video content marketing strategies and expand the number of leads and customers
The internet provides a growing market for companies to invest in, but it's also a highly competitive one. Thinking about ways to outstand your business, products, and services is essential to conquering more clients and increasing the number of sales. 
By developing strategies focused on video content marketing, you will have the opportunity to connect with your target audience using one of the most consumed types of media online.
Use that to your advantage, plan your content, enjoy the resources the video format offers to fortify the bonds with your customers and attract leads.
You will see that by creating proper video content marketing, you can grow on sales, build authority and trust, and make your brand be reminded by its quality and attention to customers. Videos are a way to improve even more the user experience and to avoid being outdated.
Like what you've read?
Sign up and try JivoChat for yourself!
It's free and only takes a couple of minutes to download.