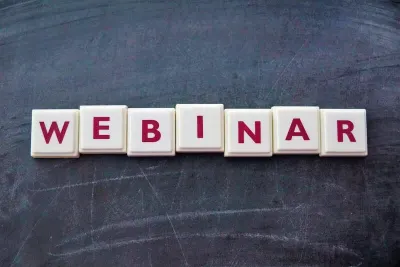 What is a Webinar and How to Make One
Reading time ≈ 12 minutes
Jaqueline Corradi
Content Manager
During the pandemic, webinars have grown in popularity as an alternative to in-person events. Companies from different sectors adopted the model to train their employees, provide courses, launch new products, and much more. 
Considered by 73% of marketers as the best way to generate quality leads, Webinar is a valuable marketing tool, which you can use for different purposes. 15% of webinar attendees  purchase the service or product, a much higher percentage of conversion when compared to cold calls, 2%, and cold emails, 1%.
Learn how to make a successful webinar and enjoy the benefits it can offer to achieve your goals.  
What is a Webinar?
A webinar, also known as a web seminar, is a live online presentation or conference. It usually counts with features to promote interactivity such as a live chat, allowing the attendees to make comments and questions in real-time.  
Webinars can be created for turning leads into customers, encouraging brand loyalty, promoting engagement, gaining credibility and authority in your area, and much more.
You also have the opportunity to develop webinars as a way to connect with your employees, offering valuable content for them,  enjoying it as an educational tool as well. 
Webinars are very popular among B2B and SaaS (software as a service) companies. Different from previously recorded videos and classes, webinars give the opportunity to the attendees to participate actively in the event, sharing experiences, and their doubts as they come, which can be more motivating to participate. 
The webinar is formed by one host or a panel of participants who make a presentation of usually 30 to 60 minutes. You will find paid and free webinars, it depends on the purpose of the event. 
Types of Webinar
Lead Generation
You can make webinars with the objective to conquer more leads. For instance, by presenting a panel with experts on a relevant topic that will help to solve one of your target audience demands.
It's a strategy to catch their attention by offering valuable content. Then, to subscribe to the webinar, you can require their contact information to develop the following communication strategies.
To make them want to attend the webinar, it's important to know your audience's pain points, though. Only, this way, you are going to be able to define a webinar theme that they want to participate in and take their time to sign up and watch. 
Education
During the pandemic, several colleges and universities have adopted webinars to replace in-person classes, and also to host virtual open houses, and onboard new students.
But, webinars don't have to be a learning tool only for schools, you can offer courses or special classes related to your company's sector to employees or your target audience.
With that, you are giving your public the opportunity to learn about new subjects without going out of the home. You can invite a team of experts to make the webinar, and also put an ebook and other types of content available to enhance the experience. 
Product Demos
Do you want to launch a new product or a software update? Making a webinar gives you the chance to show it in detail, and explain all the benefits and differentials your product has, evolving the audience, and increasing the chances of selling. 
You can send the webinar invitation to loyal customers and make an exclusive event for them, for instance, which is a way to make them feel valued for choosing your brand. It's also possible to invite digital influencers in your sector to attend the webinar and give their opinion about the product. 
Enjoy the opportunity to showcase real study cases of customers that have been using your product and how it has been useful to them, this helps to add credibility. Identify your potential customers' pain points and highlight how the product helps to solve them. 
Employee Training
Does your team work remotely? If so, using webinars to train them can be very helpful, regardless of where they are located, they will be able to watch the webinar along with their coworkers, and engage in real-time. 
You can use webinars to give specific training and also to present the company's culture and welcome new employees. This type of online event is an opportunity to make your employees feel more integrated with the company, take out their doubts, and use the space to share their ideas.  
Onboarding and Retention
Customer onboarding is a fundamental step to conquering customer loyalty when we are talking about SaaS companies. After all, if a company or a person acquires your software and doesn't use it, the chances that they aren't going to renew the plan or update it is really low. 
When the software is purchased, send an invitation for an onboarding webinar, and use the event to explain how to use the software, show its features and answer questions. Mention all the important aspects of the software, and make sure the explanation is clear and objective. 
Features in a Webinar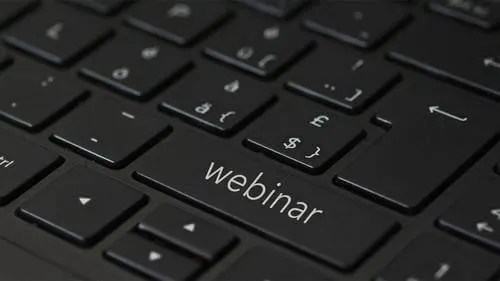 Recording
A Webinar is live-broadcasted, but it doesn't mean you can't add recordings to it as well. It can be customers testimonials, experts presentations, product videos, and animations, for instance. It's a way to make the webinar more interesting and enrich the content. 
Screen Sharing
Screen sharing is a very useful tool when it comes to software demonstration since it enables you to show your screen to everyone who is participating, and explain step-by-step how a platform works. Besides, it can be used to display slides as well.
Text Chat
Enabling a text chat while the webinar is transmitted is a simple and efficient way to allow the attendees to send their comments and doubts, engaging more in the presentation. You can leave a time at the end of the webinar to answer the questions, and invite the participants to share their thoughts.
Slide Decks
Using a slide deck will help you to organize the ideas in the presentation, highlight the main points, and provide visual support for the participants. Avoid using slides with too much text, try to insert key ideas and phrases, and invest in developing an appealing design that catches people's attention. 
Whiteboard
A whiteboard is a common tool used in classrooms, and it helps in webinars as well so you can explain the topics by making diagrams and drawings on it, for instance. Besides, it makes it easier for the participants to make notes.
Surveys and Polls
Do you want to give your audience more options to engage during the webinar? It's possible to do that by inserting surveys and polls in the presentation, turning it more dynamic, instigating attendees to test their knowledge, and catching their attention.
Another advantage is that you can evaluate the answers, and have a better understanding of the participants' comprehension.
How to Create a Webinar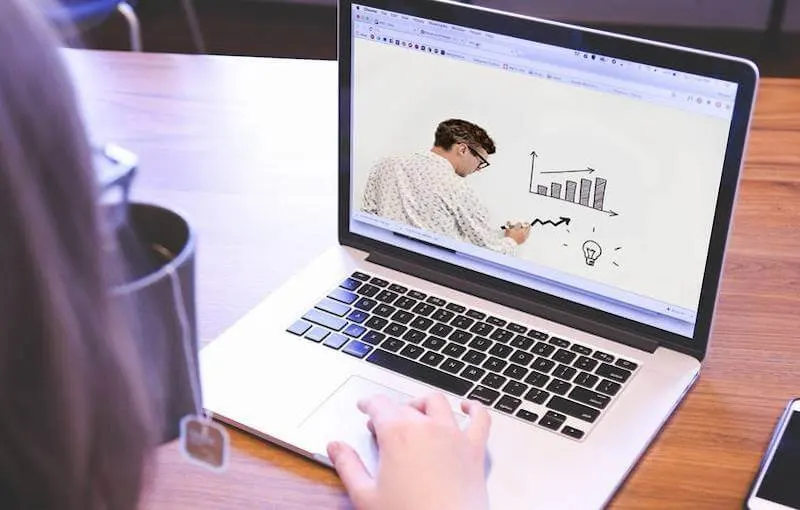 1. Define Your Goal
The first step to creating a successful webinar is to know what is the objective of the event. Do you want to promote a product, generate leads, educate your audience, train employees?
After defining the goal, it's easier to identify which are going to be the key performance indicators (KPIs), enabling you to evaluate the webinar results more precisely. 
Knowing your goal also helps to decide the topic of the webinar and how to develop its content because you can make strategies according to the expected results.
A webinar, whose goal is to increase sales is different from one that aims to boost lead generation, the stage of the buyer's journey isn't the same, which requires distinguished approaches. 
2. Choose Your Team
Who is going to present the webinar? Is it going to be presented by just one person or you are going to assemble a team of experts to participate? Deciding this is crucial to structure the webinar and think about how to develop the presentation. 
You can have a single speaker, use the interview format, create a moderate panel discussion, or use the questions and answers format where the interviewee answers questions from the audience. The format you select depends on the type of webinar you are going to make. 
3. Plan the Content 
The content of a webinar needs to be carefully planned regardless of its format or type. It's necessary to understand your target audience profile and think of ways to make the presentation appealing to them, develop the topic in a way that speaks to their pain points, and offer valuable information.
Analyze not only what to talk about, but also how to do it. For instance, what features are you going to include? Videos, slides, text chat,  and whiteboard? Everyone who is going to be part of the presentation needs to be prepared, this shows respect for the audience, professionalism, and credibility. 
Making a webinar where the hosts don't know what to say can damage your brand's image. Invest time in creating amazing content, and align your expectations with the ones who are going to be interviewed or participate in the discussion panel,
4. Select a Webinar Platform
Where are you going to broadcast the webinar? There are several webinar platforms available nowadays, take a look at them, evaluate which suits your needs best, and select the one you are going to use.
Make sure you understand how to use the platform features before the webinar day, to avoid any problems with the transmission.  
5. Organize the Equipment and Space
Having the proper equipment to broadcast a webinar makes a huge difference in its quality. Make a list of what you will need, it should include microphones and a high-resolution camera. Test the devices before using them, and check if the person who is going to operate the equipment knows how to use each one. 
The space where the webinar is going to be broadcasted also needs to be chosen carefully. You can use a room in your office, for instance, or rent a special place for it, depending on what you prefer.
But, don't forget to check if there isn't going to be any noise disturbing the transmission and if the elements in the room aren't going to cause distraction.  
6. Promote the Webinar 
With everything set, including the date and time of the webinar, it's time to start promoting it. Develop marketing strategies to reach your target audience.
You can create an email marketing campaign, post about the webinar on social media, and also invest in ads on different platforms, such as Google, Facebook, and Instagram.
5 Best Webinar Platforms

eWebinar provides you with an easy-to-use platform where you can automate your webinar in 10 minutes. Pick the video you want to use, give a title to the webinar, schedule it, and you are ready to go live. 
You can welcome, interact and follow up on attendees, add a live chat to the webinar to receive and answer the participants' questions through it, and insert surveys and polls as well. Create registration pages, customize forms, and integrate the platform with CRM and marketing tools.
Key features: 
Automate the webinar
Mobile optimized experience
Easy-to-use
Live chat
Take polls and ask questions
Create registration and thank you pages

WebinarJam is an all-in-one webinar platform that allows you to reach up to 5000 people in a presentation without having any trouble, you will just need a stable internet connection. 
It's possible to broadcast videos in high-definition regardless of recording on a webcam or if you are showing a PowerPoint presentation. You can add multiple features to the webinar, including a live chat, private chat, sticky announcements, and question and answer.
You also have the option to activate the recording so the webinar will be recorded in the "replica replay" mode, which means all that happens in the live room, like the comments, will be registered too, and replicated in the replay in the second they were posted. 
Key features:
Up to 5.000 attendees
Up to 6 presenters
High-quality video and audio broadcasting
Live chat
Automated recordings
Page builder

Zoom enables you to host webinars for up to 50.000 people, and even live stream your event on other platforms like YouTube Live, and Facebook Live. You can insert video effects, virtual background, and suppress noise to improve the video quality.
You can build your webinar and registration pages as you wish, and also set up reminder emails. Answer and moderate questions during the webinar, add a live chat to it too and send an automatic post-webinar survey to the attendees to know their feedback. 
Key features:
Up to 50.000 attendees
Customize the registration page
Build the post-webinar landing page
Support in-session chat
Answer and moderate Q&A
Integrate with other apps
GoTo Webinar will give you the proper tools not only to broadcast your webinar but also to promote and plan it.  You can create your registration form, customize it as you prefer, and personalize the webinar materials as well with your brand's logo, colors, and images.
To make the webinar a more engaging experience, enjoy the options to include polls, surveys, and a live chat. After the event, assess the results through the comprehensive reports that are made on each attendee, track channels that drove most webinars sign up, and analyze how engaged guests were. 
Key features:
Flexible scheduling
Custom registration forms
Webinar templates
Branding
Multi-presenters webinars
Attendee reports
Event analytics
With BigMarker, you can make different types of webinars, according to your needs, and add live chat, polls, and Q&A to boost engagement and provide a great experience for the participants. You will be able to have up to 9 presenters at a time and up to 5000 attendees.
The webinar platform also enables you to HD screen share, and stream with high-quality video and audio too. Customize your webinar room to add your brand's visual identity, and use the recording feature to make the webinar available on-demand.
Key features:
Multiple webinar types
Webinar landing pages
HD live audio and video
HD screen sharing
Up to 5.000 attendees
Up to 9 presenters at a time
Record the webinar
Analyze Your Previous Webinars to Improve
As you make your webinars, it's important to pay attention to the attendees' feedback and keep track of the KPIs. Send a research post-webinar to ask the participants' opinions, so you can identify the points that need to be enhanced. Also, check how attendees found your webinar, to think about more effective ways to promote future webinars and invest in the right channels.
Like what you've read?
Sign up and try JivoChat for yourself!
It's free and only takes a couple of minutes to download.