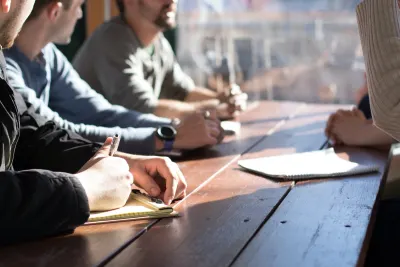 7 Online Management Courses
February 6, 2023
updated February 7, 2023
Reading time ≈ 6 minutes
Jaqueline Corradi
Content Manager
Whether you are already a manager or aim to be one, several skills can help you succeed in this career path, and online management courses will help you with that. A good manager has to develop their hard and soft skills, which means it takes not only mastering the technical knowledge your area requires, but also understanding how to deal with people.
A manager has a leadership position. It's essential to communicate with clarity, to have an attitude toward your team that shows they can count on you, and that you are open to hearing their opinions and help. It also takes organizing skills to develop processes that enhance productivity and optimize the work. 
All those abilities and many others can be learned, they will be valuable to boost your career, and help you achieve your goals. Check out the article to discover some of the best online management courses, one of them can be exactly what you need to take the next step in your professional life. 
7 Best Online Management Courses to Improve Your Skills
As the name already suggests, the Practical Leadership Skills course aims to enable you to not only know what a good leader is, but to implement actions that can turn you into one. You will learn about different leadership styles and techniques, and which one is more appropriate depending on the situation. 
The course also teaches you how to delegate effectively to empower your team. It will help you to build a vast array of practical tools to be a better boss as well. It also approaches the importance of having a healthy work-life balance and feeling confident enough to involve employees in decision-making and planning processes. 
Workload: 2.5 hours
Certificate: includes a certificate of completion
Main topics: 
What is a leader
Connecting with your team
Motivation
Leadership styles
Delegating
Access type: full lifetime access
Having emotional intelligence makes a whole difference when it comes to managing a team, and that's what this online management course is about. You will understand its importance to your career, and how to find ways to cope with events that usually would drive you crazy at work.
You will be able to identify the signs of high and low emotional intelligence in yourself and those around you. Besides, you will learn how to take control of your relationships at work and create rewarding partnerships. This course will encourage you to exercise your self-control while still expressing yourself authentically. 
Workload: 1 hour
Certificate: includes a certificate of completion
Main topics: 
Emotional intelligence explained
What is EQ
Developing your EQ
EQ in the workplace 
Access type: full lifetime access
Many companies have adopted the work remotely system, therefore managers need to know how to lead their team without being physically present. The course How to Manage and Influence your Virtual Team will teach you how to build trust with them and increase accountability and engagement. 
You will also learn how to enhance communication and collaboration and have more effective virtual meetings. The course approaches how to choose the right technology tools for effective collaboration as well.
Workload: 3 hours 
Certificate: includes a certificate of completion
Main topics: 
The psychology of communication in virtual teams
Principles of behavior change
Tactics of influence and persuasion
Managing virtual meetings effectively
Choosing and evaluating the right technology
Building trust in virtual environments
Killer email and phone techniques
Access type: full lifetime access
With this online management course, you will learn how to create a cultural environment that fosters creativity and innovation. It aims to help you master critical thinking skills and be able to teach them to your team as well. 
You will understand how to overcome common blocks that hold organizations back from growth, and develop a deeper comprehension of your users or clients. You will also get to know proven processes for generating ideas and brainstorming solutions. 
Workload: 2 hours
Certificate: includes a certificate of completion
Main topics: 
Creative thinking
Developing a creative work environment and team
Overcoming creativity blocks
Design thinking methodology and process
Access type: full lifetime access
The Team Leadership Skills Masterclass will help you become a successful team manager. It will teach you how to influence people around you, build a team, manage culture change, and train your team. 
This online management course approaches the core skills of management. It will present you with effective tools and techniques to deliver results. You will also understand what a data-guided manager is. 
Workload: 19 hours
Certificate: includes a certificate of completion
Main topics: 
Management and leadership
Becoming an influential manager
The data guided manager
The everyday manager
LEAN process management
Training your team
Culture change management
Building a team
Presenting your ideas
The team life cycle 
Taking care of yourself
 The future of management
Access type: full lifetime access
The focus of the Lean Leadership Skills, Lean Culture and Lean Management course is to help you become a better leader. You will learn how to lead a change process in your organization, and manage a team to engage in continuous improvement.
This course approaches the Kaizen methodology, and the Toyota production system as well, showing you how to put into practice important management skills. It also teaches you essential problem-solving methods, which can be very useful when dealing with crisis
Workload: 6.5 hours
Certificate: includes a certificate of completion
Main topics: 
Introduction to lean leadership and culture
Lean culture principles and practices
The job of the lean leader
Designing the system for a new culture
The habits of continuous improvement
Access type: full lifetime access
With the Complete Management Skill Certification course, you will learn how to make an organization more agile, responsive and creative. It will help you develop the necessary skills to innovate and enhance teamwork to get better results.
You will discover powerful solutions for common management challenges, how to persuade and communicate effectively in the age of digital, maximize your productivity, and handle time constraints. You will also understand management issues from a macroeconomic perspective. 
Workload: 4.5 hours
Certificate: includes a certificate of completion
Main topics: 
Practical solutions for your common management challenges
Persuading and communicating to a connected world
Negotiation training
Time management training
Economic training
Aligning your team for extreme performance
Access type: full lifetime access
Start Improving Your Management Skills
Now that you have seen some of the best online management courses available, what about enjoying this to start investing in your career? Choose the course that offers what you are looking to learn, expand your knowledge to become a better manager, or improve your curriculum to find a new job.
When deciding on which online management course to take, make a list of the skills you wish to enhance or develop and check which one approaches them. Also, you can watch a preview of the course to know if it's really what you want. After choosing a course, remember that while studying, it's important to put the lessons into practice, so you can actually make the most of the courses.
Like what you've read?
Sign up and try JivoChat for yourself!
It's free and only takes a couple of minutes to download.