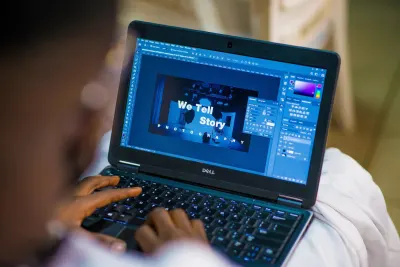 7 Web Design Online Courses: Learn to Make Amazing Layouts
Jaqueline Corradi
Content Manager
In the digital world that we live in, it has become fundamental for companies to develop their presence online. As a consequence, the search for web design professionals has significantly increased, and you can work in that area by doing web design online courses.
You will be able to develop stunning website layouts and use your creativity to innovate and allow users to have a great user experience when navigating through the pages you create. If you already are a graphic designer, that's the opportunity to take the next step in your career. But, if you are just starting, don't worry,  you will also find courses focused on beginners. 
The Web Designing for Beginners course enables you to develop the proper skills to create multiple types of website layouts. You will learn how to add animation and effects with CSS3, and make layouts that are supported by any device. 
You don't need to have any previous knowledge to enroll in this course. It will start from the basics and then guide you through the tools that you need to know to become a web designer. Also focused on practice, along the course you will have the opportunity to create a website.
Workload: 11 hours
Certificate: includes a certificate of completion
Main topics: 
HTML essentials
Adding media to a web page
Text basics
Semantics and organizations
Forms
Tables
CSS essentials
Intermediate CSS
CSS tasks
Access type: full lifetime access
With the Complete Web and Mobile Designer in 2022 course, you will learn to design for all types of devices using Figma and other modern tools, UI and UX best practices, how to convert your designs into a live HTML and CSS website and to create professional logos. The course focuses on helping you not only to become a web designer, but also a web developer. 
By the end of this course, you will have an incredible design portfolio. The course also offers more than 100 assets and premium design templates that you can enjoy to create future projects. It isn't necessary to have previous experience in the area, since the course starts by presenting the web design fundamentals.  
Workload: 26 hours
Certificate: includes a certificate of completion
Main topics:
Sketching 
Inspiration
User flows
Sitemaps
Wireframes
Prototyping
Getting feedback
Grids and spacing
Typography
Color
Forms and UI elements
Imagery and iconography
Accessibility
Design patterns
Mobile design
Applying visual design
Design Systems
Figma
HTML 5
CSS3
Access type: full lifetime access
Through the Design Rules: Principles and Practices for Great UI Design course, you will be able to create useful and visually compelling UI designs for every type of website, app, and system. You will understand the rules for designing on small screens and mobile devices, and how to balance form and function. 
You will learn how to apply the principles of balance, harmony, and alignment, to communicate with color, typography, and imagery in the UI, and to apply contrast properly. The course also explains how color influences interaction, and the 3 kinds of data visualization used in UI design.
Workload: 5 hours
Certificate: includes a certificate of completion
Main topics: 
Balancing form and functions
5 rules for effective UI design on small screens
Organizing visual information
Rhythm
Harmony
Dominance
Alignment
Using color and contrast appropriately
Designing with typography and imagery
Creating and simplifying visual cues
Access type: full lifetime access
The Complete Web Design: from Figma to Webflow to Freelancing course will teach you several graphic design concepts, including layout, visual hierarchy, and typography. You will learn how to use Webflow to create designs and build websites and  Figma as well.
The course also gives tips about how to be a successful freelance web designer. It includes explanations on how to write project proposals and also gives you a proposal template to use too. 
Workload: 19.5 hours
Certificate: includes a certificate of completion
Main topics:
Webflow
Secrets of good design
Layout
How to use typography beautifully
The art of color
Design tricks
Designing a web page
Access type: full lifetime access
In a world where people are increasingly using their mobile devices to access the internet, having a website that functions properly on every device is crucial. The Responsive Web Design essential course is going to help you create mobile-friendly websites to guarantee a great user experience for everyone who accesses your website.
You will learn how to work with responsive images, and Bootstrap 4 to easily add carousels, cards and complex-looking menus. The course also teaches you how to create forms and set up a domain name with hosting to put your website available on the internet. It isn't necessary to have web design or coding knowledge to take the course.
Workload: 16.5 hours
Certificate: includes a certificate of completion
Main topics: 
Introduction to HTML and CSS
How to create an index HTML and style CSS
Visual Studio Code
How to create a simple website text navigation in HTML & CSS
How to put your website live on the internet with your own domain
How to backup your website
Responsive design
How to change a website layout
Bootstrap 4
Access type: full lifetime access
Do you want to know how to build websites and apps? The course UI & Web Design Using Adobe Illustrator CC will help you with that. It will enable you to work as a UI designer and use Illustrator on a professional level.
You will learn how to build wireframes, make responsive design projects, develop sitemaps, and create workflows and shortcuts. In the course, you will also create a portfolio website that can be used to showcase your design projects. If you have any doubts during the lessons, you can send your questions to the teacher who is prompt to help. 
Workload: 4 hours
Certificate: includes a certificate of completion
Main topics:
Creating a sitemap in Illustrator
Setting up your first pages
Wireframing
Designing your first page
Color
Fonts
Images
Creating symbols and icons
Crating mobile and tablet versions of websites
Exporting
Working as a UI designer
Access type: full lifetime access
The Master Web Design in Photoshop course will teach you how to create stunning websites taking into consideration UI and UX principles. You will master the principles of web design and typography, learn to design custom graphics and icons, and understand how to outstand yourself in this market.
The course includes client case studies, so you can learn how web design is applied in the real world, and interactive demos to follow each step of a website design process. Besides, you will gain access to an exclusive selection of PSD files and website templates. 
Workload: 17.5 hours
Certificate: includes a certificate of completion
Main topics:
The pillars of web design
From Photoshop to working code
The basics
The principles
Typography
Flat design project
Organic website design project
Design feedback
Access type: full lifetime access
Choose a Web Design Online Course and Start Creating Websites
The web design online courses allow you to become a professional in this area and create multiple website and app layouts. Many of the courses teach not only web design, but also coding skills, so you can master the aesthetic and the technical aspects of building a web page. Many companies are looking for this type of professional. Enjoy the facility of learning from your home and boost your career.
Like what you've read?
Sign up and try JivoChat for yourself!
It's free and only takes a couple of minutes to download.