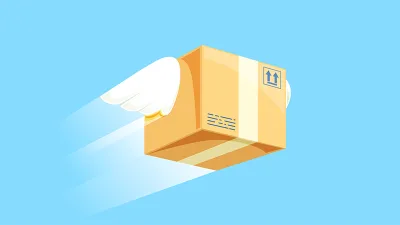 How 2-day delivery increases conversions for your store
Rachel Go
Content and Partnerships, Deliverr
Running a successful eCommerce store is the goal of any online seller. Marketplaces like Amazon and Walmart have significant benefits, but there's nothing like building your own Shopify store to tell your brand story and create the perfect customer journey. But, for your own webstore to be successful, you need customers and conversions.
This is where 2-day delivery comes in. Amazon, Walmart, and eBay have all long used fast shipping programs to attract customers and increase conversions. And now, Deliverr's new 2-day delivery program is making it possible for Shopify sellers of all sizes to increase their conversions.
The benefits of selling on Shopify
Shopify is a hugely popular eCommerce platform, powering more than 800,000 businesses worldwide. And, with good reason. Selling via your own Shopify webstore brings significant benefits.
Fewer fees
Seller fees and percentages are one of the biggest drawbacks of marketplace selling. They impact your profits, limit your pricing, and affect your ability to offer customer perks such as free shipping or loyalty discounts. Shopify's fees are significantly more affordable, with pricing from as low as $29 per month.
More revenue
Lower fees allow you to make more revenue, which enables you to grow your eCommerce business using the flywheel effect. This involves investing initial and significant funds into online advertising that generates sales, reviews, and word of mouth to organically grow your business as you reduce investment, creating even more revenue.
Ownership
With the ability to customize and develop your Shopify store as you wish, you have complete ownership of branding, customer journey, and website content. This gives you the freedom to engage customers through storytelling and experience, helping you build stronger relationships that turn into loyal customers.
Connection
Speaking of relationships, the direct-to-consumer nature of eCommerce platforms means that you have a direct line to your customers. This can be used to gather valuable feedback, provide better customer service, and develop a connection between you and your customer, rather than your customer and an online marketplace. Building connections is key to retention, and crafting an unforgettable brand experience.
The challenges of selling on Shopify
But, as with anything in life, selling on Shopify isn't without its difficulties. There are a few challenges you'll have to navigate on your way to success.
Awareness
More than half of online shoppers start their journey on Amazon because they recognize the name, and they don't know about your store. To successfully sell through your own website, you must establish brand awareness.
Trust
And, because shoppers know Amazon, eBay, and Walmart, they trust them. To successfully convert shoppers on your Shopify store, you also need to establish trust and credibility.
Convenience
105 million people have Amazon Prime membership in the US. Why? Because it's convenient - they know what to expect, and they don't have to shop around or wait for deliveries. To successfully compete against marketplaces, you need to offer the same level of convenience.
How can you replicate the awareness, trust, and convenience of online marketplaces to increase conversions on your Shopify store?
Use fast shipping to draw shoppers from marketplaces to your own store
For the modern shopper, online shopping and fast shipping come hand-in-hand. In 2016, shoppers expected to wait an average of 4.8 days for online orders. Today, that figure is down to 3 days and, thanks to Amazon, is quickly decreasing to less than one day. What does this have to do with your Shopify conversion rates?
Offering Amazon and Walmart-like 2-day delivery enables you to overcome those hurdles we previously mentioned. Specifically:
Fast shipping increases awareness of your brand and products by giving you something to advertise on social media, displaying a fast shipping badge next to your products, and giving your customers something positive to talk about to their friends.

Fast shipping increases trust in your brand by providing customers with a guarantee that their order will arrive quickly, with more social proof through positive feedback.

Fast shipping makes buying with you as convenient as buying from online marketplaces by offering shoppers the same delivery speed promises.
But, how do you achieve 2-day delivery without marketplace resources behind you?
Deliverr's 2-day delivery program for Shopify
Deliverr's 2-day delivery program for Shopify brings the benefits of fast shipping programs to your own Shopify website.
Fast shipping tags
One of the reasons Amazon Prime and Walmart 2-day delivery work so well is the use of fast shipping tags. These highlight eligible listings in the search results to reinforce the promise of service and to draw in buyers.
Deliverr sellers can use this tactic on their own website, displaying a custom-branded 2-day badge across the entire shopping funnel.
(Source)
Countdown timer
Limited edition, only one left, two hours remaining - urgency is used throughout the retail world to create scarcity and appeal to the subconscious' desire to avoid loss. The 2-day countdown timer helps to create this sense of urgency while providing useful delivery information to persuade customers through the checkout.
Reliability
Late deliveries result in lost customers and negative reviews, which impact upon your future conversion rates. Deliverr's 2-day delivery program works on a 95% on-time delivery SLA. This helps to increase positive customer reviews while minimizing the risks involved in buying directly as opposed to through an online marketplace.
Affordability
Running an in-house fulfillment operation can be costly and time-consuming. Deliverr follows a simple pricing model that charges an all-inclusive fulfillment fee for nationwide 2-day delivery. This enables you to offer customers the convenience of fast shipping without having to implement higher pricing.
NextDay delivery
With Amazon and Walmart expanding their fast shipping programs to include 1-day delivery, offering 2-day shipping may no longer be enough. Deliverr sellers need not worry, with the ability to provide NextDay deliveries in select areas at no extra cost. This can be used to reward loyal customers and attract new customers with a premium delivery experience.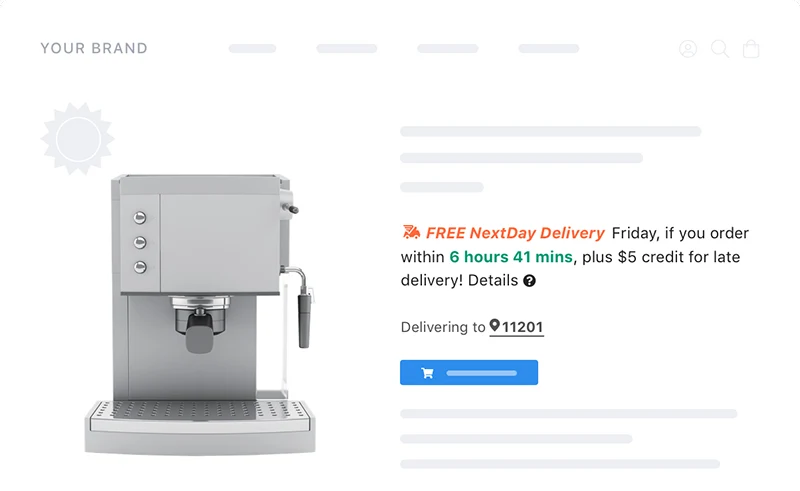 By adding fast delivery to your Shopify stores and offering convenience and connection, you'll be able to attract customers, retain them, and turn them into loyal advocates.
Happy converting!

About the Author
This is a guest post from Rachel Go, who handles content and partnerships at Deliverr. Deliverr provides fast and affordable fulfillment for your Shopify, Walmart, Amazon, and eBay stores, helping to boost sales through programs like 2-day delivery for Shopify, Walmart 2-day delivery, Seller Fulfilled Prime, and eBay Fast n' Free.
Deliverr's FBA-like multi-channel fulfillment comes with clear pricing, easy on-boarding and a hassle-free experience so you can focus on growing your eCommerce business.
Like what you've read?
Sign up and try JivoChat for yourself!
It's free and only takes a couple of minutes to download.