How to optimize your product page for conversions
Emma Longridge
Content Manager
The product page is one of the most critical pages of your online store. Thus, it takes additional effort to optimize it to drive conversions. After all, it's there that potential customers get to know your products better, assess your pricing, and begin their decision-making process.
With that in mind, you must add some critical elements to catch your visitors' attention and help to drive sales.
Check our tips on what your product page should offer and how each of these aspects impact your customers.
Optimize it for SEO
Search Engine Optimization isn't exclusive to your content marketing strategy, such as for your blog articles, videos, amongst other types of content.
In fact, all of your pages should be optimized for SEO, especially the product page. You want your products and offers to appear on the first page of Google when someone searches for products or categories that you sell. To do this, make sure that some aspects of your page comply with SEO guidelines, such as:
Use friendly URLs instead of unmeaningful codes, and be sure to include keywords so that search engines can understand the content of the page.

Keep track of the page loading speed, which should not exceed 2 seconds. In addition to affecting your ranking, a slow page decreases your chances of retaining customers.

Use light and traceable images. Use the attributes "src" for the file name and "alt" for the image content (be sure to include the keyword here).

Provide detailed and complete product descriptions and include keywords on it. Search engines also consider this data as relevant content when ranking your product page.
These are just some of the many ways to optimize your product pages for SEO to increase your conversion rate through organic traffic - coming from search engine results pages (SERPs).
Provide high-quality pictures
As we mentioned before, your pictures must be light and traceable, which doesn't mean they shouldn't have a high, pixel-perfect resolution.
In the digital market, customers can't normally view the actual product size, nor can they feel it or touch it.
For this reason, product pictures must relay everything that customers need to know about the appearance and physical characteristics of a product.
Also, if you offer different colors and variations of a product, be sure to allow the customer to switch between them and provide a picture for each version. For clothing and accessories, be sure to consider portraying people wearing it whenever possible.
Add upselling and cross-selling elements
You probably have browsed online shops that provide menus and sections such as "other products you may like" or "see also in this category." These sections within the page are meant to employ up-selling and cross-selling strategies.
For instance, Amazon and most other marketplaces already do that.
When upselling, your goal is to present better (and usually more expensive) alternatives to boost your e-commerce's average ticket value.
This strategy is common practice in stores that sell tech devices, though not exclusive to them. They provide direct comparisons presenting the technical specifications of products in the same category, such as smartphones, laptops, refrigerators, televisions, etc.
As for cross-selling, you can offer accessories and other products that complement the initial customer choice. For example, offer headphones and mobile cases to visitors browsing for smartphones.
Also, be sure to install a shopping cart in your online store so that customers can easily add more products to the list and keep track of the final order value.
Payment conditions, delivery times, and shipping costs
It's important to allow visitors to quickly identify your payment terms, delivery times, and shipping costs.
Another excellent way to optimize your product page for conversions is to inform how your logistics work, concerning shipping costs, average delivery time, etc. Also, consider providing a delivery costs calculator so customers can know exactly how much they'll pay for it. Remember to be clear about your return policy, according to statistics, it is another conversion tool you could leverage.
This is a strategy that helps to increase assertiveness during the customer's decision-making process, while also helping to avoid abandoned shopping carts on the checkout page.
Don't forget to make shipping a competitive advantage in your ecommerce, drive more sales by offering fast delivery speed at low costs.
Leverage the sense of urgency and your loyalty program
Loyalty programs serve as an additional "push" to help a customer make their purchase decision, so be sure to make it visible and use call-to-actions for them.
Regardless of the type of loyalty program you offer, make it clear to the visitor how the purchase of a product will reward additional benefits, which adds more value to your offers.
Also, don't miss the opportunity to leverage the sense of urgency by offering discounts and special sales for a limited time. To do that, warn customers about the duration, limited product stock, amongst other aspects that can drive them to make a purchase decision faster.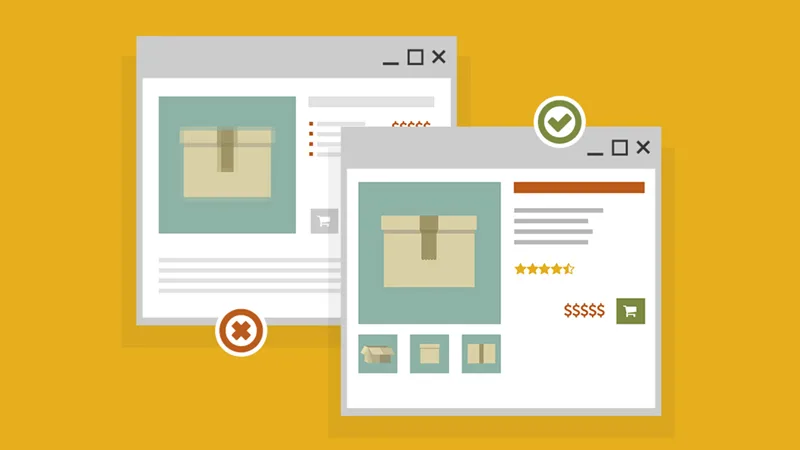 Provide a live chat that offers smart triggers
Even if you think you've provided all the information a customer needs, it's still very common for visitors to have questions before making their mind and buying a product.
To mitigate this issue, boost your retention rates, and generate more sales opportunities, you should consider investing in a live chat solution that offers smart triggers, such as JivoChat.
A live chat helps to prevent potential customers from leaving your page due to unanswered questions.
Smart triggers are automatic, customizable messages that allow your team to reach out to customers in real-time. The goal is to get customers to talk to your team, which gives them the chance to offer a personalized online shopping experience.
Allow customer reviews
Besides helping customers to be more assertive in their buying decisions, did you know that customer reviews can also help you rank better on search engines?
According to Google, pages with reviews that mention the keyword or product name are usually placed higher on the SERPs (Search Engine Result Page).
By letting customers review your products, you're allowing them to market your products and help you rank higher.
It's true that this also gives room for negative reviews. However, these are just as important for your company. They allow you to quickly identify problems and take action.
Optimize your product page for conversions now
Now that you're aware of everything a good product page should offer, it's time to optimize your product page and start converting more visitors into paying customers.
Last but not least, don't forget to check out how JivoChat can help you retain and win even more customers by offering an all-in-one live chat solution designed to drive sales.
Like what you've read?
Sign up and try JivoChat for yourself!
It's free and only takes a couple of minutes to download.