7 Best Intercom Alternatives (By Use Case)
Reading time ≈ 12 minutes
Igor Shekotihin
Head of International Growth
Looking for an alternative to Intercom to engage your customers through conversational messaging? Read on.
Intercom is well-known to most people who've encountered a website live chat widget. But it's not a great fit for every business, mainly because it can get pricey and overly complex.
In this guide, you'll discover why your business might want to consider other messaging options and how to choose the best Intercom alternative based on your requirements without blowing your budget.
Intercom Overview (Features and Pricing)
Intercom is a conversational relationship platform (CRP) that helps build customer relationships through conversational, messenger-based experiences across the customer journey – support, engagement, and marketing.
Key features:
There are four core components of Intercom:
Business Messenger – Engage and support customers via chat, conversational bots, interactive apps, self-service tools, and proactive product tours.

Management tools – Handle customer interactions across all channels in one place with collaborative inboxes, automated workflows, and reporting.

Customer data platform – Use customer, company, and behavioral data to help personalize and target customer interactions.

Apps & integrations – Automate actions, keep data in sync, and improve efficiency with 250+ out-of-the-box apps, or choose to build your own.
Pricing:
Starter plan: Ideal for small businesses to support, onboard, and engage customers from $79/month.

Regular plans: Suitable for most businesses, but you'll need to request current pricing.

Eligible startups: Get Intercom from $65/month for one year.
Why Might a Business Look for an Intercom Alternative?
There's no denying that Intercom is a quality platform. However, it might not be the best fit for every business.
For example, large companies like Amazon, Shopify, and Udemy use Intercom to handle hundreds or thousands of customer requests every day. But small businesses don't have the same volume of inquiries to process.
There are several other reasons that you might be looking for an Intercom alternative, such as:
No free plan
The lowest Intercom price for small businesses starts at $79/month.
Variable billing
There are no fixed pricing plans. Intercom calculates your monthly bill based on the number of seats (users) plus the number of unique people you've reached through the various channels (conversations).
Complex feature set
Intercom has 50+ modules and features and over 250 out-of-the-box apps, which is overwhelming for small teams.
Customer service issues
Intercom's Trustpilot page has an average 3.4-star rating, with many customers reporting slow responses and unhelpful answers to customer service queries.
How to Choose the Best Intercom Alternative
Here are four things you need to consider when choosing an Intercom alternative.
Use case(s)
The first step is knowing precisely what use case(s) you are looking for as an alternative to Intercom.
For instance, do you need an all-in-one conversational messaging platform to manage support, sales, and marketing functionality?
Maybe you only want an alternative business messenger? Or perhaps you want to use different sales tools?
Make sure you know your use case(s) before you start looking.
Ease of use
Next, you'll want to choose an Intercom alternative that's easy to use. Intercom packs a punch but comes with a steeper learning curve. Look for software that's agile enough to use now and scale with your business.
Affordability
It's essential to choose an alternative that's affordable and budget-friendly. Check the pricing structure – most systems use a "per agent per month" – so you can budget the overall cost to your organization. And make sure the price remains reasonable as your team grows.
Demo and reviews
Last but not least, make sure you allow time to test any alternatives. Don't just watch sales demos and webinars – take the time to test your business scenarios.
Also, read the user reviews on third-party sites like G2, Capterra, and Trustpilot so that you can gauge the overall feedback on the product.
7 Best Intercom Alternatives (By Use Case)
Not everyone needs all the functionality of a multi-use platform like Intercom. You may only be interested in finding a solution to replace a specific function, such as live chat, ticketing, or email automation.
In this section, we'll look at the best Intercom alternatives by multi and single-use cases.
JivoChat
Best for: Omnichannel messaging.
JivoChat is an all-in-one business messenger that teams use to talk to customers on their favorite channels, such as website live chat, phone, email, and social media channels like Instagram, Facebook Messenger, and WhatsApp. Agents receive all conversations, emails, and calls in one JivoChat app, so they don't have to waste time fumbling between different windows. Plus, you can sync all communications seamlessly to your CRM.
Review ratings:
Key features:
Omnichannel: Contact customers through live website chat, phone, email, Facebook, or Apple Business Chat.

Visitor Monitoring and Smart Triggers: Track your visitors in real-time and proactively initiate live chats with them.

Typing Insight: See what messages visitors are typing even before they hit "send."

Instant Callbacks for Visitors: Impress your customers by calling them back within 27 seconds.

Quick Phrases and Canned Responses: Create pre-written messages (based on what you've sent before) and send them using hotkeys.

Multi-agent Chats: Transfer and invite product specialist colleagues to participate in open chats with customers.

Built-in CRM: Add statuses and reminders to every conversation, and then follow up and convert your leads into actual sales.

Multi-platform: Desktop, Mobile, or Web version - choose the JivoChat app that suits your needs.
Pricing | CTA
Free plan: Get JivoChat Basic for free for your first 5 agents.

JivoChat Professional: From $13/agent/month (billed annually).

Free trial: Try JivoChat Professional free for 14 days first!
Zendesk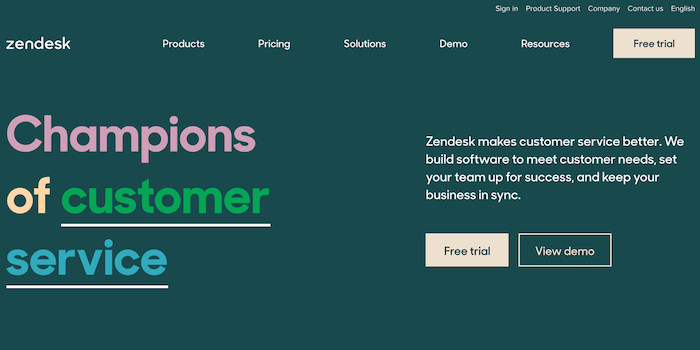 Best for: Help desk ticketing, self-serve knowledge base, and live chat at a lower price than Intercom.
Zendesk is a well-established cloud-based customer service solution trusted by more than 160,000 customers worldwide. Its all-in-one platform includes help desk software, online knowledge management, team collaboration, and a customer relationship management (CRM) tool.
There are two core functions of Zendesk – service and sales.
Key features:
Ticketing System: Track, prioritize, and solve customer support tickets in the fully integrated system.

Messaging and Live Chat: Stay in touch with customers through messaging on your web, mobile, and social channels so that they can reach you instantly.

Answer Bot: Uses artificial intelligence to answer common questions and identify when to bring in an agent.

Help Center: Build a comprehensive knowledge base for better customer self‑service, empowered agents, and fewer tickets.

Integrated Voice Software: Speak directly with customers to deliver personalized solutions to complex issues.

Community Forums: Create a space for your customers to connect and collaborate with each other and your business.

Reporting and Analytics: Use the integrated insights to measure and improve the entire customer experience.
Pricing | CTA
Bloomfire
Best for: Knowledge management, such as info sharing or knowledge base.
Bloomfield centralizes company knowledge in a single, cloud-based searchable platform. By finding, sharing, and collaborating on existing information, support agents can consistently provide a high-quality, contextually relevant service.
Key features:
AI-Powered Search: Allows agents to search for specific words within any file and provides recommendations for related content.

Video and Audio Search: Find a specific phrase or word in an audio or video recording without combing through lengthy recordings.

Q&A Engine: Crowdsource answers and create a searchable FAQ database to resolve customer issues efficiently and authoritatively without answering repetitive questions.

Actionable Analytics: Discover the most valuable knowledge and the most engaged users. Gain insights into information trends and gaps.

Integration and API: Integrates with popular apps, such as Slack, Salesforce, and Zendesk, and lets you add custom integrations through the open-source API.
Pricing | CTA
Bloomfire starts at $25/user/month for up to 50 users. (You can access more affordable per-user rates if you have more than 50 users.)

Demo: Get a virtual tour from a product expert.
Drip
Best for: Email automation and segmentation.
Drip is a marketing automation platform built for ecommerce. You can send email and SMS messages that drive revenue with personalized, dynamic product recommendations at just the right time. Plus, you can automate it all with Drip's visual workflow builder.
Key features:
Email Marketing: Grow and convert your audience with personalized messaging and A/B testing.

Behavior-Based Automations: Send the right message at the right time based on real-life events, such as which products someone views or purchases.

Pre-Built Workflows: Get started quickly with the library of pre-built automated workflows or create your own with the visual builder.

Segmentation: Use your customer data to create meaningful, customized audience segments, and speak 1:1 to your customers at scale.

Dynamic Content: Send abandoned cart items, unique discount codes, and top-selling products to turn shoppers into customers.

SMS: Extend your reach with SMS. It's precise, effective, and engaging – the perfect complement to email.

Revenue and Engagement Reporting: View email, SMS, automation, and A/B test results in the built-in dashboards. Test which strategies drive the most revenue, clicks, opens, and more.

Integrations: Connect Drip with your business tools via 100+ integrations, including Shopify, Facebook Audiences, and Zapier.
Pricing | CTA
Drip starts from $19/month for up to 500 contacts.

Free trial: Test out all of Drip's features free for 14 days. No credit card required.
Apty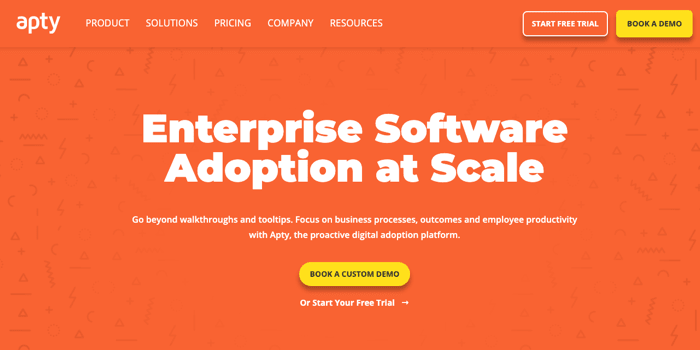 Best for: User onboarding and product adoption.
Apty is a Digital Adoption Platform that helps enterprises adopt and optimize their business software and processes. It works with any web-based application to track usage and provide on-screen help.
Key features:
User Onboarding Flows: Create and publish custom software walkthroughs, user onboarding flows, and product tours in a matter of minutes with the easy-to-use code-free editor so that new users fully participate and finish the flow.

In-app Announcements: Remind users to finish their onboarding and solicit feedback directly inside your software with in-app announcements.

Segmentation: Deliver different onboarding flows depending on which features new users will use most with audience segmentation.

Analytics: Use data to understand user challenges better and offer them relevant solutions to improve user engagement and experience.
Pricing | CTA
Contact Apty for a custom pricing plan.

Free trial: Test out all of Apty's features free for 45 days.
Drift
Best for: Businesses looking for marketing-focused chatbots.
Drift is a revenue acceleration platform designed to help businesses engage, generate, and qualify more leads with conversational marketing. Its all-in-one platform is comparable to Intercom and includes live chat, chatbots, customer segmentation, automatic lead routing, and built-in Salesforce dashboards.
Key features:
AI Chatbots: Talk to your website visitors like your best reps, helping you build the qualified pipeline you need to hit your target 24/7.

Custom Chatbots: Engage website visitors in seconds with specific messages and interactions for each visitor and every page. Quickly qualify customer interest, share your compelling content, and even schedule a meeting with a sales rep.

A/B Testing: Optimize your content to convert more visitors into qualified leads by testing different chatbot playbook messages to see which performs best.

Live Chat: Lets customers get instant answers instead of filling out forms and waiting.

Fastlane: Turns static forms into conversational forms, so qualified buyers can chat with a sales rep or book a meeting straight away.

Drift Prospector: Automatically prioritize the most relevant accounts, centralize insights on visitors from each account, and follow up accordingly.
- Drift Email: Route qualified email replies to the right person on your team, so you can book more meetings and drive more pipeline from your email marketing programs.
Drift Video: Record and share videos, track views, and chat live with prospects alongside your videos to increase engagement and move them down the sales pipeline.

Integrations: Drift offers over 50 integrations, including HubSpot, Salesforce, and Zendesk, to help you unlock your data and improve customer experience.
Pricing | CTA
Free: Use Drift to chat with visitors to your website in real-time.

Premium: Contact Drift for a custom quote.

Free trial: Take Drift's chatbot for a test drive without installing any code on your website.
Outpost
Best for: Shared inbox.
Outpost simplifies your shared email inbox (like info@ or support@) so that everyone can track, collaborate, and respond to messages simultaneously without stepping on each other's toes.
It's perfect for small businesses and teams responsible for managing incoming emails from prospects, customers, and external partners.
Key features:
Assignments: Assign emails to colleagues or subject matter experts to ensure your team knows who's doing what and nothing slips through the cracks.

Internal Notes: Add private team notes to prevent forwards and CC's and keep all the back-and-forth in one place.

Collision Alerts: Ensure no two team members work on the same email response with real-time collision alerts.

Template Responses: Reply to common questions faster with dynamic email response templates.

Custom Routing Rules, Tags, and Filters: Streamline repetitive tasks so that you spend less time managing your email and more time providing better customer service.

Unlimited Mailboxes: Manage any message from any shared inbox without logging into multiple accounts or toggling between screens.

Analytics and Reporting: Track email response times by mailbox, user, and date. Get the insights you need to be more productive while delighting more customers.

Mobile App: Reply to customer emails from anywhere.
Pricing | CTA
Get all the Outpost features for $14.95/user/month.

Free trial: Try Outpost free for 14 days.
Which Intercom Alternative is Right for You?
Intercom is a terrific tool, but it won't suit every business looking to harness the power of conversational messaging in their lead generation and customer service. The lack of a free plan, variable billing, and complex feature-set make it inaccessible to some companies.
There are plenty of single- and multi-use Intercom alternatives to choose from. It's just a case of deciding on your use case(s) and preferred functionality and ensuring it's scalable and affordable. Whatever you decide, make sure to read the third-party reviews and take the software for a test run before you buy.
If you're looking for an omnichannel business messenger, create a free JivoChat account today.
Like what you've read?
Sign up and try JivoChat for yourself!
It's free and only takes a couple of minutes to download.