Shopify Upgrade: Is Shopify Plus Worth Your Investment?
Reading time ≈ 10 minutes
Mia Nguyen
Content Executive at LitExtension
Shopify Upgrade: Is Shopify Plus Worth Your Investment?
Data given by BuiltWith shows that Shopify is currently having more than 3.5 million live websites. Along with the vast numbers of merchants out there, as a Shopify merchant, you may have been super familiar with your site. 
However, have you ever experienced repetitive tasks that would have been automated? Or have you ever suffered from store crashes that lead to high bounce rates and increase cart abandonment rates? Then, You know that it's time to perform a Shopify upgrade to Shopify Plus. 
In this article, we will cover you with some thorough understanding of the two platforms Shopify vs. Shopify Plus:
Shopify and Shopify Plus overview 
When and Why to Perform Shopify Upgrade
How to Perform Shopify Upgrade 
Overview
What is Shopify?
Shopify is an eCommerce platform for online stores and retail POS systems. It is an ideal place that offers everything from soup to nuts even when you're just a newcomer in eCommerce. Shopify is more cost-effective for small, medium businesses with prices ranging from $29 to $299. 
What is Shopify Plus?
Shopify Plus is an eCommerce platform specially designed for enterprise-level businesses. The Shopify Plus plan pricing is negotiable. However, the minimum initial price is USD 2,000.  Still being confused? Learn more about Shopify and Shopify Plus now!
When & Why should you perform Shopify upgrade?
When should you perform Shopify upgrade? 
If you have ever met the following signs, there is no doubt that it's time for you to take a leap!
Slow site responding that leads to a high bounce rate 
High website traffic that leads to site crashing 
Repetitive tasks that must have been automated 
Funny speaking, it's like you cannot fit your pants, and you know it's time to make a change, get a bigger one. This is the right time for you to go for Shopify Plus - a higher, thorough, and optimum version that will properly fulfill your needs! 
If your annual revenue reaches around $1-2 million USD, you should go for Shopify Plus! It's not about the revenue that triggers the need, it's about the extra support and unique features that are worth your investment!
Why should you perform Shopify upgrade?
Scalability power and cutting-edge eCommerce functionality are among what Shopify Plus offers. If you're wondering whether the additional cost is worth it or not, let's have a look at some key features of Shopify Plus: 
Global Business Expansion
Currency
If you are about to enter the international market, Shopify Plus will truly fit your business. With up to 133 currencies supported, almost everyone can access your products without any barriers. Based on the customers' IP addresses, Shopify Plus will automatically select appropriate currency instead of letting them select manually.
Omnichannel (Shopify Plus function)
Omnichannel plays a vital role in providing customers with a seamless experience on your multi-selling channels. Having more than 100 social media channels and over 80 online marketplaces, Shopify Plus significantly increases your chance to display your products to more potential customers. 
Powerful checkout analytics and data
eMerchants surely want to track customers' activities and keep them on their site for placing orders instead of leaving and taking no action. Shopify Plus gives you control and access to the theme code which lets Google Tag Manager do its tasks. 
Google Tag Manager is a newly added feature only for Shopify Plus. It gives you detailed analytics and reporting in the customer's checkout process. By knowing the exact time shoppers leave the checkout, you can optimize your checkout process so that you will attain a high conversion rate and reduce the cart abandonment rate. 
Native automation tool
Have you been super bored with repetitive tasks in operating your Shopify store? You now can save time and get more things done with Shopify Flow. This platform will help you with everything automated from customer segmentation to merchandising to fraud prevention. This platform also assists you with scheduling events with Launchpad. 
Launchpad is a powerful and user-friendly app available only for Shopify Plus. It allows you to schedule sales events and product drops beforehand, and automatically switch back pricing and theme as your event finishes.
2 Ways to Perform Shopify Upgrade
There are many methods of upgrading a Shopify store: on your own upgrading it from A to Z by following the guide, asking for technical experts' help, or using a third-party tool to migrate. In this article, we would like to walk you through 2 methods: manually updating and using automated tools. 
Let's go into detail! 
1. Manually upgrade Shopify to Shopify Plus 
With Shopify Plus manually upgrading, you need to contact the Shopify Plus team by filling the form and follow their detailed instructions. 
However, if you don't have time to perform the upgrade yourself, there are countless prevalent upgrading methods by third parties. With automated tools and firm assurance, these players jump into the game with full confidence in helping you with the upgrading process!
2. Harness automated tool to flawlessly upgrade Shopify
LitExtension stands out from the crowd with its spotless and accurate operation. They assist you to perform Shopify upgrade with 3 simple steps: 
Step 1: Set up Source Cart and Target Cart
Step 2: Select Data You Want To Migrate
Step 3: Perform Full Migration
Let's dig deeper into LitExtension's process!
Before performing a migration, you must register a LitExtension account or sign in (if you already have an account on their site). Conveniently, you also can easily log in with your existing Google or Facebook account.
#1: Set up Source Cart and Target Cart
1.1.Enter Shopify Store Information
On the Migration Page, click Create New Migration. 
Select Shopify as Source Cart Type and enter its URL into the blank bar. 
Then, filing your Shopify API Password (so you see the YouTube button? Follow the brief instructions to get your API info and fill them in the form!)

1.2. Enter Shopify Store Information
Select Shopify as Target Cart Type and enter its URL into the blank bar. 
Then filing your Shopify API Password (you can get the API Password like how you get the previous one!)
#2: Select Data You Want To Migrate
Choose entities you want to migrate. You can select either all of them together or certain data such as Products, Customers, and Blog Posts.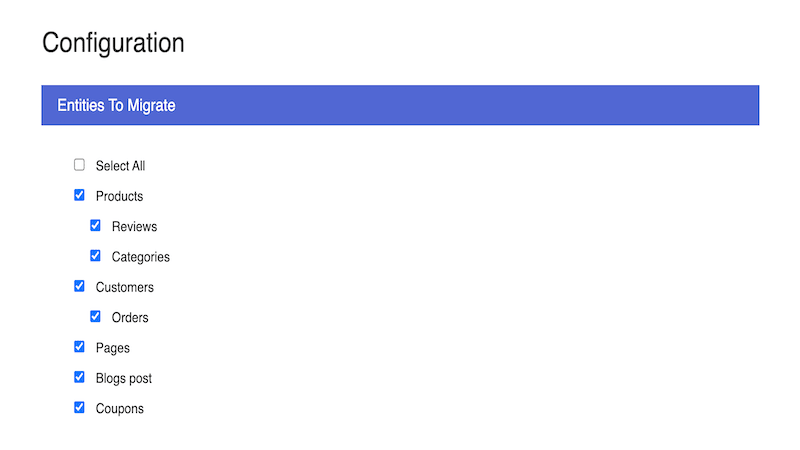 LitExtension also provides Additional Options to optimize your migration process. Languages, Order Status and Customer Group will be matched altogether to be displayed properly in the new store.

#3: Perform Full Migration
You can run a demo migration with a maximum of 20 products to ensure everything works as you expected. Or, you can immediately start your full migration by clicking Skip Demo Migration.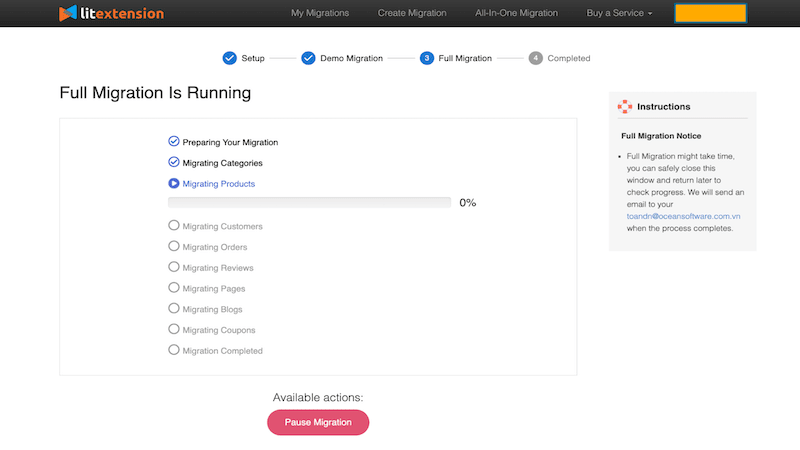 Once the migration is started, it will run seamlessly on the server. There's no need to run your PC while the data is being transferred! When the migration is completed, you'll be notified via email.
LitExtension also provides you with an all-in-one service, in case you don't have enough time for migrating your data or your store has some third-party apps or some custom fields that need to be migrated.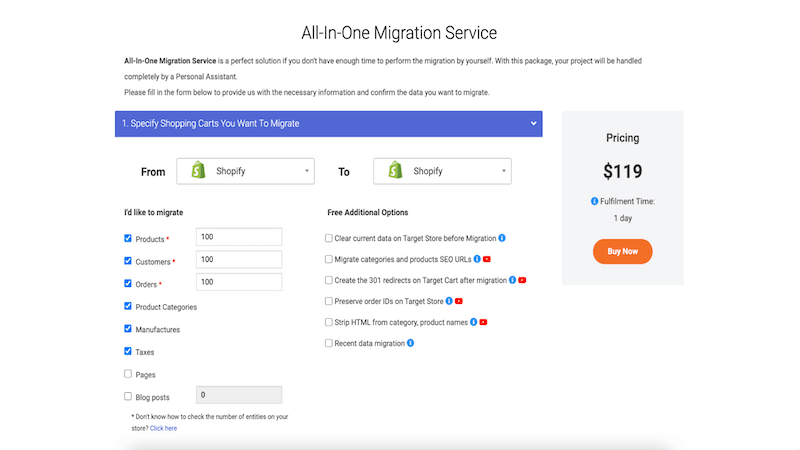 With the starting price of $119, you will enjoy the high quality with secure, accurate, and seamless migration with minimal time and effort
What to do after upgrading Shopify to Shopify Plus?
After performing your Shopify upgrade, there are many things to take care of. Below are the essential elements for you to think of! 
Check your data thoroughly 
As your upgrade is completed, your data will be displayed on the storefront. Hence, you can simply see them in the catalog or via onsite search. However, checking your product details carefully is a must if you want to ensure that everything works properly. 
Customize your Shopify theme
As your Shopify store gets all the data you need, designing your site is the next step. The visualization has a significant influence on the performance of your online store! Shopify offers both free themes and paid themes. Later in this article, in the FAQ session, we will recommend some of the stunning theme designs for your store! 
Rocket Shopify sales 
What to do after you get a super powerful eCommerce platform? It's surely about making full profits and maximizing your revenues with Shopify Plus. But how can you now skyrocket your sales and profit? The following ideas will guide you through! 
Diversify sales channels
Ain't it obvious as you want to boost your sales, you should sell on as many channels as possible? The more you appear to the customers, the higher chance they will make a purchase! Shopify Plus is right for you with multi-channel selling like integrating Shopify with WordPress. 
Focus on the website's user experiences
Your customers won't stay on your site for so long, just 15 seconds! Having your site optimized user-focused experience is vital to increase your sales. 
Our brain loves visualization and 90% of information absorbed are images, graphics, or videos. You should carefully pay attention to on-page elements to see how it looks, and how it works. Putting CTA at the right placement, improving website navigation, and using appealing headings are some recommendations.
Optimize the payment process
Nowadays, everyone craves convenience. Too long checkout processes led to 27% of cart abandonments. Cart abandonment delivers an $18 billion revenue loss each year. If the checkout process is too complicated, 26% of shoppers will leave the checkout.
Thus, it is essential to remove any unnecessary steps and get rid of the elements that confuse customers and drive them away. To nail the payment process, you should make things easy with full security multiple payment gateways.
FAQ
What are the best themes on Shopify?
The theme design is the first thing that captures customers' attention, so choosing an appropriate theme is essential! We hereby want to introduce some gorgeous Shopify themes that will definitely work for your newly-upgraded store! 
Roxxe
The Roxxe Shopify Multipurpose Theme is super trendy. It has a powerful navigation search module with over 70 pre-designed layouts with ready-made sections. 
Roxxe Themes are open for you to customize changes and enhancements. You can choose a theme to create your store quickly and customize your content. Moreover, in cooperation with Shopify's Visual Builder, Roxxe lets you create as many pages and other web forms as you like. 
Shella
The Shella fashion theme is truly aimed to attract online shoppers. By giving your online store a stunning look, your site visitors scrolling to see more is one of the keys to creating an online business that thrives. Customers, those who are into fashion may strictly look and evaluate the store design to decide whether to make a purchase or not. 
Shella's premium theme for fashion stores will give you all the fashion features. With the diversity of choice like fashion icons, banner builders, and many more features, you will be able to personalize and build a strong brand identity.
What are the differences between Shopify and Shopify Plus? 
The key difference between Shopify and Shopify Plus belongs to their targeted customers. While Shopify is more suited for small-sized and medium-sized businesses, Shopify Plus is more customized for enterprise-level businesses as they need a more high-powered platform to accommodate their enormous business.
Another difference between the 2 platforms lies in the pricing plan. While Shopify comes with 3 transparent pricing packages, Shopify Plus requires you to negotiate with their experts besides paying the initial cost of $2000 for upgrading. 
Conclusion
As your business grows, you might start experiencing limitations and find that your current Shopify plan doesn't feel quite so flexible. It's essential to perform Shopify upgrades, as long as your current store cannot adapt to your current needs. 
Each method has its advantages, if you don't want to manually export and import data, Shopify upgrade could be ever much easier with the assistance of LitExtension - the Shopping Cart Migration Expert!
Like what you've read?
Sign up and try JivoChat for yourself!
It's free and only takes a couple of minutes to download.