Types of Ecommerce: Choose your Business Model
Reading time ≈ 11 minutes
Jaqueline Corradi
Content Manager
In recent years, many companies have expanded their business to sell online or focused their activities only on the internet, investing in different types of ecommerce. There is a very compelling reason for that: the impressive growth of this sector. 
According to Statista report, in 2021, retail ecommerce sales amounted around 4.9 trillion U.S dollars worldwide. By 2025, it's estimated that this market will grow 50%, reaching 7.4 trillion U.S dollars. 
If you want to enjoy the opportunities the digital market has to offer, it's essential to understand the different types of ecommerce and business models, so you can make a solid plan on how to develop your company. It's fundamental to think strategically and research the market before starting. 
4 Most Common Types of Ecommerce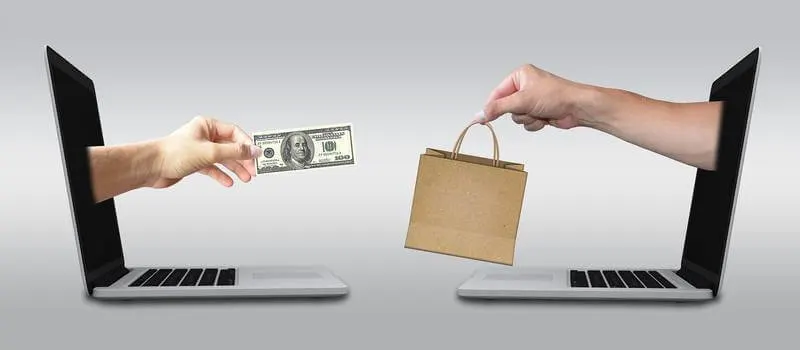 1.B2C - Business to Consumer
Business to consumer, also known as B2C, is the type of ecommerce that sells directly to the end-user. For example, clothing stores, bookshops, food delivery, and hotels. The ecommerce can sell physical items, digital ones, or services.
There isn't much bureaucracy in the selling process, different from the business to business model. The customer is interested in buying a smartphone, for instance, they search online for the product, find an ecommerce where the item is available for a price they are willing to pay, and make the purchase. 
Nike, Glossier, and Amazon are examples of B2C ecommerce websites. When it comes to marketing, the campaigns are built to speak directly to the customer's demands and nurture a relationship with the brand.
For example, one strategy often used is engaging with customers through social media by showing that the brand shares the same values as them,
2. B2B - Business to Business
In the business to business model, B2B, you are dealing directly with companies, so the buying process entails more steps since the decision of making a purchase commonly involves higher order values. The purchase approval usually needs to pass through different sectors of the company.
It's necessary to develop a different sales approach and marketing campaigns for the B2B model, understating how the sales cycle of each company sector functions. Some companies sell software as a service (SaaS), raw materials, pieces of machinery, equipment, and office supplies, for example. 
Ecommerce has facilitated these transactions and made them faster. For instance, instead of having to send physical paperwork, which takes much longer, the purchase approval can be made online, with the documentation sent to all the parties involved by email, and they are notified when the papers are signed. 
Besides, instead of using paper catalogs and order sheets, the managers, heads of departments, and other employees can check out the products online, take out their doubts immediately, optimizing their work as well. 
3. C2B - Consumer to Business
In the consumer to business model, C2B, the traditional roles are inverted. In this case, consumers sell companies and services to companies. You can find websites specialized in this where workers offer their services to businesses, usually as freelancers, for instance, designers and writers. 
Upwork is an example of this type of ecommerce. When you access the website you are going to find an area reserved for people to offer their services, according to their skills.
On the other hand, there is an area for companies that are looking for hiring. This enables workers to price their services and negotiate as they prefer. 
4. C2C - Consumer to Consumer
The consumer to consumer business model, C2C, is very common when we talk about selling used items. Do you know about traditional garage sales? Instead of holding them at your houses, many people opt for selling old items online on websites like Craiglist, and eBay. 
Customers can sell, trade, and buy items through these marketplaces, but the quality control and delivery process is a challenge since it's the seller's responsibility. Usually, the customer needs to pay a commission fee to the website to announce the items.  
6 Ecommerce Value Delivery Models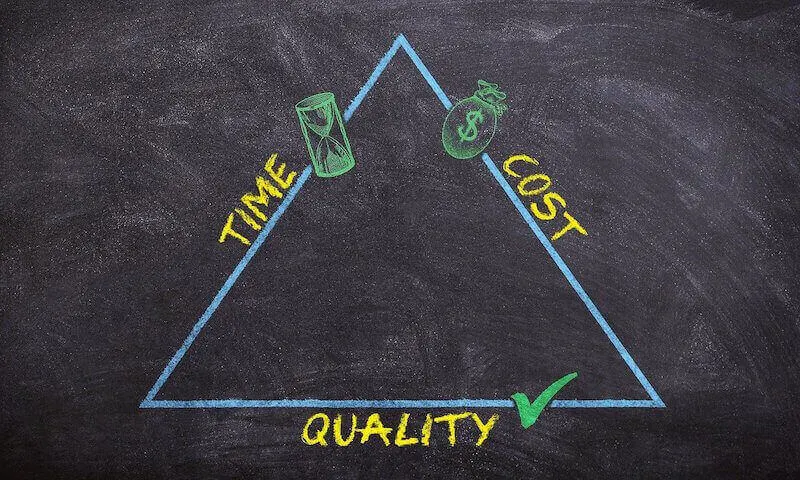 What are your product sources? Is your company going to be in charge of the manufacture? How are the products going to be delivered? After deciding what type of ecommerce you want to develop, it's necessary to choose the revenue model that fits your business best. 
1. Dropshipping
The dropshipping business model requires a smaller capital investment to start since you are going to act as the intermediate between the manufacturer and the buyers. You don't need to have a stock or warehouse of your own. 
Your responsibility is to manage the ecommerce and the sales, it's up to the supplier to pack and deliver the products, which reduces your company costs significantly.
Besides, you can dedicate your time to improving customer experience and developing marketing strategies to boost sales. Many entrepreneurs that have stores in marketplaces like Amazon, eBay, and AliExpress opt for this delivery model. 
However, the disadvantage is you don't have control over the supply chain and the shipping process. If there is any problem, such as a product that isn't delivered or it's damaged, this may affect your brand's reputation. It's important to pay attention to that. 
2. Wholesaling
In the wholesaling model, a company sells products in bulk to other retailers. It's a model commonly adopted by B2B ecommerce companies, where one of the differentials is that by selling in large quantities you can offer special discounts to the companies that are going to resell your products. 
In this case, your enterprise is responsible for managing the inventory and the stock, so you will need to have a warehouse and create processes for packaging and delivering the products.
This business model takes a lot of investment to begin, you will need to plan carefully, and study the market you want to get in thoroughly to create a business that can sustain itself, and generate profit.  
3. White Label
In the white label model, you buy a generic product from a distributor, then apply your brand's name to it, so you aren't in charge of the manufacturing process. You are going to design the package and the product's logo, and be responsible for marketing it. 
4. Private Label
Many people get confused about the difference between white labeling and private labeling, thinking they are the same thing, but they aren't. 
While with the white label you buy a product that is already produced, in the private label model, you hire a manufacturer to produce a unique product for your company. It will follow your specifications and requirements and be sold exclusively by your brand. 
This way, you don't need to spend money creating a manufacturer process, and hiring expert professionals, but you still can sell a product that you have designed. That's a practice very common in the beauty industry, for example, with digital influencers' makeup and skincare product lines. 
5. D2C - Direct to Consumer
The direct-to-consumer model, D2C, as the name suggests eliminates any intermediaries in the purchase process, the customers buy directly from the brand. The company is responsible for producing the products, stocking them, managing the inventory, the orders, the packaging, and shipping. 
Instead of buying from marketplaces like Amazon, the customer buys directly from the brand's website. This is a model that gives more autonomy to the brand, to control and create strategies in each step of its business from producing to delivering. On the other hand, it takes more planning.
But, it also allows you to develop a closer relationship with customers, and work on applying your brand's values each step of the way, which many consumers are looking for nowadays.
For example, when we talk about conscious consumerism, where people want to know how products were made, and if the brand has a sustainable production process. 
6. Subscription
Subscription service is something that has been widely known much before the digital age, for example, magazine and newspaper subscriptions.
But, with the internet, this type of service has grown significantly and it's a model adopted by many SaaS companies, which sell monthly or annual signatures for their software, for instance. 
Besides, magazines and newspapers have also embraced the digital subscription model. Instead of receiving the physical version of these publications, people can access the same content online, a solution that is also more sustainable. 
Other famous examples of the subscription business model are the streaming services like Netflix, HBO Max. 
There are also ecommerce sites that sell subscriptions for physical products and even food. For instance, the Blue Apron is a meal delivery service where you can choose your meal kits, and receive fresh ingredients at your home. 
What to Sell on an Ecommerce
As you can see when the topic is types of ecommerce there is a huge variety of business models, and also thousands of products that can be commercialized.
You are going to find multiple niches, but it's necessary to understand their particularities and what each product type demands from infrastructure to have a successful business.
Physical Products
Physical products occupy a wide range of the ecommerce market. You can sell from furniture to shoes, the variety of products is enormous. But, it's important to decide if you want to focus on a specific niche, investing in a smaller variety of products, or if you wish to have a store that reaches a bigger market.
Both approaches have their advantages and disadvantages. If you sell highly targeted products, for instance, a vegan makeup products online store, the number of potential customers is smaller, but you are also going to have less competition. 
On the other hand, if you chose to have an electronics store that is going to commercialize diversified products, such as headphones, tablets, smartphones, and computers for multiple brands, your public is bigger.
But, you are going to deal with a much bigger number of competitors. It will take much more effort to conquer visibility and distinguish yourself. 
Digital Products 
Having an ecommerce focused on digital products solves the problem of having to deal with physical stock, packaging, and shipping, but it has many other requirements.
For example, if you are a SaaS company, you will need to count on a team of IT specialists, build an infrastructure to develop the software, maintain it, and distribute it. 
Other digital products are ebooks, songs, movies, design pieces, and magazines, for instance. There are marketplaces specialized in selling digital products, or you can build your own website to do it. But, it's important to pay attention to copyrights and create methods to prevent piracy. 
Services
You can use the internet to commercialize different types of services that can be made online, such as online courses or be scheduled on the company's website, and then the customer goes to the in-person appointment, for example, to have their hair cut, or make a massage.
Having the possibility to schedule services online makes it much easier for customers to set their appointments, and it helps to reach a bigger audience as well. It's fundamental, though, to create a system inside the company to keep track of the appointments and avoid overbooking, for instance. 
Other services like freelance writing or design can also be commercialized following the C2B model, for instance. 
How to Choose Your Type of Ecommerce Business Model? 
Now that you have got to know a little bit more about the different types of ecommerce, you may wonder how to choose the best business model to create your online store, right? There are a few questions that can help you in that matter:
Who is your customer?
What distinguishes your product from the others?
What is best for the market sector you want to get in?
Analyzing those aspects will give you an overview of what your target audience demands, the type of business model that will help you to make your products stand out, and also comprehend what your industry sector requires. 
Don't be afraid to commit mistakes in the process, they are part of business development. You will need to make tests and improve on the way, knowing how to adapt is an essential skill.
Research and Plan before Opting for a Type of Ecommerce
Planning, thinking strategically, and studying the market are three essential practices that you should start developing if you want to expand your business online or start a new one.
Before deciding among the types of ecommerce you want to apply to your company, it's crucial to analyze the characteristics of your enterprise, and its demands, and research your competitors.
What type of ecommerce are your competitors adopting? How can you differentiate yourself from them? Are you going to sell directly to consumers or other businesses? Do you want to build a website and/or sell on marketplaces?
Analyze the context first before deciding. the type of ecommerce You will see that by planning you diminish the chances of losing investments.
Like what you've read?
Sign up and try JivoChat for yourself!
It's free and only takes a couple of minutes to download.