Bluehost Review: complete guide about its features
December 21, 2021
updated December 28, 2021
Reading time ≈ 7 minutes
Jaqueline Corradi
Content Manager
Are you looking for a platform to build your website, create your domain, and also host it? In this Bluehost review, you are going to discover the many features this leading web hosting company provides.
Founded in 2003, Bluehost is used nowadays by more than 2 million websites all over the world and is built on open source. 

Having a website is no longer considered something to distinguish yourself from your competitors, but it has become a necessity. What can make you stand out is the way you are going to build your website, starting from where to host it. After all, providing high load speed and having a stable server is essential for user experience.
Bluehost knows that as well and offers reliable, security plans to allow you to go online. You can choose the Shared, Dedicated, or VPS hosting. But, before deciding, you should understand echo ones' characteristics to identify the one that's going to suit your business needs best. 
Shared hosting is the most economical way to get a website online, whether you want to build an ecommerce or a blog, for example. You are going to share (as the name suggests) the server with other websites, similar to tenants sharing an apartment building.
The advantage is that everyone will have access to the same benefits, such as secure and automatic WordPress installation. At Bluehost all of the plans in this category include: 
Easy-to-use WordPress website builder
Resource protection
Domain manager
SSL Certificates
Google Ads
Google My Business
24/7 hosting support
You can select between the Basic, Plus, Choice Plus, and Pro Plans. 
If you want more power to grow your business, Dedicated hosting is an option that gives you more freedom.  You are going to have a dedicated server isolated from the others, which gives you the flexibility and control to configure it the way you need without affecting or being affected by other users. 
It's like you are a single tenant on the building, so you can customize, optimize, and manage your resources as you wish. Bluehost makes the maintenance and keeps your server always updated. If you have a website with high traffic that can be the solution to avoid problems with server stability. 
Besides the benefits Dedicated hosting entails, Bluehost also provides: 
Free domain for the 1st year
Free SSL certificate
Extreme speed
Storage upgrade
Fast provisioning
Root access
RAID storage 
24/7 Dedicated hosting support
You can opt for the Standard, Enhanced, or Premium plan. 
VPS stands for Virtual Private Server, which means that with a VPS Hosting plan you can have not only an entire server dedicated to you but also other resources like RAM, CPU, and Disk Space. 
Your account will be allocated regardless of other users, guaranteeing more stability and performance. Besides, you won't share the Operating System, which enhances the security of your website files. You are the one who decides what you want to do with the tools and resources you have. 
The VPS hosting plan includes:
Unlimited domains and websites
Unlimited bandwidth
Dedicated power
Easy-to-use VPS dashboard
Solid State Drives (SSD)
24/7 VPS hosting support
Bluehost offers 3 types of VPS plans: Standard, Enhanced or Ultimate. 

Regardless of the hosting option you choose, another fundamental part to set you apart from competitors and which can help you with SEO is choosing the right name for your website. You should select one that is short, easy to remember, and that matches your brand. 
To guarantee that perfect name, you will have to acquire a domain, and it's possible to do that at Bluehost.  First, you will have to check if the name is available, then choose the ending you want to use, such as ".com", ".net", ".org", and many others. 
With Bluehost, you can manage all the aspects of your domain using an intuitive interface, and protect it from expiring with the auto-renewal tool. You will also count on domain lock, to prevent unauthorized transfers, domain forwarding, redirecting visitors to desired locations, and expert support. 
Additional features: 
Quickly find the perfect domain
Trusted global domain provider
Domain privacy
Microsoft 365 integration
Huge selection 
Geo-location-domains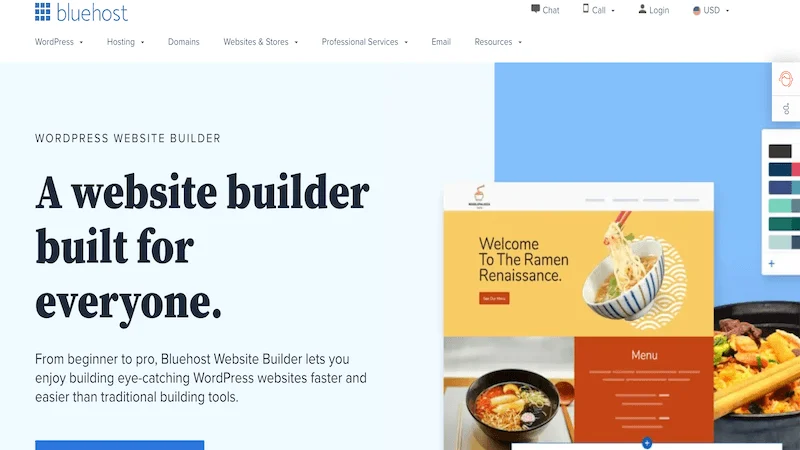 After deciding the hosting plan and domain name of your website, it's time to start building it. Many people believe that you can't do that without having design and coding skills, but Bluehost website builder doesn't require those abilities. Instead,  the platform provides an easy-to-use editor, based on Word Press, with a Smart AI built-in and drag-and-drop tool. 
The Smart AI will guide you through each step, you can choose among different responsive templates, add videos and images, custom fonts, and manage your CSS rules within the builder dashboard. You will be able to build different pages, from a blog to an online store. 
Additional features: 
Stock Image Library with free access to use photos
Unlimited uploads
Trusted web hosting
Live editing
1-click WordPress access
24/7 support
Ad Landing pages
Social post buttons
Call-to-action buttons
Form fill templates
Countdown timer template
Social reviews templates
The plans available are the Basic, Pro, and Online Store.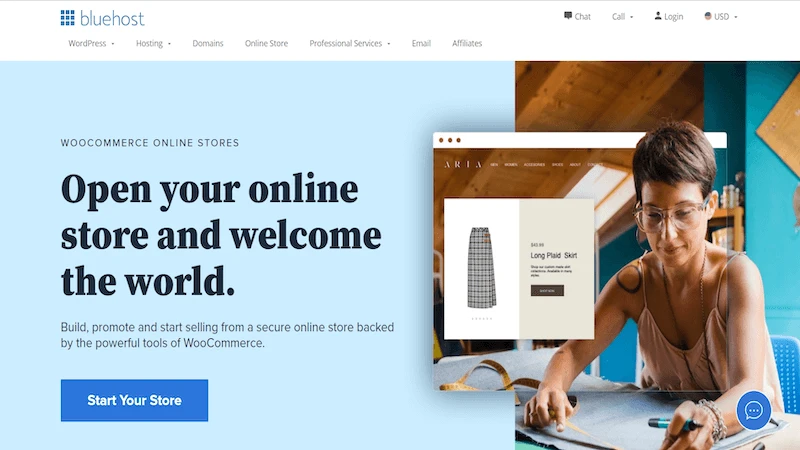 To allow you to build, promote and start selling in a secure online store, Bluehost has a partnership with WooCommerce, which gives you access to a huge variety of tools to customize your ecommerce the way you desire. 
Through WooCommerce integration, which is developed for WordPress, you can start creating your store by choosing from one of the pre-built themes and, then, personalize it to add your brand's identity. 
You will count on Free SLL, which automatically encrypts transactions and visitors' data, and multiple caching layers, which optimizes your website to load with maximum speed.
Besides, you are going to have access to Google My Business Verification, site monitoring, and statistics, and unmetered bandwidth (with the Premium package). 
Ecommerce plugins available:
Product add-ons
PayPal Pro
UPS shipping
USPS shipping
Product Vendors
Table Rate shipping
FedEx shipping
Product CSV Import Suite
You can choose between the Standard or the Premium plan. 
With Bluehost, you can create email addresses with the domain name of your website, adding more credibility to your business. Partnered with Microsoft 365, you are going to have access as well to Word, Excel, Outlook, PowerPoint, and Microsoft Teams. 
There are 3 options of plans to select from Email Essentials, Business Plus, and Business Pro, all of them include: 
Microsoft Outlook web access
Automatic Microsoft updates
Security and disaster recovery
Microsoft 99.9% uptime guarantee
Intuitive management dashboard
24/7 expert support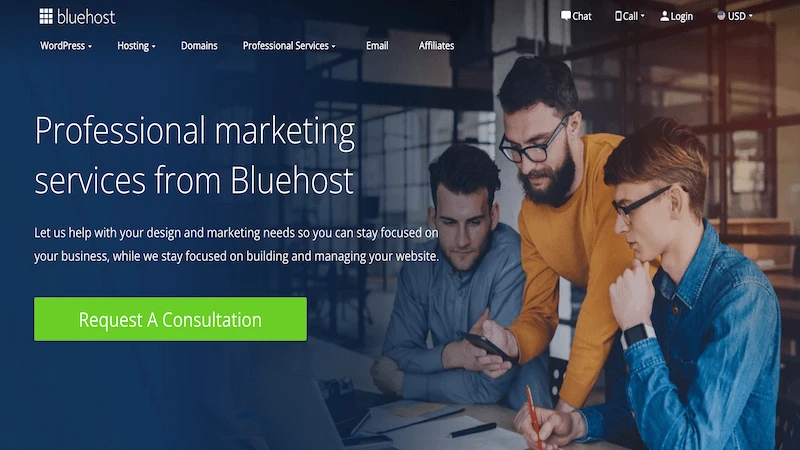 With a website, ecommerce, and email set, it's also important to think about marketing strategies, with that in mind BlueHost provides specialized service in this area: 
Full-Service Website
You can focus on the business part and Bluehost will build your website, create the design, marketing plan, and offer content assistance.
SEO Services
Bluehost will help you target the right keywords to improve your SEO strategies and gain more visibility on search engines like Google, and Bing.
Pay-per-click Services
At Bluehost, you can also create pay-per-click ads, they are going to help you to target the right audience to boost results. 
Migration Service
If you already have a website but want to migrate it, Bluehost makes it as well. You can request a 1-on-1 consultation to review the pages before and after the migration and count on additional assistance for the website design.
Bluehost: an all-in-one solution for  creating and maintaining a website
As you can see, Bluehost offers several features, which will help you to save time when creating a website from scratch. Instead of using multiple companies for different services such as buying a domain, hosting the website, and building it, with Bluehost, it's possible to solve everything at once.
Like what you've read?
Sign up and try JivoChat for yourself!
It's free and only takes a couple of minutes to download.