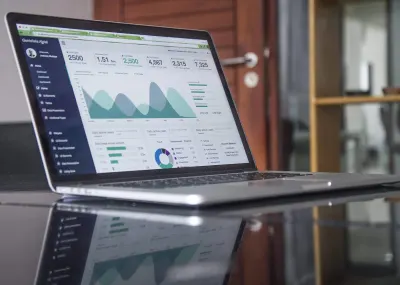 Analyzing Customer Data: Insights for Website Optimization
Harnessing the Power of Customer Data for Website Excellence
As the digital world continues to change at a breakneck pace, client data is becoming an increasingly important factor in website optimization. An in-depth study of this data gives deep insights into the preferences, habits, and expectations of users.
With this knowledge, businesses can customize their online presence to meet the ever-changing requirements of their audience. This article dives into the complex function that customer data plays in the process of enhancing user experience and enhancing the performance of websites.
1 - Deep Diving into User Behavior with Advanced Analytics
Web analytics that have been taken to a more advanced level go beyond simple data and reveal complex user interactions. These insights give information on visitor trip patterns, page interaction heatmaps, and engagement with specific content.
Businesses can discover hidden trends and patterns by examining these layers of data, which may then influence strategic improvements in the design of their websites and the placement of their content.
This in-depth study contributes to the creation of a website layout that is more engaging and successful, and which caters to the real requirements and behaviors of site users.
- Zephyr Chan, Founder and Growth Marketer at Better Marketer
2 - Crafting Personalized Experiences through Behavioral Data
Personalization is an essential component in the digital environment of today. Websites can design experiences that are personalized to individual interests by analyzing the clickstream data of users, their purchase histories, and their degrees of involvement.
This may include individualized suggestions for products, adaptations of dynamic information, or user interfaces designed specifically for the user. By making the user feel appreciated and understood, these tailored experiences not only delight users but also greatly enhance conversion rates and user loyalty.
- Michael McCarty, Chief Safety Officer at Edge Fall Protection
3 - Streamlining Site Navigation Based on User Interaction Data
The ability to navigate the site efficiently is necessary for achieving maximum user retention. User navigation statistics can provide light on which paths across a website are the most time- and resource-effective.
This information is essential for restructuring the site's menus, streamlining navigation, and making sure that crucial information is simple to reach, all of which will help to reduce user irritation and improve the site's overall usability.
It is also helpful in moving users smoothly through the sales or conversion funnel, which increases the likelihood of successful interactions. Streamlined navigation helps in both of these ways.
- Shannon Coventry, Marketing Manager at First Vehicle Leasing
4 - Integrating Direct User Feedback for Targeted Improvements
Feedback from actual customers is a rich source of information. Analysis of user surveys, feedback forms, and review sections regularly can offer obvious signals of user preferences and areas that need to be improved. This method helps produce user-centric alterations that favorably connect with the audience. This ensures that changes made directly address the demands of the users and improve the entire experience they have while using the website.
-  Josh Thill, Founder of Thrive Engine
5 - Empowering Decisions with A/B Testing Insights
A/B testing that is founded on data collected from customers' behaviors is essential to making educated judgments. By putting alternative versions of web pages, calls to action, and content layouts through A/B testing, you can be sure that any changes you make to the website are optimized for user engagement and conversion before they go live.
This strategy, which is driven by data, reduces the amount of guessing involved and increases the efficiency of each component of the website.
- Craig Campbell, Owner of HARO Link Building
6 - Resolving User Pain Points for a Seamless Experience
To create a seamless user experience, it is essential to address the pain points of the users. It is possible to drastically improve customer happiness and promote return visits by identifying and addressing common concerns, such as sluggish load times, complicated checkout procedures, or content that is difficult to locate.
Because of this focus on fixing pain points, not only is the current user experience improved, but long-term brand loyalty and trust are built.
- Diego Cardini, Founder of The Drum Ninja 
7 - Gleaning Insights from Social Media Interactions
Platforms for social media offer a wealth of information on the feelings and interests of customers. It is possible to obtain significant insights about the interests of users, the engagement preferences of users, and the pain points of users by watching how consumers interact with a business on these platforms.
This information may be used to guide the content strategy, design components, and advertising activities for a website, which will ensure that the website is properly aligned with the expectations and preferences of the target audience.
- Derek Bruce, First Aid Training Director at First Aid Course FIFE
8 - Anticipating Future Trends with Predictive Analytics
The analysis of previous data trends is at the heart of predictive analytics, which attempts to anticipate how users will behave in the future. This foresight helps in forecasting industry trends, user demands, and prospective enhancements that may be made to a website.
Maintaining a lead over these trends helps firms to proactively update their websites, maximizing their chances of being relevant to their intended audience and retaining their attraction to that demographic.
The use of predictive analytics helps a website remain adaptable and forward-thinking by preparing it for future changes in the market and the expectations of its users.
- David Willison, Training Manager at Skills Training Group
Conclusion: Elevating Websites with Strategic Data Utilization
In conclusion, to effectively optimize a website, strategic analysis and the use of client data are both essential components. It gives companies the ability to construct online platforms that are extremely engaging, centered on the user, and efficient.
Businesses can guarantee their websites not only fulfill the present user expectations but are also prepared for future shifts in user behavior and market trends if they continually harness and adapt to consumer data.
This allows businesses to ensure their websites meet both sets of expectations. A data-driven approach to website optimization is vital for long-term success in the digital world, as well as for maintaining one's position as a competitor in the market.
Like what you've read?
Sign up and try JivoChat for yourself!
It's free and only takes a couple of minutes to download.