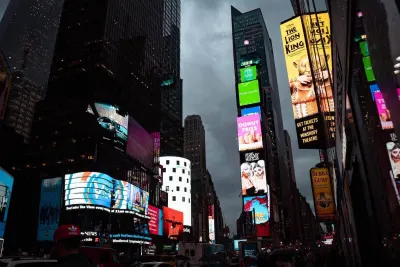 7 Best Digital Signage Software and How to Use Them
Reading time ≈ 10 minutes
Jaqueline Corradi
Content Manager
Do you know when you go to the airport and check your flight gate displayed on the screen? This is one common use for the best digital signage software, but you can enjoy their features to create multimedia experiences for different purposes, applying it to your marketing and sales campaigns, for instance. 
What is a Digital Signage Software? 
Digital signage software enables you to display different types of content on several screens at the same time. You can manage the content that is going to be displayed remotely and publish it from anywhere.
Some of the software also includes the option to add interactive features, collect data for analytics purposes, and integrate with hardware and third-party services. This can help you to connect with your audience, promote engagement, enhance brand awareness, and much more. 
Digital signage software is often used, for example, to display announcements, schedules, social media content, advertisements, sports scores, traffic updates, and forecasts.
The huge screens on Picadilly Circus, in London, or the ones in Times Square, New York, which have become postal cards in both cities, are an example of digital signage.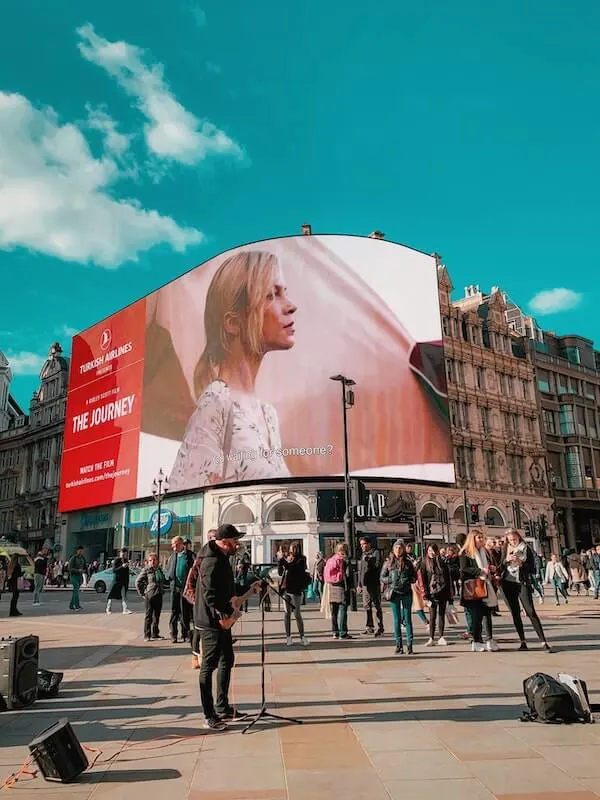 But, now, the software has made this technology much more accessible to enterprises of different sizes, and you can have it in your store, restaurants, or offices, for instance.
In general, digital signage software has 4 basic functions: 
Content creation
Content management and distribution
Device and player management
Collect data for performance analysis
How Does Digital Signage Work? 
The infrastructure to create digital signage can be divided into 3 fundamental elements:
Software: select the best digital signage software that fits your needs to publish and manage the content.
Hardware: the devices you are going to need to display the content, and to connect with the network. It's necessary to have high-resolution screens, and if you want to make interactive digital signage, they will need to be multi-touch. To include other interactive elements, you may need to have payment devices, printers, and cameras connected too, according to what you intend. 
Content: plan the type of content you desire to use in the digital signage,  define what will be its purpose, and how it can be appealing to your target audience. 
Beyond having all those components, it's necessary to plan how to make the best use of digital signage. For example, where are you going to install the screens? They need to be strategically positioned according to your goals.
If digital signage is going to be used for interactive ads, the screens need to be installed at a comfortable height for people to easily navigate by touch. If you are going to use it to show the menu, you should install the screens in a place where everyone can see them. 
How You Can Use Digital Signage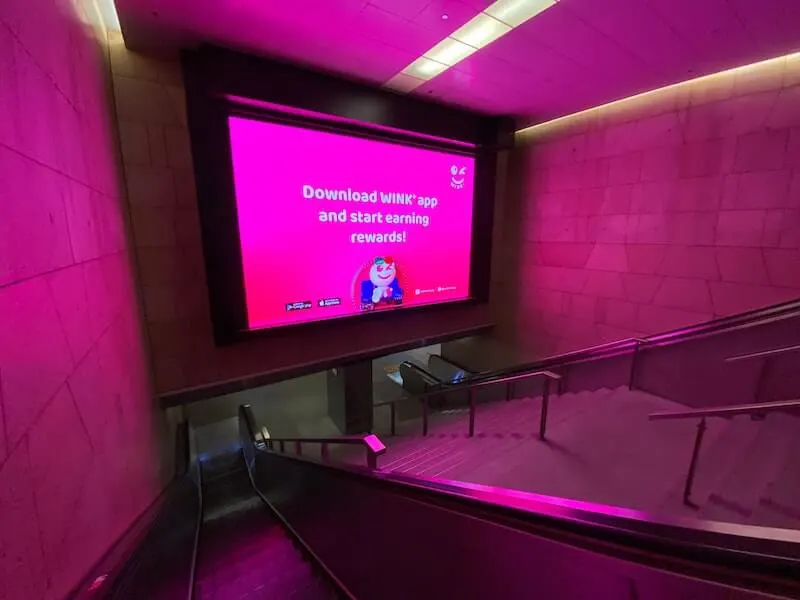 There are thousands of possibilities when it comes to applying digital signage. They are seen in multiple places, and it's a growing market.
Statista  revealed that that digital signage market was valued at 19.61 billion U.S dollars in 2016, and is expected to reach 32.84 billion in 2023. Some examples of how digital signage is used: 
Public transport stations: displaying the metro and buses schedules.
Offices: updating valuable data in real-time, company broadcasts, meeting room schedules, important news. 
Sales: self-checkout, display products, and services, demonstrations, advertisements.
Restaurants: self check-out, digital menus.
Museums: interactive expositions.
Schools: display schedules, library exhibitions, teaching resource.
Exhibitions and tradeshows: logo display, brand information, visitors interaction, display products, and services. 
Best Digital Signage Software

OnSign TV is a content management system (CMS) designed to enable you to manage all types of digital signage. Used in more than 100 countries, the platform runs in the cloud and counts on secure and scalable servers to make sure your content will be displayed with no problems.  
You will count on easy drag and drop content editing tools, real-time synchronization, portrait, landscape, and custom mode support, an extensive template library, and many other features.
You can schedule your campaigns and the offline content playback, along with dynamic content forward cache will make sure they are displayed even if there is no network connection. 
Before saving any content, use the preview to check it and then send it to the screens. You will have the possibility to develop, search, and manage an unlimited number of screen layouts, and also organize playlists and campaigns by assigning tags and categories to them. 
To include your team in the project management, OnSign TV gives you the option to create multiple users with different roles. Define tasks, assign specific privileges, control access, and share content. 
To check how your digital signage is performing, the platform will provide you automatic scheduled reports, highlighting potential errors and improvements. You will be able to check for specific date and time ranges, and filter by content or tag as well.
Key features:
Drag and drop content editing tools
Real-time synchronization
Portrait, landscape, and custom mode support
Template library
Offline content playback and reporting
Flexible scheduling rules
Multi-language platform
Group management
Automatic scheduled reports

OptiSigns allows you to basically make any screen a digital sign, and impress your customers, visitors, and employees with well-designed content. You will have more than 500 free pre-built templates at your disposal, separated into multiple themes like restaurants, holidays, shopping,  education, and travel. 
The platform supports a big variety of image, audio, and video formats, such as JPG, PNG, gif, MP4, and PDF. You can also integrate it with different apps to display content from social media, traffic, weather, and world clock apps. 
Create playlists, schedule your content, choose if you want to use portrait or landscape mode, split up screens into multi zones, and use OptiSigns online editor. You can invite your team to manage and update the screens, and also work offline. 
Key features: 
Support multiple file formats
Integrate with several apps
Create playlists
Schedule your content
Landscape and portrait mode support
Split up screens
Work offline
Online editor
Schedule reports
With Scala, you have the ability to manage all the content that is going to be displayed on your screens, whether it's just one or a thousand. Featuring as one of the best digital signage software, the platform counts with Content Manager, Designer, Designer Cloud and the Scala Player all in one place. 
The content manager allows you to control and customize playlists, and schedule content to be displayed at the right time for your audience. By using the Scala Designer, you have a content creation tool specifically designed for digital signage and which supports different media formats. 
Scala also gives you a stable and reliable platform to make sure your digital signage will perform perfectly. In case of any problem, you will have access to localized and globalized support.
Key features: 
Scala Player
Content Manager
Scala Designer
User-friendly
Flexible and scalable

Yodeck is a cloud-based digital signage platform that enables you to design, manage and remotely display content on your screens easily and quickly.
You can schedule the content, and also use Yodeck's free and fully customizable screen layout templates. To guarantee your security, the platform has SSL certificates, firewalls, and password policies. 
Other advantages are that you are going to count on an easy-to-use interface, and as the files are stored on the cloud, it's possible to control and update the screen from multiple devices and locations.
Use the drag and drop tool to create playlists, you can include videos, images, web pages, and documents, for example. 
To know your campaigns and projects' performance, with Yodeck is possible to check several data with playback reports, player content screenshots, and in-map screen visualization. 
Key features:
Upload and display content in multiple formats
Easy setup
Free screen layout templates
Schedule content
Remotely turn off screens
Total remote screen management
Auto-upgrade

NoviSign gives you the possibility to not remotely manage the content you are going to display on multiple screens, and also to edit them.
The platform has an easy-to-use editor where you can use its free digital templates to make your own designs without the need to be an expert in this area. 
Create playlists to display videos, slideshows, websites, social media pages, and schedule all the content. It's also possible to integrate the platform with different apps, and if you have any doubts, NoviSign provides free support. 
Key features:
Digital signage studio
Free digital signage templates
Playlist scheduling
Widgets
Integrations
Reports
Free support

Userful Emerald Signage provides you with a user-friendly content management platform where you and your team can control all the digital signages that are going to be displayed.
To optimize the process, you have the option to assign roles for content creation, and distribute content based on location or department. 
Use Emerald canvas creation tools to develop your designs. You will find more than 400 pre-made templates, and can also count on up to 50 integrations.
To easily control the displays, it's possible to organize them by location and enable specif access. Schedule content for different times of the day, weeks, or specific events. 
Key features: 
User-friendly content management
Over 400 pre-made templates
Schedule content
Canvas content creator
QR Code generator
Role-based permissions
Built-in app integrations

Viewneo is one of the best digital signage software available which focuses on providing a simple to use platform for small businesses that are just starting, but also powerful enough to solve the demands of large worldwide companies. The software is designed with a modular structure, which means it can scale up as you need. 
You will be able to easily display different content formats, from JPEG to videos to PowerPoints, on multiple screens. It's also possible to edit and create content on the platform, using one of the more than 200 templates available. You can integrate with social media, and connect with online shops. 
Key features: 
Display multiple content formats
Over 200 pre-built templates
Schedule content
Control access
Analytics reports
Touch interaction
Integrate with other apps
Choose the Best Digital Signage Software for Your Company
Now that you know some of the best digital signage software on the market, evaluate each one's features to select the one that is in your budget and offers the tools that are essential to your project and campaigns. 
Digital signage is broadly used, but what makes the difference is knowing how to adapt this technology to develop effective strategies that can help you reach your goals. Define the purpose of the digital signage, create the content considering it, and also your target audience profile. 
Research how your competitors are using digital signage and think of ways to distinguish your brand from them.
The best digital signage software allows you to integrate with other apps and solutions to create interactive experiences, which may help you to enhance user experience, and grab your audience's attention, so, use your creativity. 
With the proper software, hardware, and design, you are going to see that it's possible to innovate with digital signage. Using it to boost sales and also to generate brand awareness, for example.
Like what you've read?
Sign up and try JivoChat for yourself!
It's free and only takes a couple of minutes to download.