20 Business Website Templates to Design Your Website
May 24, 2022
updated May 25, 2022
Reading time ≈ 8 minutes
Jaqueline Corradi
Content Manager
Counting on pre-built business website templates will make it much easier to create your website. It doesn't require you to have design or coding skills and will make your pages look more professional.
The design of your website plays an important role in how potential customers perceive your brand. So, it's essential to choose the right template and customize it to be aligned with your business values and goals. 
The best website builders offer a huge variety of templates for different business areas. Enjoy them to have high-performance pages, increase visibility, improve your conversion rates, and sell more. Remember: a well-constructed website is a powerful tool to bring more business opportunities. 

A business website template needs to offer features that enable you to present your company attractively, using the visual elements to catch the visitors' attention. It's also fundamental to be cohesive with your brand's identity.
The Business Consulting Company template has a simple yet elegant design and allows you to use a video as a background, which makes the home page more dynamic and interesting.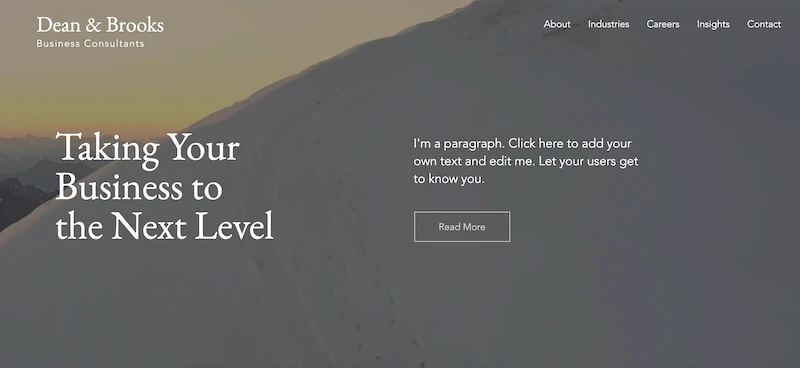 The Corporate Landing Page template is a great example of how to create a homepage that focuses on the main message without using too many elements that could distract the viewer. You can add an image as a background, insert your brand's logo on the top of the page, and on the right side insert the links to your social media pages. 
In the middle of the home page, the idea is to put a phrase that represents your company in a few words. It can be your brand's motto, for instance. This way, when someone enters your site, they can quickly understand what it is about. You can include a contact form on the home page, as well, so your leads can easily get in contact with your company.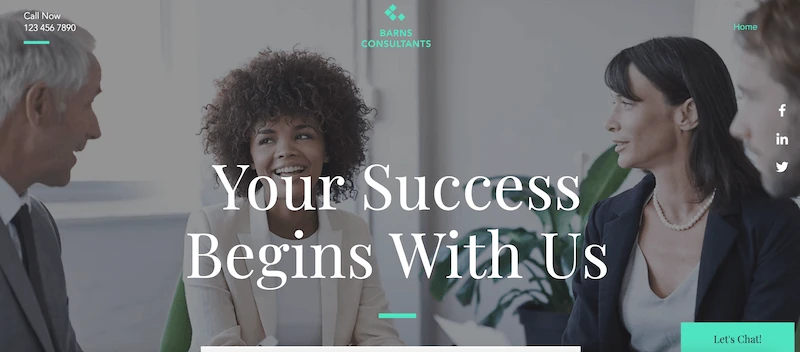 The Cleaning Company template has a modern and minimalist design and allows you to add features such as online booking, sign-up forms, and a log-in section. You also can put customer reviews, social media buttons to redirect to your pages, and integrate with a live chat. The pages have animated elements as well, which makes them more dynamic. 
The Gaming Company template has a single page layout and uses animated illustrations, as the visitor scrolls down, the images and other elements move to make the user experience more interesting.
The design is also very colorful and fun, which has everything to do with this type of business. You can add contact and newsletter subscriptions forms, link to app stores, and use images as backgrounds.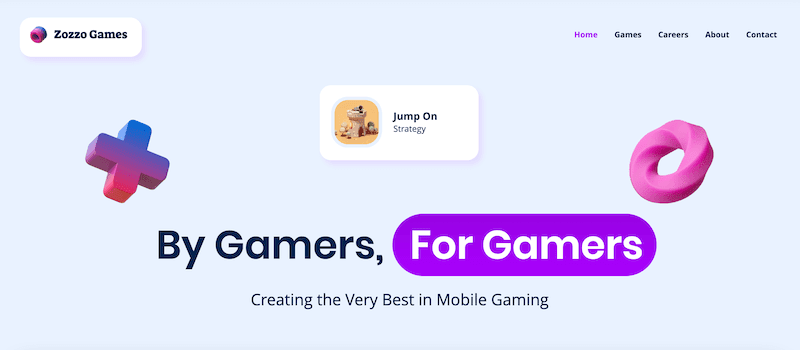 The business website template Around Travel has a minimalist and very clean design. The objective is to highlight the company's services.
It has a fixed menu on the top of every page, which makes it easier for the user to navigate through different sections of the website. You can insert a contact form, a map app to show the office location, and links to your social media profiles as well.
The Creek Hills template was developed thinking of real estate agencies. On the home page, you have the option to use an image as a background, showing one of the available properties, for example. It has a single page layout with a fixed menu on the top, and you have the option to insert an image gallery as well. 
SportsWear is a business website template for companies that also want to have an online store. On the home page, you can already link to the ecommerce with the "shop now"button. It has a fixed menu on the left side of the pages, and you can include sections such as new arrivals, best sellers, and sales. 
The Dentist template has a single page layout and a clean and minimalist design where the predominant colors are white and blue. The use of just a few graphic elements allows one to focus on the main message, and it makes it easier for people to find important information such as the services, how to schedule appointments, and the clinic hours.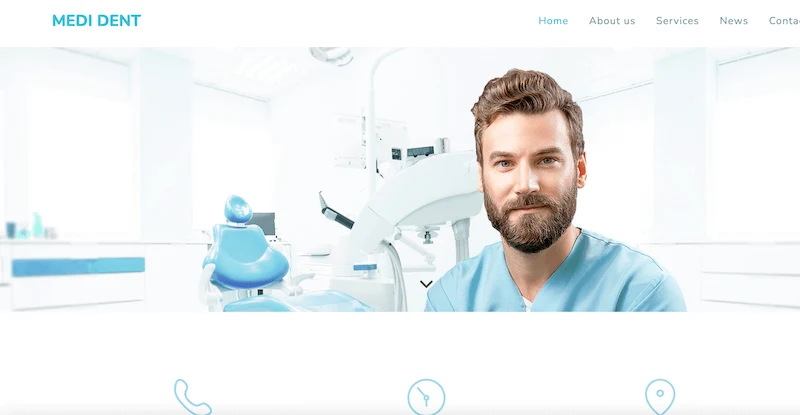 The Architectural Studio template uses an image as a background on the home page, which allows you to highlight one of your architectural projects and catch the reader's attention with a beautiful picture. You can also include sections like projects, about, and contact, and insert features such as forms and image galleries. 
On the home page of the Web Consulting template, it's possible to quickly see what the website is about, and that's very important to diminish the bounce rate. The logo of the company is inserted on the menu, which is fixed on every page and you can create sections like customer testimonials, contacts, and services.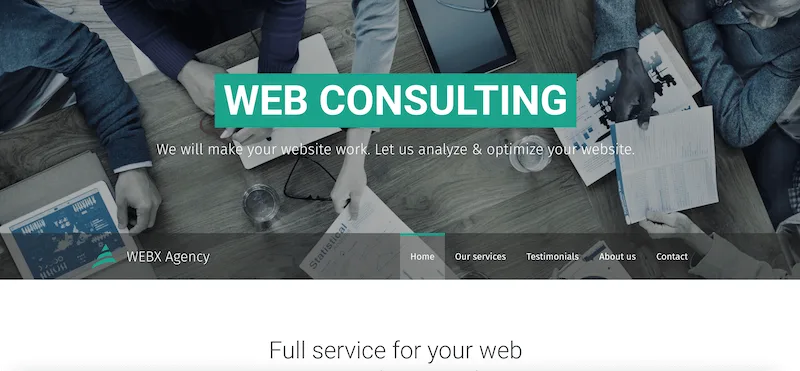 The Jody Mistrel template has a minimalist design and uses a neutral color scheme with some touches of green to highlight important information and also create a contrast. You can add multiple features to your website using this template, including a search bar, online booking, sign-in section, and sign-up form. 
The Ciesto template has a black background and the text in white which creates a sophisticated and modern design. You can have different sections and add features like an image gallery, newsletter subscription form, customer reviews, and online booking.

AutoMasters is a business website template for ecommerce and it has a layout that enables you to use images to make your products stand out. You can add a search bar, and social media buttons to link to your pages, and customize your online store as it fits your company better.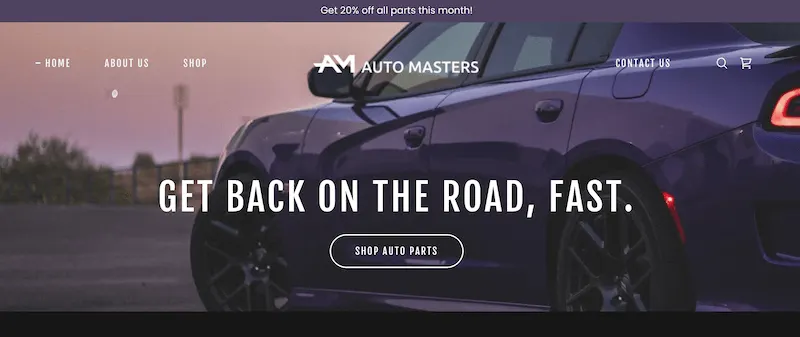 Marl is a WordPress template that is product-focused. It has a design that was developed for companies that sell handmade artisanal products. You can add multiple pictures of the products and include customer reviews to give more credibility and build trust as well. 
The WordPress Business template was created for marketing professionals, realtors, independent contractors, and other small business types. It has a simple design and a neutral color scheme.
Karuna is a template developed for businesses in the health and wellness area. Although keeping a clean design, it also uses bright and bold colors to give a contrast and highlight some sections of the pages. Insert videos, images, and customer testimonials to catch the attention of potential customers.
The I Love Apps template is perfect for SaaS (software as a service) companies. On the home page, you already have the option to insert a link inviting people to download your app, then, also create sections that present its features and your business too. Insert links to your social media pages as well.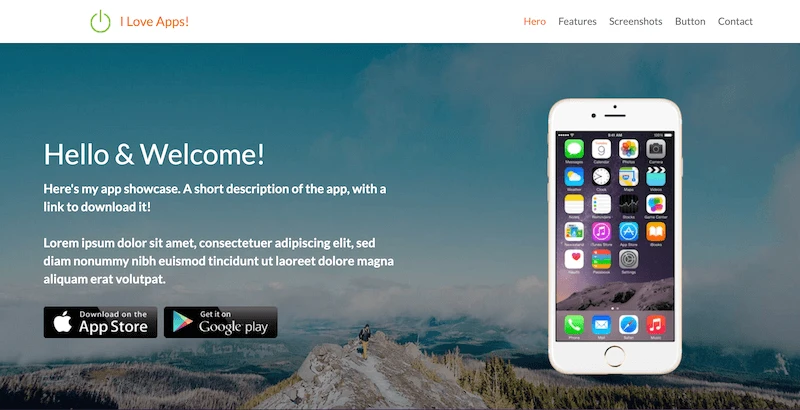 The Perspective template has a modern and sophisticated design. On the home page, the use of just a few elements and an image in the background has the purpose of highlighting your company's name and the logo. There is no confusion for the visitors, when entering the website they know they are in the right place.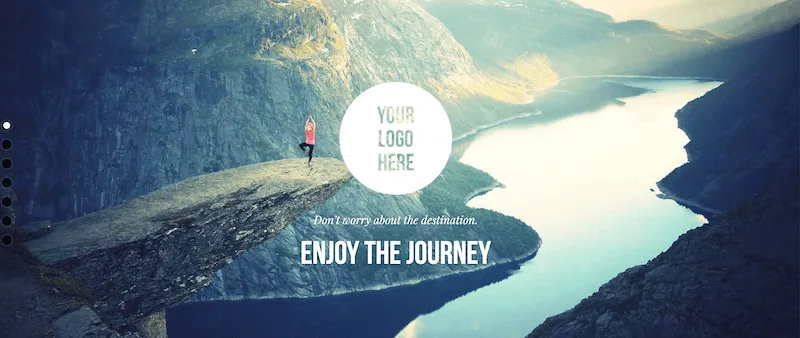 The Startico template enables you to have a modern and dynamic website. It was built for startups and small businesses to provide a great user experience. You can add multiple sections including a blog, log-in area, contact, and much more. Insert videos and images to make it more visually appealing as well.
Paytemp is a template for banks, fintech, and other financial institutions that offers you a clean and professional design. You can create a website that is intuitive and easy to navigate through where visitors can find the main information fast, and also identify the website with your brand's identity. 
Choose a Business Website Template with Responsive Design
There are thousands of business website templates available on the main website builder platforms, which don't require you to know coding or design. Having a website nowadays is very important to conquer credibility and reach more customers, choose the best template to do that. But, pay attention if it has a responsive design, it's essential to build pages that work properly on mobile devices.
Like what you've read?
Sign up and try JivoChat for yourself!
It's free and only takes a couple of minutes to download.