Reading time ≈ 14 minutes
Jaqueline Corradi
Content Manager
Chatbots have become a success around the world, and nowadays are used by 58% of B2B companies and 42% of B2C companies. In 2022 at least 88% of users had one conversation with chatbots. And the numbers are expected to keep growing.
There are many reasons for that, a chatbot is able to simulate human interaction and provide customer service 24h a day. Customers don't need to wait hours for a reply when they have a doubt. All it takes is to type a question, and they will be answered immediately. 
It's much easier than sending an email or making a phone call, isn't it? In the digital world, people want immediate answers, and if you offer simple fast responses, they may quickly give up on purchasing a product or service. Chatbots may help with that and much more. Check out the article to understand how a chatbot works and its benefits. 
What Is a Chatbot?
The chatbot can be defined as a conversational artificial intelligence, which is developed to simulate human dialogue via text or audio. A company will install the software on its website, for example, and set up the chatbot to give the proper answers according to the questions that are made. 
The chatbots use existing knowledge resources like FAQs, guidelines, and articles to find the best answer. And, you can adjust the software to write using a tone of speech that is adequate to the brand's image and which your target audience will identify with. 
Probably, you have already seen a chat box on the side of a website screen that pops up when you enter it, even with a personalized message, for example. "How can I help you?" or "Send your question here". All you have to do is type what you want, and you will receive an automated response based on how the chatbot was instructed. 
Chatbots use different types of technology to provide the best service and give the most accurate answers, such as artificial intelligence, natural language processing (NLP), and machine learning. Those assets help to make chatbots sound more natural, so customers can have a better experience. 
Using a chatbot doesn't mean replacing all human interaction with your customers. However, it can be useful to save time in case of simple and quickly solvable problems. You can have a live chat as well, which will be aligned with the chatbot. Then, in more complex situations, the customer will be redirected to talk with someone from customer service. 
Chatbot Statistics
Check out some statistics that show chatbot relevance in the digital world: 
How Does a Chatbot Work?
Using technologies like artificial intelligence, machine learning, and natural language processing, chatbots analyze the data provided by the company to give the best possible answers according to the questions made by the customers. 
Basically, a chatbot will:
Use a data center to understand how to build the responses;
Give answers that are as close as possible as a human would do by using NLP;
Learn how to improve its interaction through machine learning;
Collect key information; 
Generate automated responses to user inquiries. 
How Were Chatbots Created
If you think chatbots are a recent creation, actually they aren't. The first chatbot, called ELIZA, was invented in 1966, by MIT professor Joseph Weizenbaun.
The computer scientist developed the chatbot with the purpose of mimicking human interactions, but ELIZA wasn't able to react to queries at the time. The chatbot had built-in scripts which enabled it to answer questions about a specific subject.
In 1972, the American psychiatrist Kenneth Colby developed a program called Parry, which was made to imitate a patient with schizophrenia. The doctor's idea was to use it as a way to understand the disease better and improve treatment. 
In 1988, Jabberwacky was built by the developer Rollo Carpenter to simulate human conversation for entertainment purposes. He used an AI technique known as contextual pattern matching. 
Created by Creative Labs for MS-Dos in 1992, Dr.Sbaitso figures among the first chatbots to have artificial intelligence incorporated into them. It used to talk with the users as if it was a psychologist.
The development of chatbots inspired many other creations, and it keeps evolving as new technologies arise. The history of chatbots shows how it's important to always keep up to date, inventions that once were innovations are outdated nowadays. That's why companies should continuously enhance their chatbots. 
Types of Chatbots
Help Center Chatbots
The help center chatbots learn using your knowledge base and suggest articles that contain the best solution to help the customers. Instead of using a search engine to find the content the customer is looking for on your website, they will ask for it from the chatbot. 
Decision Tree Chatbots
With the decision tree chatbot, you can customize conversation flows to provide the best answers to your customers. The chatbot can not only send the response, but also suggest articles, or transfer the conversation to a live agent. 
You have the option to set triggers, so the chatbot will identify when the demand is best dealt with by an agent. If you don't have coding knowledge, it's advisable to look for software that can be configured without having to make alterations to the code. 
Task-Specific Chatbots
As the name suggests, this type of chatbot is meant to aid customers with specific tasks, delivering highly personalized answers. To do that, though, they require comprehensive training and deep natural language processing skills.
Benefits of Using a Chatbot
The success of chatbots didn't happen for anything, on the contrary, there are many reasons why this type of software has caught the attention of companies from multiple sectors. 
24/7 Customer Support
When you use a chatbot, everyone who accesses your website can count on 24/7 customer support. Instead of having to wait commercial hours to get in contact with a live agent and solve their questions, customers can enjoy the chatbot. This way, you avoid losing opportunities such as closing a sale or conquering more leads. 
Fast Response Time
The pace of life nowadays is fast and many people don't have the patience to wait more than a few seconds on a page to get an answer.  Research shows that 10 seconds is the limit time to keep the user's attention on a dialogue online.
Therefore, counting on a chatbot is very useful. Different from sending an email, for instance, the user will get an immediate response to what they want. This also helps with the brand's image, because it shows the company is concerned about providing great customer service. 
Conversion Opportunities
When someone sends a message through a chatbot, the software can work as a self-service. It presents several options and the person chooses what product or service they want, increasing the chances to convert the user into a lead or a buyer. 
An AI-powered chatbot will understand the context of the conversation and may enjoy the opportunity to make a personalized call to action. For example, suggesting a product to the user or inviting them to subscribe to a newsletter.
Even if this doesn't happen, the information collected during the interaction can be valuable to the marketing and sales team to continue with the interaction and get more conversions. 
Personalization
Another great aspect of AI chatbots is that you can set them up to interact as someone from your company would, using the brand's tone of voice.
This already makes the conversation more personal, but aside from that, the best is that the chatbot can use the customer's name when talking to them, and give personalized answers based on the messages that are sent. This way the interaction flows more naturally. 
Improve Customer Experience
Customer experience is a factor that people take into account when deciding to make a purchase or not. When you sell on the internet, whether you have a B2B or B2C business, you may compete with thousands of companies from around the world, which makes it essential to search for ways to distinguish yourself. 
Counting with a chatbot that delivers personalized interaction, is quick and effective to solve people's problems, and can make you stand out from the crowd. However, you must choose a chatbot that is up-to-date with the latest technology and offers all the features you need.
Scalability
When choosing the best chatbot for your company, make sure that it's capable of dealing with a high number of people accessing it at the same time. Certainly, you aim to grow your company, right? 
As you conquer visibility and conquer more customers, the traffic on your website is expected to increase, and so is the number of people who will use the chatbot. Therefore, it's essential to count on a chatbot whose software was developed to deal with that, without presenting instabilities. 
Cost-Effective
Using a chatbot also helps you to save money. It's a cheaper solution to offer good customer service than building a platform of your own or hiring new employees. Besides, as you increase the conversion rate and diminish the response time, you increase the chances of selling more, therefore increasing your revenue. 
Monitor and Analyze Customer Data
Chatbots collect information from every interaction it has, which is valuable to get to know your target audience. You may use this data to identify customer main demands, and your company's weak and strong points, have insights, and understand how to improve and solve your target audience's pains. 
Increase Sales
As a consequence of all the benefits offered by having a chatbot, it's highly likely that your sales will increase too. With good customer service, people tend to trust companies more. Also, when the chatbot is set up to make product and service recommendations based on the user profile, it can encourage the customer to make more purchases. 
Common Chatbot Uses
Chatbots are used by industries from multiple sectors. Not only online stores enjoy chatbot features, but also companies from the health, financial, and education sectors, for example. Understanding some of the main chatbot uses will help you expand your horizons. 
Customer Service
One of the most known uses for chatbots is customer service. The tool is used to offer support and solve problems that customers may have before or after making a purchase. For example, it can help the person to learn how to use a device that they recently bought or explain how an online hotel booking process works. 
Website Navigation
Chatbots are also used as a guide to help users know how to navigate through a website. It will show the main tools and resources on each page. It shows where the menus are, and the button functions too. 
Healthcare
Clinics and hospitals are using chatbots for many things. It can be used to book appointments online with doctors, to remind patients about their medication, and to collect patient data as well. 
Certainly, the patient-doctor interaction is irreplaceable, but the chatbot can be useful to help deal with simpler doubts such as asking for instructions about how to prepare for an exam, mainly when it addresses subjects that some patients feel embarrassed to talk about. For example, how to prepare for a colonoscopy. 
Retail
Chatbots are very useful for retail industries from various sectors, such as clothing, cosmetics, and bookstores. You can use the chatbot to collect data and understand your customer journey. Another option is to set up the chatbot to recommend products based on each customer profile. It's even possible to integrate the chatbot with your social media accounts, to interact with customers there as well. 
Banking
Financial institutions are enjoying chatbot features as well, for example by making available chatbots that analyze customer spending habits and give them advice based on that. They can help the client to keep track of their finances, set budgets and check credit scores. There are even chatbots that send you notifications when any suspicious activity is detected on your bank account.
Chatbot Best Practices
Make It Clear For Users They Are Interacting With a Bot
Honest communication should be a pillar in every organization, and that isn't different when it comes to chatbots. Make sure that everyone who accesses your website and requires chatbot assistance knows they aren't talking with a live agent. 
Enable Quick Access to a Live Agent
If the user wants to talk with someone from customer support, make it easier for them to find out how to do that. When building your website pages and chatbot interface, consider how to place a link that is easy to find and will quickly direct the person to talk with someone from your team. 
Using a Chatbot to Enhance Self-Service
Self-service is one of the reasons why many customers prefer to buy on the Internet rather than go to physical stores. You can use the chatbot to make it even easier for them to find what they are searching for, for example by suggesting what next action they should take or recommending products. 
Improve Based on the Chatbot Feedback
Use the data collected by the chatbots to enhance the software itself. Don't mistake yourself by thinking all you have to do is set up the chatbot, on the contrary, the more it's used by your customers, the more information you can gather to perfect this automated service. 
Discover JivoChat Chatbot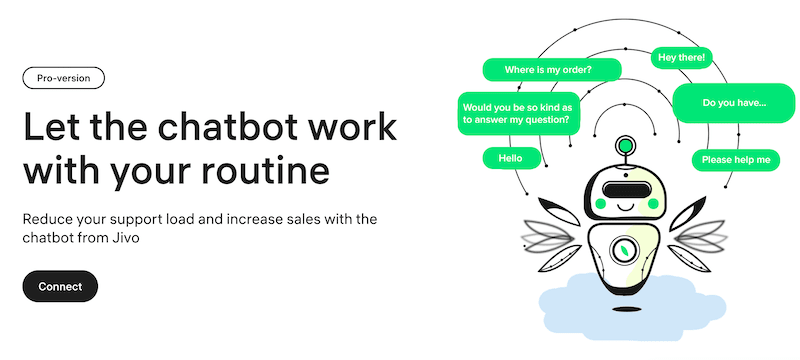 If you are looking for a reliable company that offers an efficient and up-to-date chatbot, JivoChat has exactly what you need. Known as a reference in the sector, JivoChat provides you with several services so you can manage customer interactions using a single platform, which prevents errors and helps your team save time and become more productive. 
Intuitive Platform
Losing time having to figure out how to navigate through a platform is unproductive and won't facilitate your team routine. That's certainly what we don't want, and the reason why we provide you with a responsive and intuitive interface where you can quickly install the chatbot on your website, and have it working seamlessly.  
Easily Customize Your Chatbot
With JivoChat, you also have the option to fully customize your chatbot. Personalize the layout, choose where you want to place it on your website, and customize the dialogues according to your needs. You will have a chatbot that is aligned with your brand's identity and is able to meet your customer needs. 
Automate Tasks
Let your team focus their attention on important tasks. By using a chatbot, the agents won't waste their time answering simple questions that could be solved in seconds with automated responses. Instead, they can put their efforts into solving more complex demands, and even enjoy the data gathered by the chatbot to improve their work. 
Fast Answers
Our chatbot was developed to simulate natural interaction, and also send answers as fast as possible. Once someone sends a question, the answer is sent immediately. But, as important as speed is that they will receive the help they need, with appropriate responses, according to what you have set up. 
Chatbot and Live Chat Working Together
With JivoChat services, you can have your chatbot and live chat working in perfect synchrony. If there is any demand that can't be solved by the chatbot, it will be sent to a live agent. The employee can access all the previous interactions made by the customer to know how to offer the best solution and have a full understanding of the situation, which improves efficiency. 
24/7 Customer Support 
Your chatbot will be activated 24/7. This means that regardless of the hour users enter your website, they can always solve their issues through the chatbot, and you avoid losing business opportunities. Your customers will have more autonomy and don't depend only on getting in contact with you via email or telephone, for instance. 
Integrate Chatbot with Social Media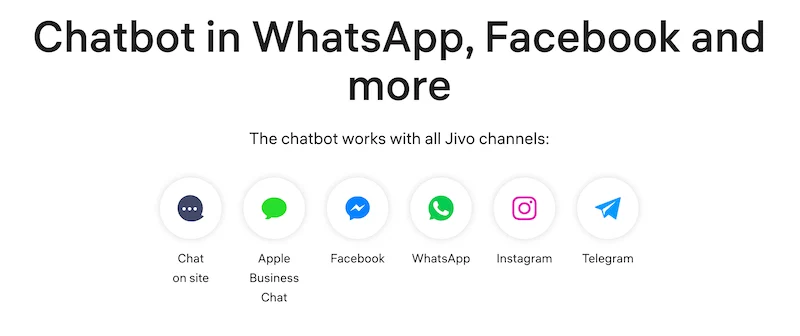 Another great advantage of the JivoChat chatbot is the fact you can integrate it with social media platforms. Our chatbot works on Apple Business Chat, Facebook, WhatsApp, Instagram, and Telegram. This means customers can contact you anytime on those channels and receive immediate support. 
Enjoy JivoChat Partners 
You can even count on JivoChat partners to make it easier for you to connect to the chatbot. Or you can connect to another platform via our API.
JivoChat Partners:
Dahi.ai
Chatme
Plantt.
DialogStudio
UChat
JAICP
Start Enjoying The Benefits of Using a Chatbot
Now that you have understood what a chatbot is, how it is used for multiple purposes, and its several benefits, what about boosting your company services by installing one? Enjoy JivoChat unique advantages and test out tools. You also can count on other features such as live chat for websites and complete CRM software.
Like what you've read?
Sign up and try JivoChat for yourself!
It's free and only takes a couple of minutes to download.