Desygner: Web design platform review
February 1, 2022
updated February 9, 2022
Reading time ≈ 9 minutes
Jaqueline Corradi
Content Manager
Building a strong brand identity is important for several reasons, it helps to highlight your company traits, to enhance brand awareness, and also stand out from competitors. Desygner is a web design platform that can help you with that by offering multiple tools to work your brand's visual identity, which is a key factor when developing your company's image. 
Brand identity is constructed by several aspects and the visual elements have to be carefully thought out, such as the logo, banners, flyers, business cards, and posts for social media. All of them need to be in cohesion with the brand identity to create consistency and allow customers to easily perceive your brand characteristics on each of them. 
To do all that, you probably are wondering that it's necessary to have a specialized professional in design, right?  That's where the Desygner app comes in, its easy-to-use editor, and pre-built templates allow you to create amazing design pieces without needing to be an expert in this field. You can even create your logo. 
With more than 22 million users worldwide, and 60 thousand companies that enjoy Desygner web design solutions, the platform will enable you to boost your marketing strategies. You are going to easily create images and other designer pieces that help to grab the attention of your target audience.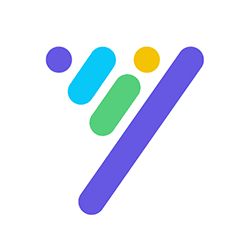 Desygner Editor
With the Desygner Editor, you can choose among millions of templates, free images, and fonts to develop the content as you wish, including several pages and covers. You will be able to import images, fonts, colors, and files in different formats, such as PDF, PNG, and SVG. 
Use the drag and drop tool to position and resize each element, enjoy Desygner's image bank to find the ones that are perfect for your content. Once you choose the images you are going to use, the app will automatically resize them, so you can work with images in different formats. 
When you create an account at Desygner, you are going to count on a dashboard of your own where you can save the content you have created, and other brand elements such as the color palettes, text, and logo. This way, you can quickly find them when you need to make other content. 
Once you have finished creating a design piece, you have the option to download it in different formats, JPEG, PNG, or PDF. It's also possible to share it directly on your social media pages, like Pinterest, Twitter, Facebook, and LinkedIn.  
PDF Editor
Do you have a PDF file that you need to edit? Desygner allows you to import and edit every element on it. You won't have to recreate your illustrations anymore, you just need to import the PDF, and the app will turn it into a template.
You can edit the text by changing the fonts, colors, and repositioning it, for example. Also, change the images, or alter any vector you want. Work with your team by creating a workspace inside the platform, and sharing the PDFs and other files with them.
To keep your PDF files organized, store them in the files section of your Desygner dashboard, this way you can edit and use them whenever and wherever you need, on your desktop computer, or mobile devices. If necessary, there is also the possibility to import files from Illustrator, Photoshop, and InDesign. 
Brand Kit
What about having a space to store all the visual elements from your brand in a single place, so they can be easily accessed when you or someone from your team need to create a new design piece?
Desygner allows you to store your logos, icons, images, fonts, color palettes, and texts, and organize them by campaigns. You can create your brand guideline, and make all the visual elements available for your team in the Desygner platform, along with Youtube videos from your company that can be used in the templates as well. 
You can control who has access to the stored files, enable users to edit the text and images without altering the original template, for instance. You have the option to block some template elements too, and allow users to save the design pieces created by them using your templates. 
Image Bank
With Desygner, you are going to count on millions of high-resolution free images to enhance your content even more and help you to develop amazing templates in multiple formats. To find the one that you need, after creating your account, just click on "Images", on the menu at the top of the page, then type the term that you want to look for in the search bar. You can select pictures, illustrations, and vectors.
If you wish for even more images, another alternative is to sign up for the Shutterstock bank image. The Pro+ plan provides 125 million exclusive images, which certainly will give you plenty of options to work on your banners, cards, social media posts, flyers, and so on. 
Organize your images in the "Assets" section of your personalized dashboard. You can separate them into folders, and import your own pictures too, so they will be quickly found when necessary. 
Pre-built Templates
At the Desygner platform, you are going to encounter a huge variety of pre-built templates, with different formats, such as:
For print:
Flyers;
Posters;
Business Cards;
Greeting Cards;
Invitations;
Resumes & CVs;
Price List & Menus;
Certificates;
Documents.
For web:
Social Posts;
Social Covers;
Banner Ads;
Web Graphics;
Presentations;
Books Covers;
Vision boards;
Album Covers;
Newsletters;
Logos.
Once you have selected the format you wish to use, then you have the option to choose according to the theme and the size. When designing social posts, you can select which social media the content is for if you are creating an image for your Instagram feed, Youtube thumbnail, or Pinterest, for example. You are going to find templates for blog and email headers, infographics, and much more.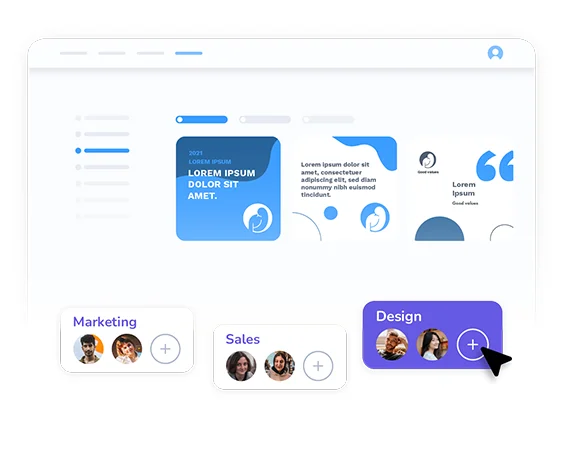 How to start using Desygner
Create Your  Account
Access Desygner website, click on sign in, then you can choose to register with your facebook, Google account, or email. Insert the required information.
Once you have created your account, you can enjoy the 14-day free trial. There is no need to insert a credit card number to test the platform. Explore all the features, get to know the tools and the design possibilities it offers for you and your team. 
Choose the Best Plan According to Your needs
After you have discovered more about the Desygner tools and how they can help your company to have great design pieces for print and web, it's time to evaluate which plan is the best for you: Free, Pro+, Business, Enterprise. 
Free
Thousands of free templates
Millions of free images and icons
More than 300 design formats
Import and edit up to 10 PDF pages
Automatic image resize
Create your own brand elements
Organize your designs in folders
Pro+ 
Free plan features included
Invite up to 5 members of your team
Share designs with your team
Access to 10 billion images from Google
Over 125 million images, icons, and videos from Shutterstock
Access to all premium templates 
Import and edit PDFs without limit quantity
Create your brand kit
Create your  image library
Schedule posts
Historic of changes
Priority support and no ads. 
Cost: monthly fee.
Business
When you create a Business account, you will have an extra Workspace for your business where you can have all your own
Branded templates organized in collections for your team to use. Templates are branded content designs that can be modified by different people without changing the original file. They can be generated from PDF files or designed on Desygner's online editor.
Free and Pro+ features included
Create brand templates for your team
Create multiple brand kits and libraries
Set template groups
Count over 147 million images from Shutterstock
Convert your PDFs into editable templates
Get printing discounts
Control access on your templates
Invite people to your team
Define members and admins
Share files with your whole team
Create tags to find your designs
Daily customer support
Cost: monthly fee.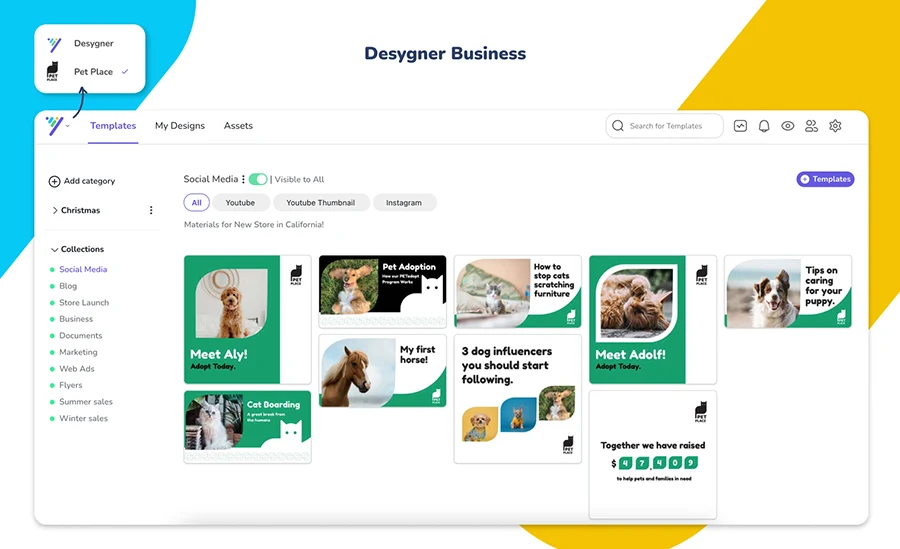 Enterprise
Includes all Free, Pro+, and Business features
Integrated workflow
Control templates access at a hierarchy level
Control your team members' functions
White label solutions
API special integrations
SSO
Manage creative projects
Insert Desygner on your URL
24-hour customer support
Cost: personalized, according to your needs. 

Enjoy All Desygner Tools
After setting up your account and selecting your plan, it's time to start creating your design pieces. Log in, go to the templates section, choose the type that fits your needs, then click on "use". 
You are going to be redirected to the Desygner editor where you can fully customize your content. Choose the color palette, insert your brand's logo, change the text, fonts, include animation, videos, visual elements, resize and position each item.  
Give a name to your design, choose the format you want to download it, you can share it on social media directly or print it as well. The intuitive interface makes the whole process much easier, as you navigate through you are going to quickly learn how to use every tool.
Also, Desygner offers its very own Background Remover feature, which allows you to easily clear out any undesired part of pictures, giving you a chance to extract the elements you'd like to highlight or use as part of collages, etc.
Create Your Brand's Visual Identity with Desygner
Now that you have got to know the Desygner platform's features better, what about testing it on your own? Sign up for the free trial and discover how it can help you to improve your brand's design. 
Remember that every design piece you make for your brand must be in sync with your company's core values and help to build the vision you want your customers to have of your business. Think of brands like Coke, Apple, or Walt Disney, they all have created a strong visual identity that enables customers to identify them even without seeing their name. 
They don't need to use the same visual elements on every design, but some key details remain, the font type or the color palette, for example. Consistency makes it easier for your brand to be reminded by your customers, Desygner free templates can help you to develop your brand identity more efficiently. 
Meta description: Do you know the Desygner platform? It allows you to create professional designs without being an expert. Check it out!
Like what you've read?
Sign up and try JivoChat for yourself!
It's free and only takes a couple of minutes to download.