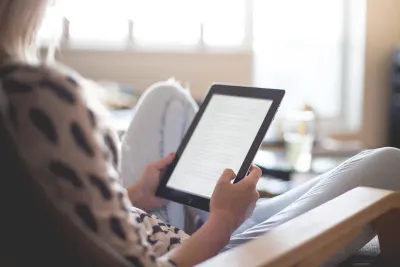 8 Free Apps to Read Books Wherever You Want
August 31, 2022
updated September 1, 2023
Reading time ≈ 6 minutes
Jaqueline Corradi
Content Manager
If you love to read everywhere you go, having free apps to read books is going to make your life much simpler. The sensation of taking a physical book in your hands, and leafing through the pages is a very good one, but you will need a bigger purse or backpack to take them, besides the extra weight you will carry.
The apps to read books are a great solution to that matter, you can take as many books as you wish with you, without occupying space, or lifting a heavy bag.
All you have to do is open your smartphone, or tablet, choose your reading for the day and enjoy. Another advantage is that there are also several free books available on those apps such as literature classics that are copyright-free books. 
Take a look at the list of free apps to read books we have separated for you. See which one you like better. Using them may help you to read more every day, and make it a habit, which is great to expand your knowledge.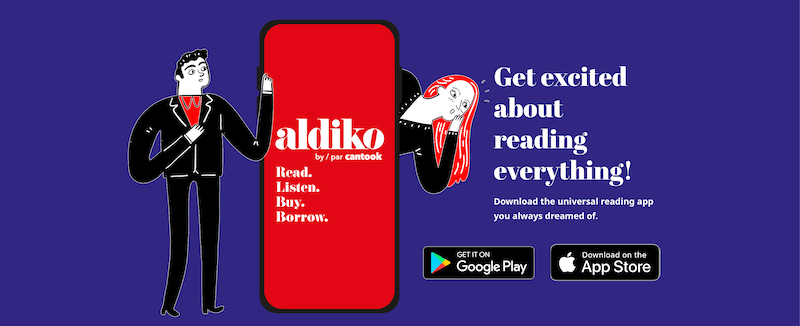 Available for iOS and Android, the free app to read books, Aldiko, allows you to collect all the titles you download and organize them on an online bookshelf, even audiobooks. Choose the one you want to read, and use the app to do it. 
Aldiko also counts on its own bookstore, where you can choose from over 1.2 million books. You have the opportunity to discover new authors, buy bestsellers, and even find options available for free. They have books not only in English but also in French, Spanish, German and Italian. 
If your local library has an online catalog from where you can borrow ebooks. You have the option to check the titles within the Aldiko app as well. The app enables you to mark the page where you have stopped reading and put books on hold too. 
Many people have the misconception that the Kindle app works only on the book reader device that has its name. But, you can download Kindle for free and use it on macOS, Windows, iOS, and Android. 
Developed by Amazon, Kindle has its own bookstore where you can buy millions of titles in different languages, including comics and audiobooks. It also gives you the option to read a sample of the book before buying it, and there are also free books available to download. 
To enhance your reading experience, you can highlight passages you find interesting, look up the words you don't know the meaning of, adjust the font size and track your reading progress. 

Do you like to discover new independent authors? What about reading their books for free? Wattpad is the right platform for that, you are going to find thousands of titles released by writers who are starting now, and put their works available on the app. 
You can browse Wattpad's library by genres such as science fiction, romance, thriller, comedy, and poetry. There are books in different idioms, including, English, Portuguese, French, Deutsch, Spanish, and much more. The app has a version for iOS and Android, and you can read the books through the website, you just need to create an account.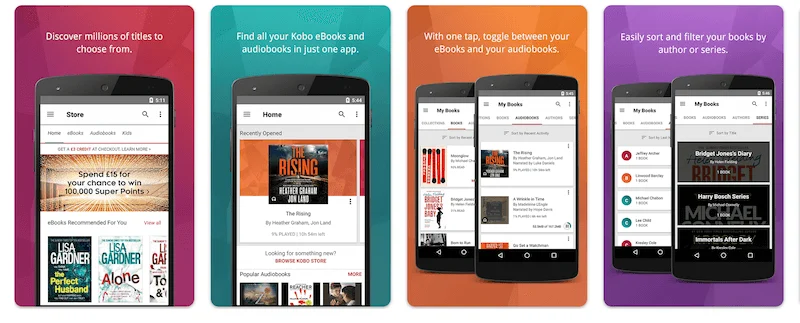 Kobo enables you to read on the device you prefer, using one of Kobo eReaders, a desktop computer, a tablet,  or an iOS or Android smartphone, for instance. The Kobo bookstore has more than 6 million titles for you to purchase. 
It also allows you to read the way you prefer by choosing the font type and size, and the day or night mode. It comes with a built-in dictionary, and you can highlight passages and add notes to the books. The more you read through the app, it analyzes your preferences and makes personalized recommendations.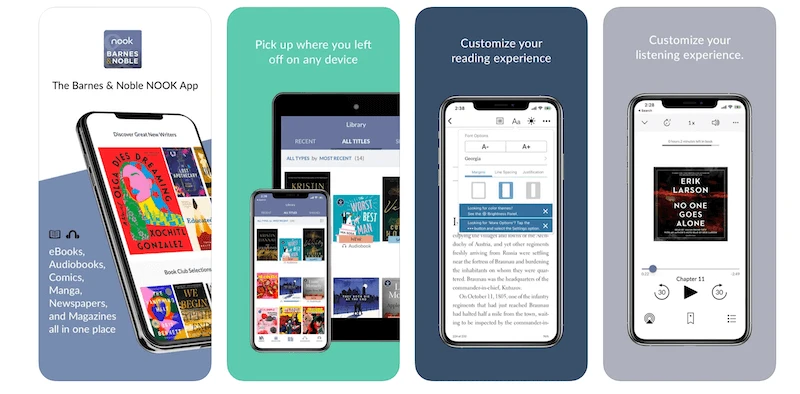 The famous bookstore Barnes & Noble also has its own free app to read books, called Nook, which is available for iOS, and Android. Inside the app, you will find more than 4 million titles, including books, mangas, comics, magazines, graphic novels, and audiobooks. 
When you purchase the books, they keep stored on your online bookshelf that you can organize as you prefer. While reading, it's possible to insert notes, highlight passages, and adjust the font, line spacing, margins, background color, and screen brightness. There are also more than 75,000 free eBooks and 10,000 free audiobooks for you to download. 
Access millions of books, audiobooks, magazines, articles, and even sheet music with Scribd's free app to read books. You can download it for iOS or Android, and enjoy your favorite titles. When you create your account, Scribd gives you a 30-day free trial to have access to its whole library.  
You can read the titles offline, add notes to the pages, and personalize the size and type of the font and the background color too. With audiobooks, it's possible to adjust the speed of the narration. 
Available for iOS, Android, Windows, Mac OS, Linux, and Chrome OS, the FBReader supports different ebook formats, including ePub, Mobi, fb2, HTML, and RTF. You can organize your books the way you like, by authors, series, favorites, and so on. 
It also enables you to synchronize your book collection across devices. For example, if you are reading a book using FBReader on your iPhone when you open the app on the tablet, you can continue the reading exactly where you left off.
Oodles you can read thousands of incredible classic books for free, all you have to do is install the app, and select the titles you wish to read. They have more than 500,000 books available in several categories, like romance, adventure, horror, and short stories. 
You can read them offline, and the app has a version for iOS and Android as well. You will find titles from famous authors such as Jane Austen, Charles Dickens, Arthur Conan Doyle, and Mark Twain. Besides English, there are books available in Spanish, Portuguese, Russian, and many other languages. 
Choose the Best Free App to Read Books for You
As you can see, there are several free apps to read books available for smartphones, tablets, and desktop computers. How can you choose among them? The best way is to test each one to see which one offers the best user experience according to your preferences and needs. 
The free app to read books you choose should offer you the possibility to enjoy your reading, making it easier to find the titles you wish, and also personalize the experience by adjusting elements like screen brightness and font size.
Like what you've read?
Sign up and try JivoChat for yourself!
It's free and only takes a couple of minutes to download.