14 Best Sales Tools for Enhancing Performance
Reading time ≈ 12 minutes
Jaqueline Corradi
Content Manager
Sales tools are necessary regardless of the size of your company. They can make the sales team work much more productively, save time, and increase profit as a consequence. Pen, papers, post-its, a whiteboard, the telephone, all of those items are sales tools, and very useful ones.
However, with technological development, nowadays we can count on apps to automate repetitive tasks, analyze sales performance and give insights, manage inventory, and much more. You may enjoy their potential to grow your business and avoid falling behind from your competitors. Check out the article to know more. 
CRM Software
CRM stands for Customer Relationship Management, it is a software system that enables you to store all your contacts, deals, and sales data in one place. It helps with organizing processes, automating tasks, and creating reports, optimizes your time, and prevents you from losing valuable information. 
In a single platform, you are going to have registered from the first visit someone made to your website to their latest purchase. It helps to turn leads into customers by providing a more personalized experience, for example, by identifying relevant products and content for each person, therefore becoming a valuable sales tool. 

Brevo allows you to manage all your customers' relationships in one place. It's very simple to begin, you just need to subscribe, and upload your contacts' information. For example, notes from previous calls and meetings and documents can be added to each contact's profile. 
To develop a more effective communication system, you can use different lists to organize your contacts. For example, the stage they are in the buyer's journey, the acquisition source, or the criteria that work best for you. 
Inside the CRM dashboard, you will find the function to assign tasks where you can organize what every member of your team has to do, insert deadlines and keep on track with each step. 
This way, you will have a broader version of the actions that are being implemented and how they are affecting your customers' relationships. 
Highlighted features:
Simple to use
Segment your contacts
Assign tasks for your team members 
Add deadlines
Attach documents and notes to each contact
"Control the actions that drive deals towards completion", that's part of Pipedrive's motto. Its CRM software enables small businesses to automate repetitive administrative tasks, allowing you to focus on what matters. 
Through Pipedrive you can track the communications history of each contact, such as emails, and calls, use artificial intelligence to learn where you can improve, and direct your leads into your sales pipelines, as well. 
Besides, the platform provides customized metrics, so you can analyze according to your company's short and long-term goals. Also, it's possible to integrate Pipedrive with sales apps, making it even simpler to manage everything.
To help you keep your schedule and your team's tasks organized, you can create activity reminders, sync with Google Calendar, and customize the activity types. On the dashboard, Sales Pipeline,  you will be able to add, find and update your data, insert new contacts and deals, and organize them according to their buyer's journey stage. 
Highlighted features:
Track communications
Automate tasks
Receive customize reports
Integrate with other apps
Set activities reminders
Centralized dashboard
Freshsales is a CRM software that enables you to have a 360º view of your customers' steps, which will help you to deliver completely personalized experiences. On a centralized dashboard, you can manage the whole sales process, and automate time-consuming tasks.
Through the activity timeline tool, you can understand your customer's behavior, identify opportunities, and the best strategies to sell more. Freshsales AI will assist you by providing deal insights, based on data analysis. 
To make it even simpler to manage your small business sales process, Freshsales allows you to customize the sales activities and the contact lifecycle stages, in a way that fits your company's characteristics. You can integrate CRM with other important tools, such as PayPal, DocuSign, and Gmail as well. 
Highlighted features: 
360º view of your customers
Custom sales activities
Create contact lifecycle stages
Automate tasks
Integrate with several tools
Activity timeline
AI-based deal insights
RD Station is an all-in-one tool where you can manage your customer experience through different communication channels, control marketing campaigns, develop personalized journeys for them, automate tasks, and identify the best deal opportunities.
The platform offers specialized assistance to help you make the most advantage of its system. You will have access to educational content, and technical customer success specialists' support. 
You will also count on marketing and sales data to help to predict results, follow each process, and analyze your strategies' performance. The RD Station features are organized following the Sales Funnel, which is going to make it simpler to navigate through the system. 
You can include to-do lists on the platform, share them with your team, assign each member tasks,  and set deadlines. Besides, it's possible to define your goals, so you can compare the results and understand what needs to be changed.  
Highlighted features: 
All-in-one tool
Create personalized journeys
Develop marketing campaigns 
Specialized assistance
Access to data about your customers and actions
Create projects and to-do lists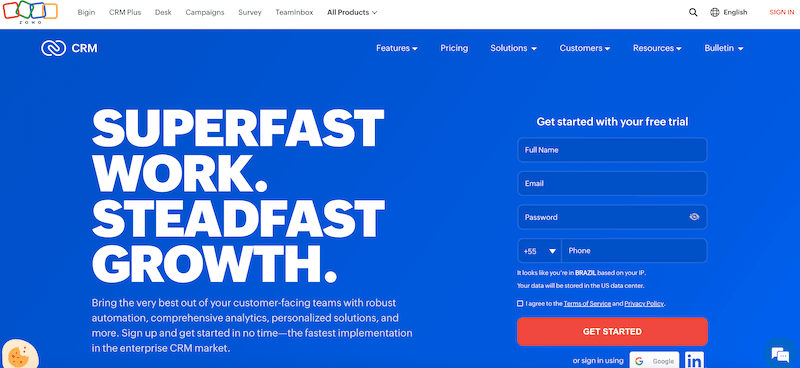 Zoho CRM allows you to reach out to your customers through multiple channels, email, social media, or telephone, for instance. You will be notified when there is any interaction between customers and prospects. Besides, you can
 measure the effectiveness of each communication strategy by analyzing their data. 
To optimize tasks and save time, Zoho provides several automation tools, you can set customers' follow-up actions, such as sending a welcome email when they subscribe to your newsletter. 
Another advantage offered by the platform is the AI-powered sales assistant, Zia. It was designed to help you find the information you need in the CRM and also sends you reminders and suggestions about the best time to contact your leads. 
Highlighted features:
Fast implementation
Reach customers across multiple communication channels
Real-time notifications from customers' interactions
Automate tasks
Trigger instant actions
Real-time reports and insights
AI-powered sales assistant
Email Marketing
Email marketing is a very useful sales tool because it enables you to create email campaigns and send them to everyone who is subscribed to your mailing. It's possible to implement different types of sales strategies, like sending coupon discounts, or a list of suggested products based on what the client was looking for in your online store. 
With an easy-to-use editor, E-goi allows you to create newsletters that are aligned with your brand's visual identity. You can add texts, columns, images, and videos, for example. The templates are mobile-friendly, and you are going to find unique options to send on special occasions, such as birthday celebrations or sales. 
You are going to count on advanced features to personalize the email marketing campaigns, by segmenting your email list. Also, the platform prevents your messages from going directly to the spam folder, by giving you analytical features. 
You can create an automatic sequence of emails, make automatic A/B testing, and send transactional emails such as account registration, order status, and abandoned cart recovery. It also sends you regular data reports. 
Highlighted features:
Free newsletter templates
A simple, professional editor
Avoid your emails going to the spam folder
Create automated email sequences
Automate A/B testing
Send campaign reports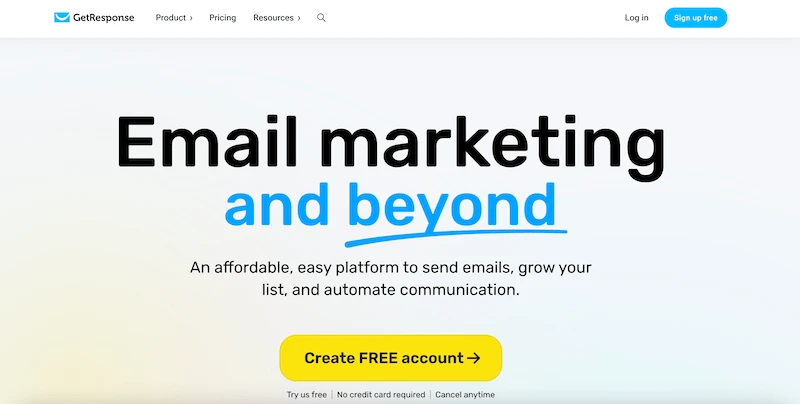 With just a few clicks, you can build an amazing newsletter with GetResponse drag-and-drop email creator. You can select among several layouts, customize everything, and have a preview version of how the message is going to appear on mobile devices. It's possible to add gifs and images too. 
To improve your subscribers' experience, the platform offers the option to segment your audience and use dynamic content. If you already have an email list, you can import it from almost 20 sources.
GetResponse also has tools that make it easier to comply with GDPR, you can insert multiple consent fields, and send targeted emails based on them. Besides, user behavior is easily traceable through the platform, helping you to continuously improve your strategies. 
Highlighted features: 
Drag-and-drop email creator
Mobile-friendly design
Build custom segment
Perfect timing tool
Track user behavior
Receive automated, customized reports
Do you need to create a mass email campaign? Mailify allows you to do that through its bulk mailer tool. This software also enables you to import as many contacts as you need, and it automatically takes care of bounces, opt-out, and complaints. 
The Mailify email builder makes it easy to create customized emails, with text, images, and your brand's logo. Insert everything you need, and check the preview version before sending. The platform ensures, as well, a high level of deliverability, with automatic address cleaning, an integrated anti-spam program, and time optimization. 
Access valuable data by integrating Google Analytics with Mailify, and track your email campaigns. 
Highlighted features: 
Bulk mailer tool
Import as many contacts as you want
High level of deliverability
Automatic address cleaning
Anti-spam program
Integrate with Google Analytics

At the MailerLite email marketing platform, you can define the type of editor you prefer to use to develop your email: drag-and-drop, rich text, or custom HTML. You will count on pre-designed templates as well. 
The platform includes tools to do A/B testing, segment your contact list, and create surveys. It has email automation resources and can be integrated with several other web services, such as WordPress, Facebook, and PayPal. 
Highlighted features:
Use the type of editor you prefer
Pre-designed templates
Ease manage emails
Segment subscribers automatically
A/B testing
24/7 support
Sales Prospecting Tools
Sales prospecting tools enable you and your team to closely monitor deal opportunities, and know when to act to enjoy them. For example, you can follow up the customer interaction with your brand, the products they have been seeing, the articles that have caught their attention, and send a personalized offer. 
Crunchbase platform provides the service "Find new prospects". It enables you to get key signals to know when people are ready to buy and see automatic recommendations that fit your leads and customer profiles.
You can connect your CRM to Crunchbase, track companies with real-time alerts, and personalize your communication. Another advantage is the possibility of getting verified contact data to connect with the right decision‑makers.
Highlighted Features: 
Find qualified prospects
See automatic recommendations
Connect your CRM with Crunchbase
Personalize your communication
Track companies in real-time
Contrary to what many people may believe, LinkedIn isn't only a platform to do networking and finding new job opportunities, it's also a place to prospect sales. And, they have a specific tool for that, the Sales Navigator. That's an interesting sales tool for B2B companies because you can segment companies and target the right ones.
You will have access to data and insights to help you develop your sales strategies, and identify the businesses that are most linked with yours. Besides, you can monitor growth and trends. It's also possible to integrate the Sales Navigator with your CRM.
Highlighted features:
Prioritize accounts
Identify target buyers
Monitor growth and trends
CRM integrations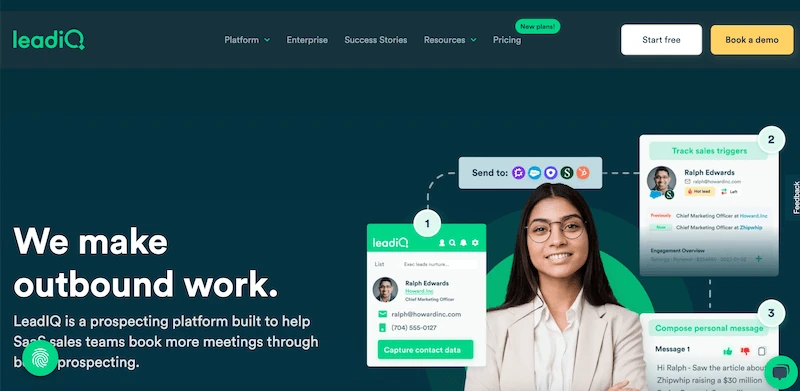 Lead IQ allows you to identify prospect data and use it to close more sales. You can track sales triggers, and compose personal messages to have a more appealing approach with leads and customers. 
For outbound prospecting, you can identify sales triggers and set messages to be sent automatically. It also enables you to synchronize the information with your CRM. You can enjoy marketing tools as well. 
Highlighted features:
Identify prospect data
Track sales triggers
Compose personal messages
Send messages automatically
Integrate with your CRM
Productivity Sales Tools
Sales tools focused on productivity will help you manage your daily tasks to save time and enhance performance. For example, you can use apps to assign tasks, follow them up, schedule meetings, and set up notifications to avoid forgetting anything. 

Calendly is a scheduling automation platform, as they describe themselves. You can put all your appointments in the app and synchronize them with other calendars you use. The app gives you the option to share the calendar with other people, so they can book events based on the time you have available. 
Another option is to book events and share them only with the ones who will participate. You can also integrate Calendly with your workflow, and CRM. Set up the platform to send reminders, and follow-ups too. 
Highlighted features: 
Create scheduling links
Share with your team
Integrate with CRM
Manage users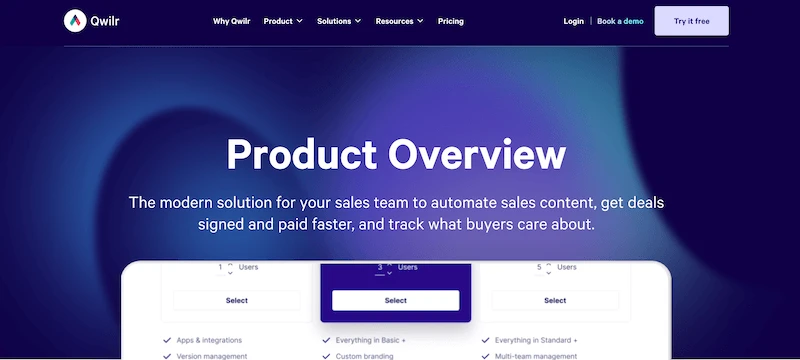 Qwirl was developed to offer solutions to automate sales content, get deals signed and paid faster, and track buyer's interests. To speed up the sales process, you can use legally-compliant e-signatures, and get paid with the Stripe integration. 
You will be able to see when buyers view and accept deals, and enjoy automation features too. Besides, you can connect to your CRM, and create a workflow. Other tools provided are an ROI calculator, team management, and a library of reusable content for sales reps.
Highlighted features: 
E-signatures
Stripe integration
Track buyer engagement
Connect to your CRM
Asset library
ROI Calculator
Team Management
When the subject is sales tools, JivoChat is a complete platform that enables you to centralize all the work of your sales and marketing team. You can install JivoChat live chat on your website to facilitate communication with your customers, who can easily get in contact with you. 
To optimize sales, enjoy the chatbot feature. You can set up triggers to send automatic messages when the person is navigating through the website, based on what they are looking at. This way you can provide 24/7 customer support too. 
Another great JivoChat asset is that you can centralize all your message channels in one platform. Your sales team won't need to go from app to app to keep track of customer interactions. 
Highlighted Features:
Live chat
Chatbot
JivoChat team chats
API for developers
JivoChat business phone
Centralize message from multiple apps
Enhance Your Company Performance With the Best Sales Tools
The variety of sales tools is huge, and it can get confusing which ones to choose. To simplify this, analyze what needs to be improved in your business, then take a look at the tools that target that. 
Also, have a conversation with your sales team. It's fundamental to hear their opinion about the process in the company and what they believe will help them enhance performance, and sell more.
Like what you've read?
Sign up and try JivoChat for yourself!
It's free and only takes a couple of minutes to download.