How to Use Twitter Advanced Search
April 14, 2023
updated September 1, 2023
Reading time ≈ 5 minutes
Jaqueline Corradi
Content Manager
If you use Twitter, getting to know the Twitter advanced search tool will help you to make the most of this platform, mainly for marketing purposes. With more than 360 million users, it's possible to promote your business and reach your target audience through this social media network. 
The advanced search enables you to do accurate research, identify trends, what has been talked about on a specific topic, and much more. Check out the article to discover more about this. 
What Is Twitter Advanced Search?
The Twitter advanced search is a feature where you can make more refined searches on this platform. Instead of just writing a profile name or looking for a keyword, which might generate thousands of results that aren't what you need, you can apply multiple filters. 
With the Twitter advanced search, you can look for an exact phrase, exclude words from the search, specify the language, choose if you want to include replies or not, and even define the minimum number of replies, likes, and retweets. Beyond that, you can choose the date range you wish to search for. 
How to Use Twitter Advanced Search
Using the Twitter Advanced search is very simple. All you need to do is:
1 - Log into your Twitter account;
2 - Click on the search bar and type what you want to search for.
3 - You will be redirected to the results page, then click on "advanced search" on the right side menu. 
Another way to access this feature is just going directly to the page twitter.com/search-advanced. 
Filters You Can Apply To Twitter Advanced Search
Words
The Twitter advanced search allows you to insert all the words you want to search for, define a specific term or phrase,  exclude results that mention unwanted words, include hashtags, and select the idiom of the tweets. 
Accounts
You can select the accounts from which you want to search the tweets. Another option is to look for tweets that mention specific profiles. 
Filters
In the filter options, you can select if you want to see only original tweets or include replies as well. It allows you to search for only tweets that have links too.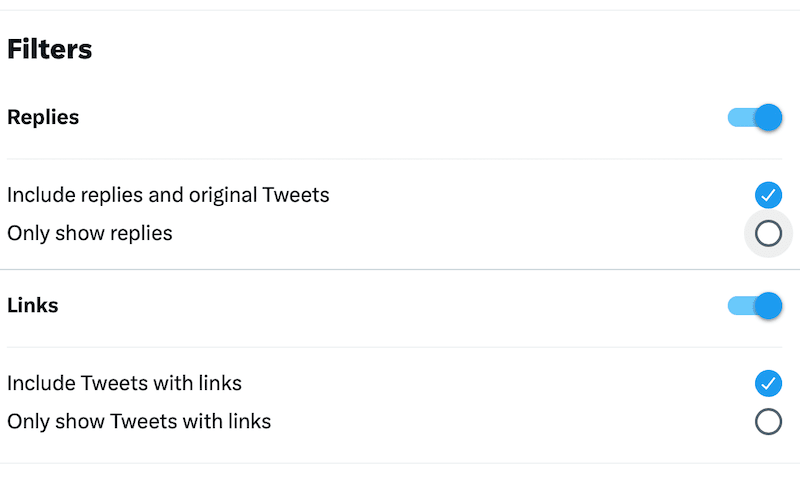 Engagement
In the engagement section, Twitter enables you to look for Twitter according to the minimum number of replies, likes, and retweets. That's a great feature to measure trends, and find popular profiles, for instance. 
Dates
Select the dates you want to see the tweets. For example, you can set up to search only for tweets that have been published this week or this month.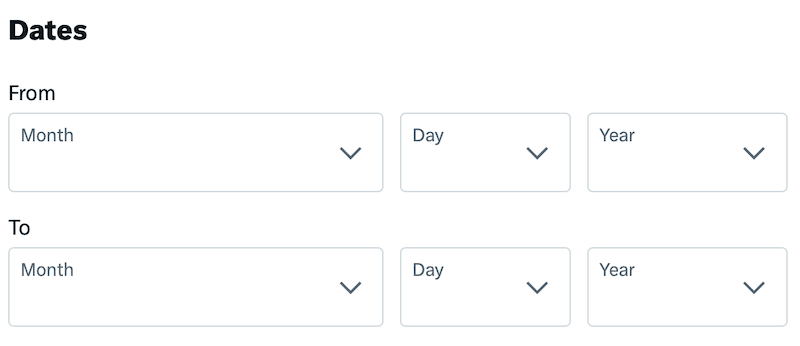 7 Ways To Enjoy Twitter Advanced Search Tool
1. Create a Saved Search
If you want to keep track of a trend, or a keyword, for example, you have the option to create a saved search. Just click on the three dots on the right side of the search bar and select the option "save search".
2. Find Your Interactions With a Specific Account
If you want to see all the interactions you had with one profile, in the advanced search, put the account to which the tweets were sent and the one the tweets were replied to. For example, from @JivoChat to @JivochatBr. 
3. Discover the Most Popular Tweets About a Subject
To identify popular tweets, which can help you find relevant content creators to partner with, for instance, enter the topic you are looking for, then specify the minimum number of likes and replies the tweet must have to appear on your search results.
4. Identify Your Most Popular Tweets
To analyze which topics have more engagement in your own Twitter account, you must do the same thing by refining the advanced search according to the minimum quantity of retweets, likes, and replies. 
5. Research Your Competitors
The Twitter advanced search is also very useful to search what your competitors are talking about. What you need to do is specify the accounts you wish to see the tweets from, then filter the search by choosing the time range, and the engagement rate. 
6. Monitor When Your Brand Is Mentioned on Twitter
Following up on what people are talking about your business is always important whether it's on Twitter or not. On this social media platform, though, you can use the save search feature to keep track of your name, or your company's name is mentioned, for instance. 
7. Discover Trends
Use the Twitter advanced search feature to identify topics that are trending among your target audience. You can enjoy this to develop new content not only for Twitter, but for your website, and other social media pages, such as Instagram and TikTok. 
FAQ
Can you use the Twitter advanced search tool in the mobile app?
No, the Twitter advanced search isn't available in the mobile application. If you want to use this feature on your smartphone, you will need to access Twitter from a browser. 
Can you see tweets from private accounts?
No, private account tweets don't appear on Twitter search results, as they can only be seen by the profile followers.
How to find someone's most popular tweets?
As mentioned above, to identify a profile's most popular tweets, you can use the engagement filters in the advanced search. 
Make the Most Out of Twitter Advanced Search
Now that you have learned how to use the Twitter advanced search tool, use it to make complete searches. If you are a marketing professional or an entrepreneur, you can enjoy it to get to know the market you are in, and your target audience, and develop marketing strategies. You will have access to valuable data without having to pay anything.
Like what you've read?
Sign up and try JivoChat for yourself!
It's free and only takes a couple of minutes to download.