Top 10 Outstanding Video Quality Enhancers in 2023
September 15, 2022
updated June 9, 2023
Reading time ≈ 7 minutes
Joshua Hill
Editor-in-Chief of HitPaw
One issue with the recorded video is that you can end up with low-quality clips. Issues like this can occur even with professional videographers and are widespread everywhere. Fortunately, there are various Video Enhancer online programs that can assist you in post-production video quality enhancement.
These video quality enhancer online free apps increase the quality of your films by utilizing their built-in algorithms. By evaluating hundreds of thousands of videos, these computers have learned how to improve them.
In today's article, we will show you the most widely used online Video Enhancer solutions for computers and mobile devices. With this capable video enhance ai online apps, you can virtually transform any low-quality video into one that is appealing to everyone.
So without any further ado, let us check the AI video Enhancer online tools out.
Top 7 Online Video Enhancer You Should Try
HitPaw Online Video Enhancer is the best 4K video enhancer in any case. We provide 4 different AI models to meet all your needs: general denoise model, animation model, face model, colorize model. No need to install any program, click now to enhance your video online!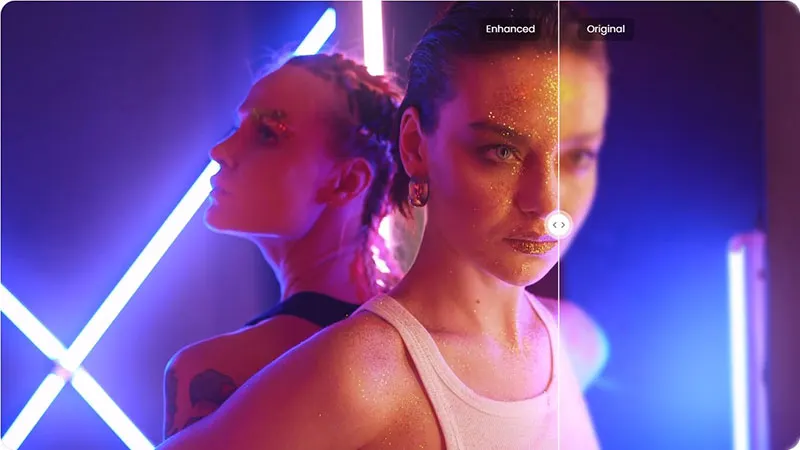 Features:
Upscale your video by trained AI.
Enhance Video quality with 4 AI Models.
Increase video solution up to 1080P/4K.
Support MP4 and MOV formats.
FlexClip is a robust free online Video Enhancer. It has a plethora of options that allow its users to make advanced adjustments to their films. The software is available for free online. Also, this is a video quality enhancer online with no watermark, making it easier for professional use.
Features:
Advanced video editing capabilities for an AI Video Enhancer online free.
Add components to your videos and modify the overlay.
Free video, audio, and image stock
Use filters to alter the appearance of the video.
Clip Champ is also among the most popular 4k Video Enhancers online free, allowing users to modify and enhance the quality of their videos. You may use this video AI upscaling online free tool to cut, crop, and blend videos, as well as add text, animations, and background music.
Features:
Easily compress, convert, gather, record, and make videos in the AI video upscaling free online tool.
Create videos using media elements from a stock repository.
Compress files, convert clips to MP4, and more with the video upscaler online free ai.
Provide video templates that can be customized
Clideo is a browser-based video-enhancing tool. It will take you to a landing page with various options for editing a video. There is a daily restriction on the amount of free videos that can be edited.
Features:
Fast Video Brightener
Simple Interface.
Premium security.
Compatible with All formats
Online editing features.
Animoto is fantastic AI video upscaling online free tool that is especially good for individuals who are inexperienced with video editing. 
Features:
Extremely simple to use.
Clean and professional advertising videos.
The ability to easily create a video.
Professional video-making tools are available.
Option for a free plan.
Library of music and pictures
The enormous number of templates.
Adobe Creative Cloud Express is one of the greatest online video quality enhancer programs available for professionals. You can effortlessly edit and save videos in many formats with Creative Cloud Express. It also makes it incredibly simple to upload your video to a website.
Features:
Supports video, audio, and image file input.
You can quickly add titles, captions, and icons, as well as split the screen.
With themes, you can customize the appearance of your video by applying presets.
A reasonable size for a free audio library
Video can be resized to be widescreen or square.
Kizoa is an AI video upscaler online free and slides creation application that runs in the browser. It provides its customers with quick and clever functions for enhancing photographs and movies. It has a wide collection of visual effects that may be used to change your image.
Features:
Multiple free templates on this AI video upscaling online tool.
Massive free media library with stock footage.
Trim, crop, transitions, text, and sticker features.
The ability to add your team to edit the video together.
Top 3 Offline AI Video Enhancers Recommended
Below is the list of the top 3 Video Enhancers we highly recommend for you to try if you are looking for the perfect solution to enhance video quality online.
HitPaw Video Enhancer AI is arguably the best automatic video enhancer to improve video quality incredibly.
Features:
Auto Enhancement; AI Upscaler
make pictures less blurry and enlarge images without quality loss.
Batch Processing
Three AI models are available: General model/Denoise model/Face model
colorize black-and-white images
Topaz Video  AI is a media quality enhancement tool that allows you to increase video resolution. It enables you to upgrade films in bulk. This program works with Cd, Camera, gaming, and HD film footage.
Features:
Allows you to make a high-quality video from low-quality footage.
It enables you to improve viewing experience up to 8K.
This free video upscaling software can swiftly examine a large number of videos.
It may be used for advertising, movie material, YouTube videos, and other purposes.
AVCLabs Video Enhancer AI is an AI-powered media enhancement and upscaling application that employs a neural net to improve video quality and scale video from SD to HD (720p or 1080p), 4K, and even to 8K in a single click, with amazingly upscaling and multi-frame improvement.
Features:
Lossless video upscaling from SD to 4K or 8K
AI can assist you in enhancing the quality of your videos.
100% automate the video without manual intervention
Enable seamless face refining to improve the details of faces.
How to Enhance Your Video Quality with Offline Video Enhancer
Unlike AI upscaling video online free, offline desktop software enables you to have full control over your editing and an elevated sense of privacy. Moreover, the desktop software offers a lot more features that make it perfect for both casual and professional use. 
Below is the step on how to enhance your video quality with an offline video enhancer like the HitPaw Video Enhancer.
Step 1: At first, simply go to the HitPaw Video Enhancer website and install it on your computer after downloading.
Step 2: Now open the software and upload your original video
Step 3: Once the video is uploaded, choose your desired AI model to be upscale.
Step 4: Now, simply preview your desired model output and export the enhanced video from the export button on the bottom right corner.
Conclusion
If you want to enhance video quality online free or want to enhance video offline, go through the option we have provided you above. However, if you want more control, feature, and privacy with your upscaling needs. Make sure to check out HitPaw Video Enhancer.
This tool is amazing to use, takes up little to no resources in your system, and offers you a result that you cannot find anywhere else.
Stay tuned for more updates.
Like what you've read?
Sign up and try JivoChat for yourself!
It's free and only takes a couple of minutes to download.