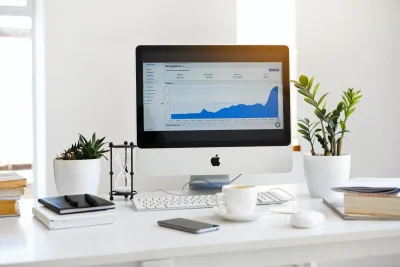 13 Web Analytics Tools to Help You Improve Your Website
January 19, 2022
updated June 19, 2023
Reading time ≈ 15 minutes
Jaqueline Corradi
Content Manager
How to measure if the strategies implemented on your website are working? Web analytics tools help you to do that in a much more precise way. They allow you to measure website traffic,  identify the most accessed pages, know where your traffic is coming from, among many other data. 
By analyzing the graphics and reports provided by web analytics tools, you can develop data-based strategies and execute more effective actions to improve user experience, and fix issues. 
What Are Web Analytics Tools?
Web analytics tools collect data that enables you to analyze the behavior of your website visitors and customers. It gathers information about different aspects of your website performance, which makes it possible to understand better how your website is contributing to achieving your business goals. 
The best web analytics tools provide detailed graphics and even give the option to create customized reports, so you have the opportunity to focus on the key performance indicators (KPIs) that you defined. Usually, they count on an intuitive interface, and you can keep track of the main metrics on your dashboard. 
Web analytics tools help you to measure, for example: 
Number of visitors
Bounce rate
Average page view per session
Session duration
Average time on page
Traffic sources
Device sources
Exit pages
Returning visitors
Conversion rates
Top pages
Why Use Web Analytics Tools?
When you develop a work project, regardless of being related to the internet or not, it's essential to have tools to measure its performance and identify the good and weak points, right? Web analytics tools are going to provide you with an effective way to do that with your website. 
Instead of creating content without having any data about your audience, with web analytics tools you can make data-driven decisions based on their behavior. As you implement changes on your website, it's possible to see if there is any problem and solve it. 
Besides, you can make A/B tests to understand the type of content and calls to action, for example, that are more appealing to your audience. You are going to be able to predict results based on the information gathered by the web analytic tool of your choice, instead of taking guesses. 
Learn How Visitors Get to Your Website
By using a web analytics tool, you will be able to know where your visitors come from. For example, if most of them found one of your pages through a Google search, social media, a link in another website, or an ad. Then, you can see how to develop actions to expand your reach.
Get to Know Who Your Audience Is
Web analytics will give you valuable data to know your target audience's behavior, which is useful not only to increase website traffic but to improve conversion rates and turn leads into customers.
With information like the most visited page and calls to action that generate more conversions, you can identify the types of content they like more, which convinces them to sign up a form, follow a link, or buy a product on your ecommerce website. It's easier to plan campaigns, write articles, effective CTAs, and much more. 
You will no longer be guessing, but using solid information based on how they interact with your website. This enables you to understand their demands and offer solutions to them, guiding your website visitors through the customer journey. 
Understand Website's Interactions
How do people interact with your website? What are the most visited pages and the most clicked buttons? This will give you an idea of what they are looking for when accessing your website. 
If you have an online store, you can get a list of the product pages that have more access, and analyze how visitors interact when you insert a sales banner, for example. What kind of banners have more clicks? Does the position on the page affect it? Answering those questions gives insights to improve constantly. 
Track Conversions
To know how to increase conversion rates, it's important to understand what motivates your target audience to give their contact information or make a purchase. What kind of benefits are they looking for? How can you help them? 
When you know the main actions that generate leads and sales, you can focus on them. 
Tracking conversions is necessary to analyze the effectiveness of marketing campaigns, which includes knowing if the ads you invested in are worth it. 
Best Web Analytics Tools
Website traffic stats, visitor session recordings, heatmaps, and funnels: those are some of the data you are going to have access to when installing Visitor Analytics. With an easy-to-use interface, you can have an overview of the main metrics from your website on the dashboard, organized in colors and graphics.
Compliant with GDPR and CCPA, Visitor Analytics respects their customers' privacy and doesn't use the data to any other third party. The website owner is the only one who is going to have access to the stats and insights to improve website performance. 
Another advantage of Visitor Analytics is that you can count on a free version, and it's compatible with the main website builder platforms, such as Wix, WordPress, and Shopify. You can quickly integrate the app with your website.
Key features:
Check top-performing channels
See the average number of pages per visit
Each channel's individual bounce rate
Map of your visitors
Traffic charts
Conversions
Page visits
Operating systems usage
Google Analytics provides several features to help you analyze and optimize your website. You can have an overview of the users' behavior to evaluate the content, marketing campaigns, and products performance. You also will have access to Google's Insights based on your data.
You can connect Google Analytics with the best CRM software, and also use it along with other Google apps, such as Display & Video 360, Google Ads, AdSense, and AdMannager. Besides, the platform has an intuitive interface and enables you to easily share reports. 
Google Analytics allows you to insert everybody from your team to have access to the data, and they can ask questions about the metrics inside the platform. You will count on several report tools to develop different ones, for example, focused on the target audience, ads, or conversions. 
Key features:
Google Analytics insights
Intuitive interface
User explorer
Conversion rates
Real-time reports
Integrate with CRM software
Understand user behavior
With Crazy Egg, you are going to have access to snapshot visual reports, which show you where your traffic is coming from. You can check what the visitors are seeing and using, where they are getting stuck, and discover ways to fix it. 
Crazy Egg recordings allow you to analyze individual user behavior experiences by tracking visitors anonymously, understanding their path through your site.
You will be able to see in real-time how people interact with your products and landing pages, study data by audience segments, and identify areas of customer frustration.
To improve website performance, you have the opportunity to use Crazy Egg Editor, which enables you to create A/B tests. Set a goal, map the desired website action, and, then, watch the results.
Key Features: 
Heatmaps
Scroll maps
Website recordings
A/B testing
Easy-to-use
Fast split testing set up

Kissmetrics provides web analytics tools focused on SaaS (Software as a Service) companies. You can analyze, in a single dashboard, metrics such as new trial starts, new subscriptions, monthly recurring revenue, and time to sign up.
It allows you to understand your customers better, for example, see the feature they use most, track active users, and see how you acquired the most valuable users. You are also going to have data about your revenue, including the lifetime value of customers by plan, and churn rate of customers by segment. 
Kissmetrics has solutions targeted to ecommerce websites too, where you can check various data like total sales, average revenue per person, the visitor to purchase conversion rate, and site searches. It gives you detailed customer activity reports as well.
Key features:
Kissmetrics for SaaS
Kissmetrics for ecommerce
See your key metrics at a glance
Detailed customer activity reports
Know your revenue
See the full funnel
Customer path, traffic sources, content engagement, video effectiveness: Adobe Analytics allows you to measure all of that and much more.
The platform uses artificial intelligence and other modern data analysis to give you accurate insights. It also counts on an intuitive interface where you can easily access the visual reports of your website data. 
Adobe Analytics will help you to analyze the metrics more integrated, connecting mobile, web, and CRM, so you can have a complete view of your customers. You are going to have multiple ways to capture data from different communication channels, such as email, apps, and websites. 
You can create real-time segmentation to organize data, manage tags, and count on extended storage. Use the analysis workspace feature to build custom analysis projects, drag and drop any number of data tables you desire. 
Key features:
Multichannel data collection
Custom variables
Unique processing rules
Advanced calculated metrics
Cross-device analytics
Anomaly detection
Real-time data
Third-party integrations

With HubSpot, you can measure all of your marketing campaigns in one place, using built-in analytics, reports, and dashboards. It allows you to track the whole customer journey from anonymous visitors to loyal customers.
To analyze the website performance, the platform gives you features to measure the quantity and quality of traffic. You will be able to identify the main traffic sources, the pages that are performing better,  filter your analytics by country, and compare key metrics too, such as conversion rates. 
You are going to have access to detailed website reports that can be added to your dashboard, to keep track of the most critical metrics.
Key features: 
Measure all your marketing in one place 
Analyze key website metrics
Get detailed reports of your marketing channels
Tack customer lifecycle
Customize your dashboard
Integrate with CRM
Filter analytics by country
Wide Angle Analytics is a feature-rich web analytics tool that prioritizes privacy and data compliance. It provides you with fundamental analytics capabilities, such as tracking internet traffic sources, time spent on your site and goal measurement.
The platform also supports Custom Events and Actions, letting you track a variety of interactions beyond mere sessions and views. It also allows you to share reports with multiple users.
Built and hosted in the European Union, Wide Angle Analytics adheres to strict European standards for data security and privacy. The tool is GDPR-compliant and allows for the processing of personal data with user consent. Its lightweight script ensures a smooth user experience, free from browser unresponsiveness.
The tool integrates with popular publishing platforms like WordPress, Wix, Squarespace, and others. Its data-centric approach, combined with robust privacy features and broad integration capabilities, makes it a compelling Google Analytics alternative.
Key features:
Core web analytics
Custom Events and Actions
Conversion tracking and goal measurement
User engagement tracking
GDPR-compliant
Multi-user access
Supports processing of personal data
Official plugins for popular publishing platforms
Lightweight script for improved user experience

With Mouseflow, you are going to count on heatmaps to understand customer journey hotspots. You can visualize clicks, movement, scrolls, attention, and user geography, which enables you to uncover patterns in behavior, and identify how to improve user experience. 
It's also possible to build, monitor, and optimize ideal user funnels, and analyze key journeys and processes for conversions, such as sign-up, landing pages, and checkout. You also have the option to make A/B tests, compare journeys, and see where users leave. 
Key features:
Replay sessions
Analyze heatmaps
Monitor and optimize ideal user funnels
Compare journeys
Understand where users leave
Collect user feedback

Open Web Analytics is a free tool that you can use to track and analyze people's behavior on your websites and applications. It's completely customizable to better fit your needs, provides dozens of standard metrics and reports, and respects GDPS and other privacy regulations.
You are also going to count on advanced features where you can see heatmaps, to understand better how users navigate through your website, have a detailed usage of your pages, and define and track an unlimited number of custom site actions.
Open Web Analytics allows you to track keywords too, so you are able to optimize your SEO.
Key features:
Advanced measurement  and analytics
Monitor analytics via the dashboard
See heatmaps
View detailed usage of any web page.
Define and track custom site actions

Mixpanel gives you interactive reports that allow you to easily analyze multiple website data to understand users' behavior on your pages. You can visualize engagement trends, build funnels, find key retention drivers, and see the impact of product launches and experiments. 
It's possible to get a deeper understanding of the customer's journey by tracking their actions before making a purchase. You have the opportunity to identify where customers usually get stuck and improve it. Mixpanel enables you to group users based on their actions, and to measure which A/B test variant succeeds.
You will have access to all key performance indicators in one dashboard that can be customized according to your and your team's needs. Data is updated in real-time, so you can make data-driven decisions. 
Key features:
Interactive reports
Build funnels
Analyze product usage
Identify important user paths
Segment users
Build custom dashboards

With Chartbeat, you are going to encounter web analytics tools focused on publishing. You will be able to understand how the audience connects with your content across platforms, channels, and devices. Filter data by sections, authors, location, traffic, device type, and much more. 
If you are investing in video content, it's possible to analyze their performance as well. You have the opportunity to compare starts, play rate, and engagement. In case you manage multiple websites, Chartbeat allows you to manage them from a single dashboard, and compare metrics between them. 
Key features: 
Filter data by sections
See traffic breakdowns across IOS and Android
Easy-to-use dashboard
Grasp how your video content captures viewer attention
Group your sites in one dashboard
Run headline tests

Woopra allows you to identify and optimize the customer journey, trends, retention, segmentation, and much more. You will be able to see the touchpoints that affect user experience on your website and build strategies to drive growth and customer success. 
You are also going to have access to trend reports, which show how key metrics changed over time and the attributes that drive performance. With Woopra's intuitive visual interface, you and your team can develop dynamic segments of users based on different combinations of criteria. 
Key features: 
Journey reports
Trend reports
Retention reports
Behavioral segmentation
Measure product performance
Monitor bugs and errors in real-time

Through User Testing, you have the opportunity to see how people use your website, app, or product. You can experience your website differently by watching users navigating through it. The platform counts on several contributors that will record while they access the selected pages, and you will get human insights. 
Each contributor has a profile on the platform, so it's possible to analyze their experience along with their context. You can test different features before launching them, and get multiple perspectives of them. 
The platform delivers customer experience narratives. It captures facial expressions, body language, voice, tone, and also provides visuals of the actual experience with digital and real-world interactions.  
User Testing allows you to choose your audience or use your own customers, then select what to test, and create tasks for the contributors to do, where they will record their experiences. You can have interviews with them to get instant feedback.
Key Features: 
Experience what your customers experience
Test your website with real customers
Observe their facial expressions and body language
See visuals of their experience
Learn from digital and real-world interactions
How to Make the Most of Web Analytics Tools
Define your goals
Web analytics tools provide several metrics and reports types, as you can see, to avoid getting lost among so much data, it's important to define your goals. Once you know what are your main purposes with each strategy implemented on the website, it's easier to understand how to analyze its performance. 
Set the KPIs
After defining your website goals, it's time to select which are going to be your KPIs (key performance indicators).
What metrics are the most important according to each purpose? If you have created a form to gain leads, the number of sign-ups is a crucial metric, for instance, along with the traffic quantity and sources.
If the number of sign-ups is low, you can take A/B tests to try different CTAs, for example, to know which are more appealing to your audience. Also, by knowing the KPIs, you can customize the dashboard of your web analytic tool to follow them in real-time. 
Use Data to Continuously Improve
Web analytics tools must be used not only to measure a campaign's success when it's finished, use the data to identify issues and fix them.
When you insert new content on your website, launch a landing page, or insert a banner on the home page, for example, keep your eyes on the metrics, and enjoy them to get new insights. 
Make data-driven decisions, you will considerably increase your chances of improving conversion rates and user experience.
Choose the Web Analytics Tools that Best Suit Your Business
Now that you know more about web analytics tools and their features, choose the one that can help you improve your website and fit your budget. Analyze which one has the features you desire, and also provide a platform that you and your team find easy to use, so you can enjoy all of its benefits.
Like what you've read?
Sign up and try JivoChat for yourself!
It's free and only takes a couple of minutes to download.