30 Website Templates to Create Stunning Pages
Reading time ≈ 12 minutes
Jaqueline Corradi
Content Manager
Choosing the best website templates is crucial to achieving your goals. It significantly impacts getting a high number of accesses to your pages, increasing the average time spent on your website, and providing good user experience.
Some of the best website builders, like Wix, offer pre-made templates which already have a mobile-friendly version, meaning that your website will perform well on mobile devices too. There is no need to have coding or design experience to enjoy those templates, and you can use a page editor with drag-and-drop functionality to customize the pages as you wish.
30 Website Templates for Stores and Businesses

The Tech Company website template, as the name suggests, was developed for website businesses in the technology sector. It has a clean and modern design with a fun touch that's added by the illustrations. The user can discover more about the company as they scroll down the page.  The icons, images, and texts are organized so it becomes easy to catch the main information. 
The Real Estate Firm template has a simple yet elegant and classic design, which suits real estate companies perfectly. The picture of a house in the background of the main page highlights the focus of the business.
Also, the main button is placed strategically in the center of the page and in red, which calls the viewer's attention. As you scroll down, it's possible to navigate through different sections of the website, and find the properties available for rent and for sale. 
If you have a makeup store or a beauty hair salon, this website template is going to help you to create pages that convert leads into customers and draw attention to your brand. You can choose a photo to put in the home page background and add links to your social media pages on the side of it. Enable your clients to book services online with just a few clicks. 
Many people look for the social media pages or website of the restaurant or coffee shop they are going to, before visiting it. Therefore, counting on a beautifully designed website can help you to conquer more customers, and you can even allow them to make their reservations and order online. 
This website template has a minimalist and classic design, which helps visitors to focus on what matters, the foods and drinks you serve. You can add several pictures and include links to your social media pages too.
If you have an online clothing store, regardless of the type of clothing you sell, it's essential to build pages that display each product well and highlight its main characteristics.
In this website template, the contrast of colors helps to catch the customer's attention, and the well-chosen photos show how beautiful the clothes are. On the main page, the call to action "shop now" is direct and enables the client to start buying as soon as they enter the website.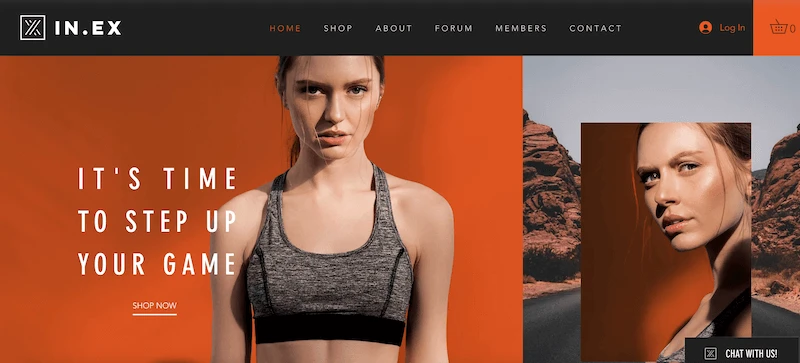 With the bookstore template, the task of selling books online becomes much simpler. It has a simple, yet attractive design, which allows you to divide your website into different sections, and display beautiful pictures of the books available. You can include a section with the bestseller and the most recommended books of the month too. 
The Mr.Producer template is suited for service companies and also for professionals who work as freelancers and want to have an online portfolio, so potential clients can contact you and send messages. You can add an about us page, present the type of services you or your company offer, and link to your social media pages too.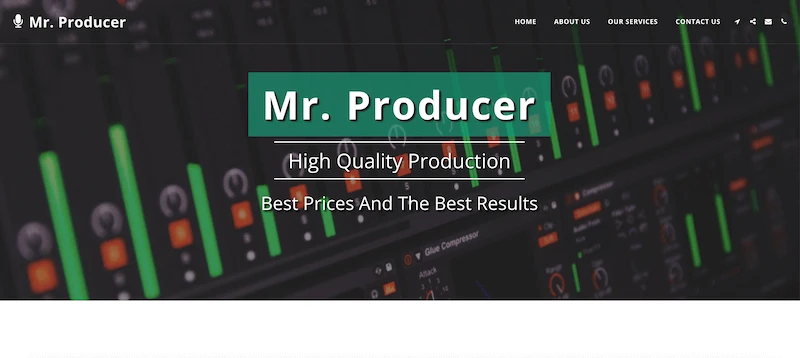 The Around Travel template was built for travel agencies. It has a minimalist design, which makes the website easier to navigate and find the main information. The home page has a background photo aligned with the theme of the website and a call to action button to encourage people to get to know more about your business.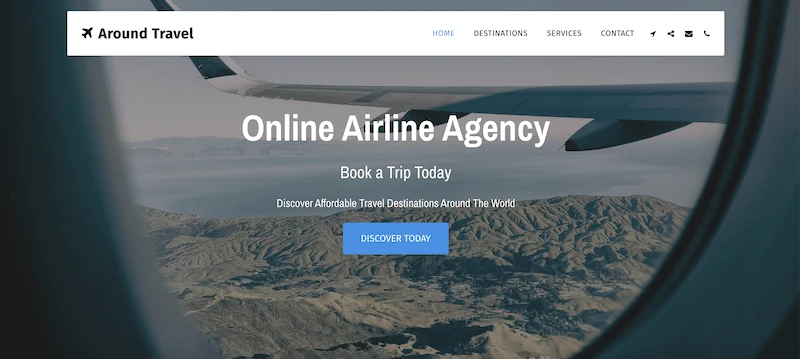 The Architexture template was built for architecture and landscaping businesses. It uses a neutral color scheme, mostly in black and white. You have the option to add images on every page and present the projects you have already been a part of. Include a contact form as well, so customers can get in contact with you. 
The Cheese Shop template can be used not only by food stores but also by e-commerces from many other sectors. Enjoy the features to create a virtual display and show the products to your potential customers. It's important to add high-quality photos to call attention and make the items stand out.  
The Royal Caterers is a perfect template for catering companies and other services related to parties and food. You can use it to enable customers to get to know and book your services online, without any complication. Add a call to action button such as in the example, and increase the chances of turning leads into customers. 
Having a digital portfolio is a great asset for conquering customers, and it can be used by different types of professionals, including writers, designers, architects, photographers, and developers.
Enjoy this minimalist website template to put the focus on your work, use beautiful images, and explain the projects you have made. Include your contact information, so potential customers will know how to reach you. 

The King Diamonds website template is a great choice if you sell fashion accessories online. The color palette with details in gold, the background in white, and the text in black are very elegant and refined.
You can put a product image in the background of the home page, with a call to action, inviting the visitors to know more about your products or start buying. Add a section to highlight the special sales and coupon discounts.  
 If you are looking for a template for a furniture or decor store, this one is for you. You can put multiple images on the background, and they will change from time to time, which makes the page more dynamic. Besides, it's possible to add a call-to-action button such as "shop home decor", and create several product sections and pages for each product too. 
The Animal Groomers template is the perfect choice for pet shops, vets, and, of course, pet groomers who want to enjoy the internet opportunities to expand their business. It has a fun design with strong colors like orange and red, and the use of illustrations too. You can include an online store section, and allow customers to book services through the website too. 
The Tea Store template is suitable for online shops specializing in tea, coffee, and selling other foods. It uses a neutral color palette, enjoying the contrast of dark colors, like brown and black, with white, to highlight the main information. Create multiple sections to segment the products, and present more about your company.
This website template was developed for dance schools. With an elegant and sophisticated design, it can be aligned with your brand's visual identity to drive the visitor's attention and sell more classes. With a website, you can enable your students to book their classes and buy courses online, making the purchase simpler and quicker.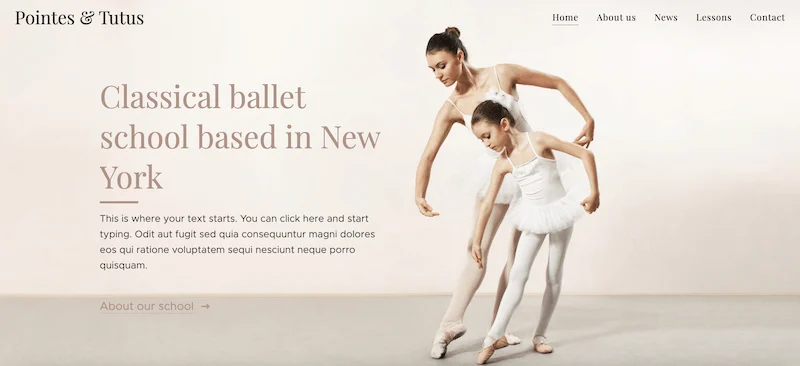 The Leather Store template is minimalist and classic, and it's ideal for accessory and clothing stores. On the home page, the visitor can already see some product photos and navigate to the section they are looking for on the left side menu. The information is clear, and the design helps to provide a seamless user experience. 
This website template was developed for graphic designers, photographers, painters, and other professionals who want a place of their own to display their visual work online. You can create image galleries with several illustrations, design pieces, and photos. Create a contact section, so people can know how to get in touch with you, and hire your services.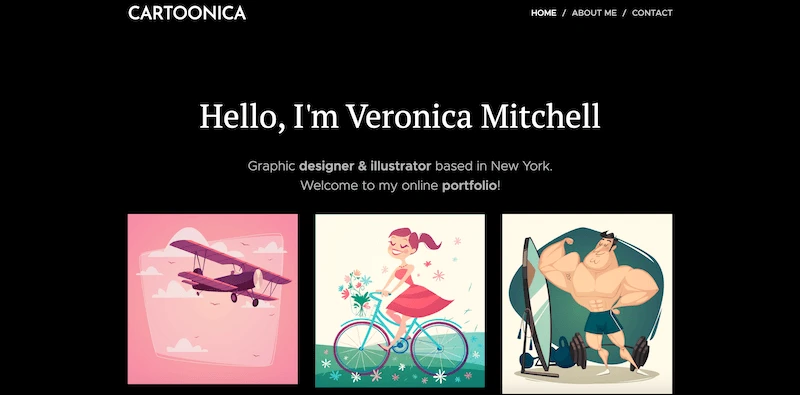 Hospitals, clinics, and doctors also can benefit by having a website, and that template was built for them. It has a clean design, and each section is carefully structured to make it easier to find the main information and navigate through different pages. You may use the website to present yourself, talk more about your medical area, and provide valuable content to your patients.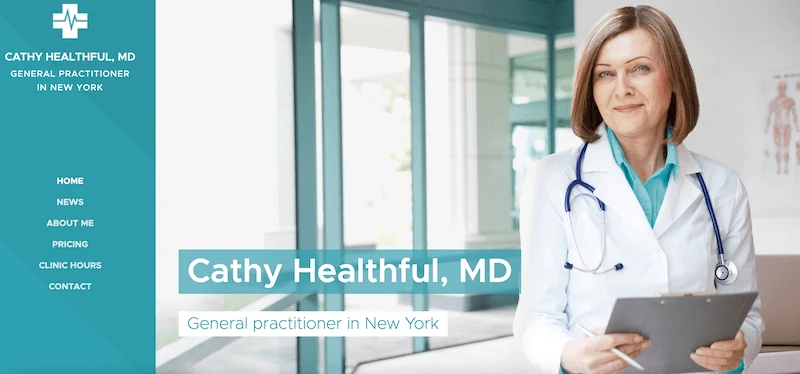 This template perfectly matches makeup, skincare, and clothing stores. It has a simple but very effective design, which focuses on highlighting the products, and drives the visitor's attention to turn them into customers. You can also add CTA buttons to encourage people to navigate through the website, get to know your store, and make purchases. 
If you provide home services, such as painting walls, cleaning houses, and fixing furniture, this website template was created for you. It has a modern and clean design to help you attract customers, and make it easier for them to contact you and book your services online. You can present the services you make, insert a contact form, and link to your social media pages as well. 

The Professional Services template is great for people who have bookkeepers, lawyers, and accountants. The classic design allows you to highlight the most important pieces of information, and also add your brand's visual identity.
Create your website sections, and organize them into the left side menu. You can add a sign-up form if you have a newsletter, a contact form, and like to your social media pages too.
The Tone template was developed for architects. It has a minimalist design where you can put more than one photo in the background, so it changes from time to time. That's a great tactic to call attention to the beauty of your work, by using images from your projects. You can also create an online portfolio and add your contact information, so people can require your services.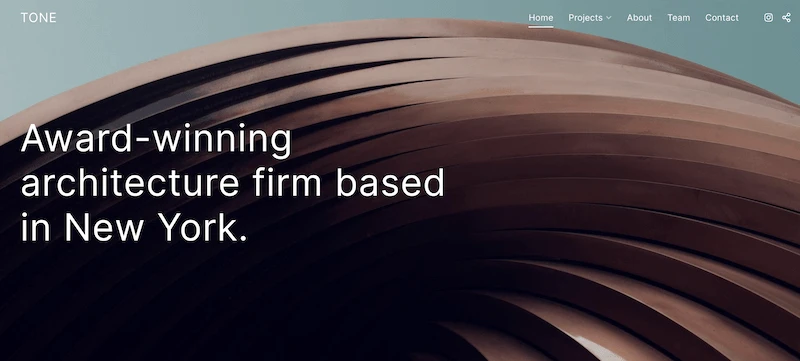 What about having an online curriculum? You can create a website and use it to highlight your skills and drive the attention of companies you are interested in working with. The Acumen template was built to help you with that, enjoy its minimalist design, add your social media pages and contact information, and make a section to present your previous works. 
Having a well-designed website can help you attract more visitors to your restaurant, and that template was built for that. You can put a picture of your restaurant or one of your plates in the background of the main page, and enable people to book tables online and check the menu. 
The Iotix template is a perfect template for SaaS (software as a service) companies. It has a modern design and allows you to structure the website in a way that is easier to browse through the pages. You can create different sections, including a blog, landing page, and pricing sections too.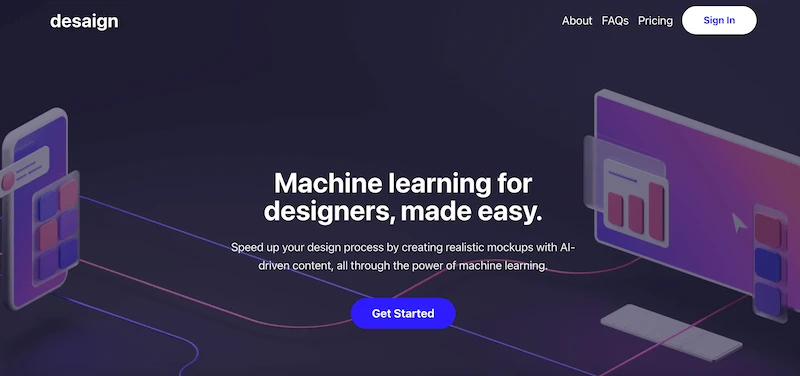 If you have an online store focused on technology products, the Gizmo template is a great option for your website. You can display the products already on the first page, and segment them into different sections. Also, WordPress provides several customization tools, allowing you to edit the template as you prefer. 
With the Wardrobe template, you can build an online clothing store in just a few clicks. The minimalist design was thought to make the product images stand out and drive the visitor's attention to what really matters. You can create a section for each product category, and direct visitors to them through the superior menu.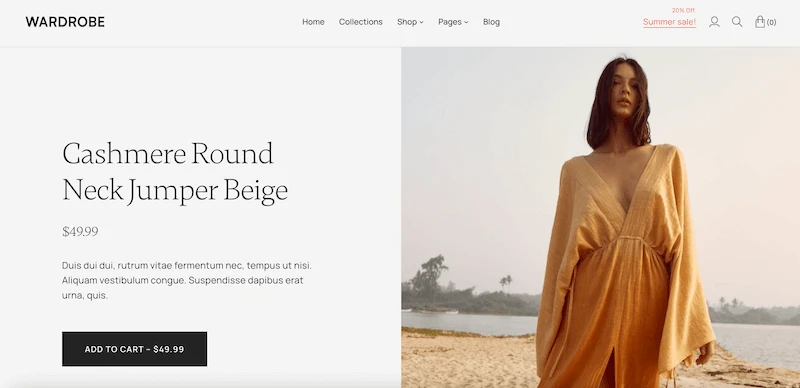 The Lincoln template has a modern design which is great for business websites. The pages are carefully organized to make it easier for visitors to find what they are looking for, and enhance user experience. 
Choose the Best Website Template for You
Now that you have seen some incredible website templates, take a deeper look at the ones you liked better, and choose the one that fits your criteria. Remember that you can personalize the template of your choice. In fact, that's a must, so your website will be aligned with your brand's visual identity.
Like what you've read?
Sign up and try JivoChat for yourself!
It's free and only takes a couple of minutes to download.