What Is a Mind Map and How It Can Be Useful To You
February 4, 2022
updated June 14, 2022
Reading time ≈ 8 minutes
Jaqueline Corradi
Content Manager
What is a mind map? Organizing ideas, whether it's for planning a project with your team at work or to study a new subject, sometimes can be challenging. Mind Map is a technique that can help you with that.
What Is a Mind Map?
Mind Map can be defined as a way to brainstorm where you will represent your ideas and thoughts graphically, organized in a diagram. It's a visualization tool that helps you to analyze, comprehend, synthesize ideas, and have new insights.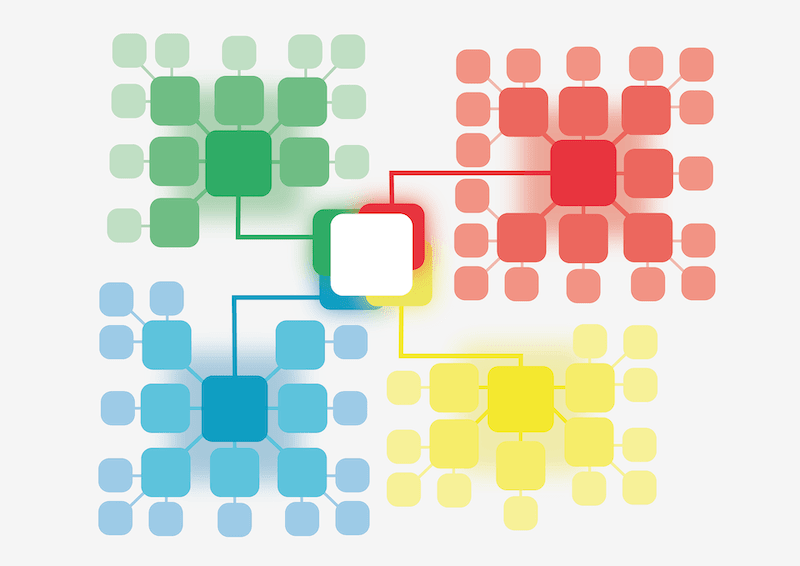 A word, term, or concept is written in the middle of the diagram, then you connect it with other subject that are related to the thought and develop it. It's similar to a spider diagram but in mind mapping, the intention is to construct a hierarchy of ideas.  
The mind map is structured in a way that resembles more how our brain works, different from when you write your ideas in a linear text. 
 Mind Map Uses and Benefits
Once you understand what is a mind map, you can apply it for different purposes, for example to:
Brainstorm individually or in a group;
Present and communicate ideas; 
Run meetings more effectively;
Outline reports and documents;
Simplify project management;
Write essays;
Take notes;
Plan projects;
Study and memorize;
Think through complex problems.
By visualizing what you had in mind, you can have an overview of it and analyze more information at the same time, making it easier to organize your thoughts. It can benefit you, for example, in the creation processes and stimulate creativity. 
When you create a mind map, the process of associating images, words, and concepts helps you to refresh your memory, develop your ideas, and have new insights. It allows you to structure information in a way that is going to be simple to remember, also you can improve your reading comprehension through it. 
In cases where you feel you are having a creativity block, making a mind map can be useful to get out of it. Instead of being stuck on one thought, as you write down the diagram, associate ideas, and visualize them, the thoughts can flow better.
When you are doing a mind map as a group brainstorm, it helps to aggregate each one's ideas, organizing them in a way that everyone can understand better and think together in order to develop solutions, for example. It also may boost teamwork, making people visualize how their participation contributes to better results. 
Mind Map is also a tool used in the learning process, by students and teachers. For instance, when you read a book or an article, you can construct a mind map that links its main topics or concepts to have a summary of the main ideas, and remember them. 
Teachers have the opportunity to build mind maps with the students to encourage them to speak out their minds, and also see what each one understood of a determined subject, even creating a study plan through it. A mind map is also a useful tool to learn new languages. 
How To Create a Mind Map
Define a Central Theme
The first step to start creating a mind map is to define what is the central idea or topic that you wish to develop. Write the word or concept down in the middle, you can also draw an image that refers to it, to enhance the visualization process.
For example, the main idea is "Instagram marketing strategies ", you write it down, and put the social media logo. 
Associate Ideas
After that, it's time to start connecting secondary concepts, topics, tasks, thoughts, and ideas that are linked to the main one. Remember that the mind map is built following a hierarchy, so the associations that derive from the central theme are called first-level associations. 
Taking our example, from " Instagram marketing strategies " we can create branches connecting it to the terms "stories", "advertisement", "reels", "posts", and "engagement".  
Dive Deeper Into the Subject
The mind map construction doesn't stop on the first-level associations, on the contrary, it's just the beginning. After inserting the branches that irradiate from the main theme, you have the opportunity to dive deeper into each term, associate other thoughts from it, make second-level associations, third-level ones, and so on. 
For example, from "stories" we can connect the words "filters", "quizzes", "polls", then associate "filter' with"making your own brand's filter". As the process develops the mind map grows, and so does the number of branches. 
There is no limit to it, try to let your thoughts flow without the fear of committing mistakes. If you are doing a mind map in a group, highlight to your team that their ideas are appreciated, foster an environment where they feel comfortable to share their thoughts, and contribute with the brainstorming.   
Use Images and Colors
To enhance the visualization power of your mind map, you can also use resources such as colors and images. For example, differentiate association types by drawing lines with different colors, and also include illustrations to each topic. 
When you do a mind map on paper, adding those elements can take more time, but if you use mind map software, it's very simple to enjoy visual elements to create an even more complete mind map diagram. This type of software provides several tools, which will encourage you to create elaborated mind maps.
4 Best Mind Map Software

With MindMeister you will understand what is a mind map and how it can help you and your team in practice. The software enables you to develop fully customizable mind maps. You have the option to choose among different layouts, use the focus mode to showcase your best ideas, enable comments and notifications.
To make an even more incredible mind map, MindMeister allows you to embed media, adding context to your ideas. This way, you make the mind map clear, for example, if you are going to use it for a presentation.  
Key features:
Visualize your ideas
Collaborate with your team
Manage your tasks
Create customized mind maps
Embedded media
Enable comments and notifications
Basically, Scapple is an app that works as a virtual sheet of paper where you can draw your mind map. Use the drag and drop tool to make connections between ideas with lines, create background shapes to group notes, and customize the appearance of the notes. 
The software is available for Windows and macOS, it gives you great flexibility to build a mind map that fits your needs best, and also to write notes and organize them in different ways. You can export and print your ideas as well. 
Key features: 
Create virtual mind maps
Drag and drop tool
Completely freeform
Stack notes in columns
Create background shapes
Customize the appearance of notes
ClickUp is a platform that provides several solutions for project management, including a mind map feature. It allows you to organize your workflow in a virtual mind map where it's possible to create, edit, and delete tasks. 
You can also use the mind map for other purposes, having the possibility to develop powerful diagrams with the drag and drop tool. Add a central theme, connect branches as you wish, and share your map with your team. 
Key features:
Organize projects, tasks, and ideas in mind maps
Visualize the structure of your tasks
Create free-form diagrams
Share your mind map

With Mindomo, you can create mind maps, concept maps, outlines, and grant charts. The mind map tool gives you the flexibility to develop fully personalized diagrams to fit your needs. With the presentation feature, you can edit it and highlight your ideas, organizing the connections by colors, for instance.
You can easily share your mind map with your team through Mindomo and synchronize your offline and online content. Enjoy the features to plan events, meetings, explore creative paths, develop action plans, and much more.
Key features:
Create mind maps
Edition tools
Synchronize offline and online content
Share the mind maps with your team
Enjoy The Multiple Possibilities of Using a Mind Map
Now that you have understood what is a mind map, what about taking the opportunity to experiment with this technique to organize your ideas? As you can see, mind maps are a useful resource in different aspects of your life, they can be applied at work, school, and even to organize your routine.  Explore its possibilities, it can help you to optimize different processes.
Like what you've read?
Sign up and try JivoChat for yourself!
It's free and only takes a couple of minutes to download.