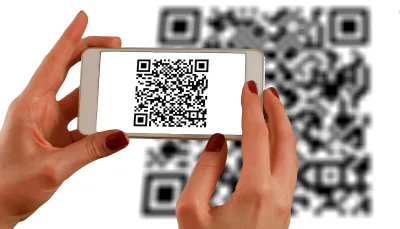 Discover What Is the Best Free QR Code Generator
Reading time ≈ 10 minutes
Jaqueline Corradi
Content Manager
Museums, metro stations, stores, restaurants: QR codes have been used everywhere nowadays, to link to menus, product information, social media pages, and much more. To enjoy this trend, it's important, though, to know what is the best free QR code generator.
This way, you are going to be able to develop QR codes for different purposes and use them to promote your company and even sell more. You can use this tool to connect the physical content you invest in, such as banners and flyers with a digital experience your brand can offer. 
With the pandemic, the use of QR codes has grown exponentially as a solution to deliver information contactless. How many restaurants have you visited that opt for having a menu accessible by QR code instead of a physical one? 
People became more used to this tool, besides, with the IOS 11 update and Google Lens enabling to read QR codes without having to install an app, the process is much simpler for customers. 
What Is a QR Code
QR code refers to quick response code and works similar to a barcode, but it can store much more information, which is stored as a series of pixels in a square-shaped grid. The data it contains can be easily accessed by digital devices and it has been used as a marketing tool for many companies. 
The first QR code system was invented by a Toyota subsidiary company in Japan, Denso Wave, in 1994. They created a type of barcode that was capable of encoding alphanumeric characters, kanji, and kana, to enable them to track vehicles and parts during the manufacturing process in a more precise way. 
Since then, QR code use has developed a lot, and now it offers thousands of possibilities. For example: 
Authenticate online accounts
Link directly to download an app on the Apple App Store, or Google Play
Access wi-fi
Send and receive payment information
Access restaurant menus
Link to a website or social media page
How to Generate a QR Code
1. Choose a QR Code Generator
The first step to creating a QR Code Generator is to discover what is the best free QR code generator that suits your business needs. Once you have decided, navigate through it to know its features and the possibilities it offers. 
2. Select the Content 
Why are you going to use the QR Code? What action do you want your customers to take after scanning the QR code and accessing the content you are going to put on it? Answering these questions may help you to plan and choose what content you are going to link to with the QR code.
3. Insert the Content 
After defining the content the QR code is going to store, you will insert it through the QR code generator. Open the software, select the type of content you will use, and add it. If you are linking to a website, you just need to paste the URL, for instance.  
4. Opt for a Dynamic QR Code
To be able to edit the information stored on the QR Code, it's important to choose a QR code generator that gives you the option to make dynamic ones. This way, if necessary, you can alter the date after the QR code is released. 
5. Customize the QR Code
QR codes are basically squares formed by pixels, but they can be customized. For example, you can add your company's logo in the middle, a frame, and change colors. Pay attention, though, if the QR generator of your choice gives you these options. 
6. Test and Publish the QR Code
Before releasing your QR code, test it to make sure it's read properly. It's recommended to use more than one device to do that. After checking it, your QR code is ready to be launched, plan with attention where it's going to be placed, so you can have satisfactory results.
7. Analyze the Performance
Once the QR codes are in place and working properly, follow up to know how much traffic is coming from it and other key performance indicators (KPIs), according to the goals you have set. 
For example, if you are using the QR code to gain more followers on Instagram, analyze how many people have accessed your company's profile through the link and started following you. Or, if the QR code is linking to a product page, check how many purchases it has led to. 
9 Best Free QR Code Generator

QRCode Monkey is a platform where you can create, track and edit all your QR codes in just one place. It enables you to make dynamic QR Codes, which means the content can be edited even after they are released, and also gives you several design options to customize them, including a template gallery. 
To help optimize your work, with QRCode Monkeys it's also possible to make QR codes in bulk and create campaign folders to organize them.
Use the scan statistics provided to learn about your QR code performances and get new insights. The platform is completely free and enables you to generate as many QR codes as you wish with no scan limits. 
Key features:
Endless lifetime with unlimited scans
QR codes with logo
Custom design and colors
High-resolution QR codes for print
QR codes vector formats
Free for commercial usage

Visualead enables you to create customized QR codes, edit them after printing, and track how many scans QR codes you got. It provides you with a personal dashboard where you can manage your QR codes, besides the app gives you tools to develop mobile landing pages as well.
You will select the QR code type you desire to use, then design it, for example, by uploading an image or choosing a template from the Visualead gallery. Used by more than 500.000 local businesses, the software has multiple plan options. In the free one, you can create 3 QR codes, and have up to 500 scans.
Key features:
Visual QR codes
Editable QR codes
QR code analytics
Create and publish mobile landing pages
Personal dashboard

Scanova provides you with several features to create and edit QR codes. You can customize them by adding patterns, your company's logo, and changing colors, for instance, and link to diverse content formats with the QR code, such as images, videos, PDF, and audio files.
Make dynamic QR codes to edit content anytime, even after printing. The software also gives analytics information about the QR codes you generate, it's possible to get the exact GPS location of the scanning devices, and have the number of scans by date, geography, and device. 
Key features:
Create dynamic QR codes
Custom QR code designs
Scan tracking and analytics
Link engaging content
Export high-resolution QR codes
Create mobile-optimized pages

QR Stuff allows you to generate QR Codes for free without even having to install any software. You can do it online on its  website. First, select the data type, insert the URL, and choose between creating a static QR code or a dynamic one.
To style the QR code, you have the option to select the size and resolution, file type, the color and shape of the dots, and also add a logo or an image. After it, check the preview and download it. 
Key features:
Create free QR codes
23 free QR codes data types
Download, print, or email your QR codes
100% ad-free
Custom the QR codes
QRTiger is an online free QR code generator, which will help you to quickly create static and dynamic QR codes. The static ones are valid forever, which means they have no expiration date, and you don't need to pay for them, while if you choose the dynamic type, it's needed to pay for a subscription.
You can add an image or a logo to the QR code and customize it even more by changing other details, such as the color palette. QRTiger also has tracking features, enabling you to check the time and number of scans, as well as the location and the device type (Android or IOS). 
Key features:
Online QR code generator
Create dynamic or static QR codes
Custom the QR codes
Lifetime valid QR codes
Track instant data
With Beaconstac's free QR code generator, you can create a QR code with just a few clicks without even having to install any software, making everything online. It gives you the option to make static QR codes or dynamic ones, which can be tracked. 
To customize the QR code, add your brand's logo, or an image from Beaconstac's gallery, it's also possible to change the colors, choose from different templates and insert a frame. The platform also provides analytics tools to track scans based on the location, device, and time of the day. 
Key features:
Create dynamic or static QR codes
Custom the QR codes
Choose the QR code type
Real-time data analytics

uQR allows you to easily create, manage, and track dynamic QR codes. You can design them to align with your brand's visual identity and select the format you prefer to download their files.
The platform provides many design tools so you can alter the shape of the codes, add your brand's logo, change the colors, and include your company's name in the short URL. 
Another uQR advantage is it gives you the option to generate QR codes in bulk with CSV files, so you can save time and improve your workflow. To evaluate the QR code performances, enjoy the analytics tool, and keep track of how many times it's scanned.
Key features:
Dynamic QR code generator
Customization tools
Bulk creation
Trackable QR codes
Intuitive dashboards
GOQR is an online free QR code generator that gives you the possibility to make a QR code with just a few clicks. Choose the type, enter the URL you desire to link and the QR code will be created automatically. 
Then, you can download the black and white version, after checking the preview. If you want to customize the QR code, that service is paid, but the GOQR will personalize it for you, it's just necessary to send the logo and data to embed. 
Key features:
Create free QR codes
Use dynamic QR codes
High-resolution QR codes
Customize the QR codes
With QR Code Generator, you can create QR codes for free. Insert the URL you desire to link to, the file, or the text, customize the QR code by selecting the type of frame, the shape, and colors, and inserting your company's logo. 
With just these few steps, your QR code is ready to be used and printed. You can download it in different formats, JPG or vector (SVG/EPS). The platform enables you to make several types of static QR codes to link to websites, give access to wi-fi, display text, and much more. 
Key features:
Create static QR codes
Customize the QR codes
Download in different  file formats
Manage your QR codes
Plan How You Are Going To Use The QR Codes
Now that you have multiple options to decide what is the best free QR code generator for your company. Before creating any QR code, it's important to build a strategy on how to use them.
For example, if it's going to be part of your marketing strategies, study your target audience behavior to understand where to place the QR codes, and what type of content would make them want to scan the QR code. 
When printing the QR codes, make sure they are in high resolution and can be easily read by different mobile devices. Enjoy the possibilities QR codes may offer as a means to communicate with your leads and customers.
Like what you've read?
Sign up and try JivoChat for yourself!
It's free and only takes a couple of minutes to download.