Wix Website Builder: Get to Know Its Features
Jaqueline Corradi
Content Manager
Wix website builder is a platform developed to enable people who don't have experience in design or coding to create their own websites. It contains multiple features for customizing the page layouts, managing and producing content, and having your online store. 
To make the most out of what Wix has to offer, it's essential to get to know its tools. Discover its possibilities and how you can build a fantastic website or enhance the one you already own. 
Founded in 2006, since then Wix has focused on developing technology that allows you to build professional websites. The platform has more than 200 million users around the world and is used to build websites by different types of companies, restaurants, startups, online stores, and much more.
Wix website builder also functions as a CMS (content management system) which means, you aren't only going to build your pages through the platform, but also be able to enjoy it to publish, edit, and manage your content. Besides, it has features exclusively for store management, helping you to keep track of the inventory. 
Website Design

One of the first steps to start developing your website, after you have created your Wix account and defined the domain you are going to use, is to set the design of the pages. Wix website builder gives you different options to make the layouts. 
Wix Editor
With Wix editor, you can select a pre-built template, and customize it using the drag and drop editor. Add images and videos to the pages, change the color palette, define the fonts, resize, rotate and align every element. 
You have the freedom to use your creativity, but with the facility of counting with a template that can guide you on how to structure the page. Select the features you want to include in your website as well, such as a subscription form, login area, and a search bar. 
Wix ADI
If you don't want to spend time having to take care of every detail of the website design, Wix ADI (artificial design intelligence) gives a solution to this issue.
You will just have to answer a few questions, then, artificial intelligence will create a fully designed website with images and content built-in for you. After receiving the design, you still can edit it if you wish, uploading your images and content, for example. 
Wix Marketplace
Another option is to use Wix Marketplace to hire a Wix partner to create the website or redesign the one you already have. The platform counts on several partners specialized in different sectors, including graphic designers, developers, and marketing experts. 
Pre-Built Templates
Wix website builder provides more than 800 pre-built templates, created by professional designers. You will find a huge variety of layouts for different website types, for instance, for creating landing pages, portfolios, blogs, and online stores. 
You can also look for templates designed according to your business area, such as advertising and marketing, real estate, technology, fashion, and so on. Another advantage is that the layouts have a responsive design, which means your website is going to perform well on desktop computers and mobile devices too. 
Logo Maker
Your company's logo is an essential part of your brand's visual identity. It's important to have one that stands out and is aligned with your business values. The logo is also going to be used on the website, it should be inserted on every page, and the design should be in cohesion with the logo's characteristics.
But what if you don't have a logo? Wix has considered that as well. If you are just starting your business and still developing the brand's design, you can use the Logo Maker tool to create your own logo. First, you are going to need to insert the brand's name, select your industry category, and choose from different style options, then Wix is going to tailor a personalized logo for you. 

If you are looking to expand your business by having an ecommerce, or want to begin a new one by selling online, Wix eCommerce is going to give you the right tools to build your store and manage it. The platform has pre-built templates specifically for online stores, which are divided into multiple categories such as electronic stores, fashion boutiques, and home decor stores. 
You can customize everything to provide an amazing shopping experience for your customers, including the storefront, checkout process, product pages, cart, and store members area. It's possible to add up to 50,000 products to your website, and you are going to find several features to help you manage the inventory. 
Automated Taxes
Another benefit is that Wix is integrated with Avalara, an automated tax calculator software, which is going to make the task of defining the taxes much easier. You can get geo-specific tax rates by state or country and offer a transparent checkout process for your customers. 
Wix Payments
By using Wix payments, you can accept the major credit and debit cards on your ecommerce, along with Apple pay and other main payment methods. It has more than 50 payment options available worldwide. The platform is PCI compliant to protect your customers' data. It also uses HTTPS/TLS data encryption and has 3D secure 2 authentication at EU card payments. 
Sell on Multiple Channels
You also have the option to list and sell your products on different sales channels, like Facebook, Instagram, Amazon, and eBay, and manage everything in a single Wix dashboard. This way you are going to have a centralized inventory, and prevent errors such as selling out-of-stock items. 
SEO Toolset
When you create a website, it's fundamental to consider SEO (search engine optimization), implementing actions on your pages that will help you to rank better on Google and other search engines. This has a big impact on increasing organic traffic and conquering visibility. To do that, Wix provides SEO tools.
First, the infrastructure of your website is built to meet search engines' needs. The platform keeps your XML sitemap and site info up-to-date. Besides, it compresses, resizes, and converts your images to WebP to accelerate page loading.
You also have the opportunity to enhance SEO by customizing the URLs and adding meta descriptions and title tags. Wix has bulk 301 redirects, and instant Google indexing as well, and it allows you to integrate your website with Google Search Console.
 Analytics and Reports
With Wix analytics, you can track the activities on your pages, receive recommendations on how to improve them, and implement changes. You are going to have access to very important metrics such as sources of traffic, the number of visitors per day, most visited pages, average time spent on your website, and bounce rate.
By analyzing the metrics, you are going to have a better understanding of your target audience. If you have an online store, it can show you what is the buyer's journey on your website, giving you insights into how to encourage more purchases. 
You can identify the types of content that are more engaging by checking the page visits report and developing the next pieces of content based on that. Identify where your visitors are located with the location report and discover how people got to your website through the referral by category report.
Marketing Tools
Email Marketing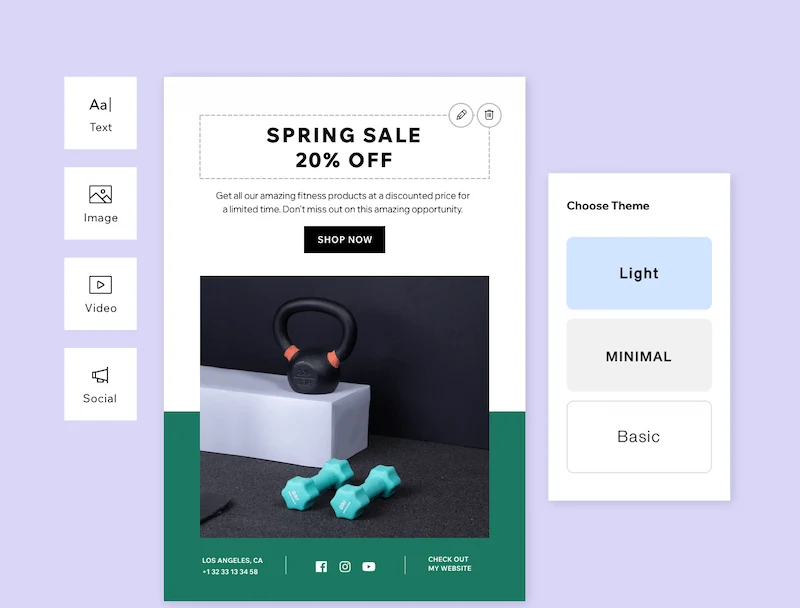 Wix also has an email editor, which enables you to create beautiful emails with a responsive design. You can choose among designer-made templates and customize them. Save time by automating the process of sending the emails. To measure the campaign performance, you are going to receive analytics reports. 
Social Media
Being present on social media platforms is very important to drive more traffic to your website, engage with your audience, and promote sales as well. Wix facilitates the process of creating posts with its editor that allows you to take a black canvas and customize it as you wish. If you prefer, you can pick a premade template too.
Facebook Ads
Enjoy Wix AI to create high-performance Facebook ads. Its algorithm uses machine learning to retarget people who have visited your website by showing them your Facebook ad, reach people with similar characteristics to your current customers, and run A/B tests as well. 
App Integration
To create an even more incredible website, you can integrate it with hundreds of apps available on the Wix App Market. You are going to find apps in several categories, including marketing, sales, media and content, and service and events. Some of the integrations available are Mailchimp, Google Ads, HubSpot, and Spotify, for example. 
Web Hosting
When you use the Wix website builder, you are going to have your website hosted by the platform as well. It counts on advanced security monitoring, and automatic setup and also has a 99.9 % uptime guarantee. 
Wix uses a content delivery network (CDN) with a collection of servers around the world. To make your website available, when someone accesses it, they are automatically redirected to their closest server. 
The free website hosting includes 500MB of cloud storage and 500MB of bandwidth. While with the premium plans, you can get up to 50GB of cloud storage and unlimited bandwidth. As your website grows, it's essential to count on more space to avoid problems such as slow page load. 
Create a Website According to Your Needs
Wix website builder offers several tools to make it easier to create your business website, as you can see. But, when building it, make sure to define what is the purpose of your website, plan each page carefully, and consider your target audience's profile as well. You are going to find several tutorials on Wix to guide you through. Enjoy them to make the most out of the platform's features.
Like what you've read?
Sign up and try JivoChat for yourself!
It's free and only takes a couple of minutes to download.