November 22, 2022
updated September 1, 2023
Reading time ≈ 5 minutes
Jaqueline Corradi
Content Manager
Learning how to stitch on TikTok gives you a new video format to innovate with the content you publish on this social media platform. With more than one billion active users monthly, TikTok has become a worldwide success and several brands started developing strategies to reach their audience there. 
On TikTok, you can post short videos about different topics, and that's one of its benefits. The platform aggregates multiple niches. You will find videos about fashion, such as the popular get ready with me, makeup tutorials, lip sync, challenges, comedy, games, recipes, technology, and much more. 
Beyond that, several creators are making videos stitching with other content from the platform, or inviting people to stitch using their videos as an opportunity to gain more visibility. Check out the article to learn more about this.
What Is Stitch on TikTok?
Before discovering how to stitch on TikTok, it's essential to understand what this is. If you watch videos on this platform frequently, you have probably already seen the format where there are images from different videos on the same TikTok. For example, someone is commenting on a video, then they show parts of it.
It's commonly used when people record reaction videos to show how they feel when seeing something that is unexpected or very funny. You also can enjoy this feature to show a video and comment about it, so the viewer can see what you are talking about and understand your ideas better. 
For example, if you have a profile on TikTok that's focused on fashion. You can stitch a fashion show video and show yourself commenting on each look as it appears on the runway. This feature is also commonly used to stitch music videos, where the person will sing the same song.
For a company, a possibility is to invite customers to record videos telling what they like about your product and stitch with their videos showing your reaction to their comments. It's an alternative to promote engagement and make customers feel seen by a brand. 
How to Stitch on TikTok
The TikTok platform is a very intuitive one, and that isn't different when it comes to using the stitch feature. With just a few steps you can make your video using this format. 
1 - Open TikTok and select the video you want to stitch;
2 - Click on the share icon;
3 - Click on "Stitch";
4 - Select the part of the video you want to stitch, then click "Next";
5 - The camera of your smartphone will turn on so you can record your part;
6 - Note that you can apply effects, and filters, change the speed and insert Q&A;
7 - When you are done recording click on the check icon; 
8 - Add a caption and hashtags to the video and click on "post".
It's important to notice that not every video has the stitch feature enabled because the creator has the choice to enable it or not. If you choose a video and don't see the option to click on the "stitch" button it's because you can't use it. 
How to Allow People to Stitch Your Videos On TikTok
Enabling TikTok users to stitch the videos that you publish is an opportunity to conquer more visibility as you will be seen by their audience as well. It just takes a few steps to do that, but your TikTok account needs to be public, which means your content can't be restricted only to your followers.
1 - Open your TikTok;
2 - Upload or record the video you will publish on the platform;
3 - Click "Next";
4 - In the video settings go to "Allow Stitch" and swipe left to enable it.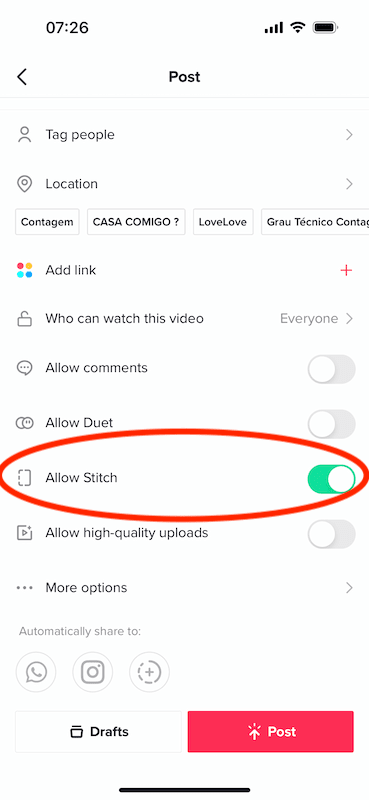 What Is the Difference Between Stitch and Duet?
Another very popular feature on TikTok is the "Duet", which is commonly confused with "Stitch". In both video formats, the creator uses a video from another person to display on their own. 
But, the main difference is that in the duet both videos appear at the same time on the screen, side by side. The original one is placed on the right and the video you record appears on the left. 
Enjoy the Stitch Feature on TikTok
Coming up with new post ideas for social media platforms can be challenging and that isn't different with TikTok. However, features like stitch allow you to explore new possibilities and provide interesting content to your audience. Now that you have learned how to stitch on TikTok, what about putting it into practice? Search for posts to inspire you and use your creativity.
Like what you've read?
Sign up and try JivoChat for yourself!
It's free and only takes a couple of minutes to download.