Best Time to Post on TikTok
Jaqueline Corradi
Content Manager
Dou know the best time to post on TikTok? With more than 1 billion monthly users, this social media is expanding its reach fast and has become one of the most popular in the world.
The time you choose to post your videos may influence how many people will see your content. With the right timing, it's possible to reach a bigger audience, conquer more visibility, gain followers, and promote engagement. Check out the article, and discover more about it!
What Is the Best Time to Post on TikTok?
The Influencer Marketing Hub has developed a research where they analyzed more than 100,000 global TikTok posts and their engagement rates to identify the best times to post on TikTok on each day of the week. 
If you still don't know your target audience well enough and are beginning to develop your TikTok profile, following this schedule can be very helpful. 
Best times to post on TikTok:
Monday: 6 AM, 10 AM, 10 PM
Tuesday: 2 AM, 4 AM, 9 AM
Wednesday: 7 AM, 8 AM, 11 PM
Thursday: 9 AM, 12 AM, 7 PM
Friday: 5 AM, 1 PM, 3 PM
Saturday: 11 AM, 7 PM, 8 PM
Sunday: 7 AM, 8 AM, 4 PM
As you can see, the best time to post on TikTok is very early in the morning, at lunchtime, or in the evening on weekdays. 
On Saturdays, on the other hand, when people often wake up later, the first time to post is 11 am, and the other hours are in the evening, considering that during the day many users will leave their smartphones aside, and enjoy going out with their friends and family. 
The scenario changes on Sundays, the best times to post on TikTok are in the morning and the end of the afternoon. 
Source: Influencer Marketing Hub
Is the Best Time to Post on TikTok the Same for Everyone?
No, although the best times to post on TikTok are helpful, they are based on a generalized analysis of different audiences. When you plan your marketing strategies, it's important to consider your target audience's behavior, and you may find that you will have a better reach at different times than the ones suggested. 
The best time to post on TikTok for each account depends on who you are targeting, and what time of the day they are online watching videos on TikTok. However, when you are posting your first videos, you may not have this type of information, so it's advisable to plan to use the schedule above. 
Tips to Grow Your Audience and Engagement
Whether you are building a career as a digital creator or want to use TikTok as a means to promote your company, it's important to understand how TikTok works, and develop a plan on how to develop high-quality content, and manage your profile. 
Thousands of videos are posted every day on TikTok. It's necessary to think strategically to stand out. Building a profile of your target audience, defining your goals, being authentic, and being always up-to-date with the latest trends is essential. 
Use TikTok Analytics
As you start posting content on TikTok, you can use the data regarding each video to understand the type of content that performs better and to identify the best time to post for you. To track the performance of your videos, use TikTok Analytics.
This tool enables you to check follower growth, the number of likes a video received on a specific date range, total views, total likes, average watch time, traffic source, audience territories, and the times and days they are most active on TikTok.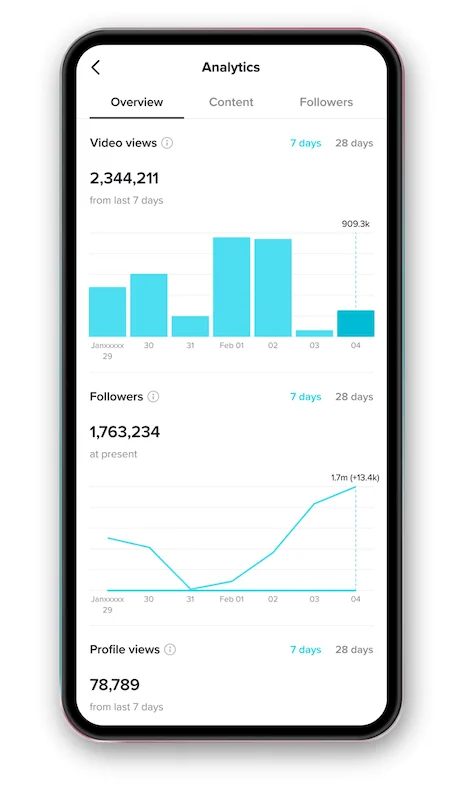 It gives you valuable insights not only to know when to post, but to enhance your content, and create videos that meet your audience's demands. 
To access TikTok Analytics, you need to have a Pro account, and that's easy to do. Open your profile, go to settings, click on "Manage account", and select "Switch to Business Account". Once you have done that, in the "Creator tools" section, you will find the analytics as well.
Identify Where Your Audience Is Located
Before defining who your target audience is, it's also necessary to identify where they are located. This will influence your TikTok posting schedule because you need to consider their time zones.
If your goal is to reach a local audience, it's easier to define when to post on TikTok. But, if you are focusing on growing globally, it's needed to identify what are the main countries that your views come from, or the regions that are more pertinent to you according to your objectives. Analyze your viewers' location through TikTok analytics.
Analyze What Time They Are Online
When is your audience online on TikTok? That's a fundamental question to determine the best time to post on TikTok, and it certainly varies according to each niche. For instance, the hours that teenagers around 14 to 17 years old are online on TikTok are different from the time young adults, from 20 to 24, are active on their TikTok accounts.
This changes not only according to the age but it's needed to consider several aspects. That's why TikTok analytics is so helpful since it offers you personalized information. The more you post, and as you grow on the platform, you will have more data to analyze and be able to continuously improve your strategies. 
Post Regularly
To attract more viewers, and build a community of followers, it's essential to have regularity when it comes to publishing content. Create a calendar with the time and the days you will publish on TikTok, so you can organize yourself to choose the topics, and produce and edit the videos. 
Not all of your videos need to be the perfect content or go viral. Actually, that's very unlikely to happen every time, but when people start to follow you, it's necessary to keep them engaged, right? If you don't publish content, you miss the opportunity to reach a broader audience, and you risk losing significance to the followers you have already conquered. 
Use Hashtags
Hashtags have the purpose to indicate what the content is about, and when used properly, they help to put your posts on the feed of people who are interested in the type of videos you make. Research the hashtags that are aligned with your content, and use them. 
Participate in Challenges
Challenges of different types, such as dance and lip-sync, are a trend on TikTok. You may enjoy this to gain more visibility. But, it doesn't mean that you should participate in every challenge that is trending on the platform, be careful to choose the ones that are aligned with your image, and may be interesting to your audience. 
Test the Best Times to Post on TikTok 
Do you want to start publishing videos on your TikTok account but still feel a little bit lost about how to make the best use of this platform? Use the schedule with the best times to post on TikTok and publish the content you have already produced. Give the first step, then learn with practice to improve your TikTok video performances.
Like what you've read?
Sign up and try JivoChat for yourself!
It's free and only takes a couple of minutes to download.