What Is Vanish Mode on Instagram
November 18, 2022
updated February 7, 2023
Reading time ≈ 4 minutes
Jaqueline Corradi
Content Manager
Do know what is vanish mode on Instagram? The platform is constantly being updated to integrate with new technologies and offer new features to its users. The vanish mode is one of them, built to help people protect their privacy and avoid unwanted information to be shared with others. 
What Is Vanish Mode on Instagram
With the vanish mode, you can send messages via Instagram DM (Direct Message) that will disappear after the recipient reads it. It's possible to send not only written messages, but pictures, videos, and audio too. However, to use this feature, you need to activate it on your account settings. 
The vanish mode can only be used in one-on-one chats, it won't work for group chats. One of the great benefits it offers is that the person who received the message won't be able to show it to others. It's a way to guarantee that your privacy is protected.
Instagram notifies when someone takes a screenshot in vanish mode, so both people in the chat will be aware of the action. If the message sent inflicts the community guidelines, it can still be reported even if it had already disappeared. It's also possible to block the chat and report the person.  
How to Use Vanish Mode on Instagram
1 - Open the Instagram app and click on the chat icon;
2 - Go to the chat with the person you wish to send a message, or start a new one;
3 - Scroll down to the end of the chat and swipe up to turn on vanish mode.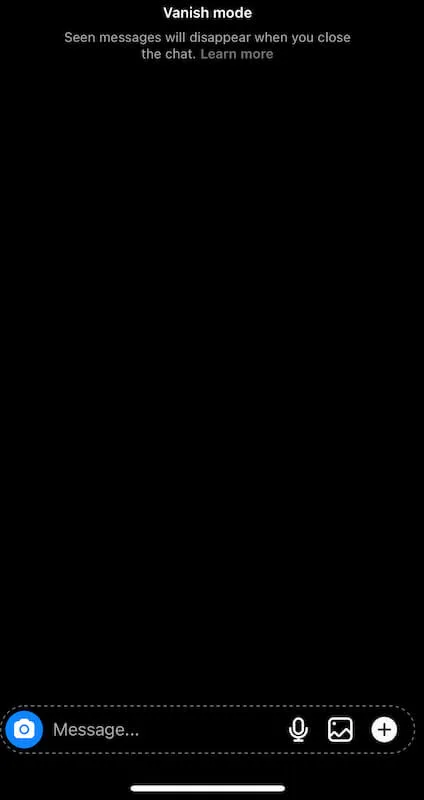 That's it, you have activated vanish mode. You will see several emojis with the "shush" face appearing on the screen. Besides it, the screen will turn black, and on the top of the chat will be written "Seen messages will disappear when you close the chat". 
Keep in mind that when you activate the vanish mode on a chat, it doesn't mean all your conversations are in vanish mode too. If you want to send messages that will disappear after they are read to other people, you will need to repeat the same process. 
How to Turn Off Vanish Mode on Instagram
After understanding what is vanish mode on Instagram, and learning how to activate it, it's also important to know how to turn it off. It's very simple to do that and it just takes a few steps.
1 - Open the Instagram app and click on the chat icon;
2 - Go to the chat where you activated the vanish mode;
3 - Swipe up to turn off the vanish mode.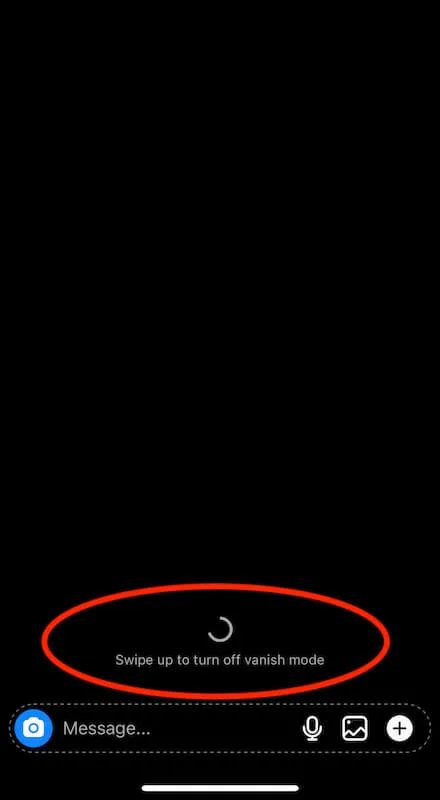 After deactivating it, your messages won't disappear. You can erase them by keeping your finger pressed on the message, then clicking on "Unsend". However, the recipient may have already seen it and taken a screenshot. In normal chat mode, you won't be notified when a screenshot is taken. 
How Vanish Mode Works on Instagram
Vanish mode can be activated only with people that follow each other. If you want to send a DM to someone that doesn't follow you, that feature won't be available. 
Once the vanish mode is activated, the messages sent previously disappear from the sceen. But, don't worry, it doesn't mean you lose them, you will be able to all the messages you have exchanged with the person in the standard chat after tuning off the vanish mode. The feature doesn't affect messages sent previously.
Vanish mode on Instagram can't be activated through the desktop version, only in the app. To indicate you are in vanish mode, the chat enters dark mode and you will see a message on the top notifying you about that. 
Enjoy Vanish Mode on Instagram
If you feel concerned about sending messages through Instagram, now that you know what is vanish mode on Instagram, you can use this to feel more secure. It gives a bigger control over who is going to see what you send, and if the person takes a screenshot you will know and can talk to them about it. Enjoy the feature.
Like what you've read?
Sign up and try JivoChat for yourself!
It's free and only takes a couple of minutes to download.