31 Best WooCommerce Plugins to Grow Online Sales in 2021
July 26, 2021
updated September 30, 2021
Reading time ≈ 15 minutes
Igor Shekotihin
Head of International Growth
Approximately 4.4 million live websites worldwide use WooCommerce, and about 3 million of those sites have an e-commerce checkout process. It's a popular platform for many reasons, one of which is its extensibility — with the variety of WooCommerce plugins available, businesses can customize their e-commerce sites with ease.
We wanted to take a closer look at what these plugins can do and how much they cost. Take a look at what we learned in our roundup of the 31 best WooCommerce plugins in 2021.
Best WooCommerce Plugins for the Customer Experience
With the proliferation of online shopping opportunities, you want to make sure your site offers an outstanding customer experience, or your customers might look for that elsewhere. Fortunately, a variety of plugins from multiple developers can help you fine-tune the customer experience and improve customer retention.
Following are some of the best WooCommerce plugins for improving the customer experience.
JivoChat
JivoChat is an omnichannel messaging platform that helps companies provide real-time customer support across all major digital channels - facebook, WhatsApp, email, Instagram, website, phone and more - from a single dashboard that syncs with your CRM. JivoChat chatbots can be configured to respond to simple queries about topics like shipping or product availability and to transfer chats to a live agent when human intervention is required.
This WooCommerce plugin also gathers data on site visitors and customers, giving teams a complete record of all interactions across all platforms. With this information, agents can easily upsell, cross-sell, or share special offers with loyal customers.
Key features
CRM integration
Automatic language translation
Unlimited chat history storage
Offline messaging
Automated agent routing
Callback requests
Chat triggers
Omnichannel support
Pricing:
$13/user/month, with a free version available and a 14-day free trial.
YITH WooCommerce Wishlist
Sometimes shoppers aren't ready to buy. When you install YITH WooCommerce Wishlist on your site, shoppers can save their favorite items and return later to buy them, or share their wishlist items with friends, family, and social networks.
With the premium version of this plugin, you can send wishlist owners an email when any of their wishlist items are on sale or back in stock. You can also customize the look and layout of wishlists.
Key features
Sharing options for logged-in and guest users
Integrates with other YITH WooCommerce site plugins
"Ask for an estimate" button for service-based businesses
Custom widget placement
Pricing:
$94.99/year. A free version with limited features is available.
Mix and Match Products
This plugin is for stores built with WooCommerce version 3.1 or newer that sell items in specific quantities — six-packs, cases, etc. When you install the Mix and Match Products plugin, users can specify variations within a container to get exactly what they want.
User reviews of this plugin rave about the prompt and personalized support and the developer's responsiveness to feature requests.
Key features
Static or responsive pricing
Dropshipping option
Customizable templates
Inventory management
Pricing:
$79/year.
Name Your Price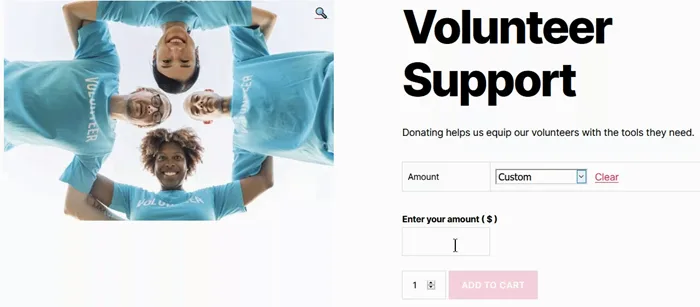 Name Your Price comes from the same developer that created Mix and Match Products. This plugin is perfect for non-profits that accept online donations and businesses that sell gift cards, because customers can choose the amount they want to pay. Businesses can also use this plugin to test how much customers are willing to pay for a specific product.
Key features
Online bill pay feature
Multiple e-commerce integrations
Invoicing add-on
Minimum or suggested price placeholders
Pricing:
$49/year.
Roles and Permissions for WooCommerce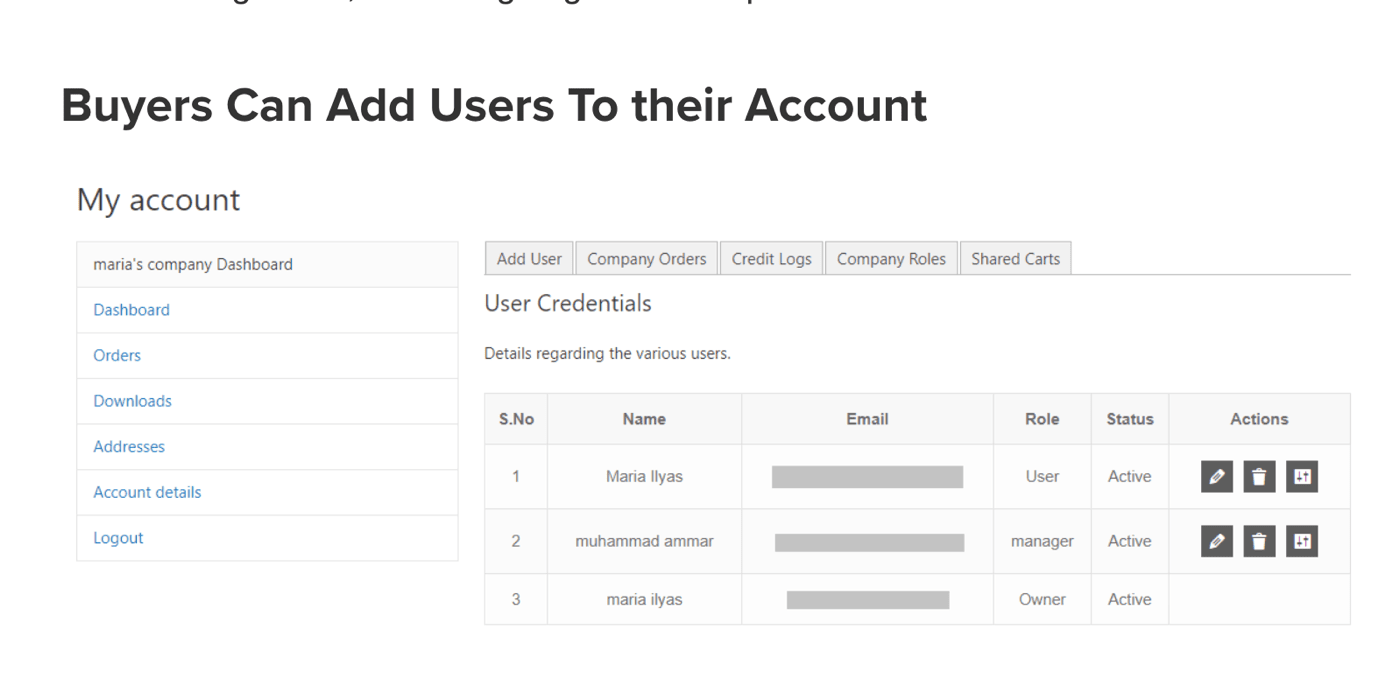 This app helps B2B customers manage their own accounts. Customers can set permissions for members of their team, track orders, monitor their remaining credit, and more. With these capabilities, B2B customers don't need to contact sellers with user access requests or inquiries about available credit.
Key features
"Shared cart" feature for getting purchase approvals
Compatible with Loco Translate plugin
Custom roles
Order history
Account details
Pricing:
$99/year.
Product Documents
With support for any file type, the Product Documents plugin makes it easy to add user manuals, demo videos, assembly instructions, and other product documents to any WooCommerce store. Documents can be configured to expand when clicked or to display automatically on a product page, and you can choose to hide product documents unless users are logged in.
Key features
Custom short codes for replicating product documents on other pages
Embedded YouTube videos
Sidebar-display widget
Easy reordering of documents
Pricing:
$49/year.
Best WooCommerce Plugins for Marketing
Marketing plugins can help you engage your customers while they're on your site or via email or social media. With features like page analytics and A/B testing, you can use plugins to refine your marketing strategies across all platforms.
Following are some of the best WooCommerce plugins for ramping-up your marketing.
AutomateWoo
AutomateWoo is a plugin that automates common marketing tasks and gives you detailed analytics about user engagement. You can set up action-based emails and drip campaigns, and get data on open rates, clicks, and conversions. Or send personalized offers or product updates directly to your customers' smartphones.
Key features
Abandoned cart emails
Birthday emails/discounts
VIP features
Active shopping cart views
Multiple integrations
Pricing:
$99/year
Mailchimp for WooCommerce
Mailchimp for WooCommerce is a multi-faceted plugin for tracking user engagement, improving customer retention, and retargeting existing and would-be customers. You can use it to drive traffic to your site from Facebook ads or other social platforms, and monitor what visitors do once they arrive on your site.
Key features
A/B testing
Retargeting ads
Audience segmentation
Email automation
Predictive purchasing analytics
Pricing:
Free.
WooCommerce Conditional Content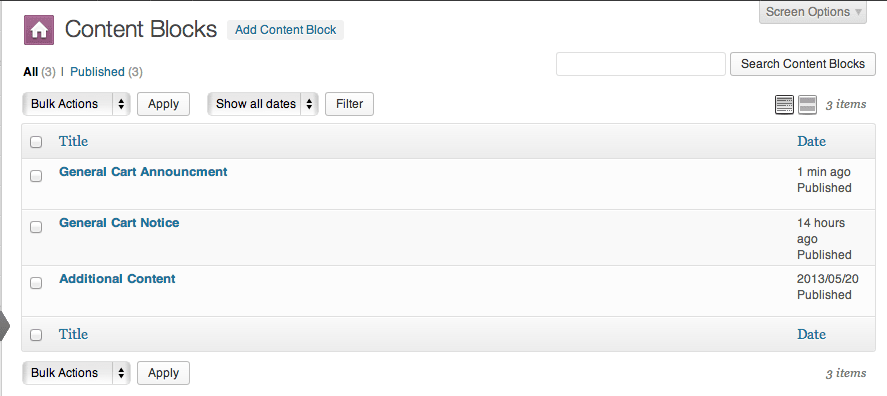 WooCommerce Conditional Content is a plugin that lets businesses add dynamic store content, without the need for a developer. Just set up rules on the backend about what content to display, and under what conditions. For example, you can choose to display messages about upcoming sales on specific products, to suggest a complementary product based on a shopper's cart contents, or to make a special offer based on user type.
Key features
Low stock messages
Dynamic product displays
Automated messages anywhere on a website
Simple bulk price updates
Pricing:
$49/year.
Best WooCommerce Plugins for Shipping & Payments
Shipping and payment processing doesn't have to be a hassle. With the following plugins, you can improve shipping and payments for your internal team and your customers.
Stripe
Stripe lets businesses accept payments via a mobile card reader or on their WooCommerce site. With no monthly fees, and the ability to accept payments in more than 135 currencies, it's easy to see why so many businesses count on Stripe for their payment processing. (Note: A valid SSL certificate is required in order to use this plugin).
Key features
SCA support for transactions in the European Economic Area
Optimized for checkout with Apple Pay and Google Pay
PCI-compliant checkout process
Reporting features
Quick setup and installation
Pricing:
Free. Paid add-ons may be required for advanced functionality.
Conditional Shipping and Payments
This plugin for WooCommerce lets you set up rules for shipping and payment that automatically offer or restrict options for the user. You can set free shipping for a product, category, or shipping class and restrict shipping methods and rates based on product weight, item count, or cart total.
Key features
Restrict payment gateways based on location or shipping type
Customize shipping and payment options based on customer roles
Set multiple conditional rules for purchases and payments
Prevent products containing batteries from shipping via Royal Mail
Pricing:
$79/year.
SplitOrders
Split Orders lets you fulfill customer orders in an Amazon-like way — when orders contain multiple items, you can ship each item as soon as possible, and use separate couriers to deliver those items.
Key features
Manually split orders by product or by item quantity
Automatically generate shipment tracking for items handled by different couriers
Split an order to send part of it to a different address
Process refunds with a single click
Pricing:
$49/year.
Intuit Payments Gateway
If you have a QuickBooks Online account set up to support Intuit Payments — a requirement for using this plugin — this extra bit of software can streamline your processes. It allows customers to securely save their credit card information for future purchases, offers a faster checkout process on mobile devices, and keeps customers on your site during the checkout process.
Key features
Meets PCI SAQ A-EP compliance standards
Accepts major credit cards
Accepts eChecks with Intuit Payments account
Automatic processing of voids and refunds within WooCommerce
Pricing:
$79/year.
WooCommerce Multi-Currency
Selling your product around the world? This plugin lets your customers quickly select their currency from a drop-down menu. You'll need to use a payment gateway that supports other currencies, or you can use the Conditional Shipping and Payments plugin to restrict currencies based on what your payment gateway supports.
Key features
Currency switcher widget
Price format conversions
"Round up to" option for cleaner pricing
Multiple integrations
Pricing:
$99/year.
Best WooCommerce Plugins for Discounts & Coupons
Delight your budget-conscious customers with discounts and coupons. The following WooCommerce plugins will help you do that.
Booster Plus for WooCommerce provides an all-in-one solution for WooCommerce store owners with over 110+ different modules to extend the core WooCommerce functionality. It packs lots of functionality in a single plugin which means you don't have to worry about plugin bloat. 
The plugin is intuitive and easy to use, even for new users. Without any prior coding experience, you can customize and create a beautiful WooCommerce store that best represents your brand. 
Key Features:
PDF Invoicing
Products displayed in different currencies with automatic exchange rates 
Customized buttons and price labels for your products
Customized products or automatic discounts
Customized checkout experience 
Customized payment gateways based on currency, shipping method, country
Enabled custom input fields (gift-wrapping, different sizes)
Custom emails and additional recipient
Pricing:
$144/year - Booster-110+ Plugins in One
Smart Coupons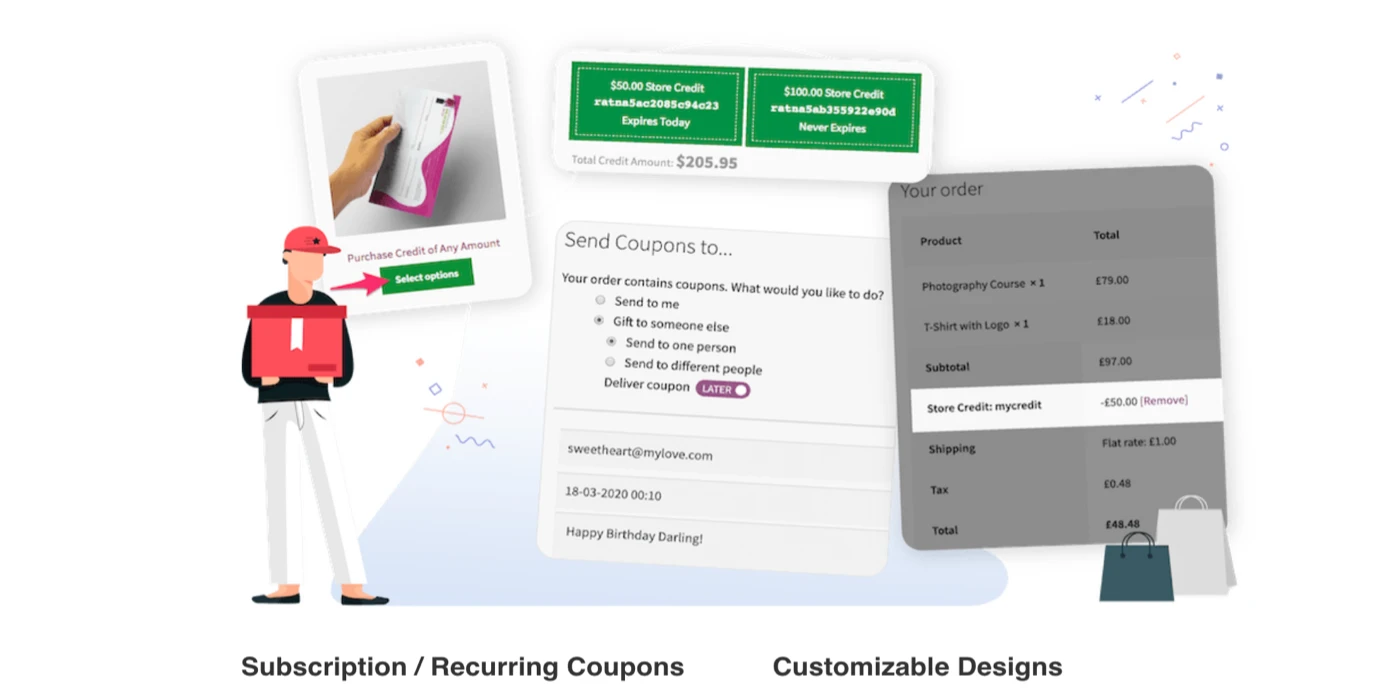 The Smart Coupons plugin offers several different ways to give customers discounts. You can choose a free giveaway with purchase, a percentage discount, a cart discount, and other types of money-saving perks. You can also embed coupons in social media posts and benefit from your customers sharing your posts.
Key features
Transferable store credits
Gift certificates
Optional free shipping
Bulk-generate coupons
Pricing:
$99/year.
Coupon Referral Program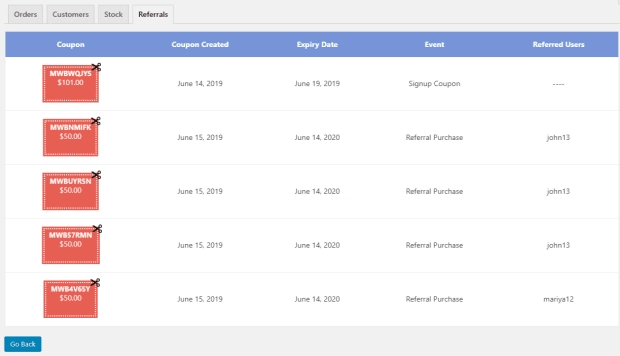 This simple plugin lets existing customers refer friends and family by sharing a link on social media or forwarding an email, in exchange for a discount on their next purchase. Reporting features show you the performance and utilization of coupons, so you can continually improve upon your promotions strategy.
Key features
Fixed or percentage discounts
Enable points earned instead of discounts
Set minimum and maximum spend for coupon usage
Set expiration dates for referrals and coupons
Pricing:
$29/year.
Spin Wheel for WooCommerce
This plugin creates an attention-grabbing spin wheel that website visitors can click on for a change to get a discount. The wheel can be placed on any page and triggered by different actions, such as exit intent or navigation to a new page.
Key features
Customizable colors, sizes, text, and page placement
Display different wheels based on mobile or desktop usage
Set duration for spin wheel display
Link the wheel to e-books or PDFs
Enable sound
Pricing:
$49/year.
Coupon Shortcodes
This plugin provides all the code you need to ensure customers are seeing accurate coupon information. The shortcodes are either conditional — based on factors like expiration date and combined offers — or informational, displaying the coupon code, text, and explanation.
Key features
Prevent the use of multiple coupons for a single purchase
Allow coupon codes only for specific products
Show customers when a coupon has been applied
Show customers when a coupon is invalide/expired
Pricing:
Free.
Best WooCommerce Plugins for Marketplace Integration
If you haven't established a presence on popular marketplace platforms, WooCommerce plugins can help you do that.
Google Product Feed
The information Google requires in order to display products in its shopping feed is much more than what WooCommerce contains on the backend. With this plugin, you can flesh out product data fields so that they're Google-ready. Once your products are formatted for and fed to Google, you can set up Google Product Ads.
Key features
Full product descriptions, including availability, gallery images, and embedded content
Locally relevant fields (such as options for picking up in-store)
Google Product Review integration
WooCommerce Multi-Currency integration
Pricing:
$79/year.
Walmart Integration for WooCommerce
This plugin for the Walmart marketplace lets you bulk-upload products and manage all of your listings from within WooCommerce. This plugin is pricier than some of the other plugins on our list, but with it, you get a dedicated account manager to help with installation and onboarding. And there's no monthly fee to sell on Walmart — the store charges third-party sellers only when they make a sale.
Key features
Pre-set product categories help Walmart customers find your products
Automatic price updating and inventory synchronization
Access to Walmart seller metrics
Pricing:
$249/year.
Etsy Integration for WooCommerce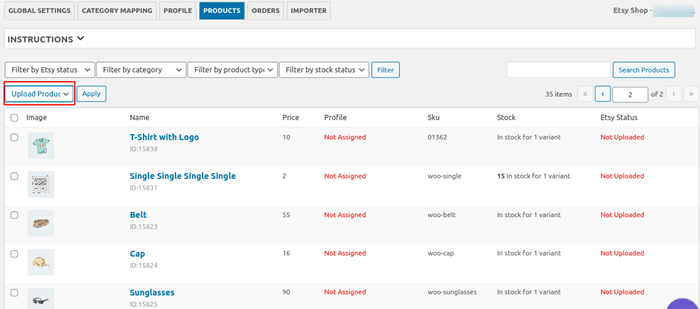 This plugin helps sellers manage product listings on Etsy and simplifies shipping for global orders, with a configurable shipping template. Etsy charges a flat 20 cents for a product listing, and listings can include variations at no additional cost.
Key features
Customizable product layout and themes
Editable style sheets
Bulk product uploads
Real-time product data sync between platforms
Pricing:
$199/year.
Ebay Integration for WooCommerce
Like other marketplace plugins, this eBay plugin allows for bulk product uploads from WooCommerce. It also includes a marketing dashboard, so you can create eBay ads and monitor campaigns.
Key features
Connect multiple eBay accounts to a single WooCommerce store
Dedicated account manager
Edit or remove listings in WooCommerce
One-click category mapping
Pricing:
$199/year.
Pinterest for WooCommerce by Premmerce
Last on our list of the best WooCommerce plugins for marketplace integrations is this Pinterest plugin. Bulk-pin products or pin them individually and see which pins users save to their boards. You can even schedule pins in advance.
Key features
Open Graph markup enhances pins
Automatic image sizing
All pins hyperlink to a WooCommerce store
Pricing:
$79/year.
Best WooCommerce Plugins for Security & Safety
These next two plugins help you protect your store from malicious bots and provide safety warnings that help customers make decisions.
ReCaptcha for WooCommerce
This reCaptcha plugin offers a simple way to keep harmful bots from accessing your store content and prevents fake registrations and unauthorized logins. You can display it wherever it's relevant, such as on the log-in page, a contact form, or on a checkout page.
Key features
WordPress integration
Easy process for users
Protects customer data
Mobile-friendly
Pricing:
$29/year.
Product Warnings & Disclaimers
With this plugin, you can easily add warnings, disclaimers, and other important messages to any product listing. These pop-ups are impossible to ignore — customers have to click a button to make the message disappear — so you can be certain they saw the content.
Key features
Can create "error" and "success" pop-ups
Unlimited number of warnings
Customizable icons
Informative pop-ups can alert customers about "final sale" items
Pricing:
$29/year.
Best WooCommerce Plugins for Accounting
QuickBooks Sync for WooCommerce
Link your QuickBooks account with your WooCommerce store, using this handy plugin. You can sync your inventory, payments, bank deposits, and more.
Key features
Compatible with any payment gateway
Support for Stripe
Global tax and currency support
No need to match SKUs between platforms
Pricing:
Free, with some features available only in a premium version ($39-$69/month).
Costs & Reports for WooCommerce
With this plugin, you can see all of your product information in a single window and quickly adjust pricing, value at cost, markup, and other features. You can also sort information by column, and export data in CSV format, and this plugin lets you run reports based on a variety of characteristics — category, SKU, variation, and more.
Key features
Bulk editing for every field
POT file for translation into other languages
Compatible with WooCommerce Subscriptions
Automatic calculations
Pricing:
$79/year.
Best WooCommerce Plugins for Customizing Store Appearance
Once you've decided which plugins you'll use to improve your WooCommerce store functionality, it's time to think about how to add visual appeal. This next and final round of WooCommerce plugins can help you create a more colorful and engaging user experience.
Product Badges
Make sure your customers are seeing the products you want them to see — use this plugin to add badges and call-outs anywhere on your site. Choose from more than 140 badges or create your own text-based badge and style it with this tool.
Key features
Countdown-timer badges
Customize badge placement
Resize width for automatic length resizing
Single dashboard for bulk or individual badge management
Pricing:
$49/year.
Product Video for WooCommerce
Easily add videos to your website with Product Video for WooCommerce. You can choose to play videos in a pop-up, on a webpage or product page, or in full-screen mode. And with this plugin, you can embed videos from YouTube, Vimeo, and other platforms.
Key features
Customizable thumbnails
Video galleries
Enable/disable auto-play
Customize video width and height on product pages
Mute videos
Pricing:
$49/year.
Nested Category Layout
Organize your store and help customers find products with Nested Category Layout, a plugin compatible with WooCommerce themes and the Genesis Framework. A nested layout requires fewer clicks from customers and presents products in a logical hierarchy.
Key features
Define number of products per subcategory to display
Simple user interface
Overrideable architecture allows customization and support for additional themes and frameworks
Pricing:
$79/year.
All-In-One Product Slider Carousel for WooCommerce
This plugin makes it easy to add a product slider carousel to pages, posts, or templates. Sliders can be vertical or horizontal, with 16 transition effects, and the option to show or hide pricing.
Key features
Customizable height and width
Responsive design
Three themes for each slider
Auto-scroll or user-activated scroll
Pricing:
$29/year.
Which WooCommerce Plugin Will You Try?
Now that you've read through our list of the 31 best WooCommerce Plugins, which ones will you be adding to your store? We recommend starting with a plugin that helps you improve the customer experience, then focusing on improving other aspects of your store later.
JivoChat's simple omnichannel messaging capability lets you delight customers wherever they may be. Answer queries, offer upsells, and impress your customers by remembering their preferences. Take a closer look at JivoChat, and sign up for your free account!
Like what you've read?
Sign up and try JivoChat for yourself!
It's free and only takes a couple of minutes to download.