How to Sell on Facebook Marketplace
Jaqueline Corradi
Content Manager
Learning how to sell on Facebook Marketplace allows you to reach your target audience on one of the world's most popular social media platforms. You can sell different products, and it just takes a few clicks to do that. 
According to Statista, Facebook has around 3 billion active users around the world as of the second quarter of 2023. It's a significant number that represents multiple opportunities for businesses. 
What Is Facebook Marketplace?
Facebook Marketplace is a space inside the Facebook platform where people can look for specific products, and find the best offer that suits them. Facebook users and companies from different sectors can sell their items.
You can browse listings, and advertise your store or products for sale too. It's possible to sell used or new items, as long as they comply with the Commerce Policies, and Community Standards. 
If you already have an ecommerce website use one of Facebook's partners to manage it, selling in this marketplace becomes much easier. Some of Facebook's partners are Shopify, BigCommerce, and Salsify. 
You can enjoy the Facebook marketplace to grow your business locally as well. When Facebook users open the marketplace page, they will see products that were announced by people and companies near them. 
How to Sell on Facebook Marketplace
It's very easy to understand how to sell on the Facebook marketplace. You will count on an intuitive interface, and you can even use the Facebook mobile app to create and manage your listings from your cellphone. 
Imagine you are moving to another country, and you want to sell your furniture quickly before you go. You don't need to create an ecommerce website to do that or have a business. When you learn how to sell on Facebook marketplace, you are able to list everything you will sell. 
Customers who live near you will see your listing and they can negotiate directly with you, including the price and how the item will be delivered. Both sides, buyers and sellers, can enjoy using a safe platform to make the transactions. 
Another possibility is for companies that already have an online store and want to facilitate the buying process for their customers who are active Facebook users. You can make your whole inventory available on Facebook Marketplace, so people don't need to leave the social media platform to complete a purchase.
To list a product, all you have to do is: 
1 - Enter your Facebook account;
2 -  Click on "Marketplace"
3 - Click on "Create new listing";
4 - Choose the "Listing Type";

5 - Add the title, description, price, and photos of the item;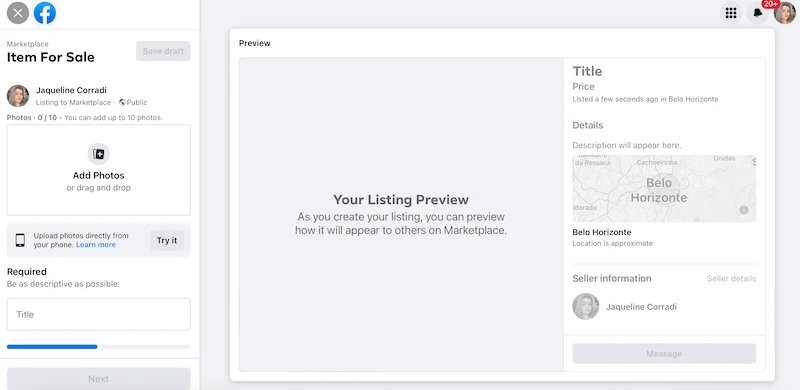 6 - Click on "Next";
7 - Review the information and click "Publish". 
Facebook Marketplace Rules
To learn how to sell on Facebook marketplace is essential to get to know the platform guidelines and make sure you comply with them. 
What You Can Sell on Facebook Marketplace
You can sell a wide variety of products on the Facebook marketplace, even cars and properties. Some of the categories available are:
Vehicles
Property rentals
Apparel
Electronics
Entertainment
Family
Garden & outdoor
Hobbies
Home goods
Home improvement supplies
Musical instruments
Office supplies
Pet supplies
Sporting goods
Toys & games
What You Can't Sell on Facebook Marketplace
To make sure your product can be sold on Facebook, check the instructions in the Terms and Policies Commerce. You can't commercialize:
Adult products
Alcohol
Body parts and fluids
Digital media
Documents
Currency
Gambling
Hazardous goods
Sexual services
Ingestible supplements
Animals
Jobs
Medical and healthcare products
Prescription products
Drugs
Drug paraphernalia
Recalled products
Stolen goods
Subscription and digital products
Used cosmetics
Weapons
Ammunition
Explosives
Benefits of Selling on Facebook Marketplace
There are several benefits of learning how to sell on Facebook marketplace. It's worth enjoying all the features the platform has to offer and dedicating yourself to attracting new customers.
Expand Your Reach
By listing products on the Facebook marketplace, you have the opportunity to expand your brand's reach. A part of your target audience, who have never heard of your company, may be active on Facebook, therefore you increase the possibility of being seen by them. 
Improve Customer Experience
The Facebook marketplace enables users to make purchases without leaving the platform, which facilitates the process. When you offer this option to your clients, you allow them to choose the way they prefer to buy, providing a more personalized customer experience. 
Increase Profit
As a consequence of expanding your visibility, reaching more customers, and facilitating the purchase process, you are likely to increase the number of sales, which leads to more profit. 
Facebook Marketplace Best Selling Practices
Whether it's a company or an individual selling on the Facebook marketplace, it's important to follow some practices to avoid customer dissatisfaction, maintain a good reputation, and sell more. 
Add High-Quality Photos
Choose high-quality photos that represent the product as close as possible to reality. By doing this, you reduce the devolution rate. Customers will know what they are buying, and won't get any bad surprises when seeing the item. 
Also, add pictures that show the product in different angles, and its details. For example, if you are selling a pair of jeans, you should take photos of the back and front, and any special detail it has such as an embroidery. 
Write a Detailed and Accurate Product Description 
You must write a product description that contains all the important information about the product, including its brand, weight, size,  and color. Explain its functions, and how it will help the customer solve their demands. 
Answer Your Customers Fast
Time matters when someone is buying online, pay close attention to your messages and try to answer customer questions on the same day. If you take too long, it's likely the person will close a deal with someone else. 
Respect the Delivery Time
If you are going to ship the products you sell on the Facebook marketplace, analyze carefully the time it takes to prepare the orders and send them. Once you stipulate a delivery time, it's important to respect it, otherwise, your customers may have a bad experience, which affects your credibility. 
Ask for Customer Reviews
After a customer receives their product, send a follow-up message asking about how their buying experience was. Feedback is essential to learning how you can improve your services. Besides, you can ask permission to use their reviews to promote your store and products, which adds credibility to your brand.
Enjoy the Facebook Marketplace
Now that you have learned how to sell on Facebook Marketplace, explore all the features the platform provides and start selling. Remember to keep yourself updated about changes Facebook may implement over time.
You can also enjoy Facebook to promote your brand and products. It's possible to create personalized ads focused on the audience you select and redirect people to the marketplace, so they can buy your products without leaving the social media space.
Like what you've read?
Sign up and try JivoChat for yourself!
It's free and only takes a couple of minutes to download.