Learn How to Sell on Shopify
January 14, 2022
updated July 27, 2023
Reading time ≈ 11 minutes
Jaqueline Corradi
Content Manager
What about learning how to sell on Shopify and enjoy the continuous growth of ecommerce sales? With the pandemic, more and more people started opting for buying online instead of going to physical stores and that trend tends to remain strong.
According to a Statista research, in 2020, the e-retail revenue amounted to 4.28 trillion US dollars, and it's expected to reach 5.4 trillion US dollars in 2022. With Shopify, you have the opportunity to sell online using an easy-to-use platform, which provides you with several tools.
Shopify is a subscription-based ecommerce platform where you can build your online store, fully customize it, and have a domain of your own. It doesn't require any coding or design skills to have your store running. 
It enables you to develop an ecommerce website from pre-built templates, align with your brand's visual identity, and, after it, manage your sales on the platform. Shopify also has several other features, like Shopify POS (Point of Sale) where customers can buy online and pick it up at the store, or buy in one of your stores and have the product delivered to their homes.
Shopify also allows you to sell in multiple sales channels, such as Facebook, Instagram, Walmart, and eBay, and manage everything in a single place. You are also going to encounter digital marketing tools, for example, to run your ads on Facebook.
What You Can Sell on Shopify
You are allowed to sell a huge variety of products on Shopify, which includes: 
Beauty supplies and accessories
Classes and lessons (physical or digital)
Clothing
Ebooks
Handcrafted goods and supplies
Memberships
Subscription boxes
Tickets for events (physical or digital)
The items you aren't allowed to sell are: 
Alcohol
Anything that promotes self-harm
Anything that promotes hateful content
CBD
Fireworks
Firearms and weapons 
Gaming currency and anything that endorses gambling
Items that do not comply with Shopify's  COVID-19 regulations
Items that facilitate or promote illegal activity
Items that infringe on intellectual property
Items that infringe personal or confidential information
Items that aim to deceive or transmit malware
Tobacco, cigarettes, and e-cigarettes
Pharmaceuticals
Solvents
How Much Does It Cost to Sell on Shopify?
Shopify offers a variety of plans, which you can choose according to your business size and needs. It also gives a 14-day free trial with no credit card required. The plans are the Basic, Shopify, and Advanced. 

Basic: USD 29 monthly. It's directed to new ecommerce businesses with occasional in-person sales.  
Shopify: USD 79 monthly. Recommended for growing businesses, which are selling online or in-store.
Advanced: USD 299 monthly. Indicated for scaling businesses that demand advanced reporting,
The Difference between Shopify Lite and Plus
The prices listed above refer to Shopify Lite, which is focused on B2C business, with solutions to small and medium companies. It allows you to have an ecommerce without having to spend much.
If you are looking for a B2B ecommerce platform, Shopify plus is the one recommended for you. It offers enterprise-grade solutions for high-volume merchants and large businesses. 
Benefits of Selling on Shopify
Easy-to-use
Learning how to sell on Shopify is easy because they have an intuitive interface where you can quickly understand how it works, saving time and enhancing productivity. You don't need to know code to manage your ecommerce website since you are going to count on several tools to help you with that. 
Customizable Themes
Shopify provides a huge variety of free and paid themes that were created by designers to help you build your ecommerce. They are divided into store categories, such as clothing and accessories, home and garden, health and beauty, and art and entertainment. 
You can choose the theme that better suits your business needs, then customize the colors, images, and fonts with the drag and drop store builder. All the themes have a responsive design, which means they were developed to provide a great user experience on desktop and mobile devices. 
Sell in Multiple Channels
Another advantage of learning how to sell on Shopify is that you will be able to commercialize your products on multiple channels and manage the orders and the inventory on the same platform. 
You will be able to use Facebook, Instagram, Tik Tok, Google, eBay, Walmart Marketplace, and many other platforms to sell, expand your reach, and also implement marketing strategies. 
24/7 Customer Support
If you have any problem with creating your store on Shopify or regarding its maintenance, you are going to count on 24/7 customer support. You can ask for assistance through email, phone, or live chat. 
App Store
To improve your ecommerce website, Shopify also has an app store where you are going to find a variety of apps, free and paid, to implement new functionalities to your site. There are apps focused on SEO, email marketing, web search, customer feedback, management, customer support, and many more. 
With Shopify Payments, you can accept credit cards and other popular payment methods on your online store.
You won't need to deal with third-party activations, you will just need to create your account on Shopify Payments and set everything up from it. You can enable payment on local currencies as well.
PCI (Payment Card Industry) compliant, Shopify Payments helps to have a simple and fast check out, and also secure, keeping business and your customers' data safe. It supports 3D Secure Checkouts and allows you to track orders and payments in one place. 
If you are worried about how to sell on Shopify and find the best methods to deliver the products, the platform also provides shipping solutions.
With Shopify Shipping, you can save up to 88% on shipping rates, with discounts on USPS, UPS, and DHL. You also have the option to buy and print labels in Shopify to prepare the packages. 
By enabling this feature, shipping is going to be built in on your account, making the setup much easier. You can use default rates at checkout, pay the shipping costs in the same bill of your Shopify subscription, and include international shipping too. 
8 Steps on How to Sell on Shopify
1. Develop a business plan
The first step to start an ecommerce is to create a business plan. What products are you going to sell? Who is your target audience? Where are your competitors selling their products? How are you going to calculate the products' prices? 
If you already have a physical store, probably answering these questions is going to be easier. On the other hand, if you are starting your company now, it's going to require more research and planning. In both cases, it's necessary to understand the particularities of selling online.
Once you have your business plan defined, it's going to be easier to set up your store using Shopify. 
2. Create an Account
Access Shopify home page, click on "Start free trial", then fulfill the information required. Insert your email address, create a password, and what is going to be the name of your store.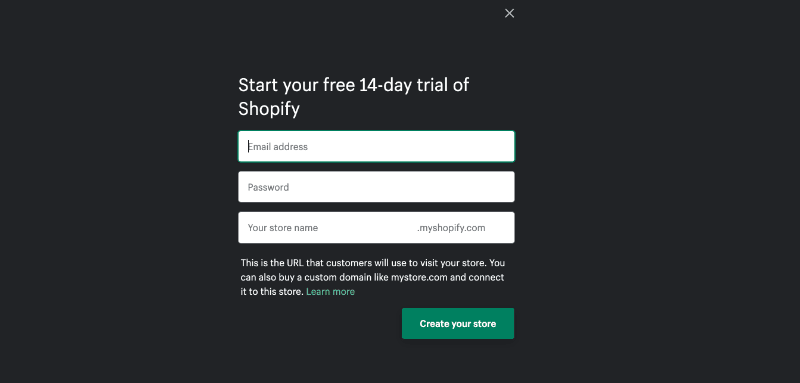 After this, Shopify will ask you for more information, including if you are already selling, your current revenue, and, to finalize, your contact information. That's it, your store has just been created, and you can check out the admin panel.  You will have 14 days to test the platform for free. 
3. Insert Your Domain Address
In the admin panel, you are going to see the button "Add domain", click on it to set the website address of your ecommerce, the URL. Keep in mind that it's important to create a name easy to remember, short, and with simple spelling, aligned with your brand identity, to help people find your store. 
You have the free option to use the name you choose with the ending "myshopify.com", but you can buy a custom domain or use one you already have. Usually, the ones that end in only ".com" are easier to remember. 
4. Choose a Theme
After setting the domain name, it's time to create your store template. You have two options, customize your theme from scratch or choose a pre-built one and edit it.
In both cases, it's important to have a design that is aligned with your brand's visual identity and make sure the website is going to look great on desktop and mobile devices. 
Search through the options of themes that Shopify offers, there are free and paid ones. Usually, the paid themes provide more features and functionalities such as adding videos, slideshows, and a multi-level menu to your home page. You will need to analyze according to your budget and priorities. 
5. Set Up Payment and Shipping Methods
You also have to define what payment and shipping methods you are going to use before launching your ecommerce. First, click on "Set up payments", then go to "View payment settings". 
You have the option to use Shopify Payments, PayPal, Amazon Pay, or include a third-party provider. It's possible to select multiple payment options, you don't have to add just one of those. 
It's advisable to use popular payment gateways such as PayPal because people are used to them and tend to trust more with these options. After picking up the ones you desire to put available, click on "Complete account setup", where you need to fulfill your business details and banking information. 
To add the shipping methods, go to "Settings" and select "Shipping and delivery". Enter the address from where you are going to ship, choose the rates and the carriers you wish to use. If you use Shopify Shipping, you are going to find other features to make your shipping process easier to manage and less expensive. 
6. Add Products
To add products to your Shopify store, click on "Products" in the admin panel, then you have the option to add the products manually or import by a CSV file. The manual mode is recommended when you sell just a few products. 
You are going to have to fill in the name, description, type, quantity, color variation, size, price, and other information, and upload the images. Be careful and pay close attention to every detail you add, so the customers can have access to as much information as necessary to make the purchase.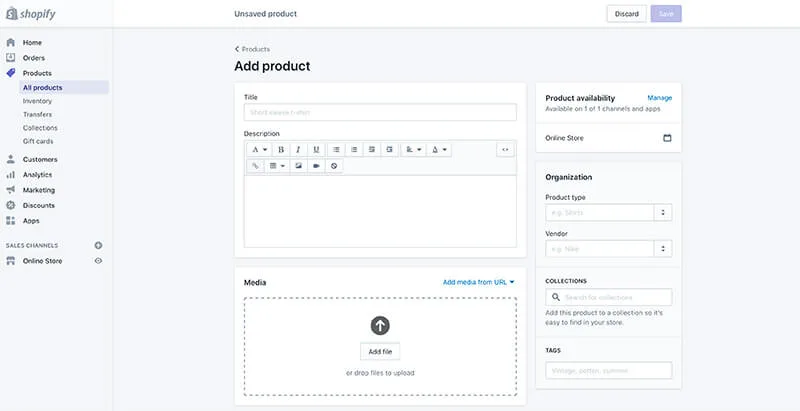 The quality of the images added is essential. They need to show the product as close as possible to reality, which helps to avoid having a high return rate. Include relevant keywords on the description as well, to help find the products on searches. 
 If you have a big inventory, though, the best option is to import by CSV file, through a bulk upload. On the "Products" page, click on "Import", and choose the file. If you don't have it prepared, you can download the "sample CSV template", and follow the model.   
7. Install Apps to Improve your Ecommerce
After creating the store template, and setting the main configurations, it's time to take a look at the app store to see which ones can help you to add functionalities that are going to enhance user experience. Analyze all you have set, what features do you think are lacking on your website? 
Look for apps that will enable you to insert them. You are going to find a big variety of paid and free ones, once more it's important to check your budget. You can also install apps to help you implement the best SEO practices, manage the inventory, and to provide customer assistance, among many other possibilities. 
8. Invest in marketing strategies to boost sales
Now that you know how to sell on Shopify, the work isn't done yet. To invest in your business growth, it's also necessary to develop a marketing plan. Enjoy the social media potential to help you gain more visibility, conquer leads, and turn them into customers.
Learn How to Sell on Shopify is Just the Beginning
Understanding how to sell on Shopify is the start to investing in your company's growth online. Once you have created your ecommerce website and launched it, you have a world of possibilities to explore, including selling internationally. 
Follow the activities on your online store closely to avoid any mistakes, create a workflow to manage the inventory, the shipping process, customer assistance, and the implementation of marketing strategies.  
Analyze the data you are going to have through your website to get to know your leads and customers better, and continuously think of ways to improve. This way, you are going to be able to expand your reach and revenue, enhancing the ROI. How to sell on Shopify gives you many opportunities, enjoy them.
Like what you've read?
Sign up and try JivoChat for yourself!
It's free and only takes a couple of minutes to download.