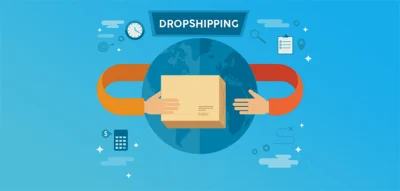 How to Start a Dropshipping Business
When talking about the digital market, ecommerces, and starting your own online store, it's hard not to stumble upon the term dropshipping.
Whether you're a new entrepreneur looking to enter the world of digital businesses or someone who already owns an ecommerce, starting a dropshipping business could be the next step to leverage your sales.
But what is dropshipping? How to dropship?
Tag along as we explore this online business model and find out what you need to start selling online without the need of having a production site.
What is dropshipping?
Essentially, dropshipping is a business model that enables companies to operate and sell products without needing to own a warehouse, control inventory, and manage product stocks.
In practice, the company partners up with a dropshipping supplier and opens a digital storefront to sell their products, acting as a man-in-the-middle for the sales operations.
Customers will order from your business and receive the product directly from the dropshipping supplier's warehouse on your behalf. The supplier is in charge of manufacturing, storing, packing and delivering.
The image below explains the general process of dropshipping:
The customer places an order;

You keep your part of the profits and forward the order to the dropshipping supplier;

The supplier delivers the order to your customer.
Pretty straightforward, right? This business model is ideal for entrepreneurs who don't want to or can't manufacture and store products and don't mind sharing profits with a supplier.
It's also a great way to expand and scale ecommerce businesses without needing to rent or own more warehouses.
How to dropship?
Now that you're familiar with how dropshipping businesses work in general and know what is dropshipping, the next step is to understand exactly what you need to do to start.
Create your online store
There are many ways to start selling with this business model. One of the most recommended ones is by launching an online store using an ecommerce platform that supports dropshipping stores, such as Shopify, for example.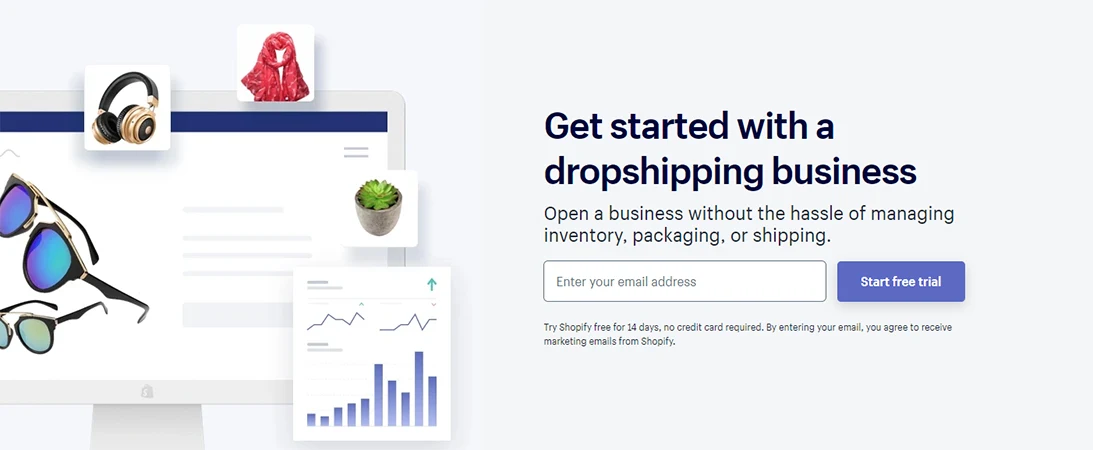 Besides helping to jumpstart your business, Shopify offers a 14 days trial and an extensive guide on how you can find suppliers, business opportunities, and products to sell online.
Besides Shopify, there are other ecommerce platforms that support this business model, such as BigCommerce, which helps you find suppliers for a wide range of categories, including shoes, jewelry, furniture, beauty & cosmetics, electronics, etc.
Sell on marketplaces
Instead of creating your online store, you can also leverage marketplaces such as Amazon, eBay, and others to start selling.
All you'll need to do is find suppliers, create your retail account on said marketplaces and start running your ads to highlight your products.
In fact, Amazon is able to ease that process because they source suppliers within Europe to buy products in bulk and hold this supply on Amazon warehouses.
By starting a dropshipping business on Amazon, you'll be able to talk with account managers who will guide you through the process and help you maintain your business in the long term.
Sell on social media
If you don't want to have your own online store nor to work with marketplaces to sell your products, social media could be the next best option on the list.
If you already have suppliers at your disposal and products to market, you can leverage Facebook Ads and Instagram Shopping to sell online.
The benefit here is that you'll avoid maintenance costs and charges over sales imposed by the other alternatives presented above.
Dropshipping benefits
You may be wondering what are the benefits of starting a dropshipping business instead of creating your ecommerce, managing inventory, and owning your whole sales process. Here are some of them.
Save on inventory costs
The most obvious advantage is how much you can save on inventory costs, as well as packing and delivering products and, of course, personnel.
Instead of having to worry about all of these, as we mentioned on our how to dropship section, you can direct all your resources and attention to selling.
Of course, this also means you'll be sharing profits with the supplier, so it's a matter of finding a good balance on how much you need to spend to acquire new customers and your profit margin.
Find what products convert best
Another great benefit is that dropshipping stores can quickly test different products and find what converts best. This allows them to not invest as much on products that sell less or even stop selling them altogether.
On the other hand, if you were to manage your inventory as is the case for most ecommerces, there would be no actual way of getting rid of a product already in your warehouse besides trying to sell it.
Sell globally
Last but not least, dropshipping is a business model that does not impose restraints on where you can sell, essentially allowing you to sell globally by finding suppliers in different parts of the world.
Thus, as we mentioned earlier in this article, businesses can use this strategy to scale and expand their reach.
Use JivoChat to boost your dropship sales
We hope we were able to explain what is dropshipping, how to start, and which digital sales channels you can pick to start selling online.
But we still haven't touched on how important it is to provide high-quality customer service to boost your sales and help you retain more customers.
Whether you're selling on your online store, on a marketplace, or social media, you must be able to approach customers and assist them in real-time, answering their questions and solving problems while they browse your offers.
To do that, consider investing in a live chat solution such as JivoChat.
JivoChat allows you to monitor visitors in real-time and set up smart triggers to engage with minimal effort. It's considered one of the best apps to install on your Shopify store. And the best part is: you can install JivoChat for free and start driving sales right now.
Like what you've read?
Sign up and try JivoChat for yourself!
It's free and only takes a couple of minutes to download.