10 reasons live helper chat is the best type of customer service
Clayton Quist
Customer Service Genie
Although widely used, especially amongst ecommerce sites, live helper chat tools are still often underrated by online businesses. They aren't considered vital, and are sometimes even completed ignored, even by businesses with an active online presence. This is normally the case with physical companies, with shops or service providers, that then start building an online presence. They don't, however, make the most of this presence by adding a way for their clients to contact them, opting to stick to the customer service channels they're used to.
By not having online customer service available through a live helper chat, these companies can lose the chance to win loyal customers and even close new deals. This is because an online chat isn't just a responsive tool, it also has various, more active features, like the proactive invite, one of Jivochat's [features] (/features/). We've put together this list of 10 reasons why live helper chat is the best form of customer service for your business!
1. Instant service
There's no need to wait for a reply via email, as is the case with the infamous contact forms you find on websites. Although using a combination of a live helper chat and a contact form is useful, especially outside working hours, when you use a chat, clients can get answers to any queries or complaints immediately, avoiding a build-up of requests for the following day. What's more, the quicker you can deal with a client, the higher the chances that they will become loyal to your business.
2. Less effort for clients
Although customer service through the phone is also instant, it isn't as practical as online customer service. Through an online chat tool, a client or visitor can be dealt with directly, on the site. A window is ready and waiting for them to ask any questions they might have. Meanwhile, telephone customer service means that a customer has to look up a number, make a call and, probably, be put on hold whilst waiting for an available operator.
3. One operator can deal with various clients simultaneously
Another of the big advantages of using an online chat, as opposed to telephone customer service, is that operators can speak to more than one customer at once. As most conversations are had via written messages, one operator can deal with more than one client at once.
In this way, interactions become more flexible, both for the company and the clients, who wait for less time to be dealt with. Of course, it's always worth remembering that overburdening an operator with too many customers at once can have the opposite effect, as they can take too long to answer or confuse customers, amongst other things.
Have a look at: [28 ways of increasing visitor numbers and conversions on your online shop] (/blog/ecommerce/ways-of-increasing-visitor-numbers-conversions-online-shop.html)
4. It also allows voice chats
Anyone who thinks that live helper chat can only be done through messages has got it all wrong. For people who prefer to speak to the person attending them, some online chat tools, including [Jivochat] (/pricing/), let the client request a voice call. This is an even greater advantage over telephone customer service, as calls done through online chat services aren't charged for.
5. Allows for instant exchange of archives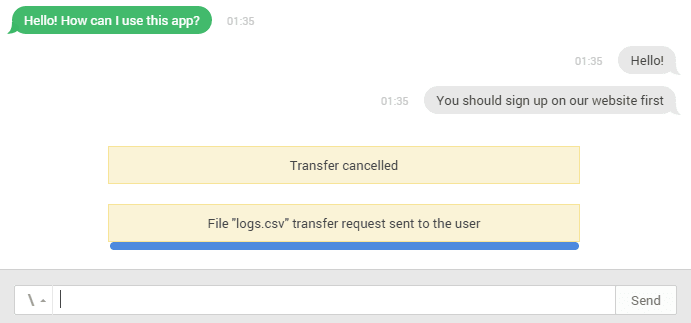 Although you can attach files to emails, customer service done via online chat can speed up bureaucratic processes that could take days if done through another channel. Photos and pdf copies of documents like ID or a driving licence can be sent via the chat, if necessary for confirmation. Using live helper chat can help you speed up even the most complicated of processes.
6. Allows for more convenient gathering of information
How many times have you felt uncomfortable having to constantly confirm or give information, even when you thought it wasn't necessary? Probably countless times, just like us. However, with a live helper chat things are different. Visitors and clients rarely complain about having to repeat information constantly, if there is a customer service strategy that helps to avoids it.
JivoChat, for example, has pre-chat forms, with which business owners can request the information essential to sign their visitor up to their database. The form can be sent to a visitor before they're attended to, so your operators don't have to ask for this information. If you integrate your chat with your [CRM tools] (/blog/sales/crm-tools.html), for any future conversations, your attendants could have access to this information in advance.
Have a look at: 19 steps to setting up your online shop
7. Follow clients and visitors in real time
One of the advantages of online chats is the possibility of following the movements of visitors to your site. This has various benefits for your business: you can help clients to find buttons or specific items, or even make suggestions based on their movements. This makes conversions more likely, as you can assess a client based on what they've looked at rather than just making assumptions.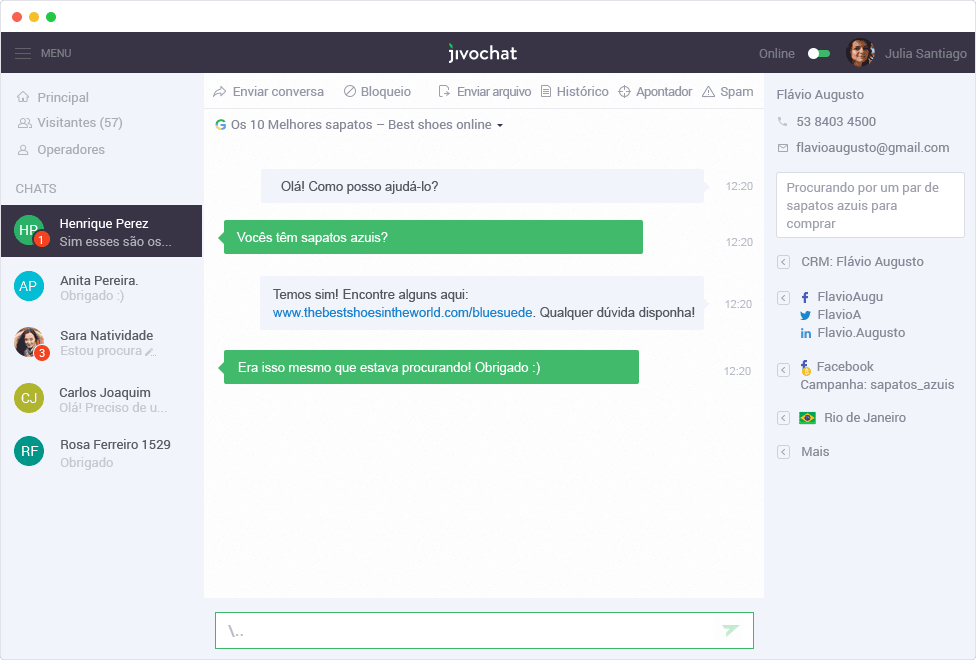 8. Sending pre-written messages
Unlike telemarketing customer service machines, the operator manually selects pre-written chat messages. Rather than having to go through various steps before managing to speak to an actual person on the other end of the line, with chat a customer is always speaking to someone. Rather than 'getting rid' of a client by letting them be dealt with automatically, automatic replies on live helper chats just make the process faster, without stopping the visitor from having access to an attendant.
9. Flexibility and portability
Using a live helper chat system is generally more flexible than other types of customer service. Although email can also be used on mobile devices, some chat platforms don't only offer applications which let you access your chat on mobile devices, but also lets you incorporate them into your own app, if you have one. This means that you can speak to customers wherever you are, at any time of day, and even answer queries via your own app, if this is the main way that your customers contact your company. Don't forget that Jivochat offers this feature!
Refer and Earn: JivoChat Affiliates Program
10. No need to separate internal sales from customer service
With the right training, there's no need for you to have separate sales and customer service teams. Through tools like proactive invites, your operators can approach visitors to the site, automatically putting themselves at the customer's disposal and guiding them through the process of finding what they're looking for, right through to the closing stages of the sale.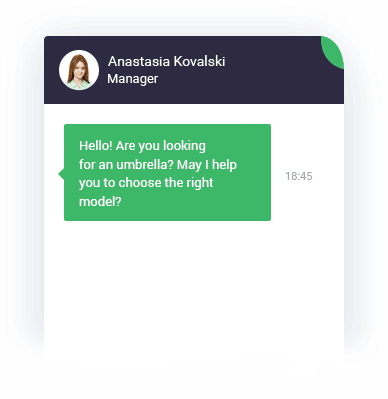 Find out more advantages of having a live helper chat
Having read these 10 reasons, why not visit our page where the [features] (/features/) Jivochat has to offer are outlined, and find out about the huge advantages of using a live helper chat system for your business for yourself!
Like what you've read?
Sign up and try JivoChat for yourself!
It's free and only takes a couple of minutes to download.