How to create ads using LinkedIn Campaign Manager
January 3, 2022
updated April 10, 2023
Reading time ≈ 11 minutes
Jaqueline Corradi
Content Manager
If you have a B2B (Business to Business) company, inserting LinkedIn in your marketing plan is essential, and that includes learning how to use LinkedIn Campaign Manager.
Focused on professional networking, the platform is the perfect place to reach decision-makers in the companies you want to close deals with and speak directly to them.
By creating ads on LinkedIn, you can target them to a specific audience, conquering more visibility, leads, and, consequently, selling more. It's important though to get to know the platform's particularities and features to make the most of it. 
What's LinkedIn Campaign Manager?
LinkedIn Campaign Manager is the place where you are going to create and manage the ads for this platform, as the name already implies.
You will be able to define your marketing objective, select the type of ads you desire to use, choose your target audience, create ad accounts, control how much you want to spend, and track results. 
Types of LinkedIn Ads
Sponsored Content
Sponsored Content is the type of ad where you will create a post and sponsor it to appear on your target audience timeline among the organic content.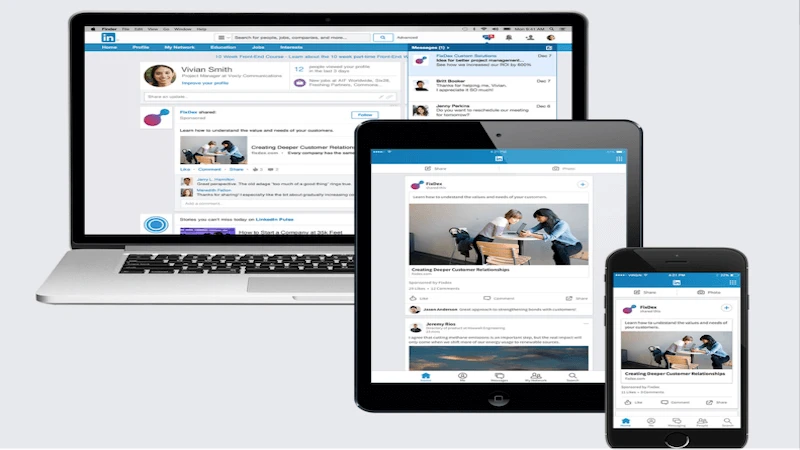 You can make it in different formats, using a single image, a carousel, or a video, for example, the post will be labeled as "promoted", to enable users to know that it's an ad.  
Message Ads
By using message ads, you can deliver messages directly to your audience's LinkedIn inbox from a personal account.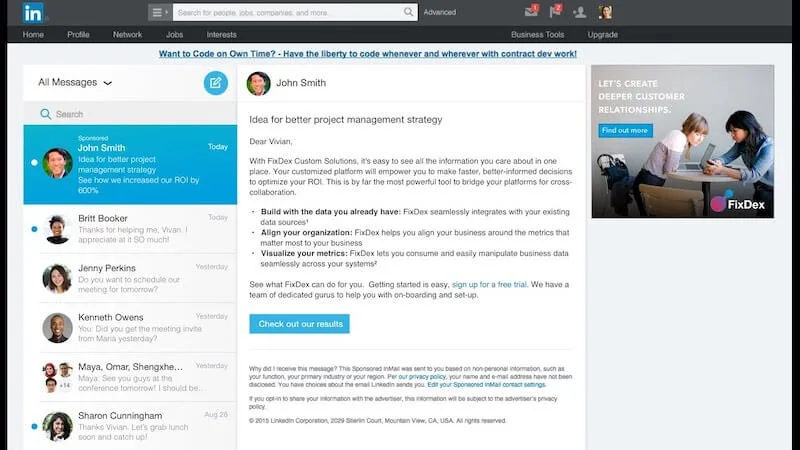 This allows you to have a more personalized conversation with possible leads, and stimulate engagement. To avoid flooding the users' inbox, LinkedIn prevents that the same ad is sent in a short time to the same person. 
Dynamic Ads
Dynamic ad is a type of personalized ad where the content changes according to the person that is seeing it. LinkedIn uses the personal data from your target audience to tailor the content and create a more effective ad for each person. 
You can make dynamic ads in 3 formats, each one with a different purpose:
Job ads: promote open jobs. 
Follower ads: increase visibility to your LinkedIn company page and gain more followers.
Spotlight ads: advertise special offers.
Text Ads
The text ads appear on the column on the right side of LinkedIn's page or the top. It can help you to reach a wider audience, creating brand awareness, but without having to spend much.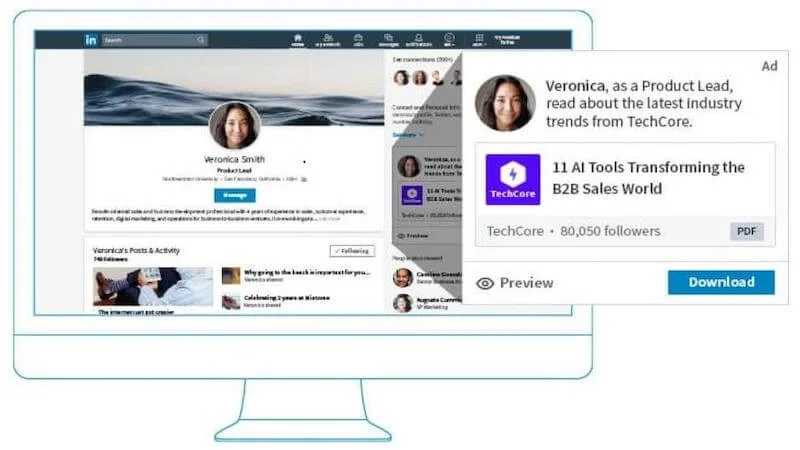 The benefits of advertising on LinkedIn
Reach a Professional Audience
LinkedIn has become the main social media platform when it comes to professional networking. With more than 750 million users, 4 out of 5 users are decision-makers in their companies, according to LinkedIn data.
This means by advertising on LinkedIn, you will have the power to show your company, products, and services to people who can impact the decision process of, for example, hiring a new supplier, or buying software, in their enterprise. 
Create Target Ads Using Industry-Specific Variables
LinkedIn allows you to narrow your ads to target a specific audience, which increases the chances of being seen by potential leads, and helps to amplify the conversion rates. You can go beyond adding standard demographic criteria and set the ads to appear according to  industry variables, like:
Degree type and name
Job function
Job title
Seniority
Company name
Company size
Skill
Industry sector
Have Access to Different Advertising Types
LinkedIn also gives you the possibility to use different types of ads, which enables you to create even more effective marketing campaigns on the platform.
With the sponsored content, text ads, message ads, and dynamic ads, you have the opportunity to develop different strategies for each one and choose which type better suits your purposes.
Use Objective-based Advertising
One of LinkedIn's advantages is that it uses objective-based advertising, which means you can develop a campaign by choosing your goal first, and then choose the formats according to it. 
Having a clear purpose for each campaign makes it much easier to draw strategies, define the best types of ads, and also select your target audience. Besides, you will be able to know which are the most relevant metrics to watch for. 
How to create a campaign on LinkedIn
1. Create a LinkedIn Page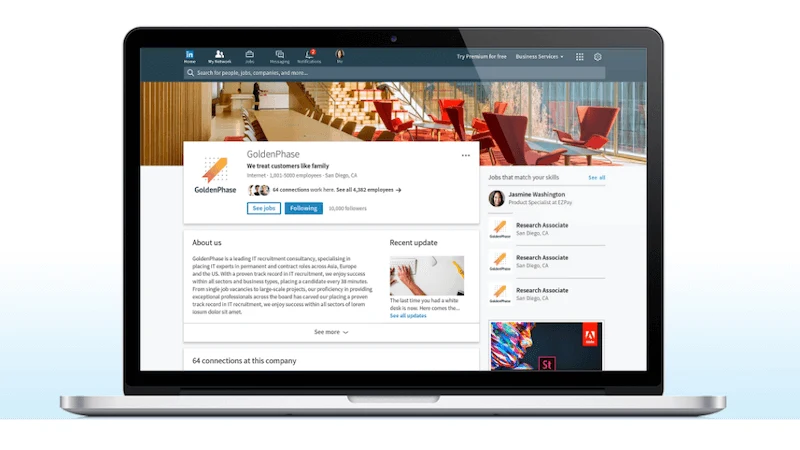 If your company doesn't have a LinkedIn Page, the first step to developing a campaign is to create one, which is required for specific advertisement types, such as sponsored content.  To make a new page, you just need to go to the LinkedIn Pages section, and click on "Create your Page". 
Then, choose your business' category, fill in the company details, including the company's logo, and a tagline. To have a complete page, which helps to get more visibility, it's important to also insert the company's website, description, location, a cover photo, and hashtags. 
2. Go to LinkedIn Marketing Solutions
With the LinkedIn Page created, the next step is to go to LinkedIn Marketing Solutions' page. You are going to click on "Create an ad", and be redirected to LinkedIn Campaign Manager where you can create an account if you don't have one already.
After signing in, on the Linkedin Campaign Manager dashboard, select "Create Campaign" to start setting it. To help you organize your campaigns, you are going to see that they are divided into groups. If this is your first campaign, you can create a new group, and rename it as you wish. 
3. Define Your LinkedIn Campaign Objective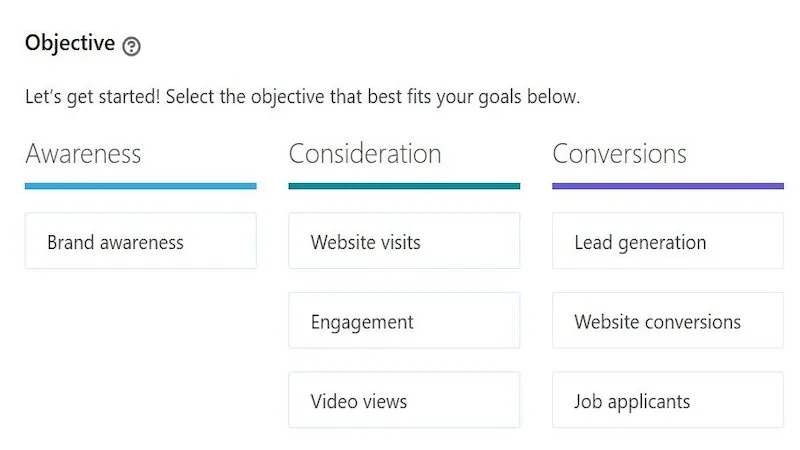 In LinkedIn Campaign Manager, you will be able to choose your campaign's main goal among three options, which also have subcategories. 
Awareness: brand awareness.
Consideration: website visits, engagement, video views.
Conversions:  lead generation, website conversions, job applicants, talent leads.
Selecting the objective is going to help to create a campaign more focused on it, which can give you a better return on investment (ROI), and you are going to know better what to look for in the reports. 
4. Select Your Target Audience
You are going to choose who you want to see your campaign by adding different criteria such as location, job title, industry sector, job title, and many others. 
To target your audience with accuracy, it's important to have a complete study of your audience, to know their profiles. Also, consider the campaign purpose when you select the target audience, it will vary depending on the goals, probably it will be a broader one if you aim to create brand awareness, for example.
5. Choose the Ad Format
The next step is to select which is the best format for your ad, you can choose among sponsored content, message ads, dynamic ads, or text ads. To help you to select the most suitable ad type for your goal, LinkedIn Campaign Manager provides you with forecast results according to the formats.
It analyzes your goal, target audience, bid, budget, and other parameters and compares them with similar campaigns, so you can have an idea of what to expect. Analyze the data provided, and also consider how much you are willing to spend. 
If that's your first campaign, you probably are going to have to make a few tests to understand what type of ad works better for you, and also to build an ad that catches your target audience's attention. The content and design of the ad affect the results as well.   
6. Define your Budget, Schedule, and bid
To have your LinkedIn ad campaign running, it's necessary to set its budget. But, how do you know how much money you should spend? If it's your first campaign, it's advisable to invest less in the beginning, so you can do some tests, and, then, create other campaigns with higher budgets. 
As you see the results and get to know your audience better on LinkedIn, it's possible to create more effective campaigns. Follow the metrics, and analyze them carefully. If you see a campaign is giving great results, you can expand the budget along the way.
Another aspect that you need to define is the campaign schedule. You are going to choose a date when it starts, and you can decide if you wish to insert an end date or if you want the ad to be shown continuously. 
It's also necessary to choose the bid type. There are 3 of them: 
Automated bid: LinkedIn determines what amount is going to maximize your campaign, according to the goal you have defined.
Maximum cost-per-click bid: you will pay according to the number of clicks your ad gets, then you can define which is the maximum value you are willing to pay for each click. 
Maximum pay per 1,000 impressions bid: you can automate to be charged every time your ad is viewed by 1,000 people on LinkedIn. 
7. Set up Conversion Tracking
To follow the actions users take after clicking on your ad, Linkedin Campaign Manager gives you the option to set up conversion tracking. That isn't an obligatory step, but it's recommended because it will help you to better understand your audience's behavior, and to analyze the results of the ad. 
To do that, click on "+ Add Conversions", and define how you are going to track the conversions in the pop-up window that's going to appear on your screen. You can measure how many people visited your website through the ad, downloaded a white paper,  filled out a form, or registered for an event, for example. 
This makes it easier to analyze the ROI of the ad and to identify if it's worth keeping investing in it, or if you need to develop other strategies to achieve your objectives. 
8. Follow your campaign closely
Once your LinkedIn ad campaign is all set up and running, it doesn't mean your work is done. It's essential to analyze the metrics continuously, including the conversion tracking you have set.
Don't check the metrics only after the campaign, on the contrary, it's important to see how it's performing to be able to apply adjustments along the way.
Analyze if you have selected the right audience, if it's necessary to adjust the bids, if the budget needs to be altered, and also keep looking for new insights. This will allow you to create even more effective strategies. 
LinkedIn Ads  Best Practices that Will Help You Get Results
Study your audience
As you can see, LinkedIn provides valuable features to target your audience, but to make good use of it, you need to know who your potential customers actually are. Make sure if your buyer personas are updated and determine which ones are on LinkedIn. 
When creating the ads, keep in mind who you are talking to, so you can use visual elements and language that are appealing to them. Take their profile into consideration when choosing the ad format as well, and the stage of the buyer's journey you aim to reach. 
Analyze your competitors' strategies on LinkedIn Ads
Studying the competition is fundamental to marketing strategy, and it isn't different when it comes to creating ads on LinkedIn. Use analytics tools to see how other companies from your sector are performing, and the results they are getting.
Analyze the ad formats they are using, the CTAs, and the language applied. It will help you to have a better understanding of what you need to create, and also to see how you can make ads that will distinguish your company from the competition, and highlight your advantages. 
Develop the content based on the ad type
Each ad format requires different content, and it's important to think about the way you are going to structure it as well. For example, sponsored content will have a distinct text from message ads, the first one should look like an organic post, it can refer to a blog post, and you can use media elements to enrich it.
While a message ad should be more personal, you can use a tone of speech that reminds you of a one-on-one conversation. With text ads, since they are on the right side of the screen, among other content, it's important to think about visual elements that can grab attention to it. 
Do A/B Testing
A/B testing allows you to test different elements in an ad and identify which ones help to perform better. Mainly when you are starting to create advertisements for LinkedIn, it's important to implement that practice to improve results. 
Create different versions of the same ads by altering small details such as the headline, the image, or even changing the target audience, and observe the metrics. But, don't change everything at the same time, otherwise, you won't be able to define what helped to increase the ad performance and what didn't.
Create attractive CTAs
Write calls to action that are appealing to your target audience, be clear about what you want them to do, and show why they should do it by offering benefits. The visual elements are very important as well, they must highlight the CTA. 
Make the Most of LinkedIn Campaign Manager's Features
With LinkedIn Campaign Manager, you are going to count on several features to create incredible ads on LinkedIn. Study the different ad types, align them with your goals, and include this social media on your marketing plan too. You will be able to reach new audiences, network with professionals from thousands of companies, and find new possibilities for your business.
Like what you've read?
Sign up and try JivoChat for yourself!
It's free and only takes a couple of minutes to download.