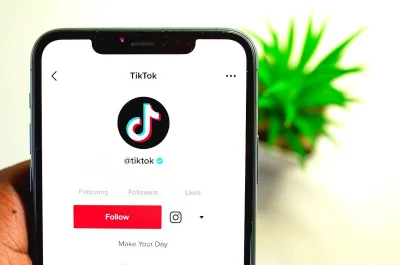 How to Get Verified on TikTok
October 4, 2022
updated May 19, 2023
Reading time ≈ 7 minutes
Jaqueline Corradi
Content Manager
With the growth of TikTok, many content creators are searching for ways how to get verified on TikTok. With more than one billion users around the world, the platform has become one of the most popular social media platforms and it offers many opportunities not only for digital influencers but also for brands that want to reach a new audience.
Different from Instagram, for instance, where you need to send a request to get verified, TikTok analyzed the accounts they identify that should get the badge. Therefore, it's important to understand what factors are considered relevant to get verified. Check out the article to know more about this. 
What Means Being Verified on TikTok
The verification badge on TikTok reassures people who access your account that it really belongs to you, meaning it isn't a copycat using your name or your brand's name to create a fake profile.
That's very useful in the cases of celebrities, like singers and actors, famous content creators, and also for companies. It gives you credibility, and people feel secure that the content they are consuming is made by those they believe owns the profile. 
In the case of a brand profile, for example, if you want to use TikTok to promote sales and special discounts on your online store. When the person sees the blue badge, they know the discount or promotion is real, and you can instruct your customers to only look for information in your verified account. 
Why Does TikTok Verification Matter?
When it comes to how to get verified on TikTok, you may ask yourself if it's worth it, and the answer is: yes. There are several advantages to having the blue badge on your profile. It shows your account is relevant and much more.  
Authenticity
When someone visits your TikTok profile and sees it's verified, they know that the content published there was made by you or your brand. It isn't an account trying to pass by you and publishing posts you didn't make using your name. 
Authority and Credibility
The path on how to get verified on TikTok isn't an easy one. When users see the blue check in a profile, they understand that its content is relevant since TikTok itself acknowledged that. Therefore, you gain authority and credibility,
The blue check indicates that your profile has influence, and it's important enough for TikTok to notice, analyze and verify it. This makes people feel more secure about the information you share, they tend to believe more in it.
Growth
Although it isn't confirmed by TikTok, it seems that the platform algorithm favors verified accounts. This means that when you have the blue badge, it's more likely that your content will appear on the users' "For you page (FYP)". 
As a consequence, you have the opportunity to grow the number of views, likes, comments, and followers. Besides, by being verified on TikTok you have more chances to make partnerships since your profile has more credibility.
How to Get Verified on TikTok
If you are used to the process of how to get verified on Instagram, it's important to understand the steps to how to get verified on TikTok are different,
 First, you don't send a request to get the badge, it's the social media platform that monitors the accounts and identifies the ones who should be verified. This means you need to give them reasons that show your account relevancy. 
Produce High-Quality Content
To get verified on TikTok, it's essential to invest in producing high-quality videos. Get to know who your audience is, understand their demands, and how you can produce content that they find interesting. Define your niche and create thinking about them.
Besides that, make sure to be always updated on the latest TikTok trends and the popular hashtags on TikTok. Analyze how you can use this in your favor to produce content that is aligned with your identity, but also enjoy what's trending to reach a bigger audience. 
Beyond that, create a calendar to post at least one video per day on TikTok.  Keeping your profile always updated with new videos is crucial to increase the chances of TikTok's algorithm showing your videos to more people. If you only post once a month, for instance, you probably won't be considered relevant by the platform. 
Once you have plenty of videos published, pay attention to the ones that performed better. What do they have in common? How do they differentiate from the others? Understanding that will help you to continuously enhance your content. 
Conquer Visibility on the Media
Being cited in magazines, newspapers, podcasts, or having one of your TikTok videos featured on TV or on Youtube is great for how to get verified on TikTok. It shows your content and yourself are considered significant and have visibility outside the platform. 
There are several YouTubers, TV producers, reporters, and other creators looking for TikTok videos that can become a topic for their programs or newspaper stories. When you get to other communication channels, you increase the chances of gaining more views on TikTok.
Don't wait for people to get to you. Reach out to TV channels and other media to show your content and suggest themes they could approach. 
Become Verified on Other Social Media Platforms
If you are already verified on other social media platforms, such as Instagram and Twitter, this increases your chances of getting the blue badge on TikTok. Once more because it shows that your profile is considered important whether it's due to the high engagement rates you have or because you are a public figure.
Go Viral
When one of your videos goes viral on TikTok, which means it is seen by thousands of people and receives thousands of likes and comments, your chances of getting verified increase exponentially. Some of the greatest TikTokers in the world have started getting famous after one of their videos went viral.
For example, Dylan Mulvaney conquered huge visibility when she started making videos to talk about her transition period. She created the series "Days of girlhood", posting one video every day, and has more than 8 million followers on TikTok. The the first videos of the series has more than 700,000 views.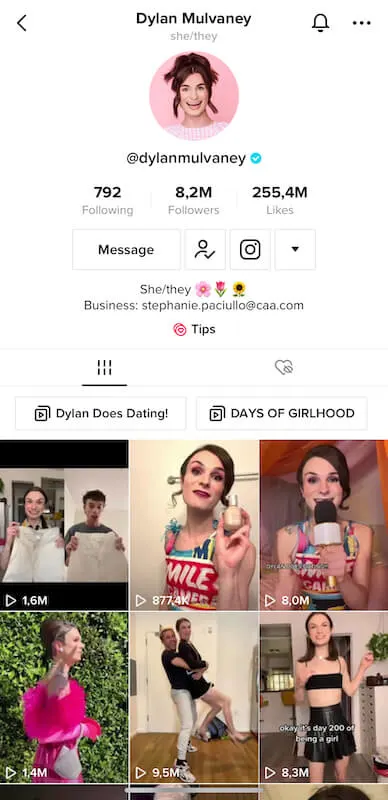 Another example is the curve model Remi Bader who went viral by showing how clothes from famous brands fitted fat bodies. She has more than 2 million followers and has become a reference in the plus size fashion world, partnering with important brands. 
Comply With TikTok's Guidelines
Besides comprehending how to get verified on TikTok, it's fundamental to respect the community guidelines. Otherwise, you won't be eligible to get the blue badge on your profile. Check out the platform policies and make sure you are following all of them, on the contrary, you can even be banned from this social media platform. 
Frequently Asked Questions About How to Get Verified on TikTok
What Does the Blue Badge Mean?
The blue badge in the profiles means they are verified by TikTok.
How Many Followers Do You Need to Get Verified on TikTok?
TikTok doesn't stipulate how many followers is necessary to have to get verified. But, the platform is interested in profiles that have many viral videos,  present consistent growth, and are well-known. 
How Many Views Do You Need to Get Verified on TikTok?
There isn't a specific amount of views you need to get to become verified on TikTok.
Can You Request TikTok to Verify Your Account?
No, TikTok doesn't enable profiles to send a verification request. They will analyze your account by themselves and give you the badge if they find your account should be verified.
Does TikTok Pay Verified Accounts?
Everyone who is part of the TikTok Creator Fund may get paid by producing videos to the platform whether you are verified or not. Having a verified account doesn't automatically mean TikTok will pay you for the content you make. 
Is It Possible to Buy A Verification Badge on TikTok?
No, TikTok doesn't sell verification badges. You can't buy them.
Create a Strategy Plan to Get Verified on TikTok
As you can see, when the subject is how to get verified on TikTok, it's necessary to put your efforts on growing inside the platform to get the badge. If you are a public figure, the process may be easier, otherwise, the main thing to focus is on developing great videos and posting regularly.
Create a strategic plan to organize the video production. Study your audience behavior, test different formats, and identify the ones that perform better. Check out what your competitors are doing, study the platform to comprehend what most viral videos consist of, and be aware of the rise of new trends that you can use to gain more visibility.
Like what you've read?
Sign up and try JivoChat for yourself!
It's free and only takes a couple of minutes to download.