How to Make a Website on GoDaddy
December 12, 2022
updated September 15, 2023
Reading time ≈ 8 minutes
Jaqueline Corradi
Content Manager
Do you know how to make a website on GoDaddy? The platform offers you an easy-to-use website builder, which enables you to create different types of websites without requiring any previous experience with coding or design.
Having a website has become very important for enterprises. Whether you want to sell online or not, a business website adds more credibility to a company. Customers tend to feel safer purchasing from a company that has a website with updated information, high-quality content, and well-developed pages.
More than 5 billion people access the internet every day. The digital world has taken up considerable space in our lives, and that isn't different when it comes to business. A company that doesn't have a website may be seen as outdated, and you can lose the opportunity to close deals. However,  with GoDaddy, you can change this situation. Check out the article to know more about it. 
10 Steps on How to Make a Website on GoDaddy
1. Create an Account on GoDaddy
The first step towards how to make a website on GoDaddy is to create your account. Access the website, click on "Create an account". You can start for free and choose your plan later.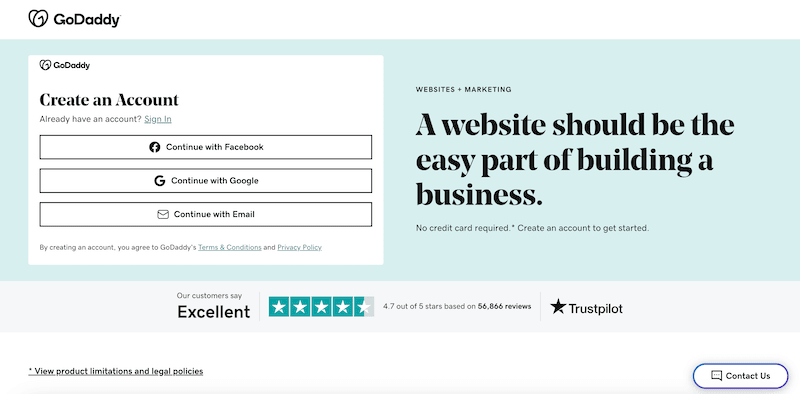 GoDaddy offers multiple plan options, choose the one according to your business needs. Consider the type of website you will build, for example, if you are going to sell online or not. Some of the features this platform offers are:
Custom domain connection
Website security (SSL)
Website and marketing analytics dashboard
Unified inbox
Pre-built templates
Email marketing tools
SEO tools
24/7 customer support
2. Select the Category of Your Website
After you have created your GoDaddy account, it's time to start creating the website. You will need to go to the website builder section and begin by choosing the category of your website. This means the sector that your business is a part of, for example, if it's a restaurant, a clothing store, or a salon. 
3. Choose the Name of Your Website and Create a Domain
What is going to be the name of your website? You can use the same name of your brand, or choose related keywords to your product or services, for example. But, your website needs to have a name that is easy to remember and spell. Therefore, avoid too long names, and don't use too many special characters and numbers. 
Before defining the name of the website, you need to check if there is a domain available for it and create yours. The domain name is like the address of your website, which people will type to find one of your pages. If you already have a domain name, you can select the option to use an existing one instead of coming up with a new one. 
You will need to select the ending of the domain name as well, the most popular is ".com" because it's simple and easy to remember. However, there are other options such as ".org", ".shop", and ".store". 
4. Choose a Theme
GoDaddy website builder provides several options of pre-built website themes, which are entirely customizable and help you to structure your pages in the best way. You can select the theme according to the sector of your business.
For example, there are themes built for online stores, restaurants, real estate, home services, photography, art and design, and much more. After you select the theme that suits your website better, make the changes you wish. 
You can change the color palette, the text font, insert images, videos, animated elements, buttons, and other features. The GoDaddy website editor has an intuitive interface, which makes it easy to design the pages, considering how to provide the best user experience.
5. Manage the Website Settings
As part of how to make a website on GoDaddy, you will need to define the website settings, which include:
Adding your business contact information and location;
Connecting to your social media profile;
Optimizing SEO
Configuring the free chatbot provided by GoDaddy
All those settings are very important to ensure that your website will have the best performance and drive traffic to it.  
6. Create Your Website Pages
When developing a website, it's essential to determine which pages it will have. For example, if you are going to build an ecommerce website, besides the home page, "about us" page, and contact page, which are primordial to every business website, you will have to create the category and product pages as well. 
Use GoDaddy to build the pages and manage them too. You can add up to 50 pages to your website. Go to the main website menu, click on the "+" icon, select "new page", then start developing it by gigging a title to the page. Customize it as you prefer, you can insert images, videos, a form, or an article, for instance. 
Even after publishing the website, it's still possible to add new pages, change elements on them, or delete them. For example, if you create a blog section, you can update it daily with new articles. 
7. Implement SEO Best Practices
When it comes to conquering visibility and reaching your target audience, it's fundamental to apply SEO best practices. Short for search engine optimization, SEO enables you to optimize each page so they will rank better on the searches made on Google and other search engines, which are related to the keywords used on your website. 
To enhance SEO, you will need to identify the most relevant keywords in your business area. Then, select which will be the main keyword for each page. It's important to include the keywords in the URL of every page, write a meta description for each one of them, and write alt text for all the images.
Other elements like responsive designs and good user experience are taken into consideration so a page can appear in the first search result page from Google. Pay attention to those details, this may have a great impact on the number of accesses your website will get. 
If you want to host your website on GoDaddy, ensure you have a website with a personalized exclusive design made for your business, and optimized for SEO, you can count on Digital8, an agency specialized in web design
8. Review the Website and Publish it
After you have created all the website pages and customized them, review them before launching the website. Check if everything is set up correctly, like the images, the texts, the links, the menus, and all the buttons. 
Navigate through your website, and analyze it as if you were accessing it for the first time. Is the user able to find the information they need easily? Do the page layouts facilitate reading them? How long does it take for the pages to load? Those are all important questions that should be analyzed before launching the website. 
Reviewing the website diminishes the risks of facing problems like people accessing your website and exiting without visiting any other page, 404 errors, and broken links. Your website affects how people perceive your brand, therefore it's fundamental to guarantee they will have a good experience. 
9. Promote Your Website
Imagine your website is running perfectly. The design is beautiful and attractive and the pages are full of high-quality content, which is very interesting to your target audience, is it enough to conquer visibility? Unfortunately, it may not be. 
The competition on the internet is huge, there are thousands of websites trying to catch the attention of the same audience you are. To make your website stand out among them all, you need to implement SEO and promote it as well. 
Develop a marketing plan to define which action you will take to drive access to your website. You can use your company's social media profiles, for example. Enjoy the audience you already have on platforms like Instagram, Facebook, Twitter, and LinkedIn, and make posts talking about your website, redirecting people to it. 
10. Set Up KPIs and Keep Track of Your Website Performance
The work isn't finished once you have released your website, on the contrary, to achieve the expected results you have to continuously update your pages and analyze their performance. Define which key performance indicators (KPIs) you will use to measure the success of your pages. 
Some important KPIs are the traffic rate, average time spent on each page,  and conversion rate. You can use the analytics dashboard from GoDaddy to analyze those metrics and also enjoy other tools like Google Analytics. 
The KPIs are going to help you identify the strengths and weaknesses of your website, so you can define what needs to be changed. Enjoy your website to innovate and test different content formats, and modify the pages as you see what performs better.
Build Your Website With GoDaddy
Now that you have learned how to make a website with GoDaddy, what about enjoying this opportunity to begin developing your website? As you can see, it will take you just a few steps. But, having a website can have a huge impact on your business, and help its growth. Plan what you want to put on each page, study your target audience, and build the website.
Like what you've read?
Sign up and try JivoChat for yourself!
It's free and only takes a couple of minutes to download.