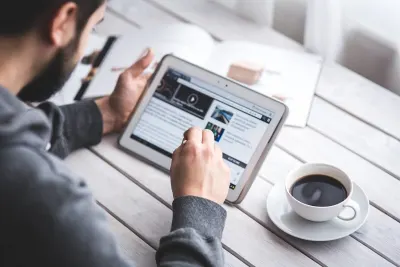 October 26, 2022
updated August 17, 2023
Reading time ≈ 9 minutes
Jaqueline Corradi
Content Manager
Nowadays, there are multiple ways how to monetize a blog. All the time you have spent on developing high-quality content, building authority in your niche, and conquering visibility can give you earnings in return. 
You will need to analyze what are the most effective strategies to implement on your blog and make money with them. It's necessary to take into consideration what your goals with the blog are, the skills you have, and the actions you would enjoy dedicating yourself to. 
For example, if you already own a company and sell products (physical or digital), you can use the blog to promote your brand. Check out the article to discover more about it.
When You Should Start Monetizing Your Blog
it's interesting to begin monetizing a blog when you already have a relevant number of page views per day, and have conquered a loyal audience. The quantity may be 100 views per day or 1000, for instance, it depends on what you are writing about, what niche you belong to, and who your target audience is.
To estimate better how many views are considered high in your sector, you can use tools like Ahrefs to analyze how much traffic your competitors get. When you have the numbers in your favor it gets much easier to create partnerships with companies to put ads on your blog and increase revenue with affiliate links.
9 Ways on How to Monetize a Blog
1. Advertising
One of the main ways when it comes to how to monetize a blog is by selling ads, which means companies will pay to insert an advertisement on a specific page of your blog. You can determine which area of the page will be dedicated to ads. It can be the banners on the top, in the middle of the text, or on the sides of each page.
Even though you can negotiate with companies yourself to place their ads, it's very practical to use services such as the Google AdSense. In this case, you don't need to put your time and effort into selecting which companies are going to announce on your website or need to upload the ads yourself.
You will have to create an account on Google AdSense and follow the instructions to embed a code Google will provide you with. The platform will take care of the rest, Google is responsible to sell your ad spaces to the advertisers who give the highest bid. They will pay per click, which means the value you will receive for the ads is related to how many people will click on the ad. 
To earn with advertising on your blog, it's fundamental to apply SEO best practices, so your pages will rank in the first places of search result pages. This helps to gain more visibility and increase organic traffic. Therefore, the ad will be seen by a bigger number of people, and it's likely to get more clicks. 
One of the advantages of using Google AdSense is that it will analyze your audience profile to insert advertisements that are relevant to your public. 
2. Affiliate Marketing
Companies from different sectors use affiliate marketing to promote their products and increase revenue. They offer partnerships with other companies and content creators where they promote a link to a product or service and gain a commission on the sales closed through the link.
In the case of a blog, you can advertise the links by making a review about the products or services, and posting articles with a list of the best products from a specific type.
For example, if you have a blog about technologies, you can partner up with companies that sell smartphones and computers. You can make an article about the best smartphone models available, for instance, and place the affiliate links referring to each product on it. 
It's important to notice that, to profit from affiliate marketing, the companies you partner with should be aligned with the interests of your target audience. This will increase considerably the chances of making sales through the links you provide in your articles. Besides, it's essential to have a high number of visitors per page. 
3. Sponsored Content
Blogs that have high authority and credibility in a certain niche are valued by companies because. They know that those blogs have the power to reach a very specific audience who trust what is posted on the blog they follow.
Considering this, you can offer companies to publish sponsored content to promote their brand. For example, the company will pay you to write a review about one of their products or they will make a guest post and you will publish it in your blog. The content can be made by you, following the guidelines the brand requests, or made by the brand and you will just post. 
4. Influencer Marketing
Do you follow digital influencers? This career is a recent one but is a growing market. Brands are investing in paying digital influencers to advertise their products, while new digital influencers are conquering space in different social media platforms. You can use your blog as a platform to work with influencer marketing and become one yourself. 
The great attraction for companies, which make campaigns with digital influencers, is they have an engaged audience who cares and listens to their opinion. So, when they recommend a service or product, companies know this helps increase sales. For example, the beauty industry is a sector where influence marketing has become strong with makeup tutorials and skin care routine videos. 
When the topic is how to monetize a blog with influence marketing. It doesn't necessarily mean promoting a company on the blog. You can use the blog to create high-quality content and conquer a loyal audience, leading you public to follow you on your social media pages, like on Instagram, and publish paid posts there.
To become a digital influencer you need to see yourself as a brand, and this allows you to make money with your content on multiple platforms. 
5. Promote Your Business
If you already have a company, creating a blog where you post content that is interesting to your target audience, can help you increase revenue. The blog will serve as a platform to promote the products and services available in your company.
When you write good content and use SEO techniques, it's more likely that you will reach potential leads who can turn into customers in the future. Use the blog to help them in their customer's journey and increase sales, as a consequence. 
6. Sell Ebooks
Once you have conquered a spot in your niche where you are seen as an authority, with a loyal audience who cares about what you have to say. That's an opportunity to gain even more with your content by creating an ebook. 
If you have a fashion blog, you can launch an ebook with tips about how to use clothes as a form of expression, for example, or explain the different color palettes.  You need to study your target audience first. Identify a demand according to the behavior patterns you see on your blog, and use it to write your ebook.
The ebook must provide valuable information so people see a reason to buy it. Use your blog, your authority, and your expertise in your area to promote sales. You can post articles with topics related to the ebook, then instigate the readers' curiosity, and invite them to learn more about it on your ebook. 
7. Offer Subscription Service
Besides the articles you offer for free in your blog, you can use a subscription service to provide even more content to your audience. In this case, to have access to this extra content, people would have to pay a subscription fee per month.
This enables you to dedicate your time to produce in different formats such as videos, podcasts, newsletters, and articles. On the other hand, people who enjoy consuming what you create will be able to support your work and be rewarded for it. 
8. Sell Merchandise
Once you have built a loyal audience and become known in your blog niche, you can sell merchandise related to your brand. For example, it's possible to commercialize stickers, tote bags, t-shirts, mugs, and many more items with the logo of your blog. 
That's very common for popular blogs, YouTube channels, and podcasts. When readers become fans of your blog, they want to support your work and also show their appreciation. 
9. Write Sponsored Reviews
When you are an authority, with credibility in your sector, what you write on your blog may have a posit or negative impact on a brand. Aware of that, many businesses look to partner up with digital influencers and blog owners to make a paid review of their products. 
In this case, instead of only placing a banner ad in the middle of a page, the article theme will be about the product. You will describe it, talk about its benefits, and how the product can help your target audience with their demands. 
Try to work only with products that are related to your blog niche/ Otherwise, the product review won't be aligned with the rest of your content, and this may seem strange to your audience.
Create Your Strategies on How to Monetize a Blog
Now that you have learned how to monetize a blog, take the time to analyze each option and identify the ones that suit you better. Consider your target audience profile, and how many hours per week you can devote to producing articles for the blog and manage it as well.
After defining how to monetize your blog, create a plan of action to know the steps you need to take to start placing ads, for instance. If you will work with affiliate marketing, you need to research potential partnerships, get in contact with them, and evaluate which ones are worth it. 
Don't forget to invest in marketing strategies to promote your blog, conquer more organic traffic and increase the number of qualified leads. Use social media channels like Instagram and Twitter to invite people to read your articles.
Like what you've read?
Sign up and try JivoChat for yourself!
It's free and only takes a couple of minutes to download.