Instagram Statistics - The Complete Guide
One of the social networks that took the most time to implement a tool for tracking metrics and analysis was Instagram. For many years, we, producers of content at Insta, feel like knowing more about followers. Although it is already working for all users, the statistics part is still despised by many. In this article, I'll show you everything you can do with Instagram statistics and how they can help your business!
Why use Instagram Analytics?
The reason you should use Instagram Analytics in your business is the same for which you should already use Google or Facebook: analyze the results of your campaigns and track the growth of the profiles you manage on the social network. In this way, you will not be blind to the success and failure of your actions on Instagram, being able to evaluate and recreate your strategy to boost your business.
Currently, Instagram Analytics has several metrics that can be tracked to evaluate your profile, publications, stories and live broadcasts made on the social network. Please note that this information is only available for business profiles on Instagram. If you have not yet converted your profile to this mode, check out the steps below to turn it on.
4 Steps to Convert Your Profile to Business
1 - Open your profile and touch the gear icon;
2 - Touch Switch to business profile;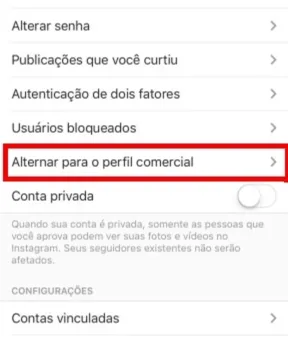 Then read the information provided and enter your Facebook login to continue the process; The final step is to choose which of the Facebook pages you manage to link to your new business Instagram account. You need to create a fanpage if you do not already have an account.
Also read: 15 Tools for Creating Landing Page
What metrics can I track in Instagram Analytics?
Instagram Analytics lets you view 26 metrics directly from the application, without the need to use external applications. Over the last few years, Instagram has only made these metrics available:
Number of posts: How many posts your profile has made so far. Available on profile home screen
Number of followers: How many profiles accompany your posts. As with personal profiles, it is also available directly from the profile home screen;
Following: The number of profiles your page follows in Instagram. It can also be seen on the home screen along with the previous ones;
Mentions: Just like in the previous ones, it works just like the personal profile, click the third icon in the center bar and see the publications in which your profile was marked.
Here's where these metrics are:
Already these metrics presented below can be followed by touching the icon with four vertical bars, located in the upper right corner of the screen, as shown here:
When you access it, you can find:
Impressions: How often your posts appeared in your followers feed, even if repeated;
Reach: Number of times your posts appeared in users' feed, but not counting reps;
Profile views: How many profiles have clicked on yours to check more posts or contact information;
Site clicks: How many clicks were given to the link in your Instagram bio;
Email / Phone Clicks: How many people clicked the button to send an email or call your business;
All these data I mentioned above are here:
After the key metrics, the top posts in your account are displayed, providing data about a specific post. The data can be analyzed in the preparation of new strategies for future publications. Find out what data is provided in this session:
Impressions of the post: How often the specific post appeared on the followers timeline;
Post scope: Number of profiles whose posting appeared on the timeline;
Tanned: How many likes the post has been tanned;
Comments: How many comments were received by the publication;
Saved: Number of times a post was saved, not counting repeated profiles;
Engagement: Total number of likes, comments, and saves made in the post;
Views: How many views a video posted in Instagram has seen;
To find the data I mentioned above, go to the publications tab and click on See more: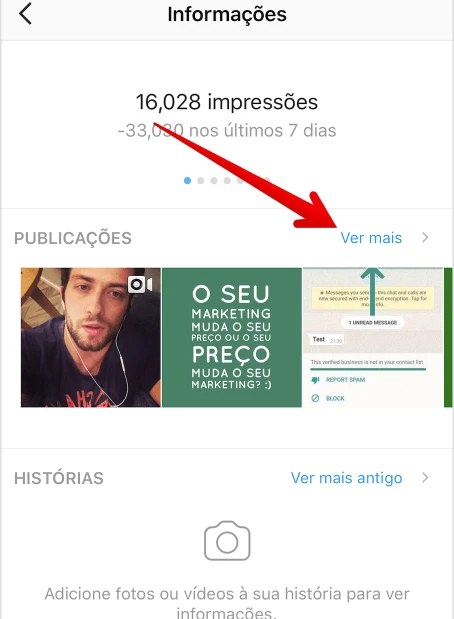 Can you see the words that are in blue? All of them can be modified. Click on them to see what happens: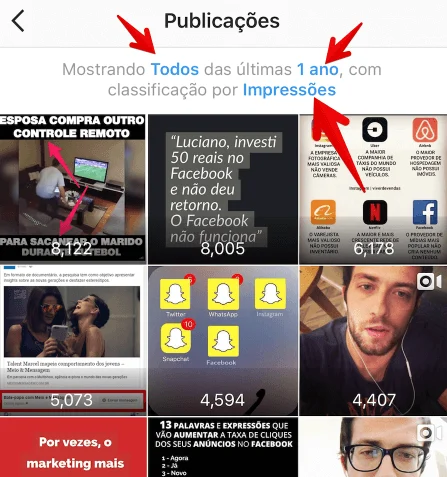 See how, by clicking on them, new analysis options appear?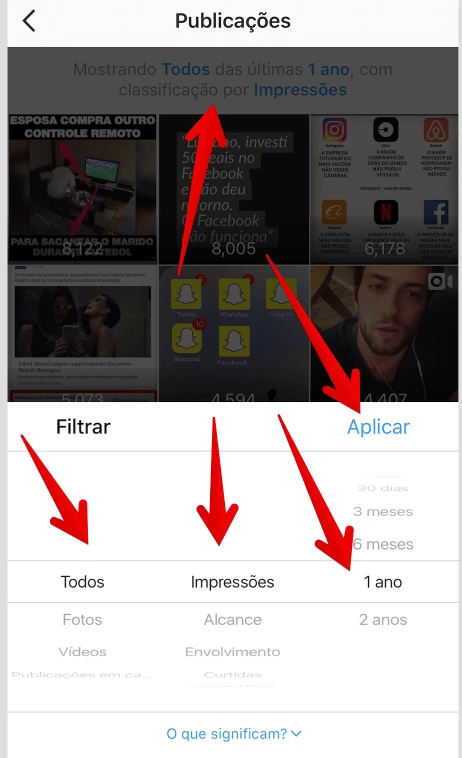 Demographic Metrics
Next, I present the demographic metrics, which can be accessed in the same menu and are arranged in the Followers area. Just click See more. It is worth noting that this information is only available for profiles that reach 100 followers.
Gender: Shows the gender distribution of your followers;
Age: Demonstrates the age distribution of followers, according to ages ranging from 13 to 17 years or over 65, among many others;
Top Locations Top 5 cities and countries your followers come from;
Average follower time: Analyze and report the average times your followers are online during the week;
Average followers day: Analyze and inform the days of the week in which the profiles that follow your page are more active;
Check out how this data is on the Instagram panel:
![Dados demográficos Instagram] (https://res.cloudinary.com/dte7upwcr/image/upload/v1/blog/blog/dados_demograficas_insta.png)
After demographics, you can check data related to views and interactions with Instagram Stories. Find out what they are:
Impressions: Number of times a photo or video was viewed in your story;
Scope: Profiles that saw a photo or video of your story;
Exits: How many people have interrupted and left the display of your story;
Answers: How many people have responded to your story;
Insights: List with profiles that have viewed your history and can be accessed;
Check out the image:
![Analytics Stories Insta] (https://res.cloudinary.com/dte7upwcr/image/upload/v1/blog/blog/analytics_stories_insta.png)
Finally, there are still two final metrics pertaining to live broadcasts. However, they can be seen during the display or after the end, not being saved in Instagram analytics. They are the number of viewers, displayed in the upper left corner during the presentation. After closing the transmission, Instagram has a list of all the people who have accessed your presentation, even if they have not stayed until the end.
If you're already creating your ads for Instagram - learn how to create them in Stories! -, the Promotions tab will bring you information about the results of your campaigns. Remember that the Instagram ad system is the same as Facebook, that is, you can also evaluate the results of your ads in the Facebook Business Manager.
3 tools to boost your business and measure results
The range of external applications to Instagram is immense, with some of them also serving as a kind of analytics when there was no official tool for this. Below I cite some of my favorite apps that can be used to measure your profile growth and increase your number of followers.
1 - Gerenciagram: The tool allows users to automate their interactions in Instagram, as well as search profiles relevant to their business to follow. Their search system is based on hashtags, followers of other profiles or location. It has a growth report on the number of followers.
2 - Socialbakers: The platform analyzes your Instagram account and shows some reports and information not available in the standard analytics of the social network. Among them, I highlight a top 10 of hashtags used in their publications and distribution of posts per month, plus a top 3 of more tanned posts and another with the three most commented publications;
3 - Union Metrics: A paid tool, Union Metrics shows you basic information about your Instagram account. Its highlight is the calculations made to define the best days and times to make your publications.
JivoChat Affiliates: Check out our program and earn up to 30% in recurring comissions
What to do with the data and information you get from Analytics?
Now that you know which are the posts with more and less engagement, demographics of your followers and the various information given by Instagram and its tools, the question is: what do I do with this data? The answer is quite simple: you must keep doing what works and change what is not giving so much result.
These changes of results happen only after several tests. For example, you can change the date and time of your posts if they're being posted when most of your followers are offline. Another change you can make is to look at what types of posts are what attract the most views and engagement and see if they have any patterns. If so, just focus on publishing more content in that format to improve your results.
With demographic metrics, you can also notice which of the age ranges your publications are reaching. In this way, you can adjust the post type to something that is most pleasing to that track. It is no use talking about the history and tradition of your company if the range you are picking up is that of teenagers from 13 to 17 years old, for example. Common to other social networks and even in the publications of your blog, you can also change the calls to action (CTA) of your Instagram posts to measure follower response, among several other strategies.
Don't forget: [7 apps to create content for social networks] (/blog/tools/create-social-content-with-these-apps.html)
How are you analyzing your profile performance on Instagram?
At the end of our guide, I would like to know: In what ways have you evaluated the performance of your Instagram posts? Has social media analytics helped you evaluate your strategies? Comment below and we will discuss further on how to use Instagram Analytics!
Like what you've read?
Sign up and try JivoChat for yourself!
It's free and only takes a couple of minutes to download.