The 15 best tools to create landing pages for your ecommerce
August 25, 2016
updated September 29, 2022
Reading time ≈ 8 minutes
Clayton Quist
Customer Service Genie
One of the most useful tools for ecommerces, a landing page is a page opened in response to a click on an ad or a search result. The main purpose of landing pages is to perform the conversion of visitors, both for new leads or directly to a sale. Landing pages can also arise from links on social networks and email marketing campaigns, and usually refer users to shopping carts or to contact forms.
However, creating a landing page from scratch is a process which often requires many resources. You have to hire a professional for the creation, or if you are familiar with web development, you must have enough money and time. Because of that, a number of paid and free tools to create landing pages serve as a template or make the work easier for those who are not familiar with programming. To help you in this task, we have listed 15 of these software and plugins to create your landing page and improve the conversion rate of your ecommerce.
To start the list, we introduce a free tool for you to consider already and can begin to assess whether free tools will be enough for your needs or if the ideal thing is to invest in a paid software. IM Creator is not as simple to use as the other options that we will describe below, and those who do not have much experience with coding may face difficulties. On the other hand, it has options to create an attractive landing page for your visitors.
The first paid option on the list, Lander has limited options of models and offers no exceptional service. However, its interface is simple, friendly and is in line with current practices on landing pages, as well as integration with complementary services such as Mailchimp for email marketing and PayPal for online payments - do not forget to see our list of the 8 alternatives to PayPal you need to know - and online chat, such as JivoChat.
Even not having exceptional characteristics, Lander is considered one of the most solid and simple services to use for those who are not familiar with web development. Lander has a base cost of $22 per month for up to 3,000 visitors, but offers a trial period of 14 days.
This one is one of the paid options with more alternatives according to the incoming visitors, which allows you to customize from the very first moment which plan to adopt. For example, the monthly charges for using this tool are $29 for 10,000 users. It also provides tools for A / B testing, allowing you to test different models and use the one with better results. However, it suffers from the lack of integration with complementary services, something Lander stands out.
InstaPage is one of the easiest services to be used by those who do not have programming experience, with a drag and drop editor. It also features integration with services like Google Analytics - another indispensable tool for your ecommerce - and social networks. The software has more than 70 types of landing page that allow modifications such as color changes.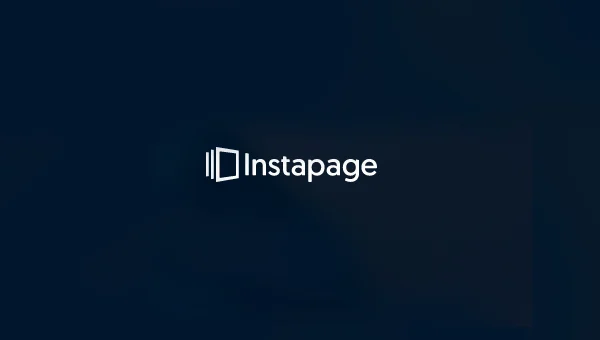 One of its advantages is that these models are separated by categories according to the purpose of your landing page, such as final sales or lead generation. However, InstaPage is free only for pages that receive up to 100 monthly visitors. After that, the service allows a trial period of 30 days, charging $29 monthly afterwards.
Unlike the other paid tools mentioned above, WishPond has only three plans without incoming visitors restriction, leaving it up to the subscriber. The three plans are $44, $78 or $129 per month. The software has some limitations, just like Lander, despite having more options of models. One of the prominent functions of the platform is the ability to create pop-ups that can be used in various ways, such as providing a window with forms to meet potential customers.
Read also: 20 websites to start your ecommerce
One of the most popular tools for creating landing pages, Unbounce is also suitable for those not familiar with building web pages. Just like InstaPage, it has a side menu from which you can grab and drag the elements to the screen, arranging them the way you like - known as drag and drop -.
Besides having some functions already shown in other software mentioned above, such as the ability to perform A / B testing, it also brings a responsive design. That is, the pages created through it will fit the screen size used to visit your page, making it more compatible with mobile devices. However, it is one of the most expensive from the list of tools: the cheapest plan costs $49 monthly. On the other hand, you get a free trial of 30 days.
LeadPages is one of the most complete options in our list, competing directly with Unbounce. Besides having the same characteristics of the competitor, including responsive and friendly design with mobile devices, LeadPages goes a bit further. Like WishPond, it allows the creation of popups on the landing page and the ability to create direct links to signature within a text.
Its main disadvantage, however, lies on the apparent lack of a better customer service to the subscriber, having complaints about difficulties on contacting support. It also has a more free business model than some of the platforms mentioned here, with $25 plans, $49 and $199 monthly, not limited by number of visitors.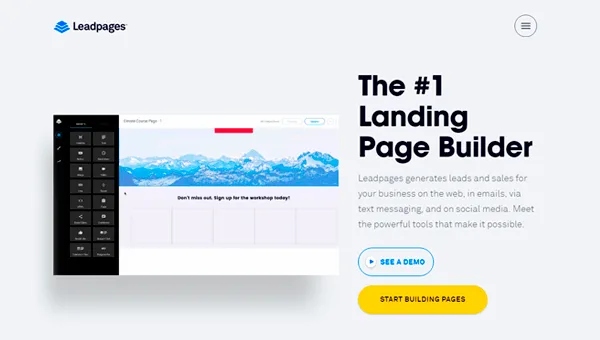 Although it is not a platform by itself, as like the examples shown above, some WordPress themes can be useful to mount your landing page, if your home page is made on it. Among the options available, we highlight Onesies, one of the simplest, allowing you to mount a landing page in minutes. The tool ends up being more limited, but offers native responsive design. Its composition is focused on just four areas of the page: introduction, portfolio, "about" and contact information.
Read also: 30 ways to achieve your first online sale
With a signature value on the average - $29 monthly for up to 5,000 visitors - PageWiz has an acclaimed support team, facilitating the use of the tool. Among its features, it allows A / B testing and unlimited integration with complementary services, also without restrictions. Another highlight are the design and models offered by this platform, considered more stylish than other similar services.
With free and paid plan options, Kickoff Labs brings about 150 background images, integration with MailChimp and widgets for Facebook and WordPress. Costing the same as PageWiz, Kickoff Labs allows unlimited number of visitors, and has the ability to create as many landing pages as you want. Finally, you can add the landing page to its own domain and connect it with your Google Analytics, but adding them involves extra cost besides the subscription.
This website builder is focused on the creation of pre-launch pages, such as those used by the entertainment industry to display counters for some blockbuster revelation. However, you can use LaunchRock also for creating landing pages. Moreover, it is completely free, no paid options.
On the other hand, it requires some programming knowledge for the page building, even though it has a friendlier interface than the IM Creator first list item. Although it is not the focus of the page, it allows integrations with Google Analytics and social networks, a feature you usually find only in paid software.
12. Templates in CSS
This option is not a specific tool either, but templates in CSS can help you create a landing page. Among the models, we highlight Digy. This template allows the inclusion of a large image, which is as prominent on the landing page, and allows effects with jQuery and custom fonts. The template is also responsive and adapts to any screen size. However, you need web development knowledge.
Unlike all of the options on this list, HelloBar is not a tool for creating landing page, but it is a complementary software that can help with the page view. With it, you can include a bar at the top of your page and include a link to the landing page itself. Thus, just install the bar, choose your color, create a compelling call to action and a button linking to the landing page will be created. The service is free and has a WordPress plugin.
A Brazilian tool for creating landing pages, KlickPages obviously is in Portuguese, as well as its support, which becomes an advantage for those who have not mastered English. Among its features, it includes integration with WordPress and email marketing, number of pages, domains and unlimited visitors and the possibility of export to HTML. The first month of the plan costs R$1 and the following months cost R$197.
JivoChat Affiliates Program: start earning up to 30% in recurring comissions!
15. IncomePress
Perhaps one of the least friendly interfaces on the list, IncomePress is a free and very simple tool. Moreover, the creator of the tool has a series of video tutorials to use the tool, originally created for personal use. It has five templates and text patterns that can be changed. In addition to creating landing pages, other creations of the programmer involve landing pages generator on Facebook and a thank you page, used for generating conversion results by Google Analytics.
Like what you've read?
Sign up and try JivoChat for yourself!
It's free and only takes a couple of minutes to download.